Pride Month Spotlight: Greg DeShields
June 14, 2022 By U.S. Travel Association
June is Pride Month—an important opportunity to amplify and celebrate the LGBTQ+ community.
Here at U.S. Travel, we are taking this opportunity to highlight members of the LGBTQ+ community who have shown great leadership in the travel and tourism industry.
Greg DeShields is the Executive Director of Tourism Diversity Matters (TDM), the collaborative leader of Diversity, Equity and Inclusion (DEI) initiatives in the tourism and events industry. Through a collective impact approach, TDM is committed to addressing the gaps of disparities providing leaders in the tourism and events industry access, resources, and tactics to develop more effective diversity & inclusion strategies. 
Greg shared how he celebrates Pride Month and the role model who inspired him.
Image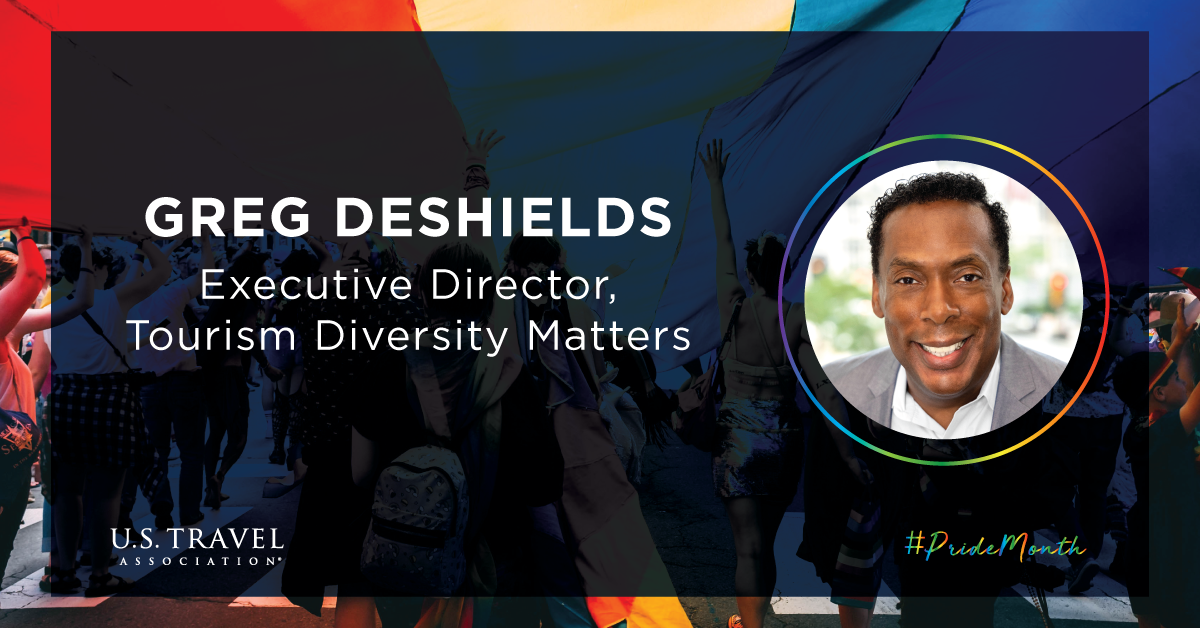 What does Pride Month mean to you and how do you celebrate it? Any favorite Pride festivals, parades or traditions?
I prefer to use the "Pride 365" phrase as I am proud to be gay 365 days a year. Pride does, however, mean my ability to be my whole self and celebrate the full dimensions of who I am. I am from Philadelphia; therefore, the Philadelphia Pride celebration is meaningful to me as it highlights the local LGBTQ+ community as we share our past, present and future. My husband of 30 years and I do not have a special Pride celebration; however, we are always fans of a great night out.
Can you tell us about a role model that has inspired you?
My "Great" Uncle Victor DeShields, who came out back in the 70s—which was not an easy time to do so—moved from Philadelphia to Los Angeles and later Denver to pursue a career in medicine. It was always a special occasion when he visited home. He was intelligent, handsome, confident and proud. I did not learn his story until after graduating from college and seeing him in Denver. The normalcy of his life, continued professional career as a doctor, positive circle of friends and dedication to a committed partner was eye-opening for me. I learned it was possible to be yourself and live a fulfilled life as an openly gay man. That was the priceless gift I received from my Uncle Victor.
What are the biggest challenges facing the LGBTQ+ community today and what advice do you have for your peers on what they can do to help address these issues?
Unfortunately, the current climate to politicize the LGBTQ+ community is disappointing, with state legislatures advancing bills that target transgender people, limit local protections and allow the use of religion to discriminate. The disturbing proliferation of anti-trans bills, the ban on discussions of sexual orientation and gender identity in schools and the pending Supreme Court decision overturning Roe v. Wade could affect other rights. Specifically, transgender people, including some legal experts, say the draft opinion leaves critical civil rights laws vulnerable, including precedent that granted Americans the right to same-sex relationships and marriage equality.
 
We have to get active, speak out as advocates, support organizations such as the Human Rights Campaign, Lambda Legal, American Civil Liberties Union, Out and Equal, and most importantly, vote!
What would you like to see the travel industry do better to elevate the LGBTQ+ community?
Continue to support lesbian, gay, bisexual, transgender and queer (LGBTQ+) rights to ensure the LGBTQ+ community can live openly without discrimination and enjoy equal rights, personal autonomy and freedom of expression and association. Also, it is critical that we develop career paths and career ladders for LGBTQ+ employees to progress within the travel tourism industry. This will provide employees with an ongoing mechanism to enhance their skills and knowledge, leading to mastery of their current jobs, promotions and transfers to new or different positions.
Is there an example of a destination, attraction or organization leading efforts to prioritize and uplift the LGBTQ+ community?
The Human Rights Campaign released their 2021 Corporate Equality Index report (CEI), which rates  companies by their support of equality for Lesbian, Gay, Bisexual, Transgender and Queer candidates and employees based on specific criteria, including the benefits offered, workplace training and education availability and LGBTQ+ community outreach and engagement. Receiving a score of 100 were Carnival Corporation, Choice Hotels International Inc., Hilton, Hyatt Hotels Corporation and InterContinental Hotels Group Americas.
---
CONTACT US
U.S. Travel
For more information about this blog, please contact us at: