U.S. Travel's Research Trends from David Huether
JANUARY 2020
- Overall Economy
Fears of an imminent recession in the second half of 2019 officially subsided with the U.S. Commerce Department's release of their final estimate of 2.1% growth in real GDP for the third quarter. Despite this modest growth, however, economic deceleration is expected to continue into 2020.

Can U.S. consumers continue to pull economic growth forward? The first jobs report of 2020 showed how tenuous that trend is: December job creation and wage growth slowed to their lowest paces in six months. The U.S. labor market has remained strong, but its growth options are maxed out: the unemployment rate is already trending at all-time lows and consumer confidence is moderating from all-time highs. With consumer prices on the rise, expectations have turned to the struggling business sector and weakening global economy for continued U.S. economic growth in 2020.

Final 2019 data on consumer spending is projected to end the year on a high note, even if final data on consumer confidence shows a downward trend. While household spending positively and significantly contributed to U.S. economic growth over the past two years, ongoing policy uncertainty left growth in the business and international trade sectors inconsistent at best.
Two issues are critical to the economic outlook for 2020:
Consumer Indicators

At the end of 2019, American consumers were in a secure financial position but were not optimistic about the economy in upcoming months. Consumer sentiment, which measures present financial conditions, increased to its highest level in seven months in December. Also, LegalShield's Consumer Financial Stress Index found that consumer financial stress was at an all-time low for the fourth quarter of 2019, citing a robust labor market and active consumer spending on durable goods (i.e., more expensive goods) throughout the year as reasons we could see strong consumer activity in early 2020.
However, consumer confidence dipped slightly in December and on average was 1.6% lower throughout 2019 than average confidence readings in 2018. Moreover, consumer optimism currently does not extend to 2020—the Conference Board's "future expectations" index slid nearly three full points in December to 97.4. The Conference Board noted that "while the economy hasn't shown signs of further weakening, there is little to suggest that [consumer spending] growth will gain momentum in 2020."
Consumer spending remained healthy in November, growing by 0.4% (or $88 billion) since October. The official news is encouraging, since initial reports on December 2019 holiday retail sales remain mixed. While several major retailers bemoaned missed sales targets, major banks reported relative increases in spending from their customers.

However, two noteworthy headwinds stand in the way of continued consumer spending growth in 2020:
Slowing Real Wage Growth: According to the jobs report, average hourly wages grew by 2.9% y/y in December, the first time in five months that wage growth fell below the 3% mark. Real wages, which factor out inflation, only grew by 0.5% y/y in December, the slowest growth in real wages since April. With unemployment at all-time lows, economists remain puzzled as to why wage growth is slowing down in a tighter labor market.
Moderate Increases in Inflation: Price levels increased by 2.3% y/y in December per the U.S. Labor Department's Consumer Price Index (CPI). Inflation increased steadily throughout 2019, with annual average inflation (2.3% y/y). While this is the largest increase in annual inflation since 2011, inflation has remained historically low over the length of the current economic expansion. Looking forward, consumers' purchasing power in 2020 could be vulnerable to unexpected price increases, especially for the gas price-sensitive travel industry. Travel prices remained moderate throughout 2019 and ended the year at 2.3%, per U.S. Travel's Travel Price Index.
Business Indicators

Business investment will likely be a drag on fourth quarter 2019 economic activity. Core capital goods orders, which are a key proxy indicator for business investment and a subset of durable goods orders that excludes high-volume defense and aircraft purchases, ticked up by a slight 0.2% in November, while overall durable goods orders, which are manufactured products expected to last 3 years or more, fell by 2%. Through the first 11 months of 2019, those orders were up by just 0.7% from the same period in 2018.
Other factors driving down durable goods orders included a significant decrease in civilian aircraft orders, where the Boeing 737-MAX recall remains front and center. The durable goods report piled onto a manufacturing sector mired in recession: the Institute for Supply Management estimates that the manufacturing industry entered its fifth consecutive month of contraction in December. Purchasing managers cited slowing global demand as the most significant cross-industry issue for manufacturers and a major reason for the current slowdown. On this point, however, some manufacturers remain cautiously optimistic that this will improve as phase one trade agreement between the U.S. and China is implemented and the U.S.-Mexico-Canada agreement is on the brink of being ratified. Global demand for U.S. goods and services exports remained middling, and exports increased by a soft 0.3% in November. Movement on trade deals and a depreciating dollar (-0.5% in December) may also help boost exports moving forward in 2020.

The services sector, which includes the travel industry, has remained resilient despite the continued slowing in manufacturing. The ISM's Non-Manufacturing Index (NMI) improved to 55% in December, far outpacing the Manufacturing Index's 47.2% reading. All three travel-related sectors (accommodation and food services; arts, entertainment and recreation; and retail trade) reported expansion in December. The Federal Reserve's Beige Book indicated mixed travel and tourism business activity to end 2019. Tourism contacts reported strong growth along the eastern seaboard but softer and weaker growth in midwest and western regions.
Travel Industry Indicators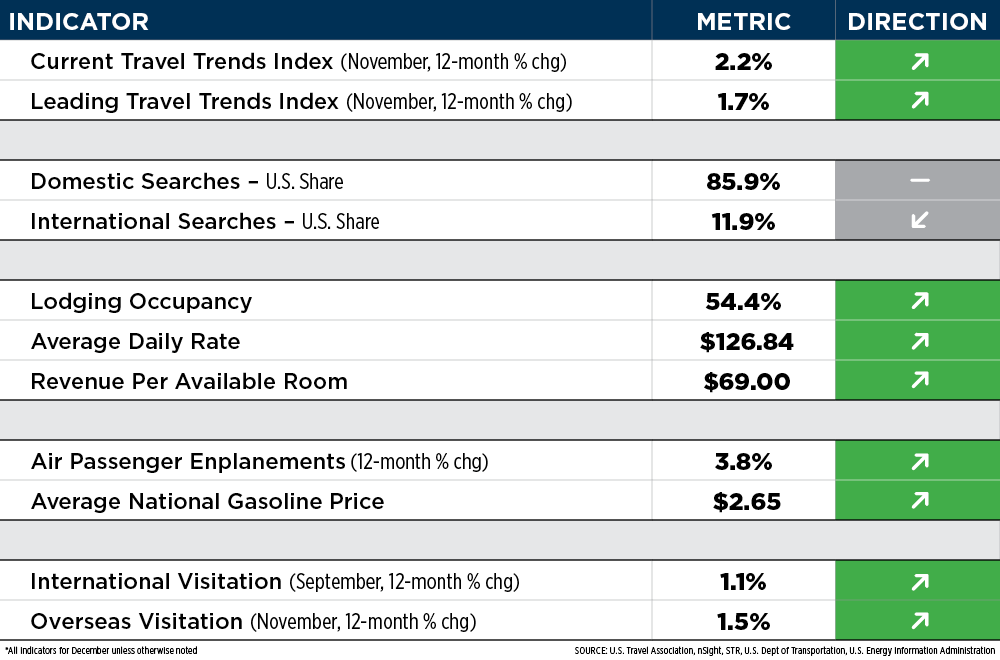 Travel to and within the United States grew by 2.2% year over year in November, according to U.S. Travel Association's latest Travel Trends Index (TTI). Domestic travel growth in November was steady at 2.4%, mostly buoyed by the strength of domestic leisure travel's robust 3.4% growth. International inbound travel continued its decline in November, contracting by 0.4%. The Leading Travel Index—the TTI's predictive component—predicts that travel growth will moderate through May 2020, a result of softer growth in domestic leisure and continued weakness in international inbound travel, and decline by 0.6% over the next six months compared to the same period last year.
The share of Americans searching for lodging within the U.S. declined to an average of 82% in 2019, down from 85% in 2018, according to the latest U.S. Travel Barometer. In December, 86% of Americans searched for lodging in the U.S., consistent with the prior December. The U.S. captured 12% of international searches in December—slightly higher than in December 2018—but international interest in the U.S. was down slightly for the year overall. Domestic travelers favored travel to the southeast region, while international travelers were split between the mideast and southeast regions.
All three key lodging performance metrics increased for two consecutive months in November and December. Lodging metrics ended the year with a bang, with December's 2.6% revenue per available room (RevPAR) increase matching February for the highest of 2019 and the 2% average daily rate (ADR) increase the highest in 14 months. STR attributes the strong December performance to the group segment in particular.
The U.S. hotel industry had an overall positive year in 2019. It registered record-breaking performance levels during 2019, though it also posted the lowest growth rate in RevPAR since the upward cycle began in 2010. The absolute ADR and RevPAR values were the highest STR has ever benchmarked. The industry also set records for supply (more than 1.9 billion room nights) and demand (approximately 1.3 billion room nights sold). Based on percentage growth for the year, supply and demand increased at the same rate (2%).
However, RevPAR growth of less than 1% is predicted for both 2019 overall and 2020. STR is forecasting continued, slow demand growth in line with slow GDP growth, outweighed by steady growth in new supply for 2020. Supply growth is expected to hover around 2% in Q1 of 2020 while demand is projected to grow between 1.4% and 1.7%
Over 900 passengers boarded flights on U.S. airlines in 2019, according to the U.S. Transportation Department. The 926 million enplanements in 2019 marked a 4.1% increase from 2018 and represented the largest two-year increase in enplanement volume since 2005. U.S. airlines finished 2019 with a flourish, carrying an all-time high 78.2 million domestic and international passengers in December 2019.
The average price of a gallon of gasoline was $2.65 in December, four cents below November's average price. On average, gas was 12 cents cheaper in 2019 ($2.69/gal) than in 2018 ($2.81/gal), but December's average gasoline price remained 19 cents per gallon (7.7%) above December 2018 levels. AAA estimates that the national gas price continued to decrease to $2.58 in the first weeks of January 2020, but geopolitical tensions could push oil prices and gasoline prices higher during the rest of the year.
Changes in federal policies could help ensure U.S. commercial airports are able to draw on sufficient and stable sources of revenue to maintain existing capacity, accommodate growth and support a safe, sustainable national airspace system in the coming decades, according to a congressionally mandated study conducted by the RAND Corporation. One specific recommendation the study made is to raise the Passenger Facility Charge (PFC) cap from $4.50 per passenger—where it has been since 2000—to $7.50 and index it to inflation moving forward.
International visitation to the U.S. increased by 0.5% in the third quarter of 2019 from the same time last year, according to estimates from the National Travel and Tourism Office (NTTO). While this increase is relatively small, it was the strongest y/y increase for four quarters. The increase in visitation was led by a 15% increase in y/y visitation from Mexico in September. The 59.6 million international visitors to the U.S. through the first nine months of 2019 remained 1.3% below visitation in the same period of 2018. Overseas travel to the U.S. remained a net positive in November 2019, however, ticking up 1.5% from year-ago levels.

U.S. Travel Updates
Mark your calendars: U.S. Travel will host the State of the U.S. Travel Industry address on February 5th at 10 a.m. EST at the National Press Club in Washington, D.C. U.S. Travel President and CEO Roger Dow will deliver remarks on the state of the American travel industry and discuss policy priorities that can grow or advance travel to and within the U.S. Additionally, he'll discuss the economic outlook, current trends in the industry, hot industry topics and more.
Register here to attend in person or use this link to access our live webcast if you can't make the event.
Research
U.S. Travel's released its latest members-only Forecast report that examines the state of the U.S. economy and projects travel industry's performance through 2023. Following a slight decline in 2019, we expect that international arrivals will return to growth in 2020 and will accelerate through 2023. Meanwhile, we expect that domestic travel will continue to increase throughout the forecast window. The pace of domestic travel is expected to slow slightly this year, in line with our forecast of softer GDP growth in 2020. Please log in to access this valuable report and analysis.