U.S. Travel's Research Trends from David Huether
ECONOMIC OVERVIEW:
November 2018
The U.S. economy continues to outperform expectations, but the third-quarter economic growth profile was less than ideal. Short-run economic policies of broad-based tax cuts and international trade war could add to structural economic turbulence ahead.
Despite this, parts of the U.S. economy are in fantastic shape: the U.S. remains in one of the best labor markets since the 1960s. While wages have increased moderately in the low-unemployment market, tempered inflation may continue to take away from any economic gains seen by workers moving forward.
ECONOMIC SUMMARY:
Economic output outperformed expectations in the third quarter, with U.S. real GDP increasing at a 3.5 percent seasonally adjusted annualized rate (SAAR). If this estimate is maintained through the Commerce Department's two revisions, Q2 and Q3 of 2018 will represent the fastest-growing two-quarter stretch for the U.S. economy in four years. Despite the positive momentum, the third-quarter GDP report was unevenly distributed across component groups, exposing some structural weakness in an otherwise strong U.S. economy that could be exacerbated by current economic policies of tax cuts, trade wars and rising interest rates.
Economists remained on-guard. "There will come a day of reckoning for the economy after the money from the tax cuts is all gone," said Chris Rupkey, chief financial economist at MUFG Union Bank, "but for today Washington really has something to crow about." Consumer spending and inventories were the main contributors to GDP growth for the third quarter, contributing 2.7 and 2.1 percentage points (ppt) to real GDP (3.5 percent SAAR), respectively. The contribution for consumer spending, which accounts for nearly 70 percent of GDP, was more-or-less expected, especially with the fiscal stimulus of tax cuts. This consumer appetite, according to sentiment surveys, is set to increase despite (tempered) inflation, mediocre gains in real wages, and oncoming rising interest rates. The increase in private inventory investments, on the other hand, is a volatile seasonal indicator that have had little impact on broad trends in output. Government spending also made a significant contribution to GDP this quarter, led by national defense consumption spending.
However, the drags on third-quarter seemed most prescient to economists: business fixed investment edged up just 0.8 percent, while exports declined 3.5 percent. According to Michael Gapen, chief U.S. economist at Barclays: "if you're banking on strong GDP growth, you need business investment." Theoretically, economists expected the fiscal stimulus from the Administration's corporate tax cuts to be expressed in structures and equipment investment, and neither were found in the third-quarter GDP report. "The decline in capital spending implies that businesses have a more cautious outlook on the economy than consumers. Instead of investing to boost output and increase efficiency, companies have used their tax windfall to return money to shareholders," said Justin Lahart of The Wall Street Journal. Structures investment slowed down considerably from previous quarters, producing a -0.3 ppt drag on third-quarter growth, a harsh turnaround; equipment investment remained slightly negative but flat. Aside from national defense orders, capital goods orders were especially soft in the back half of the third quarter, with non-defense, non-aircraft orders decreasing in both August and September.
Economists tied their business investment pessimism to the ongoing trade deficit and tensions with trading partners. Namely, "fiscal stimulus, upbeat domestic demand and the stronger U.S. dollar keep a steady pull on imports," said Jack McRobie and Gregory Daco, economists at Oxford Economic. McRobie and Daco imply that import volume, which recently hit an all-time monthly high in September, will continue to be a structural problem for a healthy U.S. consumer and labor market moving forward. This also makes tensions with our trading partners all the more inconvenient for the U.S. economy and its consumers. "The real risk for business investment is in the outlook for 2019," said Diane Swonk, chief economist at Grant Thornton. "Uncertainty over the prospect of a full-blown trade war with China and tariffs more generally are prompting some companies to delay investments for next year."
Finally, November forecasts remain measured for the fourth quarter: "nowcasting" tools from the Atlanta and New York Federal Reserve districts predicting 2.9 percent and 2.7 percent growth, respectively for the fourth quarter. McRobie and Daco at Oxford Economics also present 2.9 percent as their growth forecast for Q4: "resilience remains the key theme for the U.S. economy post-midterm elections… policy headwinds… will curb 2019 momentum, but the economy should still be able to grow 2.5 percent, after a 2.9 percent advance in 2018.
Separately, the Commerce Department reported in early November that real GDP in the leisure and hospitality sector increased at a seasonally-adjusted annualized rate of 6.7 percent in the second quarter of the year, marking the fastest quarterly increase in more than six years and on the heels of the two prior quarters when leisure and hospitality underperformed the economy as a whole.
CURRENT STATE OF THE ECONOMY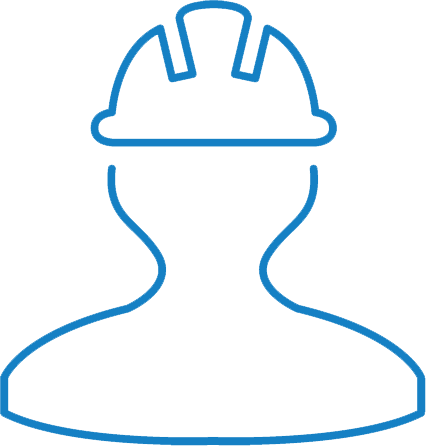 LABOR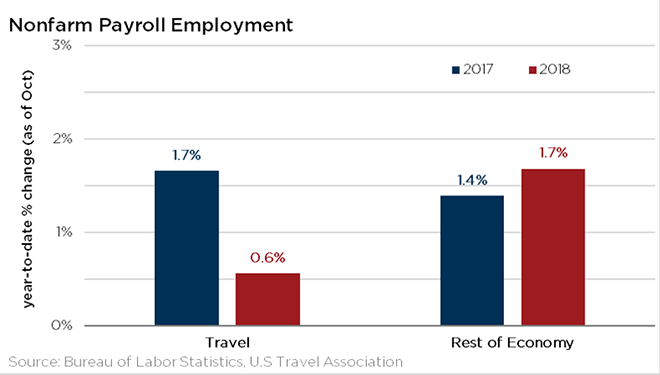 The labor market remains the strongest part of the broader economy. Hiring remains up as well as wages and the total number of workers and job searches. A swerving stock market, tariffs and weakening growth in other countries may be causing agita, but they have done little to dent economic momentum in the United States. Employers added 250,000 jobs in October, extending a record streak of growth to 97 months, the Labor Department reported. Nearly every sector of the economy experienced job growth.
The latest Department of Labor report also offered evidence that sidelined workers are not only feeling optimistic about job prospects but are actually finding work, which is why the jobless rate was unchanged at 3.7 percent even as employers hired more people. An estimated 711,000 people joined the labor force last month. Adding to the positive news, the labor participation rate—the share of people working or searching for work—ticked up 0.2 percent. It moved up half a percentage point for workers in the 25-to-55 age group. While unemployment is historically low, the labor-force participation rate is still just above multidecade lows."
A modest monthly wage gain of 0.2 percent nonetheless produced a 3.1 percent jump in annual growth - the first time in the current economic expansion the figure has crossed the 3 percent mark. That was partly because of an unusual drop in pay in October last year after hurricanes. Yet even if the year-over-year increase was somewhat inflated, the underlying trends point to a pickup in wage growth. The last time wages grew this quickly was in early 2009.
With relatively few unemployed Americans looking for work, employers are increasingly having to bid up wages to poach workers from other employers. That has been happening for several years for higher-skilled workers such as engineers and welders, but now it is occurring for relatively lower-skilled jobs such as warehouse workers and home-care aides.
Travel employment was up by 9,600 jobs in October. Amusement/recreation and food services industries gained jobs slightly in October, while employment in the lodging industry edged down. Employment in the airline industry continued to edge up in October as well. In total, the travel industry has added 70,700 jobs so far this year, which is up considerably from the 29,500 jobs added during the first 10 months of 2017. Total nonfarm payroll employment rose by 250,000 in October, more than double the number added in September, and the unemployment rate was unchanged at 3.7 percent.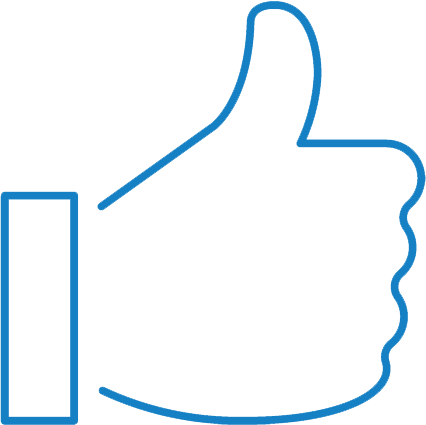 CONSUMER CONFIDENCE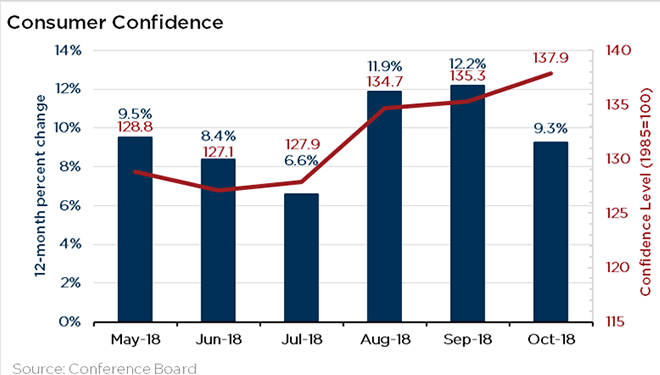 Consumer Confidence increased again in October, following a modest improvement in September according to the Conference Board. The Index now stands at 137.9, up from 135.3 in September. "Consumer Confidence increased in October, following a modest gain in September, and remains at levels last seen in the fall of 2000," said Lynn Franco, senior director of economic indicators at The Conference Board. "Consumers' assessment of present-day conditions remains quite positive, primarily due to strong employment growth. The Expectations Index posted another gain in October, suggesting that consumers do not foresee the economy losing steam anytime soon. Rather, they expect the strong pace of growth to carry over into early 2019."
Consumer sentiment remained virtually unchanged according to the University of Michigan's preliminary reading of consumer sentiment in early November. The index hit 98.3 in early November. Richard Curtin, chief economist for the Surveys of Consumers, said in a statement: "The stability of consumer sentiment at high levels acts to mask some important underlying shifts. Income expectations have improved and consumers anticipate continued robust growth in employment, but consumers also anticipate rising inflation and higher interest rates." Curtin added, however, that the virtually unchanged print kept the index on pace for its best year since 2000.
Sentiment this year is the highest since the turn of the century. Among consumer between the ages of 25 and 54, the anticipated annual gain in pay was 3.6 percent in November, the best in the past decade, according to the survey. Though consumer confidence hasn't been a great guide to consumption growth recently, its current level is consistent with solid spending growth, according to Michael Pearce, senior U.S. economist at Capital Economics. "Strong consumer spending momentum should persist, so long as income expectations remain supported by a healthy and vibrant labor market," according to Oxford Economics. Consumers' view of the current economic situation remained elevated, though their expectations for future conditions declined at the beginning of November.
Consumer Spending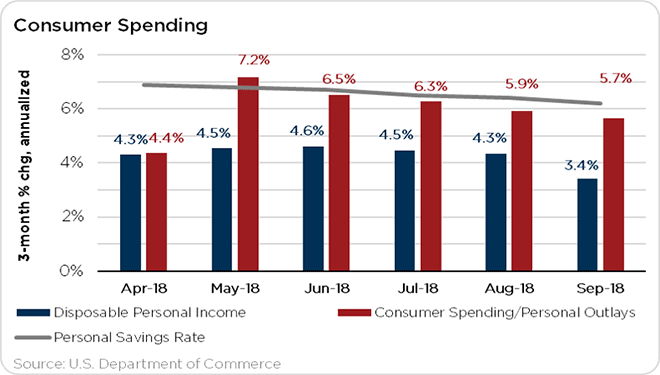 September witnessed above average consumer spending on cars and recreational goods, according to Commerce Department estimates. While inflation remained tame, real income slowed down to a 15-month low, meaning the personal savings rate fell again by 0.2 percentage point to 6.2 percent. According to the Commerce Department, Personal Consumption Expenditures (PCE) increased by $33 billion, or 0.4 percent, month-over-month (m/m) for September 2018, improving to $4.6 trillion. The spending was led by purchases of motor vehicles and parts (+$16 billion) and recreational goods and vehicles (+$10.6 billion). The PCE Price index, on the other hand, increased at the Federal Reserve target of 2.0 percent for both headline and core (headline excluding food and energy prices) levels. The "September personal consumption data largely [confirmed] what we knew after the release of third-quarter GDP – consumption was strong and inflation remains subdued," wrote Andrew Hollenhorst, economist at Citibank.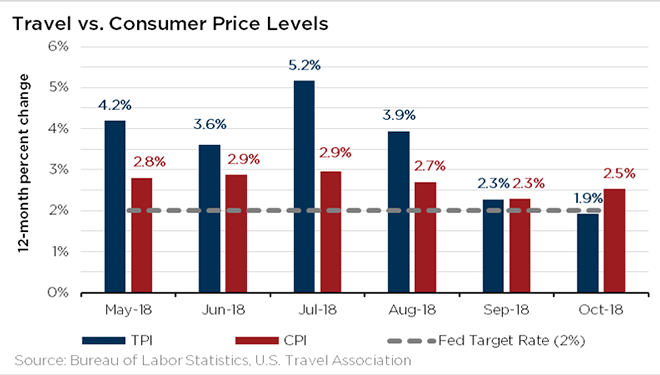 Outstanding credit card debt slowed down in September to end the third quarter, according to the Federal Reserve. Total revolving credit remains above $1 trillion for September, but U.S. consumer debt posted the smallest increase in three months as credit-card loans fell, suggesting Americans had limited appetite to spend beyond their means, Federal Reserve figures showed Wednesday. Credit card debt decreased by $312 million (-0.4 percent m/m), the third monthly decline in six months. Consumers were staying cautious on running up debt toward the end of the third quarter, driving the overall third-quarter growth in consumer credit to 2.1 percent q/q, slower than the second quarter's 2.9 percent q/q. The $11.2 billion increase in non-revolving debt (i.e., student loans, car loans) is consistent with industry data showing steady gains in sales of vehicles the past two months.
Exports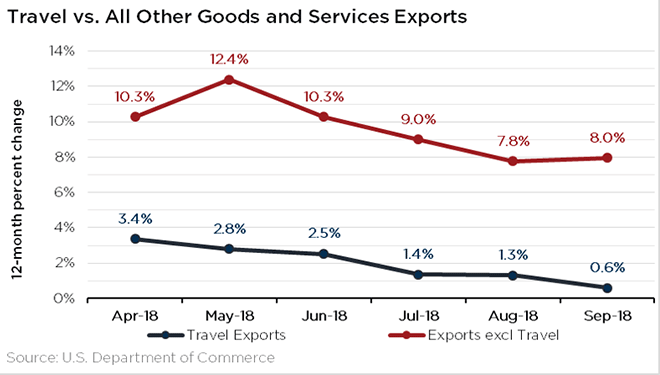 The U.S. goods and services trade deficit grew by 1.3 percent to $54 billion in September as imports hit an all-time high, according to the Commerce Department. Both imports and exports grew by 1.5 percent from August, but from different starting points: exports grew by $3.1 billion from to $212.6 billion in September, whereas imports grew by $3.8 billion from August to $266.6 billion. The September trade deficit marks the second-largest monthly trade deficit for U.S. goods and services during the Trump Presidency. Said Jeffry Bartash at MarketWatch:
"A bigger [trade deficit] reflects the stark reality that the American manufacturing sector is not as dominant globally as it once was… [but] the strong U.S. economy means… a higher value for the dollar [that] also makes foreign goods and travel less expensive… The Trump White House desperately wants to slash the trade deficit, but unless it's accomplished by U.S. rebuilding its manufacturing base or Americans spending less it won't do much to help the economy in the long run."
Travel exports, on the other hand, bucked the trend: both travel exports and travel imports expanded to $21.3 billion and $15.7 billion for September 2018, respectively. Travel export growth slightly surpassed travel import growth in dollar amount, improving the travel trade surplus to above $5.7 billion. The $54 billion September trade deficit would have been 11 percent larger without this surplus. For the year, travel exports have performed at or near all-time peak levels, improving at 2.3 percent year-to-date compared to the first three quarters of 2017.
State of Business
Soft business investment numbers may continue to be a trend moving forward. Capital goods orders slowed down for the second consecutive month in September, per the Commerce Department's latest monthly durable goods report. Core capital goods orders, a bellwether for GDP measures of business investment, fell 0.1 percent in September from August (month-over-month, m/m) to $68.7 billion. Total durable goods orders increased by 0.8 percent m/m to $256.8, led by large purchase orders for defense aircraft. Orders for non-defense aircraft (which includes passenger aircraft) decreased 17.5 percent m/m to $13.6 billion after a seasonally high increase of 63.7 percent m/m in August. According to analysts at Bloomberg, the soft capital goods numbers reflected "a sign [that] momentum in capital investment has paused as global trade concerns persist… Uncertainty over trade is already cutting into companies' expected profits and expansion plans, making it a risk to the pace of economic growth."
October manufacturing business conditions also slowed, according to the Institute for Supply Management (ISM). The ISM's Manufacturing PMI, an index of manufacturing conditions across U.S. businesses, registered 57.7 for October 2018, the 114th consecutive month of manufacturing sector expansion (i.e., any reading over 50 indicates expansion). That said, 57.7 marks the second consecutive month of slowdown (October represents a 2.1 ppt decrease from September), and the lowest PMI reading in six months. Timothy Fiore, chair of the ISM, noted "continued expanding business strength. Demand remains moderately strong… the Customers' Inventories Index remaining low but improving, and the Backlog of Orders Index remaining steady. Consumption softened, with production and employment continuing to expand, but at lower levels [from] September." The ISM's Non-Manufacturing Index indicated a services-sector slowdown to 60.3 for October, 1.3 percentage points down from September. Survey respondent businesses blamed tariffs for "causing difficulties" (from construction industry respondents), and "price increases" (from the finance & insurance industry). However, for the retail trade industry, one of three travel-related industry sectors reported growth for October. "Business has been strong... anticipating continued strong sales through remainder of the year."
Travel and tourism business activity remained robust through the late-summer-to-early-fall season, according to the Federal Reserve's Beige Book, a quantitative review of business conditions across the Fed's 12 districts. According to the summary: "Travel and tourism [business activity] generally picked up with a notable exception of North and South Carolina, where Hurricane Florence deterred tourism." More specifically, according to the Richmond district that covers North and South Carolina:
"In Charleston, South Carolina, hotel occupancy fell significantly, and many hotels and restaurants closed as employees evacuated the area. In Asheville, North Carolina, hotels faced high levels of cancellations and local attractions lost business because of the hurricane. However, tourism in areas not affected by Florence was healthy. For example, a West Virginia resort reported strong business growth and high bookings for the coming months."
That said, for the neighboring Atlanta district (which covers Florida, Georgia, Alabama, Mississippi, and Louisiana), "Hotel occupancy and average daily rates were higher than expected in tourist destination cities in Florida, Georgia, and Louisiana. Year-to-date Mississippi casino gaming revenue increased compared to the same time period last year." Moreover, while New York City "lagged the rest of the [New York-based] District," contacts from the Boston, Philadelphia, Minnesota, Kansas City and New York districts all reported increases in travel and tourism sector revenue.
Travel Trends Index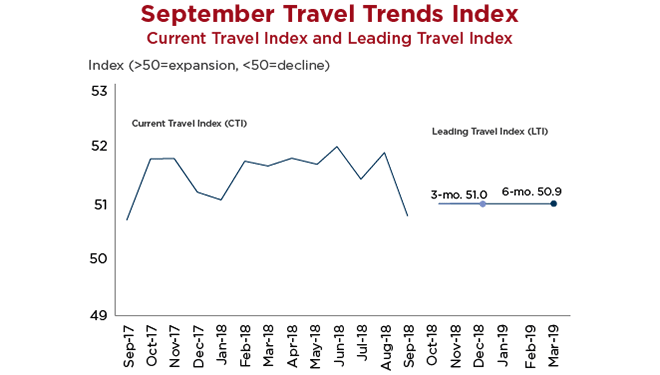 Travel to and within the U.S. grew 1.6 percent year-over-year in September, according to the U.S. Travel Association's latest Travel Trends Index (TTI)—marking the industry's 105th straight month of overall expansion.
But U.S. Travel economists add several strong caveats to the overall positive trend. Growth in domestic travel is leveling off, for example. That segment had been strong in recent months, buoyed by robust consumer spending and consumer confidence reaching heights last seen in 2000. Business travel, which registered a faster rate of growth than leisure travel in August, appears to have plateaued; domestic travel in September was almost entirely supported by leisure travel, which grew at a decelerated rate of 1.8 percent.
It would also be easy to misconstrue the international component of the latest TTI, which showed 4.4 percent year-over-year growth. But with inbound having posted a sharp 2.2 percent drop in September of 2017, any year-over-year improvement at all is liable to appear overinflated. Furthermore, the international Leading Travel Index (LTI) predicts that the market will not expand any further at all in the next six months.
TRAVEL INDUSTRY UPDATES
Despite a slight uptick in gasoline prices, travelers should expect congestion over the holiday travel season as record number of travelers hit the roads and air. Largely as a result of a slowdown from last September's post-hurricane lodging demand, RevPAR decreased in September, ending the 102-month record. PwC anticipates supply to slightly outpace demand growth in 2019 and average daily rates to continue to grow. Interest in travel to the Southeast picked up steam as domestic travelers seek warmer destinations for the winter months.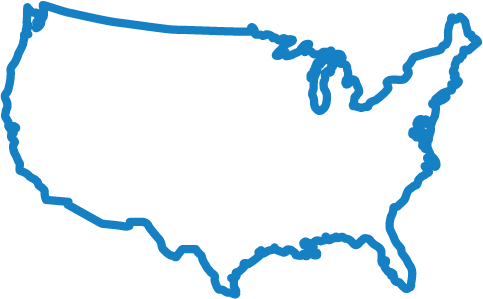 DOMESTIC TRAVEL
A recent study from AARP Travel found that travel provided health benefits during all trip stages. Some of the benefits discussed included improved emotional well-being (54%), connection with loved ones (52%), amount of energy (35%), intellectual curiosity (34%) and mental clarity (30%). "This research shows there are many health and wellness benefits during all stages of travel across generations, and seeing those benefits significantly improves their satisfaction with the trip," said Alison Bryant, AARP senior vice president, research.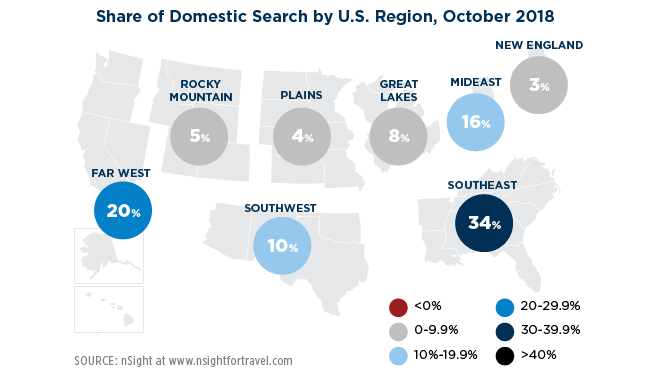 Of U.S. residents searching for lodging in October, 83 percent searched within the U.S. - consistent with last month and up slightly from the 79 percent searching domestically the same time last year. The latest U.S. Travel Barometer reported that year-to-date, on average, 85 percent of U.S. residents' lodging searches were for within the U.S. – notably higher than the 78 percent 2017 year-to-date average. As we head into the winter months, similar to prior years, interest in the Southeast increased - capturing 34 percent of U.S. resident domestic searches, followed by the Far West which captured 20 percent of searches.
Traveler's own interests and hobbies were rated the top influencers for deciding to travel according to a recent study completed by the Chief Marketing Officer Council's GeoBranding Center and AIG Travel. The research found that leisure travelers are less concerned with social media and destination politics. The security, stability and friendliness of a location also have an impact on traveler choices, as do adventure and recreation offerings. Social media may not be a top influencer, but travel is increasingly reliant on technology for planning, such as the use of online travel agents. Deals and discounts were cited by more than half of leisure travelers as top trip motivators, followed by loyalty programs and perks, do-it-yourself travel options and family and friends.
Americans continue to be challenged to take a vacation. Vacation deprivation levels are at a five year high (59%, up 8% from 2017) according to Expedia's 18th annual Vacation Deprivation® study. American workers took the fewest number of vacation days in the world in 2018, receiving an average 14 vacation days and using 10. This resulted in 654 million unused vacation days in 2018. Finances are a primary reason for not taking vacation days (54%, up 11% from 2017). Gen Z and Millennials (18-34) receive two fewer days on average than other age groups in the U.S. Both short and long vacations include post-trip benefits of higher confidence in problem-solving abilities and feeling more hopeful and outgoing.
A recent report from Arival Travel looks at the changing ticketing technology landscape. Technology systems for ticket management are shifting from traditional legacy technology to cloud-based systems which can more deeply connect the supplier, distributor and customers. The shift is slow due to the need for high customization of attraction systems, the consumer impact on features and functions and concerns with reliability, predictability and complexity systems.
The 2019 Global Meetings and Events Forecast by American Express Meetings & Events predicts North American meeting budgets to grow by 0.8 percent and overall activity levels to grow between 0.5 and 1.3 percent depending on the type of gathering. Top factors influencing meeting location include specific location type needed (37%), ease of transportation to location (32%), client directive based on past experience (22%) and repeat destination for meeting (22%). There has also been a growing importance of safety and privacy concerns.
A survey by TripActions found business travel is necessary but frustrating. A majority of business travelers think travel is essential for driving company growth (90%) and prefer to close a deal in person (91%) even if that requires air travel. However, these travelers became frustrated by the lengthy booking process due to limited inventory options in corporate travel management solutions and lack of support to handle situations such as delays, cancellations and overbooked hotels. Still, a majority see traveling as a perk of their job (90%) and get more excited about their job after traveling (80%). TripActions Generational Shifts Reshaping Business Travel Report found younger employees are more likely to view work trips as net positive and desire new kinds of travel experiences.
Uber, Starbucks and Amazon are the top-expensed vendors of business travelers according to Certify's Q3 2018 SpendSmart report. In an analysis of over 10 million receipts, Uber accounted for 11 percent and Starbucks and Amazon each accounted for 4 percent of all transactions. Starbucks continued to dominate as the leading vendor for meals, with 5 percent of all receipts. The fast-growing food delivery market saw Uber Eats' popularity jump 300 percent since the third quarter of last year. The success of these brands in the corporate world shows how important they have become in the daily life of the consumer.
Costs for meetings are expected to continue to rise in 2019, according to industry research from American Express Meetings & Events. On top of rising costs, there is increasing pressure felt by meeting planners as organizations have become smarter about tracking spending on events. That pressure stems from greater budgetary transparency, coupled with expectations that quality should increase from one meeting to the next but that budgets can be kept flat.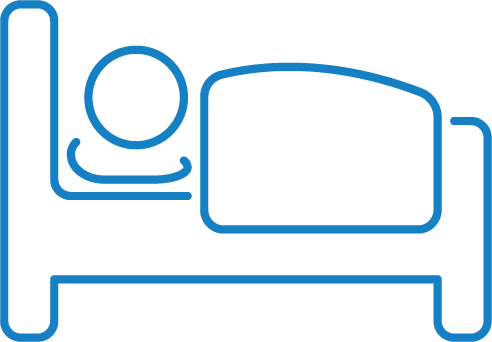 LODGING INDUSTRY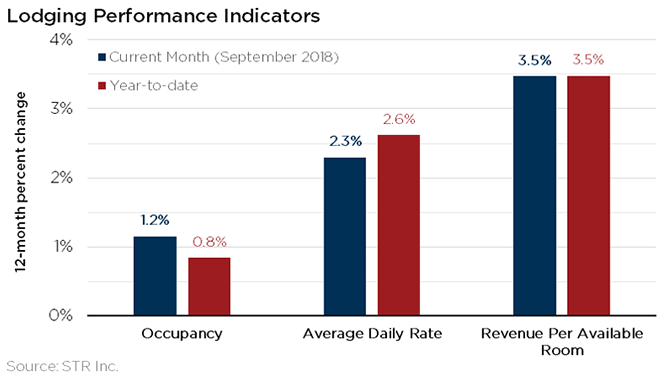 The U.S. hotel industry reported mixed results in the three key performance metrics during September 2018, according to STR. U.S. hotel occupancy decreased 2.1 percent to 68 percent year over year, while ADR rose 1.9 percent to $131 and RevPAR dipped 0.3 percent to $89.10. The slight dip in RevPAR broke the industry's 102-month streak of year-over-year growth, the longest on record.
"Very important to state, this is not the beginning of a downturn," said Jan Freitag, STR's senior VP of lodging insights. "The industry smashed the monthly demand record last September because of the rush of post-hurricane business in Houston and parts of Florida. That created a level of demand that the industry fell just short (-0.1%) of matching this September. In fact, that slight dip in demand was the first year-over-year decline in the metric since August 2015.
PwC anticipates a slight uptick in 2019 supply growth according to the November PwC's Hospitality Directions: Lodging outlook. PwC anticipates a slight uptick in supply growth at 2.1 percent in 2019, while full-year 2018 is expected to be 2 percent. It predicts demand growth will slow down to 1.9 percent in 2019 while an increase in average daily rate paired with a slight dip in occupancy will result in RevPAR growth of 2.8 percent, the report states.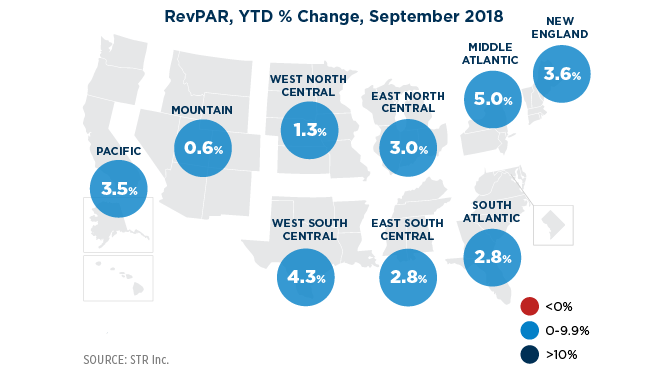 "As we head towards 2019, economic indicators appear to support continued industry growth, given high consumer spending supported by rising disposable income, employment and household net worth," the report states. "Counter-balances to continue monitoring into the new year include: continued trade tensions, waning fiscal stimulus, increasing interest rates and growing inflation."
Fees and surcharges at U.S. hotels are expected to increase 9 percent to a record $2.9 million this year. These fees range from $20 and $40 a day and may include early check-in, unattended surface parking, holding checked luggage and urban resort fees. Urban resort fees cover goods and services like internet, bottled water and newspapers, comprise the largest share of the fee and surcharge increase.
Global alternative accommodation listings increased 21 percent in Q3 compared to the same period last year on Booking.com. "Our room-night growth in alternative accommodations remains robust and is higher than our consolidated growth rate," Booking Holdings CEO Glenn Fogel said. Booking.com's biggest competitors in the U.S. market are Airbnb and HomeAway. An Airbnb spokesman confirmed the company has "5 million-plus" listings. Booking.com's roots in the alternative accommodations space are with professional vacation rental managers.
Transportation
Travel for the Thanksgiving this year was anticipated to be the busiest Thanksgiving season for airports on record. The Transportation Security Administration projected Thanksgiving saw 25 million travelers, 7 percent more than last year. There was an increased number of travelers who began their holidays earlier than usual with travel spiking the Friday before Thanksgiving and climaxing the Sunday after Thanksgiving.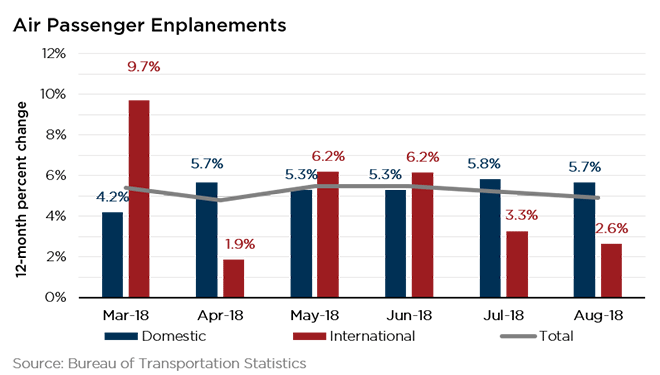 Over 9.3 million total passengers traveled through U.S. carriers and U.S. airports in August 2018, according to the Department of Transportation's Bureau of Transportation Services (BTS). August 2018's passenger count year-over-year increase of 4.9 percent from August 2018. Despite being the largest monthly passenger count for August in the past 16 years (BTS displays data from 2002 onward), August's passenger count represents a slow-down from both July's revised 5.2 percent y/y increase (breaking three consecutive months of over 5 percent y/y growth) and the year-to-date 5.0 percent increase from the first eight months of 2018. The growth in visitation was characterized by robust increases in both domestic (5.7 percent y/y) and international passengers (2.8 percent y/y). However, both indicators also slowed down from July levels.
North American airlines experienced a 5 percent increase in demand, according to the International Air Transport Association (IATA). September demand, measured in revenue passenger-miles, accelerated from the 3.7 percent year-over-year growth recorded in August. Total seat-miles and load factor fell 0.3 percentage points to 80.8 percent. Strong momentum in the U.S. economy is helping underpin a pick-up in international demand for airlines in the region. "While September's traffic growth was in line with the long-term average, it represents a moderation compared to recent months. This is likely owing to the anticipated reduced demand boost from lower airfares due to rising airline cost pressures, particularly fuel. Heightened uncertainty about trade policies and mounting protectionist policies may also be having an impact," said Alexandre de Juniac, director general and CEO at IATA.
International Travel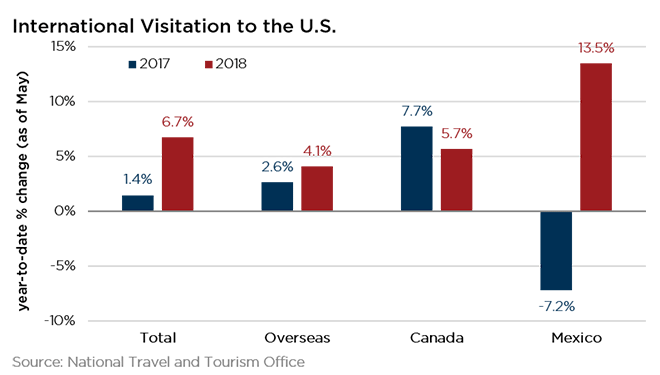 Over 31.3 million international visitors arrived in the U.S. through the first five months of 2018, according to the National Travel and Tourism Office (NTTO). International arrivals to the U.S. through May increased to 6.9 percent year-to-date. Year-over-year (y/y) visitations from Canada increased substantially, with 1.8 million Canadian visitors representing a 13-percent y/y increase for the month of May. Canadian visitation to the U.S. through the first five months of 2018 accelerated to 7.1 percent ytd as a result (8.6 million visitors), faster than the total international visitor average. Mexican visitation to the U.S. increased 3.8 percent y/y in May to 1.4 million arrivals. Mexican visitation year-to-date remained strong, improving by 11.5 percent to 7.6 million visitations.
Overseas visitation accounted for over half of international arrivals in 2018: 3.5 million visitors from outside Canada and Mexico arrived in the U.S. in May, compared to 6.7 million total international visitors. This 6.7 percent y/y increase reflects a significant recovery in visitations from Latin America, whose combined 3 million visitors to the U.S. year-to-date accounted for 60 percent of all overseas arrivals to the U.S. through the first five months of 2018. Brazil accounted for over half the increase in Latin America and represents by far the largest ytd increase in international visitation to the U.S. (greater than the next three markets for this same indicator [U.K., India, France] combined).
China is set to overtake France as the world's number one international tourist destination by 2030, according to Euromonitor. Euromonitor estimated that over 1.4 billion trips will be made in 2018, up 5 percent from last year, but "by 2030, international arrivals are expected to have risen by another billion, corresponding to around $2.6 trillion in receipts." Wouter Geerts, senior travel analyst at Euromonitor, noted that the gradual process of loosening visa restrictions has made traveling throughout the Asia-Pacific region easier, and improving middle class conditions across the entire region will make China a hub for Asian intra-regional international travel. "Tourism is a key pillar of the Chinese economy, and much investment has been made to improve infrastructure and standards, in addition to tourism-friendly policies and initiatives," he said.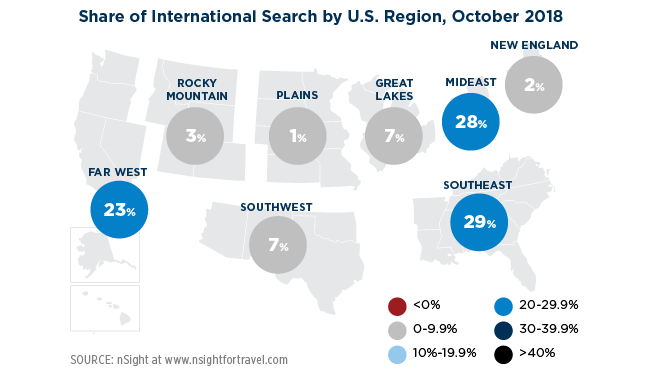 The latest U.S. Travel Barometer reported that 17 percent of international lodging searches were for destinations in the United States—consistent with October of last year. Year-to-date, 14.8 percent of international searches were to the U.S. - on par with 2017's year-to-date average of 14.3 percent. Interest in travel to Spain remained strong with Spain capturing 9.1 percent of international lodging searches in October. Spain was followed by the U.K. and France. Within the U.S., like domestic travelers, international travelers' interest to the Southeast picked up and captured 29 percent of international searches, followed closely by the Mideast at 28 percent.
In the long-view, improving global economic conditions will prove useful for the U.S.' recovery as an international travel destination, according to U.S. Travel and Tourism Economics in recent webinars. "Widespread growth in global GDP supports strong growth in global long-haul travel," said David Huether, senior vice president of research and economics at U.S. Travel. "Comparing overseas visitation to the United States with global long-haul travel, the U.S. has underperformed the world since 2016 and, despite moderate increases in overseas inbound travel, the United States is expected to continue to trail the global long-haul travel market in the medium term." Building on that point, Adam Sacks, president of Tourism Economics, noted that the U.S.' change "from an overperformer to an underperformer in global travel… has happened before," referring to the decline of the U.S. destination market share global long-haul travel from 17 percent in 2000 to 11.5 percent by 2006. Sacks further noted that "while the U.S. has been losing share, Australia, India, Indonesia, Japan, Mexico and Spain have increased theirs."
The United Nations World Tourism Organization (UNWTO) is creating a new framework: Measuring the Sustainability of Tourism (MST). This framework evaluates economic, social and environmental dimensions across destinations to gather credible and comparable data of the sustainability of tourism. Adoption of the MST could help develop tourism potential, better manage the sector and support effective evidence-based policy decisions for global tourism.
The popularity of the U.S. market for Chinese travelers dropped during their Golden Week, the first week of October. According to C-trip and Skyscanner, the U.S. saw a sharp decline in Chinese visitors during Golden Week with flight bookings to the U.S. down 41 percent compared with last year's Golden Week. Already, 102,000 fewer Chinese received business, leisure and educational visas from May through September of this year compared with the same period last year, a 13 percent drop, according to State Department statistics.
Euromonitor's Megatrends Shaping the Future of Travel looked at trends driving fundamental shifts in travel behavior. Globally, there is more consideration for traveler ease, environmental conservation and affordable options aligning with changing consumer desires. Euromonitor noted that for North America in particular, the recent passage of cannabis legislation by Canada may strain the Canada-to-U.S. tourism market, as the U.S. Border Patrol would deny entry to "anyone affiliated with Canada's legal cannabis industry to enter the U.S." Moreover, trade negotiations could put further strain on this relationship.
Webinar Series
National Plan for Vacation Day, returning Tuesday, January 29, 2019, is a day to encourage Americans to plan their time off for the rest of the year at the start of the year. Join us Tuesday, December 11 from 2:00-2:45 p.m. ET for an overview of the creative resources in our full toolkit to help you build your campaign and reach your followers and target markets.
U.S. Travel Updates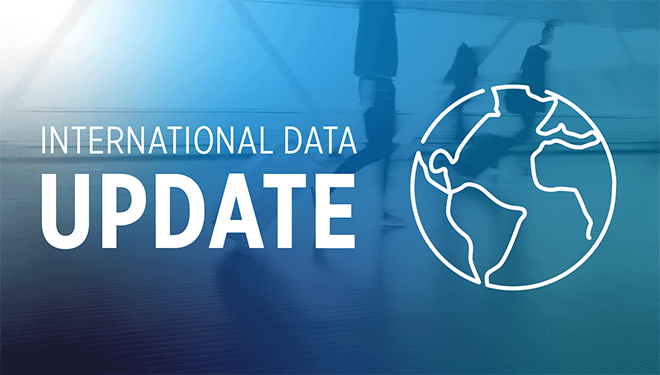 Now that the 2017 country-level travel exports and spending numbers have been released by the Department of Commerce, Research updated The Top 20 Export Markets Fact Sheet. This fact sheet ranks the top 20 international markets by U.S. travel exports and provides a breakdown of travel exports into their various categories. It also includes visitation and average travel spending data.
Policy
The long 2018 midterm election cycle drew to a close and, as predicted, split government will return to Capitol Hill. Republicans held the Senate and as predicted, Democrats were able to flip the House, however, it was not by huge margins as some were predicting. Once all the races are "called", the Democrats will likely net about 230 seats, leaving the Republicans with approximately 205.
According to exit polling, the pre-election research data was correct. Women, particularly highly educated, and Independent voters leaned strongly toward the Democrats. The GOP advantage with men remained in strong, but the margins were smaller than previous years. Partisanship was strong as virtually all Democrats and Republicans voted along party lines.
For the most up-to-date results and coverage, the Washington Post has a good breakdown, and Politico is currently updating the race by race results in real time.
U.S. Travel's inaugural Sports Travel Forum was held earlier in November with more than 100 travel and professional sports leaders to help them better understand the intersection between their industries' business interests and forge opportunities for partnership and growth.
Some key items on the forum agenda included:
A discussion by former NFL chief marketing officer Dawn Hudson on the untapped opportunity in leveraging travel for professional sports.
A session with the San Francisco Giants' Stephen Revetria, Madison Square Garden Company's Rob Lyons and Capital One Arena's Michele Powell on generating year-round revenue.
A session on eSports led by Lee Igel of New York University's Tisch Institute for Global Sport.
A discussion led by The Cordish Companies' David Cordish and Loews Hotels & Co. Chairman and CEO and New York Giants co-owner Jonathan Tisch on how sports teams and travel leaders can partner to attract visitors.