U.S. Travel's Research Trends from David Huether
ECONOMIC OVERVIEW:
SEPTEMBER 2019
The consumer is keeping the U.S. economic expansion on track. A near-5% rise in consumer spending in the second quarter offset declines in investment spending and exports. The economy has been on a decelerating path for about a year, and the 2.3% rise in GDP over the most recent four quarters is the slowest in two years. In light of these factors, as well as the strong labor market and moderate inflation, the Federal Reserve Open Market Committee (FOMC) announced on September 18 that it would reduce interest rates by 25 basis points, saying, "This action supports the Committee's view that sustained expansion of economic activity, strong labor market conditions, and inflation near the Committee's symmetric 2% objective are the most likely outcomes, but uncertainties about this outlook remain."
ECONOMIC SUMMARY:
U.S. second quarter real GDP remained generally unchanged in an August revision, falling slightly to a 2% seasonally adjusted annualized rate (SAAR) from the initial 2.1% SAAR estimate in July. The story remained the same: consumer spending rebounded after a tepid first quarter, but inventories and net exports, two volatile sectors that led the 3.1% SAAR surge in real GDP for the first quarter, combined for a 1.6-percentage-point drag on real GDP in the second quarter. In particular, net exports subtracted 0.7 percentage points from GDP in the second quarter partially due to the ongoing trade war between the U.S. and China. This last point had analysts and consumers alike worried that a self-inflicted recession could be on the horizon.
The trade war's effects have already been seen as a drag on GDP. China, the largest U.S. trading partner last year, fell behind both Mexico and Canada this year amid the escalating trade war. According to Reade Pickert at Bloomberg, "The conflict has muddled companies' supply chains and stymied plans for capital investment, with U.S. manufacturing in a recession in the first half [of 2019] and rising concern that a broader downturn is coming." On top of that, U.S. factory activity contracted in August on account of the trade war, according to the Institute for Supply Management. A strong dollar and a weakening global outlook continued to hold down export demand.
With economic storm clouds looming, a majority of economists polled by the National Association of Business Economists predicted that the U.S. economy would be in a recession by 2021. Travel industry analysts are even more pessimistic—Chad Church, vice president of client services at STR, noted that "economists often do not predict a steep enough decline of GDP, and predict it will happen later than it actually happens." Adam Sacks, president at Tourism Economics, noted that "the odds of a recession happening this year are low," but "next year's chances are at 40%. That's uncomfortably high." Sacks continued: "The fundamental assumption there is that the consumer holds on...even when buffeted by external factors to sustain us with slow growth through this period."
That said, the economy hasn't collapsed yet. In fact, according to Jeffry Bartash at MarketWatch, "the chief barrier to a trade war-induced economic shock is the best labor market in years." Job openings have been plentiful. Incomes have been rising. Layoffs and unemployment have been near a 50-year low. While the economy, in its 11th year of expansion, is bound to slow down, there have been no outward signs of a recession at this point. Consumer spending has also remained strong despite waning confidence. Consumer spending also remains strong despite waning confidence, but Joseph Carson, former chief economist at Alliance Bernstein, reminded viewers to "keep an eye on the companies that pay consumers' salaries, many of which are struggling due to ongoing economic uncertainty.", according to Joseph Carson, former chief economist at Alliance Bernstein, "companies...pay [consumers'] salaries and offer them jobs," and currently many of those companies are struggling due to ongoing economic uncertainty.
Currently, economists estimate that the uncertainty will continue to weigh on the U.S. economy for the rest of 2019. In an updated report, the Congressional Budget Office revised its economic outlook for 2019 downward from 2.8% to 2.3%, citing increased deficits and the current trade policies. Lydia Boussour, senior economist at Oxford Economics, agrees: "elevated policy uncertainty, deteriorating global growth, escalating trade tensions and tightening financial conditions will weigh on business investment. With consumer spending set to cool in Q3, we foresee real GDP growth around 2.0% (SAAR), while the annual trend will likely cool further from 2.3% to 2.1%." Looking to the third quarter, the Atlanta and New York Federal Reserve Banks forecast an even bleaker third quarter, predicting 1.9% SAAR and 1.6% SAAR, respectively.
CURRENT STATE OF THE ECONOMY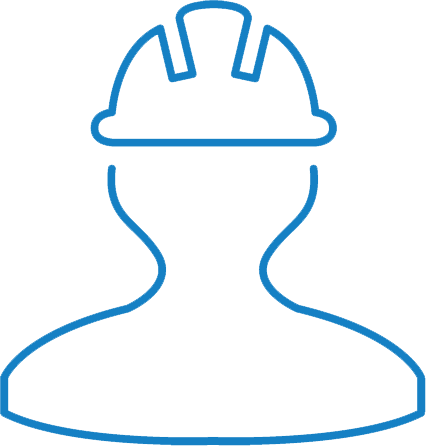 LABOR
U.S. hiring slowed in August, with only 130,000 new jobs added, according to the Labor Department's jobs report. "The gain was smaller than expected, but August payroll changes are almost always revised higher," noted Nancy van den Houten, lead U.S. economist at Oxford Economics. Other employment indicators remained strong. The unemployment rate remained near a 50-year low, holding steady at 3.7%. More importantly, average hourly wages grew by 3.3% y/y in August, staying above 3% (and therefore well above the rate of inflation) for the 11th consecutive month. It is also noteworthy to highlight that average hourly earnings in leisure and hospitality increased by 3.5% y/y during this period. "The important thing is that the wage increases, which had slowed, seem to be coming back," said Joel Naroff, chief economist at Naroff Economic Advisors Inc. "That points to the simple fact that the labor market really is tight."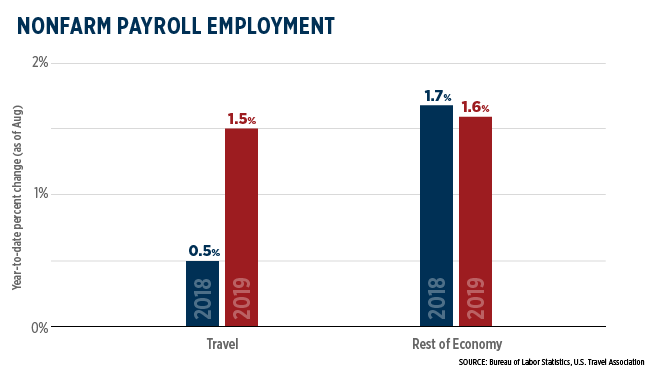 After tumbling in July, travel employment recovered solidly in August with the addition of 3,000 jobs. Food services/drinking places and the airline industry experienced small gains. The pace of job growth remains slower than the rest of the economy, with travel jobs growing by 1.5% year-to-date and jobs outside the travel industry growing by 1.6% year-to-date.
On the other hand, 501,000 fewer jobs were created than previously estimated by the Labor Department from late 2018 to early 2019, according to the Labor Department's most recent survey of business establishments. The average monthly increase of 223,000 jobs in 2018 — the strongest in three years — could be trimmed to around 185,000 in 2019. Fewer jobs were created in restaurants, hotels, retail establishments and professional business services. Leisure and hospitality employment was reduced by 175,000. What remains to be seen is whether the lower employment figures end up showing that wage growth was a lot stronger in the past year than government figures show.
American incomes remained essentially flat in 2018 after three straight years of growth, according to recently released Census Bureau figures. Median household income was $63,179 in 2018, an uptick of 0.9%, which, when adjusted for inflation, was not statistically significant from the prior year. Census officials said that median household income was essentially the same as it was during previous peaks in 1999 and 2007. The new figures showed that the number of full-time, year-round workers increased by 2.3 million. When the data is broken down by race and ethnicity, median household incomes in America were essentially flat in 2018 for all groups except Asians, who saw theirs rise by 4.6% from the previous year in real dollars. "Employers have become more adept at holding down wages by using technology, and consolidation in industries such as telecommunications and banking also has dampened income growth," said Carl Tannenbaum, chief economist for Northern Trust.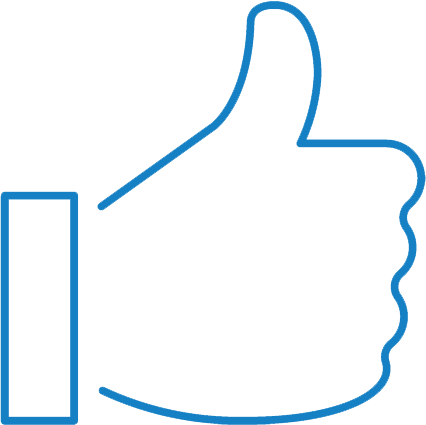 CONSUMER CONFIDENCE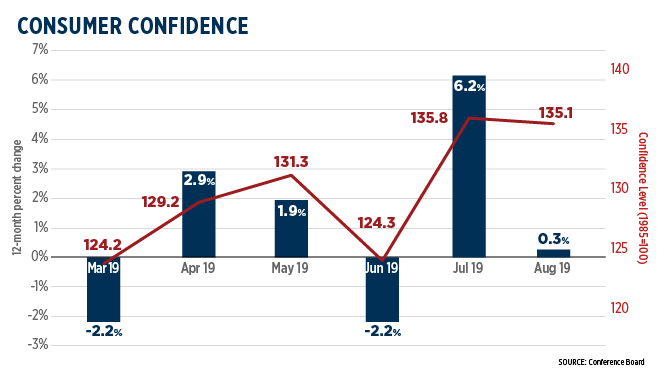 The Conference Board Consumer Confidence Index declined marginally in August following July's rebound. The Index now stands at 135.1, down from 135.8 in July. "Consumers' assessment of current conditions improved further, and the Present Situation Index is now at its highest level in nearly 19 years. Expectations cooled moderately, but overall remain strong. While other parts of the economy may show some weakening, consumers have remained confident and willing to spend" said Lynn Franco, senior director of economic indicators at The Conference Board.
Sentiment in the U.S. rose more than expected in the preliminary September reading—from 89.8 in August to 92 in September—according to the University of Michigan. However, while consumers feel more confident about the economy, worries about the impact of tariffs on the economy increased in early September. Richard Curtin, chief economist for the Surveys of Consumers, said 38% of all consumers made "spontaneous references to the negative impact of tariffs, the highest percentage since March 2018. Those who negatively mentioned tariffs also held more negative views on the overall outlook for the economy as well as anticipated higher inflation and unemployment in the year ahead," Curtin said.
While consumer confidence and sentiment remain fairly strong, a segment of consumers polled by Bank of America Merrill Lynch are growing increasingly uneasy as the trade war rages on. The firm's U.S. consumer confidence indicator dipped by 3.8 points in September, to 50.1, and even fell briefly below 50, marking the lowest reading on record. "The consumer appears to be rattled by the latest escalation in the U.S.-China trade war," Bank of America economists noted. "The drop-in confidence appears to be already having an impact on consumer demand."
As the trade war continues, U.S. consumer sentiment is becoming an increasingly important indicator of how the economy is doing and whether the expansion is likely to continue. At this late point in the cycle, a strong consumer and solid labor market conditions are crucial variables. The U.S. consumer is "the segment of the economy that's still growing at a decent clip," said Joseph Song, a U.S. economist at Bank of America. "If it starts to stall out, that's going to lead the overall economy to stall out."
Consumer Spending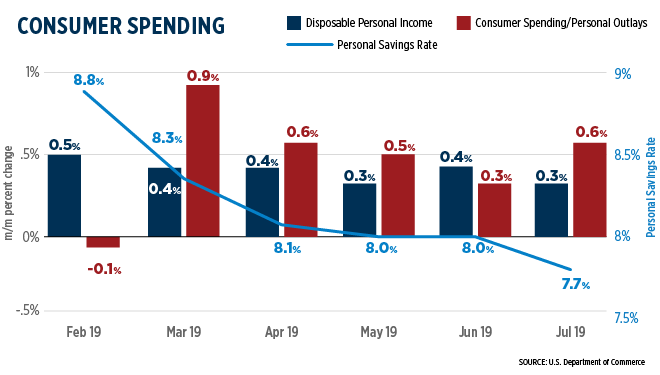 Despite fears of an oncoming economic slowdown, U.S. consumers continued to spend solidly in July. Personal consumption expenditures (PCE) increased by 0.6% month-on-month (m/m) in July to $93.1 billion. July's elevated consumer spending continued a Herculean effort from the U.S. consumer in 2019: 6 of the first 7 months of 2019 experienced consumer spending growth above the average monthly gain in PCE across the current economic expansion (0.3% m/m). "Even with elevated policy uncertainty and financial market turbulence, the U.S. consumer continues to display great vitality, emboldened by a large savings buffer," wrote Lydia Boussour, senior U.S. economist at Oxford Economics. That savings buffer did not continue through July, as disposable personal income increased by a slower 0.3% m/m, meaning that the personal savings rate plummeted by 0.5 percentage point to 8% of disposable income. Moreover, Boussour continued, "the combination of moderating confidence, dissipating fiscal stimulus and cooling income growth suggests that the stellar pace of consumer outlays seen in Q2 won't be sustained."
July's consumer spending report highlighted another ongoing trend in 2019: uncooperatively low price levels. The 12-month core PCE price index, the Federal Reserve's preferred measure of inflation, remained at 1.6% y/y in July, well below the Fed's 2% target rate. "Low inflation has been the main concern for the past decade," said Jerome Powell, chair of the Federal Reserve. "It appears to be moving back up closer to our 2% objective, but there are concerns about a more prolonged shortfall" in core PCE inflation.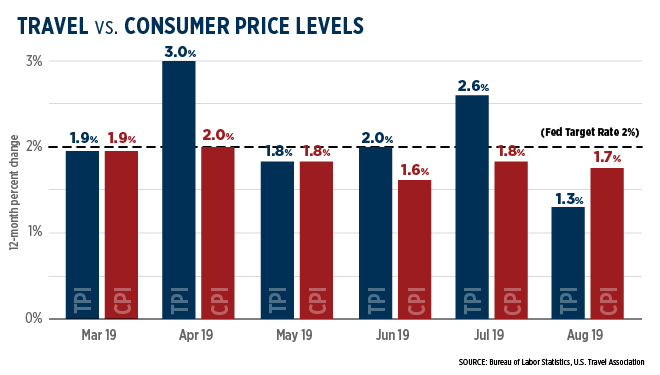 The Labor Department's Consumer Price Index (CPI) also stayed below 2% y/y for August. The CPI estimated that prices for U.S. goods and services increased by 1.7% since August 2018, driven by a drop in gas prices. Encouragingly, core CPI inflation, which excludes food and energy prices, increased by a 2.4% 12-month rate, the highest reading in 13 months. Travel prices grew at a slower 1.3% y/y, according to U.S. Travel's Travel Price Index. Despite a 3.3% y/y decrease in transportation prices, prices for recreation services, lodging and food and beverage remained at or above the 2% y/y level.
Exports
The U.S. trade deficit narrowed by 2.7% in July, but the trade gap with China surged to a six-month high, according to U.S. Commerce Department estimates. Overall U.S. exports of goods and services rose by 0.6% in July from June to $207.4 billion, led by gains in consumer goods, capital goods and automobiles. Imports fell by 0.1% to $261.4 billion. The politically sensitive goods trade deficit with China increased by 9.4% m/m to $32.8 billion, the highest mark for the goods deficit since January. Year-to-date, U.S. merchandise exports to China have dropped by 17.3%, while imports have fallen by 12.4%. "Investors and the markets are unlikely to see any reprieve in the trade sanctions and tariffs and the Trump administration may even redouble their efforts to tame the massive red ink," said Chris Rupkey, chief economist at MUFG in New York. "It doesn't look like America is winning the trade war."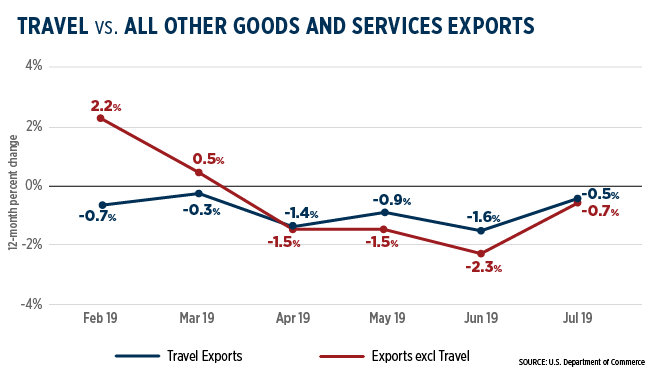 The travel trade surplus increased by 2.7% m/m to $5 billion in July, but this was caused by a drop in volume for both travel exports and travel imports. Travel exports decreased slightly from June to finish July 2019 just below $21.1 billion. Year-over-year, July 2019 travel exports decreased by 0.5%, slightly outperforming non-travel exports, which decreased by 0.6% y/y. Travel imports decreased by $200 million in July to $16 billion. Travel exports remain an important international trade industry; in addition to making up over 10% of total U.S. goods and services exports, the U.S. trade deficit would be 9.4% larger without the contribution of international visitors.
State of Business
The U.S. manufacturing sector contracted in August for the first time in three years. The Institute for Supply Management's (ISM) Manufacturing Purchasing Managers' Index (PMI) fell 2.1 percentage points to 49.1% (any reading above 50 indicates expansion), driven by large drops in new orders, exports and employment. Purchasing managers cited the strain that oncoming tariffs were having on business costs. "It was a pretty ugly report," said Gregory Daco, chief U.S. economist at Oxford Economics. "The headwinds that have been battering the global economy are washing up on U.S. shores." Mark Hamrick, a senior economic analyst at Bankrate.com, said that "the problems affecting the sector are well advertised and unfortunately to some degree self-inflicted." Offering a silver lining, the ISM's Non-Manufacturing Index (NMI) estimated that services sector activity increased by 2.7 percentage points in August, led by a large increase in new orders.
Business investment indicators started the third quarter on a positive note: core capital goods orders increased by 0.4% m/m for July 2019. However, the news is generally being seen by analysts as a slowdown in business investment moving forward, as July 2019's core capital goods orders were revised downward by over 0.6 percentage points (from 1.5% m/m to 0.9% m/m). "The slump in sales of equipment suggests American businesses remained cautious about capital spending ahead of this month's escalation of the U.S.-China trade war. Uncertain trade policy, weaker global manufacturing and recession fears may continue to limit investment in the coming months," wrote Reade Pickert of Bloomberg. Overall durable goods orders, supported by a rebound in Boeing aircraft purchases, increased by 2.1% m/m in July 2019.
In the Federal Reserve's Beige Book, travel business activity was reported as mostly strong across the Fed's 12 districts from mid-July to late August. The travel industry saw increased activity in the northeast, with average room revenue for Boston hotels up 6.9%, compared to the national average of 3.3%, and increased visitations in New York City. Hotel demand in the Greater Philadelphia market was generally in line with the prior period but slowed somewhat, partly owing to shorter booking windows for business travel. The summer season was also "softer than expected" in Louisiana and Florida. Finally, in the upper Great Plains (Minneapolis district), "tourism offered a mixed bag," with visitation to 6 of the 8 largest national parks in the district down in July, but increased demand meant "labor constraints have meant shorter operating hours" for some travel industry businesses in Minnesota.
Travel Trends Index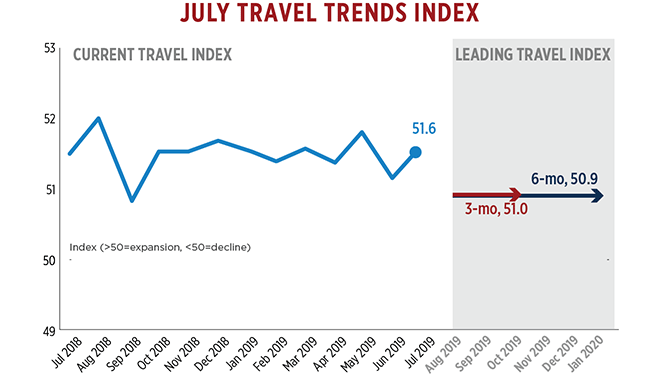 Travel to and within the U.S. grew by 3.2% in July 2019 compared to July 2018, according to U.S. Travel's latest Travel Trends Index. July's performance was a slight rebound from June's nine-month low. Domestic travel, which was up 3.8%, improved travel's overall performance due to solid growth in both the leisure and business segments. Domestic leisure travel surpassed its six-month average and increased by a robust 4.2%. Domestic business travel grew by 2.2% in July, recovering from its 0.2% decline in June.
International inbound travel contracted once again in July, falling by 1.2%. The decline follows a disappointing June performance, which saw the sector's six-month trend fall below zero for the first time since September 2015.
The predictive portions of the TTI anticipate that domestic travel will moderate and grow by 2% through January 2020, while international inbound travel will experience a slight decline during this timeframe of around 0.4%.
TRAVEL INDUSTRY UPDATES
While an economic slowdown seems inevitable, the travel industry is cautiously optimistic and even revised some lodging predictions upwards. The airline industry remains strong, although volatile gasoline prices may create additional pressure on airline profitability and cause some consumers to reconsider their long road trips.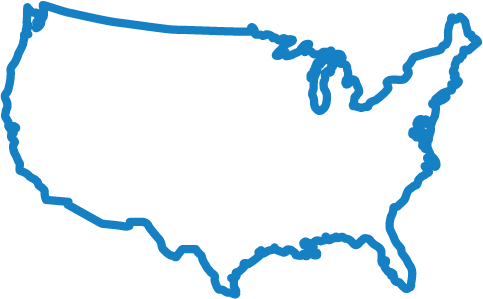 DOMESTIC TRAVEL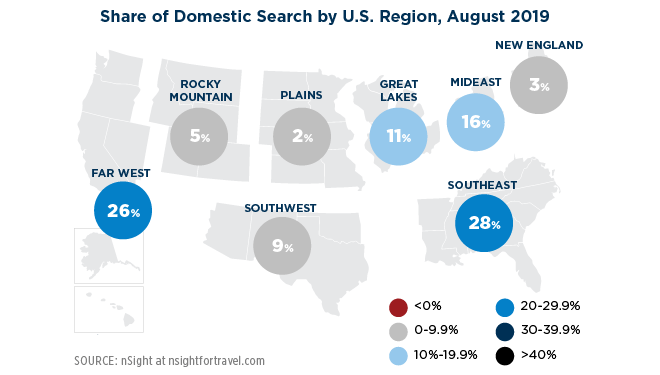 The latest U.S. Travel Barometer reported that 86% of U.S. residents searching for lodging in August searched domestically, down from 89% of U.S. residents searching domestically the prior August. Canada captured 2.3% of U.S. resident searches in August, ahead of Mexico, which captured 1.9%. More than half of Americans searching for lodging in the near-term searched the southeast (28%) or the far west (26%).
According to Airlines for America, a record 17.5 million passengers traveled on U.S. airlines over the Labor Day holiday, a 4% increase from last year's estimated 16.9 million passengers. This equates to an average of 2.51 million air passengers per day from August 28 through September 3.
There are more travel advisors and travelers who are optimistic about the state of the U.S. economy than are not. The preliminary findings from the American Society of Travel Advisor's (ASTA) annual How America Travels study show that 32% of travel advisors think the economy will be better in a year, whereas only 20% believe it will be worse. The study also found that 4 in 10 travelers are optimistic about the economy's future, and only 2 in 10 are not. ASTA also found that travelers plan to take an average of 2.9 trips in 2020 and spend more on these trips than their previous ones. The estimated spend per traveler next year is $6,772, a 10% increase compared to last year.
According to the National Tour Association, U.S. Hispanic consumers account for more than $56 billion in leisure travel annually. Their research found that U.S. Hispanics take, on average, two more trips per year than non-Hispanics. They also spend, on average, $300 more on trips and travel in larger groups than non-Hispanic groups. As the largest minority group in the nation, this emerging influential market presents great opportunities for travel brands.
International hotel brands are taking steps to source responsibly and be more sustainable in their operations. Marriott announced expanded plans to eliminate single-use plastic toiletry bottles across all its global locations by December 2020. The initiative is estimated to reduce Marriott's current amenity plastic usage by about 30% annually, removing 1.7 million pounds of plastic from landfills every year. IHG is also switching to bulk-sized bathroom amenities throughout its entire portfolio of 843,000 rooms worldwide. The transition is expected to be complete by 2021 and builds on IHG's pledge to remove plastic straws from its hotels by the end of 2019.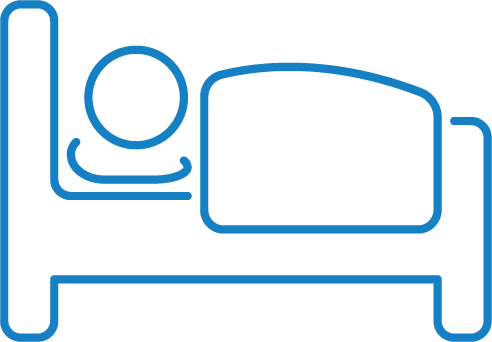 LODGING INDUSTRY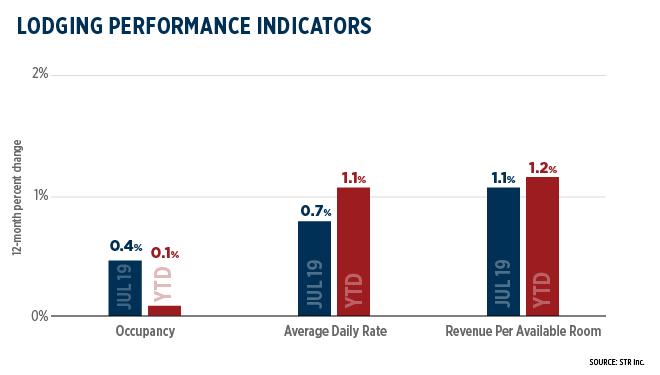 According to STR's most recent data, the U.S. lodging industry posted mostly positive results for July 2019. Compared to July 2018, occupancy rates were up 0.4% to 73.8%, the average daily rate (ADR) was up 0.7% to $135.04, and revenue per available room (RevPAR) growth was up 1.1% to $99.62. "This was the first month in history with absolute RevPAR basically at $100," said Jan Freitag, STR's senior VP of lodging insights. "Opposite of June, when an extra Sunday on the calendar pushed year-over-year comparisons into negative territory, July percentage changes were lifted by a fifth Wednesday during the month...The industry set another monthly demand record, but a steady stream of new supply muted occupancy growth and influenced already weak pricing confidence." The industry has been expanding for a record 113 consecutive months, with y/y RevPAR increases in all but two of those months.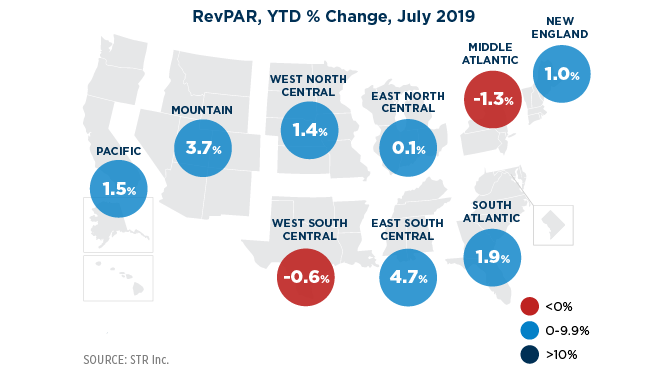 According to HVS Global Hospitality Services' most recent Industry Statistics Update, RevPAR across the U.S. grew by 1.2% through the first half of 2019 and is projected to end the year at 2%. HVS anticipates that RevPAR growth for the rest of the year will come from ADR growth, as occupancy rates are expected to remain stable. RevPAR growth is down across the top 25 markets but is averaging 2.3% growth across all other markets. Although there is currently a decline in demand growth, supply is forecasted to increase by around 2% through 2019. PwC's most recent Hospitality Directions U.S. lodging outlook notes that "recent weak performance and decelerating forward trends suggest a continued deceleration in top line performance through at least next year…resulting in an expected RevPAR increase of 1.0% [for 2020], the lowest in a decade."
CBRE has slightly adjusted its forecasts for 2019 and 2020 RevPAR growth downward due to the expected slowdown of the U.S. economy. According to CBRE's September 2019 edition of Hotel Horizons, the RevPAR growth rate is now estimated to be just 0.9% for 2019 and 1.2% for 2020. The demand slowdown throughout the rest of 2019 will negatively impact next year's ADR growth rate, which CBRE has recently downgraded to 2% for 2020. "Downward pressure on room rates also will come from a rise in new hotel openings," said Mark Woodworth, senior managing director at CBRE Hotels Research. "Our 2020 supply growth forecast now is 2.1%, which is greater than the long-run average of 1.8%. This will drive a 0.8% national occupancy rate decline for the year."
However, the lodging outlook for 2021 has improved as CBRE's economic slowdown forecast has been lessened and demand and ADR growth forecasts have risen. CBRE currently estimates 0.8% RevPAR growth in 2021, a revision from its previous 0.5% decrease forecasting. "Our outlook is slowdown, not recession, both in the economy and with hotel performance," stated Robert Mandelbaum, director of research information services at CBRE Hotels Research. "Because there's so much cushion now, even in a slowdown the U.S. lodging industry will be performing above the long-run average, and hoteliers will be able to meet their debt obligations."
Rising minimum wage and continued advocacy for a $15 per hour baseline across the U.S. is having a significant impact on the hotel industry. According to STR, the past three years have been the only years in the 21st century where labor costs have surpassed revenue growth in the U.S. hotel market, making new hotel development and operational costs more expensive and impacting revenues. Labor costs grew by 3.9% in 2018 for U.S. hotels. In addition to the rising minimum wage, the low unemployment rate and more competitive market for workers have contributed to rising labor costs. "It's happening across the board. Certain cities are worse than others, but because there are a lot of lower-price-point workers in a hotel, it's impacting that part of the business," Michael Bellisario, analyst for Robert W. Baird, said. "Some hotel companies pay above the minimum wage, but when the floor gets raised everything above it has upward pressure, too."
Cvent is forecasting a decline in group bookings for late 2020 due to the upcoming election and uncertain political environment within the U.S. Many major hotel brands are already feeling the effects of this slowdown as trade tensions continue between the U.S. and China. "More people are putting their caution flags up," stated Hilton CEO Christopher Nassetta. "Talking to other CEOs, talking to friends—anybody you talk to—will tell you that what's going on in the political world, which is connected to the trade world, is definitely having some impact." Many companies have already had to cut back on expenditures due to the uncertainty as fewer travelers are willing to book far in advance.
Sabre Corporation, in partnership with TrendWatching, released a consumer trends study last month examining the "Retail Revolution" taking place throughout the hospitality industry. The report focuses on the six key consumer trends driving innovation and improving the guest experience. These include the increased use of facial recognition technology, automation and virtual reality as well as the zero-waste, inclusivity, urbanization and coworking trends.
Transportation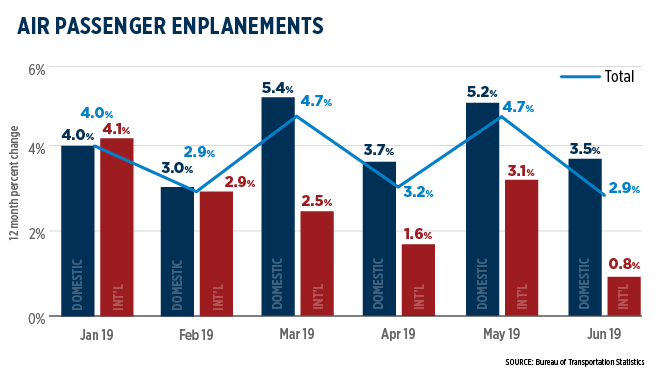 Nearly 95 million passengers boarded domestic and international flights within the U.S. airport system in June, according to the U.S. Transportation Department. The enplanement count set an all-time record for the month of June and also contributed to the largest count of airline passengers for the first half of any recorded year (512.4 million passengers). Systemwide enplanements for June increased by 2.9% y/y, moderating from May's 4.7% y/y pace. Domestic enplanements on flights within the U.S. increased by 3.5% y/y, whereas international enplanements on flights departing the U.S. increased by 0.8% y/y.
The International Air Transport Association (IATA) announced a slowing in global passenger demand growth for July 2019. Industry-wide revenue passenger miles (RPMs) grew by 3.6% compared to July 2018, but were down from the 5.1% annual growth rate recorded in June 2019. "July's performance marked a soft start to the peak passenger demand season. Tariffs, trade wars and uncertainty over Brexit are contributing to a weaker demand environment than we saw in 2018," said Alexandre de Juniac, IATA's director general and CEO. For the U.S., domestic RPMs grew by 3.8% y/y in July. Although this is slower than the growth rates observed throughout most of 2018, the current rate is still above the long-term average of 2-2.5%.
U.S. airline carriers bumped nearly 6,600 passengers from flights from April-June 2019, three times more than during the same period last year. U.S. carriers also canceled 2.4% of their scheduled flights during the first half of this year, up from 1.7% in 2018. This was partially driven by the continued global grounding of the Boeing 737 Max aircraft. American and Southwest Airlines, which both carry the 737 Max, have had to cancel thousands of flights since they are not yet cleared for use.
TSA screened a record-breaking 262 million passengers over this year's summer travel season, 3.4% more than last summer. TSA also experienced 9 of its 10 busiest days in history this summer. Despite the boost in air travelers coming through domestic airports this season, 99.7% of passengers waited less than 30 minutes to get through standard security lines, and 98.9% of TSA PreCheck passengers waited less than 10 minutes. To manage the increase in demand, TSA added more than 2,000 additional security checkpoint staff across U.S. airports.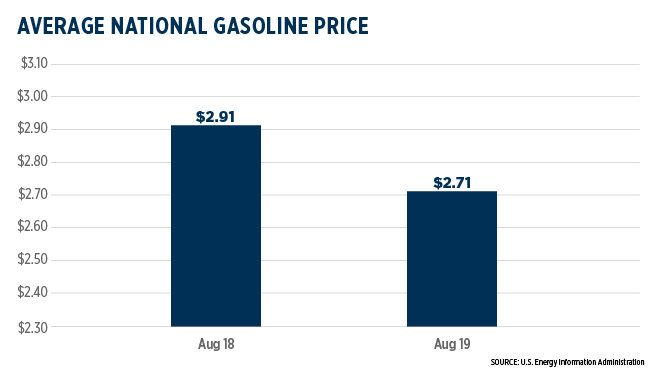 Despite pressure from Hurricane Dorian and recent attacks on Saudi oil facilities, the price of gasoline has remained steady through the month of September. "As an east coast storm, Hurricane Dorian is not threatening major oil and gas infrastructure so its impact is localized to its path along the East Coast. For the rest of the country, demand, which remains high, is chipping away at supply, but not at a high enough rate to increase gas prices," said Jeanette Castellano, AAA spokesperson. According to AAA, the national average gas price as of September 16 was $2.56 per gallon, and the price has remained steady throughout the month of September. However, recent attacks on Saudi Arabian oil facilities have analysts concerned that prices will increase by the end of the month. According to the Energy Information Administration (EIA), gas prices at the end of August were $2.57 per gallon, which was 25 cents lower than the price in August 2018. The drop in gas prices was mainly due to the drop in crude oil prices, along with lower demand and higher supply levels of regular gasoline.
International Travel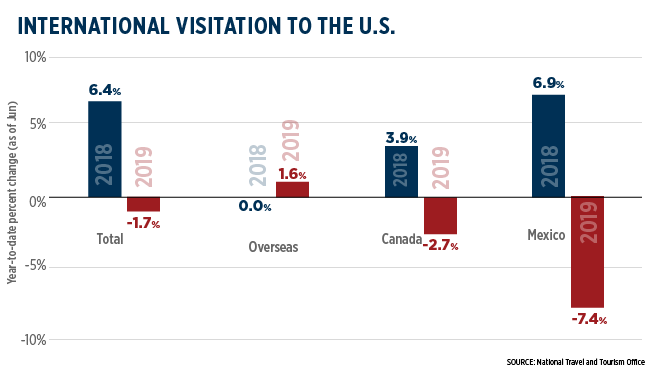 International visitation to the U.S. was down 1.7% through June, according to the National Travel and Tourism Office. International visits have decreased y/y for 5 out of the first 6 months of 2019. Year-to-date, 37.1 million international travelers visited the U.S. over the first half of 2019. The downward trend in visitation continued to be driven by declining visitation from Canadian and Mexican travelers. Canadian visitation declined 2.7% in the first half of the year while Mexican visitation fell even more precipitously, down 7.4% year-to-date. Overseas visitation remained positive, with a 1.6% growth rate.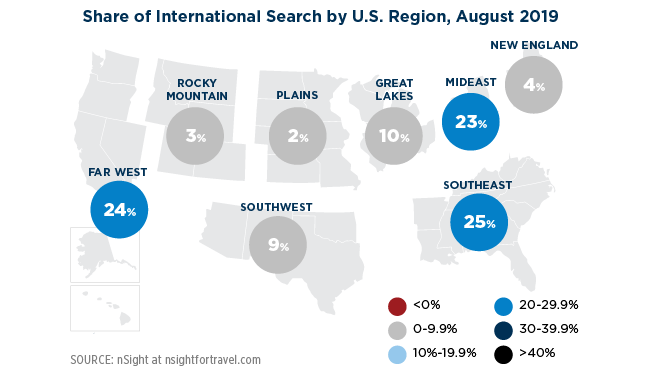 The latest U.S. Travel Barometer reported that 16.7% of international lodging searches in August were for destinations in the United States—on par with August 2018. Seven percent of international searches were to Spain, followed by Italy, France, Mexico and the UK, all of which were the top markets for lodging searches after the U.S. The southeast (25%), far west (24%) and mideast (23%) made up more than 7 in 10 of international travelers' lodging searches for the U.S. in August.
The September 2019 issue of the UNWTO World Tourism Barometer indicated that international tourist arrivals were up by 4% for the first half of 2019 compared to the first half of last year. About 671 million international overnight visitors traveled to destinations all over the world from January through June 2019. International tourist arrivals to North America displayed moderate growth of 2%. The barometer noted that inbound data for the U.S. through June illustrated a decline in arrivals from Canada, Mexico, South Korea and China, yet overseas visitation rates were slightly up due to increases in visitation from the U.K. and Japan.
The World Economic Forum has released its biannual Travel & Tourism (T&T) Competitiveness Report for 2019. Out of 140 countries, Spain, France, Germany, Japan and the U.S. were the five highest ranked competitive travel and tourism economies in this year's publication. The U.S. earned top scores for its strong business environment, human resources and labor market, information and communication technologies, ground and port infrastructure and tourist services infrastructure. The U.S. also has the largest T&T GDP in the world, accounting for more than 20% of the global total. The nation's natural and cultural resources helped it stand out from many of the other developed countries in the rankings. However, compared to other advanced nations, the U.S. underperformed on safety and security and overall environmental sustainability. High visa requirements and low-price competitiveness may also be deterring international visitors from the U.S
On a global level, the Travel & Tourism Competitiveness Report for 2019 noted that growing aviation capacity, increased international openness and declining travel costs are driving the improved competitiveness of the industry. However, the report also discussed how all countries will need to focus on developing their air, ground, port and tourism services infrastructure to support the additional 400 million tourist arrivals forecasted by 2030. Infrastructure readiness will be a crucial factor for long-term travel and tourism competitiveness as demand and utilization continue to show increasing trends into the future.
According to Mastercard's recently published 2019 Global Destination Cities Index, Bangkok was the world's most visited city in 2018 for the fourth consecutive year. Rounding out the top 10 destination cities based on visitor volume for 2018 were Paris, London, Dubai, Singapore, Kuala Lumpur, New York, Istanbul, Tokyo and Antalya. Other than New York, no other North American cities made it into the top 20.
New York and Florida were the most popular U.S. destinations for overseas visitors. More than half of all international visitors to the U.S. in 2018 visited one of these two states. The National Travel and Tourism Office (NTTO) recently released data showing that 7 out of 10 international visitors traveled to New York State (27%), Florida (23.5%) or California (21%) when they visited the U.S.
U.S. and Japanese officials have agreed to add two dozen new flights daily between Tokyo and U.S. destinations. The amended U.S.-Japan Open Skies Agreement provides half of these new slot pairs to U.S. carriers and the other half to Japanese carriers. The flights are expected to begin in late March 2020, before the Tokyo 2020 Summer Olympics.
The Global Travel Business Association (GBTA), in partnership with Cvent, released new research on current trends impacting the business travel industry. According to a separate new report by Allied Market Research, the business travel market is projected to grow to $1,657 billion by 2023. GBTA and Cvent's study found that globalization, advancements in technology, supplier disruption and fragmentation and a growing millennial workforce are all trends that will likely impact the future of business travel.
Webinar Series
Join us Tuesday, October 29, 2019 from 2:00–2:45 p.m. ET for "U.S. Travel's Hot Topics" to hear how we're advancing our industry's top priorities in Congress, with the administration, in the eyes of the media and to the general public.
U.S. Travel Updates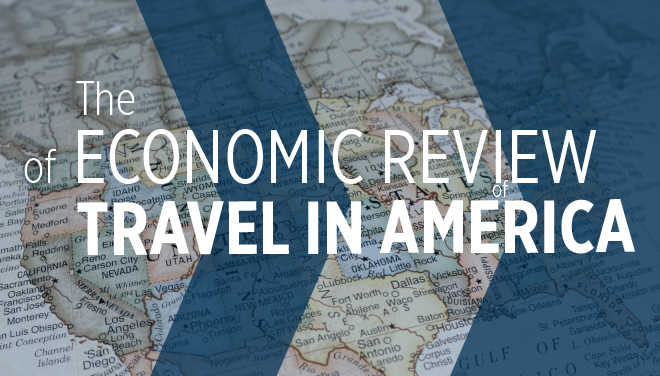 U.S. Travel Research recently released the Economic Review of Travel in America (ERTIA), 2019 edition, an annual report that documents 2018 and historical measurements of the U.S. travel industry. The report details domestic and international inbound travel volume, the impact of travel on the U.S. economy and the importance of the U.S. in the global travel market. In addition, the report contains analysis on the performance of major travel-related industries in the U.S., such as airlines, lodging, amusement/recreation services and food service.
U.S. Travel released a new resource, Destination Overcrowding and Its Footprint on the Travel Industry to help understand the impact overcrowding is having on destinations across the U.S. The white paper includes a global analysis of the issue and its penetration in the United States, as well as recommendations and case study examples of what the industry is doing to mitigate the impact of overcrowding. These include tracking resident sentiment, community education, working with local officials to control the message and more.
This is a topic we will continue to monitor, so please continue to share the best practices you are putting in place so that we can ensure those are highlighted within our membership.
The Travel Economic Impact Calculator for the City Level, powered by the Destinations Council, was released last month at ESTO. The interactive calculator enables U.S. Travel members to simulate the effects of changes in traveler spending on a specific city or jurisdiction. This powerful tool illustrates how important travel spending is to a city, from jobs to local tax revenue to economic growth.
Policy
U.S. Travel, along with industry partners and champions in Congress, made great strides toward securing Brand USA's long-term reauthorization. Over the recess, U.S. Travel and others in the industry continued engaging with congressional offices to add "Dear Colleague" signers to the House (H.R. 3851) and Senate (S. 2203) bills as co-sponsors.
ACTION! We would love for you to help us continue this momentum by reaching out to your members of Congress and asking them to sign on to the House and Senate Brand USA bills as co-sponsors. Please click here to send an "Action Alert" and click here to view U.S. Travel's Brand USA renewal toolkit. If you would like help in crafting a message or need background material, please feel free to reach out to Tori Barnes, U.S. Travel's executive vice president of public affairs and policy, directly.
U.S. Travel is working with federal officials, industry stakeholders and our members on an education campaign and policy recommendations to raise awareness about REAL ID enforcement deadline on October 1, 2020. A toolkit is now available with resources for use in your communications channels to inform your audiences. Information on our policy recommendations can be found on ustravel.org/REALID. For more detail on REAL ID, visit dhs.gov/real-id or tsa.gov/real-id.