U.S. Travel's Research Trends from David Huether
ECONOMIC OVERVIEW:
JULY 2019
Following strong economic growth in the first quarter of the year, mounting evidence signals that momentum in some parts of the U.S. economy is slowing. During the past few months, capital goods orders and exports have weakened. On the positive side, the labor market remains in good shape, while wages and consumer spending have been accelerating and inflation remains tame. Meanwhile, storm clouds in the form of continued trade tensions remain a concern.
ECONOMIC SUMMARY:
The U.S. Department of Commerce's final estimate for real GDP was 3.1% for the first quarter of 2019, unchanged from May's second estimate. Upward revisions to business investment, exports and imports were offset by downward revisions to consumer spending and inventory investment. The overall picture of economic growth for the first quarter did not change: the 3.1% growth across the U.S. economy was driven by traditionally volatile component sectors in net trade and inventory investment. Excluding trade, inventories and government spending, the economy grew at only a 1.3% rate in the first quarter. That was the slowest rise in this measure of domestic demand since the second quarter of 2013.
Consumer spending in the first quarter returned its second-lowest contribution to real GDP growth (+0.7 percentage points) since 2013. Weaker consumer spending was driven by lower outlays on services. Downward revisions to consumer spending "suggest [economic] momentum could be difficult to maintain in the second quarter," wrote Harriet Torry and Paul Kiernan of The Wall Street Journal. U.S. households nevertheless turned in two solid months of spending for April and May, supported by robust gains in personal income. However, core PCE inflation, the Federal Reserve's preferred measure of consumer price levels, remained locked at 1.6% in April and May, meaning that the economy lacks the confidence to raise prices despite increased spending. As a result, the Fed has admitted that soft inflation is a larger problem than initially thought. According to Fed Chair Jerome Powell, persistently low price levels in the second quarter "strengthened the case for a somewhat more accommodative policy" (i.e., lower interest rates for banks and consumers) in the near-term future.
While the economy is definitely cooling, it is not faltering. In an unprecedented 11th consecutive year of economic expansion, the U.S. economy has weathered a post-Great Recession economic climate of tepid consumer spending, slow-to-decreasing investment and volatile net trade fortunes to produce a tame economic "boom" of 25% real GDP growth. The U.S. labor market remained one of the best in recent memory, with job hirings rebounding in June after crashing in March. However, even if the U.S. job market remains strong, Fed Chair Jerome Powell also noted in Congressional testimony that "manufacturing, trade and investment are weak all around the world," and, consequently, "wages aren't rising fast enough to trigger much inflation."
As a result, economic forecasts for the second quarter remain downbeat. Both the New York Fed's and Atlanta Fed's nowcasting models suggest that economic growth will slow to 1.4-1.5% for the second quarter. The New York Fed remained downbeat on soft business investment indicators across the second quarter, especially in the manufacturing sector. Despite the downbeat outlook, Lydia Boussour and Gregory Daco, economists at Oxford Economics, "do not believe a U.S. recession is imminent. Not only are economic fundamentals still healthy, but there are also some encouraging signs that the expansion has further room to run. Notably...inflation remains tame."
CURRENT STATE OF THE ECONOMY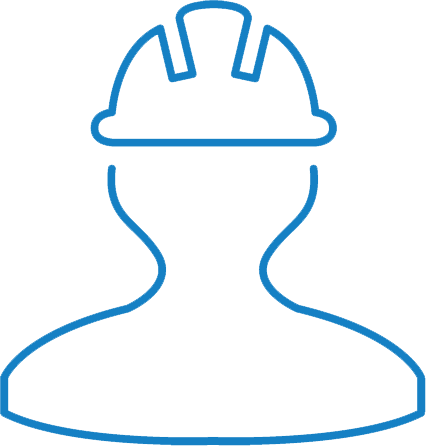 LABOR
The U.S. Department of Labor reported a strong month of hiring in June, with 224,000 jobs added to the economy. The 12-month moving average slowed to 192,000, remaining below the 200,000-mark for the second time in more than a year. The main sectors of growth included the usual business services and healthcare sectors, but also encouragingly included construction, which added 22,000 jobs to the economy. "This number provides comfort that while job growth may be slowing, it's not plummeting off a cliff," said Martha Gimbel, economist at Indeed.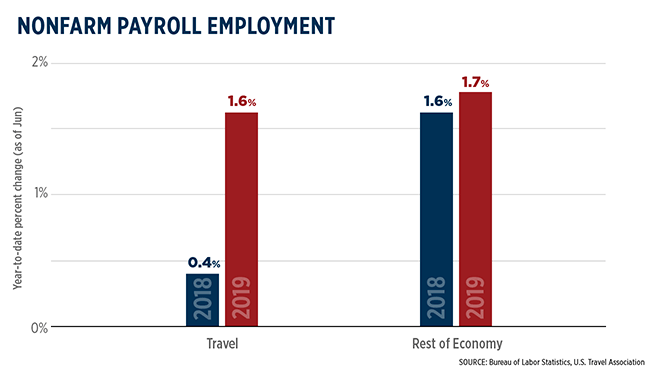 Travel jobs also increased by 12,200 in June, marking the 10th monthly increase in travel jobs over the past 12 months. Job increases occurred mostly in the lodging and airline industries. Year-to-date, travel jobs have rebounded in 2019, increasing by 1.6% compared to the first six months of 2018, compared to 0.4% in 2018 over the same period. Travel job growth also remained relatively even with job growth in the rest of the economy.
Despite the increase in hiring, the unemployment rate ticked up to 3.7% from a multi-decade low of 3.6%. While the slight uptick is concerning, "we'd need to see several months of that, rather than one month" to be more concerned, said Kate Warne, investment strategist at Edmund Jones. "We [also] saw the participation rate rise [as more than 300,000 people entered the labor force in search of work], which is a big piece of why the unemployment rate rose." Wage growth also slipped slightly: average hourly wages slipped from 3.2% y/y in May to 3.1% y/y in June.
The June jobs report was followed by a lukewarm Job Openings and Labor Turnover Survey (JOLTS) report. After hitting an all-time high of 7.6 million in late 2018, job openings remained flat in May at 7.3 million, suggesting some cooling in the labor market. On the plus side, layoffs remained low (5.5 million), leading to a net employment gain of 2.8 million for May. "The JOLTS report looks consistent with the idea that the labor market is cooling somewhat but that it remains in solid shape," said Daniel Silver, economist at J.P. Morgan.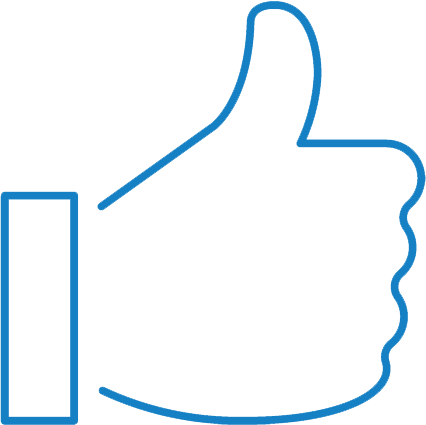 CONSUMER CONFIDENCE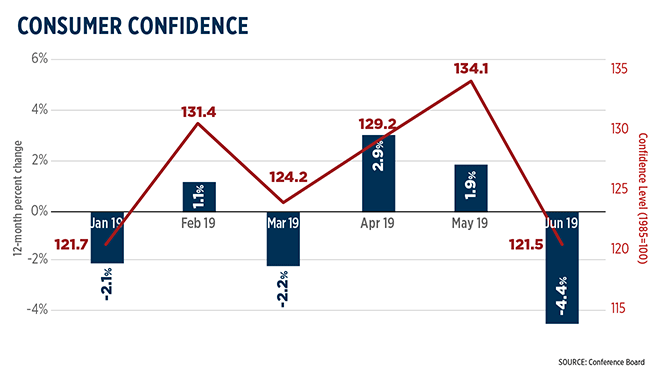 Heading into the summer, consumers are feeling less optimistic about the economy, as indicated in recent confidence and sentiment indexes.
After three months of increases, consumers' view of the U.S. economy has soured a bit. The Conference Board's Consumer Confidence Index reported a decline in June, likely as a result of the continued trade war with China. The Index now stands at 121.5, down from 131.3 in May. "After two consecutive months of improvement, Consumer Confidence declined in June to its lowest level since September 2017," said Lynn Franco, senior director of economic indicators at The Conference Board. "The escalation in trade and tariff tensions earlier this month appears to have shaken consumers' confidence. Although the Index remains at a high level, continued uncertainty could result in further volatility in the Index and, at some point, could even begin to diminish consumers' confidence in the expansion."
U.S. household sentiment also declined in June. The University of Michigan final June consumer sentiment reading was 98.2, down from May's reading of 100.0. That was up slightly from June's initial estimate of 97.9 and unchanged in June from a year earlier. Richard Curtin, the survey's chief economist, said the m/m decline in the index was due to households in the top-third income bracket mentioning the negative impact of tariffs more frequently.
Despite the decline in sentiment, however, "the reality on the ground for most households is very good: low unemployment, solid labor income gains, clean balance sheets," said Stephen Stanley, chief economist at Amherst Pierpont Securities.
Consumer Spending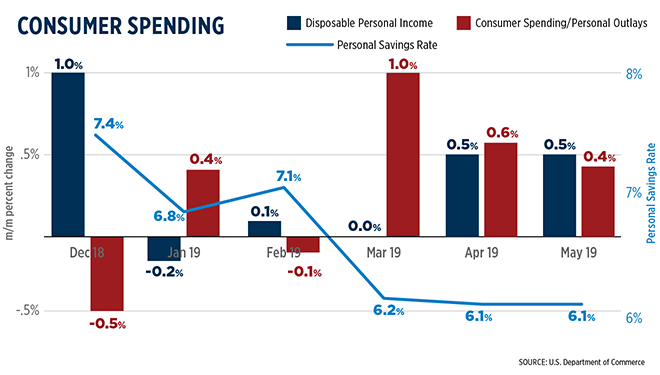 Consumer spending remained strong for May, increasing by 0.4% m/m, or $70 billion, from April. April consumer spending was also revised upward to 0.6% m/m. "Consumers are still in pretty good shape in mid-2019," said Gus Faucher, chief economist at PNC Financial Services Group. "As long as the job market continues to hold up, consumers should continue to gradually increase their spending."
Disposable personal income also increased robustly at 0.5% m/m. As income growth remained relatively even with consumer spending over April and May, the personal savings rate stabilized at a relatively low 6.1% for May.
Consumer price levels remained neutral: the core PCE Price Index for May remained only 1.6% above year-ago levels, the fifth consecutive month that inflation has remained below the Federal Reserve's 2% target. "We want inflation to be well and truly at 2% and not sort of close to 2%," remarked Fed chair Jerome Powell. "[Soft inflation] looks like it may be more persistent than we had hoped and that's not a good thing."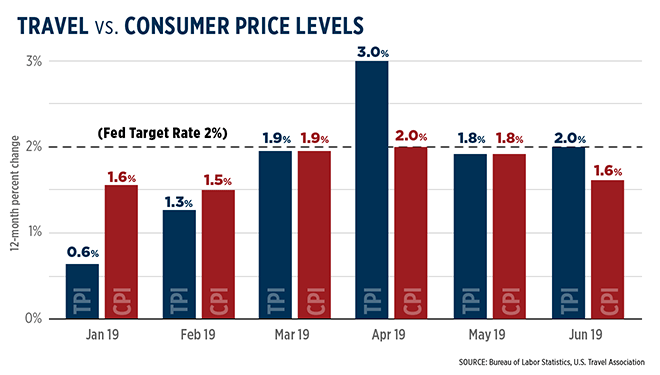 Good news for consumer prices may be just around the corner: the Labor Department's Consumer Price Index (CPI) measured that core inflation increased by 2.1% for June. "Despite the fact that core prices were a little bit stronger than expected, I don't really see this as a sign of any resurgence in inflation," said Gregory Daco, chief U.S. economist at Oxford Economics. "Inflation momentum remains limited…it will take a lot more than one month of firm price data to change the narrative around tepid price pressures," wrote Eric Winograd, senior U.S. economist at AllianceBernstein. Indeed, the broader headline CPI measure, which includes food and energy prices, increased by only 1.6% y/y, headlined by a 5.4% y/y reduction in gas prices. Despite the drop in motor fuel prices, travel prices checked in at 2% y/y for May, as measured by U.S. Travel's Travel Price Index. The drop in motor fuel prices was balanced by 4% y/y increase in lodging prices as well as a 3% y/y increase in food services prices.
Exports
The U.S. trade deficit reached a five-month high of $55 billion for May 2019, $4 billion wider than April's deficit. However, trade volume numbers for both exports and imports increased by large monthly margins: a $4.2 billion increase in exports was eclipsed by a $8.5 billion increase in imports. Exports remained down 1.3% from a year earlier, while consumer demand and front-loading of orders to avoid tariff deadlines have boosted imports.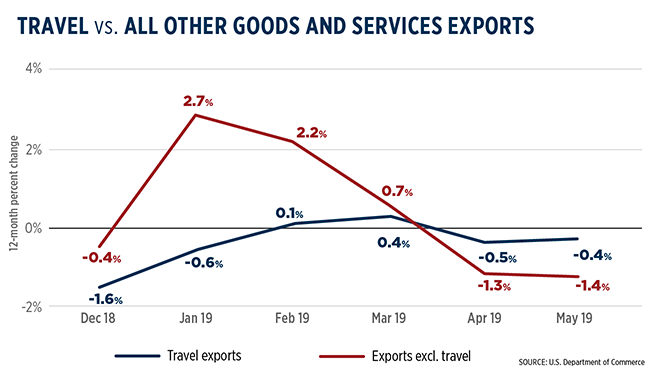 On the other hand, travel exports remained near all-time high levels: international travelers to the U.S. spent $21.6 billion in May on U.S. goods and services. Travel exports increased slightly ($0.3 billion) from April but stayed relatively even with year-ago travel export levels. U.S. exports in other industries continued to struggle, remaining 1.4% below May 2018 exports. Moreover, the travel trade surplus remained robust in May at $5.3 billion, increasing by $0.1 billion from April. Without this $5.3 billion in travel exports, the total U.S. trade deficit for May would have been 9.6% larger.
State of Business
Business investment indicators remained positive for May, despite a 1.3% m/m drop in durable goods orders. A $2 billion drop in civilian aircraft orders caused the majority of the $3.3 billion m/m decline in durable goods orders, largely due to the continued grounding of Boeing 737-MAX jets. On the other hand, "core capital goods" orders, which exclude volatile defense and aircraft orders and are a proxy for business investment calculations in GDP, increased by 0.4% m/m in May. Despite the slight boost from April, core capital goods orders have remained soft over the past year, increasing by only 1.4% from May 2018. However, the "stronger-than-expected increase in core capital goods orders is a positive sign that underlying investment has not softened further despite overall weakness in industrial sector activity," said Andrew Hollenhurst, economist at Citi Research.
Business activity indexes for the manufacturing sector continued to slide in May. The Institute for Supply Management's (ISM) Manufacturing Index registered at 51.7% for May, 0.5 percentage point below April's reading. Despite indicating expansion, this is the third-consecutive monthly decline in the manufacturing index. Timothy Fiore, chair of the ISM business services committee, noted that "respondents expressed concern about U.S.-China trade turbulence, potential Mexico trade actions and the global economy. Overall, sentiment this month is evenly mixed."
"At face value it wasn't quite as bad as most people had been expecting," said Andrew Hunter, a senior U.S. economist at Capital Economics. "The picture has been that manufacturing has been struggling for several months now, so this is really just a continuation of that." The ISM's Non-Manufacturing Index (NMI) also fell in June by 1.8 percentage points to 55.1%.
Travel industry sector respondents had a mixed report for May: accommodation & food services and retail trade respondents reported business expansion, while arts, entertainment & recreation respondents reported activity decreases. Retail respondents, in particular, noted that the "largest business condition impacting general purchasing operations is the increased cost of goods due to the tariffs placed on China."
Travel and tourism business activity was "broadly solid," according to the Federal Reserve's most recent Beige Book. Travel industry business activity grew especially well along the Eastern Seaboard. The Richmond district reported a "strong start to the summer tourism season" throughout the southern mid-Atlantic. The Atlanta district also noted that "the number of visitors to Florida, Georgia and Louisiana [exceeded] expectations" at the start of summer, and "advanced bookings remained healthy through 2019." However, "contacts expressed concern over the potential impact geo-political uncertainty might have on international travel to the United States." The only downcast report was from the Boston district, where 20 days of rain in June adversely affected visitation. Contacts remained optimistic, however: "More visas for temporary foreign workers this year mean that the Cape Cod labor shortage should be less than it was in 2018. The travel industry expects that growth in 2019 will be good."
Travel Trends Index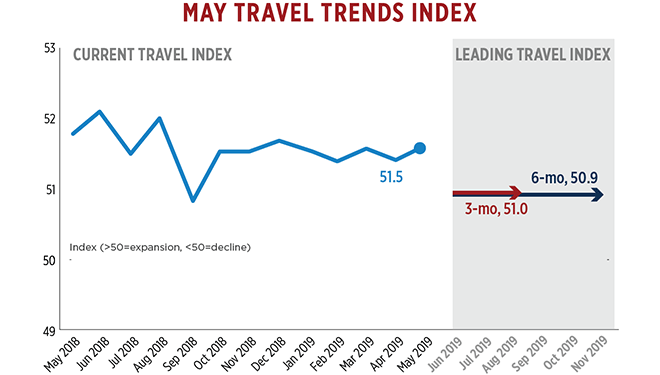 This month's Travel Trends Index (TTI) found that travel to and within the U.S. grew by 3.2% in May 2019 compared to May 2018. Domestic travel was up by 3.6%, supported by both the leisure and business segments, while international inbound travel grew by 1.2%.
The predictive portions of the TTI anticipate an approaching slowdown for all travel segments through November 2019. International inbound travel is projected to grow at the same anemic rate as the previous six months (0.4%) between June and November 2019, while growth in domestic travel is expected to decelerate compared to the previous six months (up by 2% compared to 3.4%).
TRAVEL INDUSTRY UPDATES
The travel industry is showing early signs of a slowdown. While there continues to be record numbers of travelers on the road and in the air, travelers and businesses appear to be scaling back, taking more road trips and being more cautious when booking group business travel. Still, declining gasoline prices, low inflation and strong consumer confidence and employment do not signal major red flags for the industry.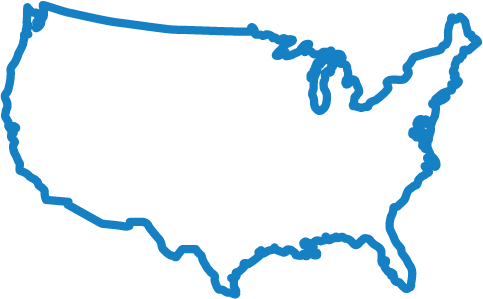 DOMESTIC TRAVEL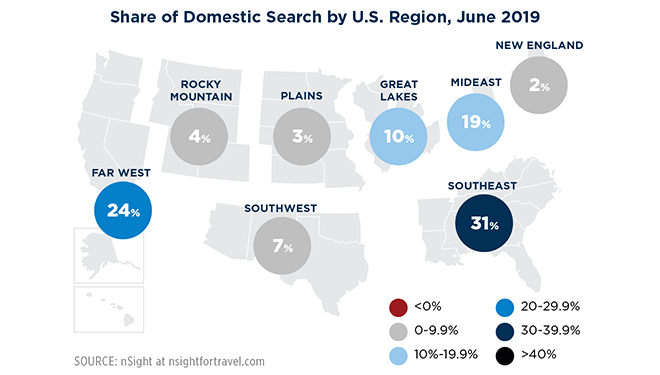 The latest U.S. Travel Barometer reported that 78.1% of U.S. residents searching for lodging in June searched domestically, down notably from 88.3% the year prior. Canada captured 2.9% of U.S. resident searches in June, ahead of Mexico and the U.K., which captured 2.4% and 2.1% of the share, respectively. More than 3 in 10 (31%) of Americans searching for lodging searched in the southeast, followed by 24% who searched in the far west.
According to AAA, a record 49 million Americans were projected to have travel over the Fourth of July holiday weekend this year. This is a 4.1% increase from last year's numbers and the highest number of travelers that AAA has predicted for the Fourth of July holiday since it began tracking holiday travel in 2000. AAA predicted that nearly 85% of these Americans drove to their destinations while about 8% flew. Sunday, July 7th was TSA's busiest day in history, as agents screened more than 2.8 million passengers and crew members at airports across the country. More than 11.9 million passengers and crew members went through security checkpoints and over 8 million bags were checked over the entire July 3-7 holiday weekend.
MMGY Global's 29th annual Portrait of American Travelers study found that road tripping in the U.S. is more popular than ever, with 2 out of 3 respondents indicating that they will take a road trip within the next 12 months. Those who have taken a road trip intend to take more vacations and spend more money on vacations in 2019 than those who have not taken a road trip. MMGY Global identified a new twist on the traditional road trip: travelers flying to a particular location and starting their road trips from there. This "Wings & Wheels" trend is most popular with millennial families, with nearly 6 in 10 (57%) taking road trips that began from another city. Respondents indicated that having the flexibility to make stops and bring everything with them in their car are what make road tripping appealing to them.
Another major takeaway from this year's Portrait of American Travelers study is that Americans are becoming more conscientious about travel-related issues such as climate change and overcrowding. The study found that 60% of respondents think that overcrowding will have a significant influence on the destinations they choose to visit over the next 5-10 years. Nearly half of respondents also believe that climate change will notably influence their future travel decisions.
So how much tourism is too much tourism? A new study from the World Travel & Tourism Council and commercial real estate firm JLL attempts to quantify the toll of overcrowding and address ways for destinations to combat it. The Destination 2030 report examines 50 global cities' readiness for tourism growth by analyzing their current physical and natural assets, social capital and current travel- and tourism-related policies. The destinations were categorized into five groups based on the assessment, which includes seven U.S. cities. Chicago and Washington, D.C. were included in the "balanced dynamics" group, which means that these cities are considered to be financial hubs with a lower share of leisure travel, so they have additional room for visitor growth without straining their urban landscape. Las Vegas, Los Angeles, Miami and New York were considered "mature performers," as they have strong leisure and business travel rates, but visitor volumes and activities are increasingly testing their readiness for additional growth. San Francisco was the one U.S. city labeled as "managing momentum," since the destination illustrates high growth momentum driven by leisure travel, but visitor volumes and activities have the potential to strain the city and its resources.
A new Morning Consult report analyzed the values, habits, aspirations, politics and concerns of Gen Z adults (ages 18-21) and how they differ from other adults. The study found that making money and having a successful career were the most universally important life goals for Gen Z adults, putting slightly more faith in capitalism than Millennials. Gen Z adults were also found to be widely distrustful of institutions and powerful interests such as Wall Street and the news media. Traveling is considered to be "very important" to just over one-third of Gen Z adults, which was the lowest ranked life goal in the survey other than being famous.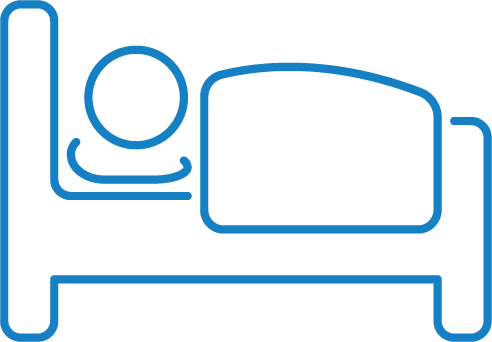 LODGING INDUSTRY
According to data from STR, the U.S. lodging industry reported positive results for occupancy, average daily revenue (ADR) and revenue per available room (RevPAR) in May 2019. Compared to May 2018, occupancy rates were up by 0.9% at 68.7%, ADR growth was up by 1.6% to $132.43 and RevPAR growth was up by 2.5% to $91.01."The industry sold three million more room nights than it did last May and continued the trend of monthly performance records with modest y/y growth," said Jan Freitag, STR's senior VP of lodging insights. "While we did downgrade our forecast for 2019 as a whole, we are expecting solid performance for the summer months with U.S. air travel bookings and vacation intentions on the incline."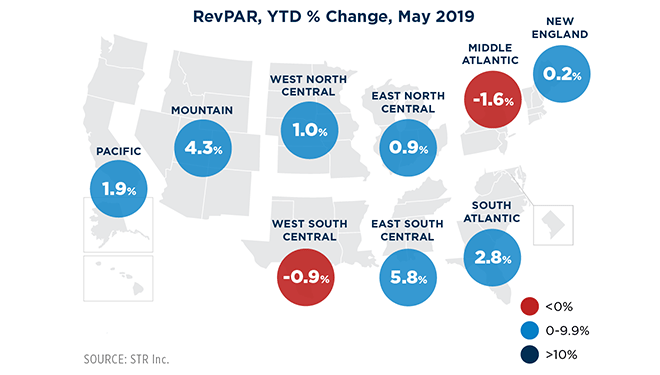 The pace of overall U.S. hotel industry growth, though, has slowed. STR's latest forecast, prepared in partnership with Tourism Economics, predicts that 2019 will end with 2% revenue-per-available-room growth, lower than originally forecasted. "For the last seven years, we've had (monthly y/y) rate growth of about 1%, and this year, 3 out of 4 months have seen ADR growth below 1%," said STR President and CEO Amanda Hite. "That's not very confidence-inducing for the rest of the year." RevPAR growth in May was driven primarily by three regions: the East South Central states (+5.8% y/y), Mountain states (+4.3%), and South Atlantic States (+2.8%).
STR's data shows demand outpacing supply until the end of the year, when they are predicted to be equal, as supply growth outpaces demand growth. The data also demonstrates that 50% of U.S. submarkets showed declining occupancy over the first five months of 2019, versus 43% during the same period in 2018. Although May's results were better than previous months', the year-to-date trends are negative for the majority of hotel chains.
Based on current data trends, the booking pace for group business for 2021 is low. It is unclear what exactly is causing the downturn, though it could be factors ranging from general uncertainty and the upcoming U.S. presidential election to trade issues and tariffs. According to Vail Ross, SVP of global business development and marketing at STR, the effect of this potential slowdown on hotels would go beyond just group business. "When you have a good group foundation of demand and of rate, it does allow a level of comfort to really revenue manage the transient consumer," stated Ross. "That's why it's a little bit of a concern [for hotels] when we look further out from 2020."
However, not all view the group booking slowdown in 2021 as a sure thing. Some meetings managers and planners Business Travel News interviewed have not seen any decline in their future bookings. According to Cvent's senior director of analytics, Jeffrey Emenecker, increased supply over the last 10 years may have shortened the booking window for some meetings, and therefore 2021 could end up better than currently anticipated.
Room Block of the Future, a recently published study co-funded by Hilton, the PCMA Foundation and NYC & Company, aims to better understand room booking behaviors within the business events industry. Based on two million anonymous hotel rooms and Airbnb guest records across Houston, New York City and San Diego, the study found that hospitality loyalty programs, cost, room preferences and age are major factors influencing booking behaviors and consumer trends. One notable finding was that 48% of conference attendees used the event housing portal to make their reservations. An additional 23% of attendees did stay at hotels within the room block, but used alternative methods and channels for their reservations, believing they could find better rates for the same rooms elsewhere online.
Transportation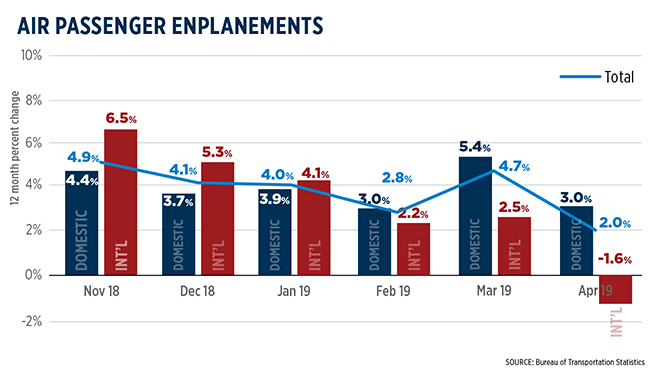 Air passenger enplanements in the U.S. slowed down in April according to the Bureau of Transportation Statistics (BTS). A total of 85.3 million passengers boarded domestic and international flights in the U.S. on domestic and foreign carriers in April 2019. Enplanements increased by only 2% from April 2018, the slowest growth rate for 17 months, decelerating from a 4.7% y/y increase seen in March. The slowdown in enplanements was driven by a decrease in international enplanements: 18.8 million passengers boarded international flights in the U.S. airport system in April, 1.1 million fewer (-1.6% y/y) than in April 2018. On the other hand, domestic enplanements remained relatively stable. Nearly 66.5 million passengers boarded domestic flights in April 2019, up 2 million (3% y/y) from April 2018. Domestic enplanements are expected to rebound by the end of the second quarter, with BTS projecting an estimated 71.8 million domestic enplanements for June.
Air passenger enplanements also slowed down globally in May, according to the International Air Transport Association (IATA). Industry-wide revenue passenger miles continued to show solid growth in May, increasing by 4.5% y/y. However, they remained below IATA's estimated long-term 20-year average y/y growth rate of 5.5%. IATA noted that North American carriers outperformed the global average, with 4.8% y/y growth in international RPMs in May. "The North American market remains robust, growing in line with the average over the past year, and well above its long-term average of 3.3%. A sound domestic economy has supported growth in the international market, notwithstanding the adverse impact of the ongoing trade tensions," reported the IATA Economic research team. IATA also estimated relatively stronger air passenger growth for U.S. domestic passenger demand: 4.8% y/y growth for May.
IATA's economics team also noted that the air travel industry will not be facing a recession in the short-term. Noting the global passenger demand slowdown from 2018, IATA said that "the intensification of the trade dispute between the U.S. and various trading partners in recent months has led to fears of recession." While leading recession indicators (such as an inverted, negative Treasury yield curve) have preceded recessions in global air passenger demand, IATA insisted that this time is different, not only because neither business confidence nor the Treasury yield curve has reached a requisite trigger point for recession, but also because those indicators themselves are much less accurate when predicting recessions.
According to OAG's recently released The Airport Delight Report: Humans vs. Machines, travelers tend to prefer human customer service over automation for most of their airport experiences. The only area where most travelers prefer automation over human customer service is for ticketing (66%) and check-in (68%). Human customer service is preferred by the majority of travelers for concierge (83%), in-flight services (80%), airport concessions (78%), and boarding (64%). Overall, respondents were more skeptical about emerging technologies than anticipated, valuing accessible and trustworthy information much more than robotics and biometrics. Less than 3 in 10 surveyed travelers chose biometrics-based identification processes as the biggest opportunity to streamline airport security - the majority of respondents simply want more loading zones.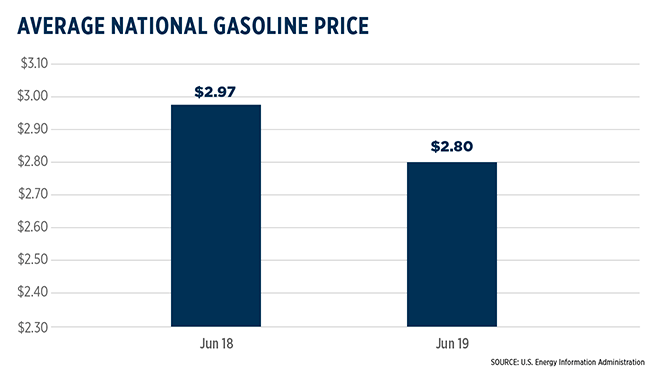 According to the Energy Information Administration (EIA), U.S. gasoline retail prices across all grades averaged $2.80 per gallon in June, down 14 cents per gallon from May and 17 cents from June 2018. EIA's most recent Short Term Energy Outlook surmises that monthly average gasoline prices peaked for the year in May at an average of $2.94 per gallon. EIA expects regular gasoline retail prices to average $2.65 per gallon across 2019 and $2.76 per gallon across 2020. However, according to AAA, the national average price for gas has increased to $2.75 per gallon since late June. This is still about 10 cents less expensive than the national average last summer. The recent increase is partially due to new gas tax laws that have been implemented in 13 states. "The majority of motorists can expect more expensive gas prices throughout July, but the national average is still not likely to hit $3 per gallon" stated Jeanette Casselano, spokesperson for AAA.
International Travel
There will be fewer Canadian and Mexican visitors to the U.S. in 2019 than in 2018, according to U.S. Travel forecasts. Based on recently released Canada and Mexican arrivals, travel volume to the U.S. through April 2019 was lower than expected. Canadian visitation was down by 5.8% year-to-date in the first four months of 2019, while Mexican visitations were down 8.9% year-to-date across the same period. As a result, U.S. Travel visitation forecasts for Canada and Mexico are negative for 2019 (-1% and -1.9%, respectively).
Overseas visitations, on the other hand, stayed positive through the first five months of 2018. Over 3.5 million visitors arrived in the U.S. in May 2019, 1.8% more than in May 2018. This brought the 2019 year-to-date total to 15.5 million overseas visitations, 2% more than through the first five months of 2018. Total overseas visitation is expected to be balanced out by the projected drop in Canadian and Mexican visitation, yielding a 0.2% forecasted growth in total international visitation to the U.S. for 2019.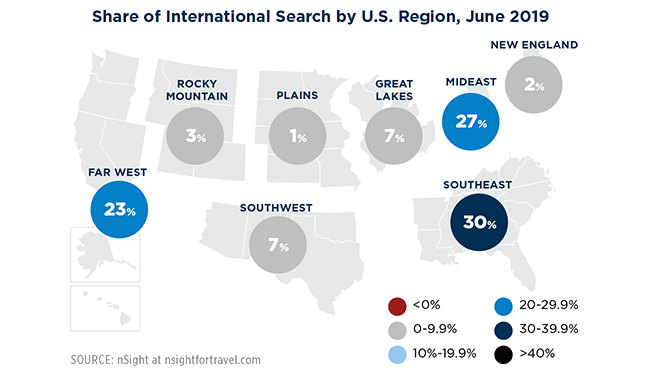 The latest U.S. Travel Barometer reported that 12.5% of international lodging searches in June were for destinations in the United States—down from 16.4% during the same time last year. Spain, Italy, the U.K. and France were the top markets for lodging searches after the U.S. The southeast (30%), mideast (27%) and far west (23%) made up 8 in 10 of international travelers' lodging searches for the U.S. in June.
The trade war between the U.S. and China is expected to significantly impact the luxury retail sector - a major player in the tourism industry. U.S. luxury imports into China could be hit with tariffs, impacting profits. According to estimates from Bain & Company, Chinese consumers purchase nearly one-third of the world's luxury goods, with nearly 75% of these purchases occurring outside of China. However, HSBC's consumer and retail research division suggested that Chinese shoppers will soon make half of their luxury purchases domestically. There are a number of factors contributing to this shift, including the increasing prices of luxury goods abroad, the Chinese government's plans to reduce domestic consumption taxes and other favorable economic policies, as well as the rise of e-commerce platforms and apps.
On top of declining visitation numbers, the Chinese economy has reached its slowest pace in nearly three decades. According to Chinese government reports, China's economy grew 6.2% in the second quarter of 2019, a drop from 6.4% in the first quarter and the slowest quarterly reading in 27 years. Part of this economic slowdown was expected: it fell within a target range set by the government of 6% to 6.5%. Economists noted that the U.S.-China trade war is partly to blame: "Combined with increasing head-winds from U.S. tariffs and weaker global growth, we expect this to culminate in a further slowdown in economic growth over the coming year," said Julian Evans-Pritchard, economist at Capital Economics. While domestic spending by Chinese consumers kept the economy slowing even further, Chinese citizens polled by the Associated Press noted the heavy burden placed on them. One respondent stated that "we rarely travel and have no plans to because of financial conditions." According to the U.S. Commerce Department, Chinese visitation to the U.S. is down 3% through the first five months of 2019 after falling nearly 6% across 2018.
New rules were enacted last month that require nearly all foreign visitors to the U.S. to provide details of their social media accounts when applying for visas. The new visa application form requires applicants to disclose all of their accounts and usernames for a specified list of social media sites over the previous five years. Other new questions on the visa application include five years of telephone numbers and email addresses, history of international travel and deportation status, as well as asking if any family members have ever been involved in terrorist activities. This new process affects roughly 15 million travelers a year, mostly non-immigrant, temporary visitors to the U.S. It is currently optional to include social media account details when applying for an Electronic System for Travel Authorization (ESTA) under the Visa Waiver Program (VWP).
Webinar Series
How many vacation days did Americans leave on the table in 2018, how many days did they use and how did this impact travel? The latest time off, vacation and travel planning trends will be discussed, along with the benefits, challenges and barriers to domestic travel. Join us for a webinar on Tuesday, August 13th from 2:00-2:45 p.m. ET to hear the latest trends and stats driving domestic travel.
With National Plan for Vacation Day less than six months away, these updated data points will be featured in a new industry toolkit that includes fact sheets, talking points and social media resources.
U.S. Travel Updates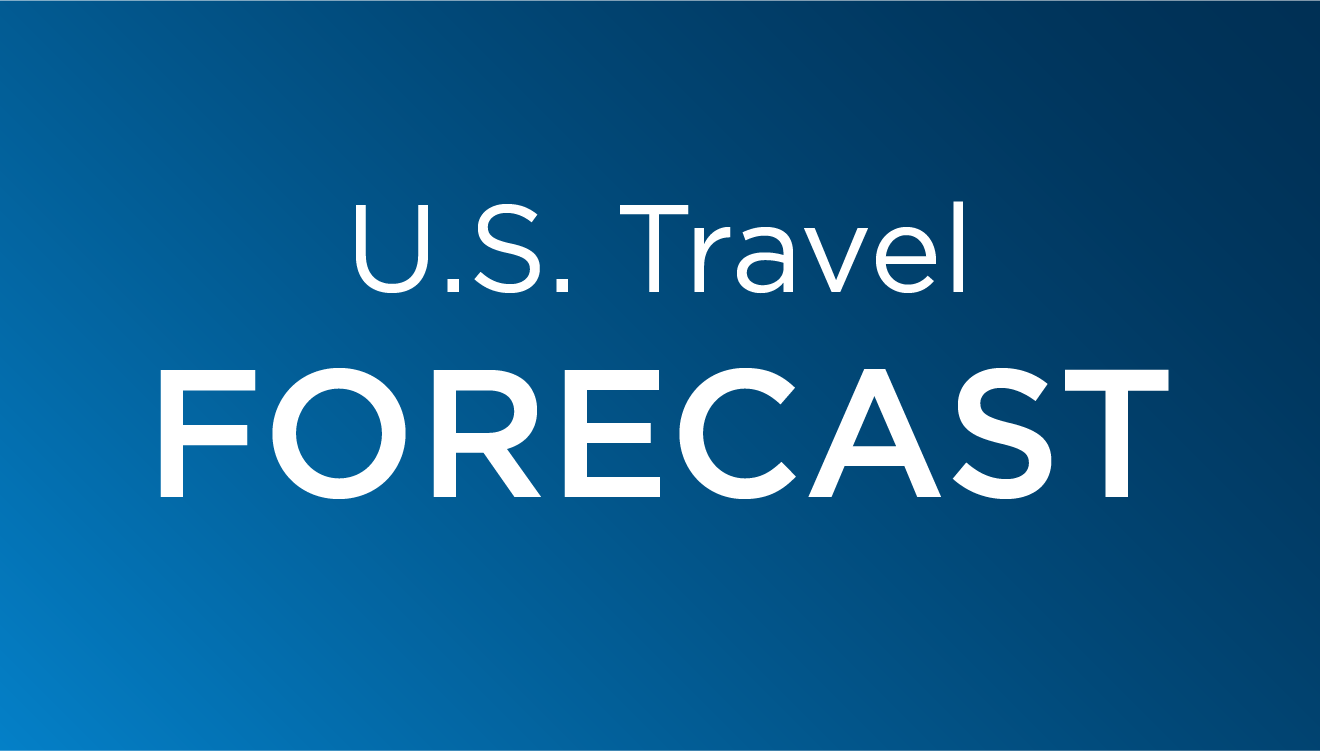 U.S. Travel released its latest Travel Forecast report, which provides analysis and narrative on travel and the U.S. economy through 2022. This latest forecast reflects final 2018 estimates as well as the most recent available monthly data for 2019. Our travel industry outlook expects continued growth over the next several years, though the pace of growth for both domestic leisure and business travel is projected to decelerate in line with the overall U.S. economy. Meanwhile, international inbound travel, after stalling in 2019, is expected to recover in subsequent years, though it may remain constrained by global headwinds. The full report also breaks down the impact of several macroeconomic trends on the travel industry. You can access the Forecast Table here and read the full Forecast Report here.
Policy
America's crucial but vulnerable inbound tourism market received a boost with the introduction of bills in both the Senate and House to reauthorize Brand USA. Senators Roy Blunt (R-MO), Amy Klobuchar (D-MN), Cory Gardner (R-CO) and Catherine Cortez Masto (D-NV) introduced a long-term Brand USA reauthorization bill that would extend the organization's funding mechanism—currently set to expire next year—through 2027. Representatives Peter Welch (D-VT), Gus Bilirakis (R-FL), Dina Titus (D-NV) and Greg Walden (R-OR) introduced a companion House bill (H.R. 3851) late last week.
The introduction of the bill comes at a critical time. America's share of the global travel market has fallen from 13.7% in 2015 to its current 11.7%. That decline represents a difference of 14 million visitors and a hit to the economy of $59 billion in spending and 120,000 American jobs. Without the proven success of Brand USA, the decline would have been far worse.