U.S. Travel's Research Trends from David Huether
ECONOMIC OVERVIEW:
January 2019
Moving into 2019, the economy that relied on strong fundamentals in 2018 will start to face some uncertainty. While third-quarter GDP remained at a strong growth clip, continued market-based and economic policy volatility may throw a spanner in the works:
Consumer spending and consumer confidence remain stellar: despite strong increases in spending in October and November, inflation remains relatively tame.
The labor market remains strong, adding over 300,000 jobs in December. Real wage growth also is accelerating, likely a consequence of a tightening labor market.
Business investment has started to cool, reflecting growing uncertainty in oil prices and international trade conflicts.
Finally, the partial government shutdown will only add to this uncertainty, temporarily leaving policymakers without official economic data releases and leaving critical parts of the travel economic infrastructure understaffed.
ECONOMIC SUMMARY:
The third quarter ended on an overwhelmingly positive note for the U.S. economy, according to the Commerce Department. Final estimates for the third quarter were revised slightly downward to a 3.4 percent seasonally-adjusted annualized rate (SAAR). Downward revisions were applied to consumer spending and exports and were offset by increases to inventory contributions. "Overall, the revisions do not alter the picture of an economy trending at its fastest pace since early 2015, up a solid 3.0 percent y/y. Economic momentum has eased since [the third quarter], but we still see solid real GDP growth around 2.7 percent in [the fourth quarter]," said Lydia Broussard of Oxford Economics. Current nowcast predictions largely agree with this sentiment, with the Atlanta and New York Federal Reserve models predicting 2.8 and 2.5 percent SAAR growth for the fourth quarter, respectively.
The current economic outlook, indeed, paints mixed messages for the fourth quarter economy. On the one hand, consumer spending posted strong returns for October and November, buoyed by softened inflation pressure, a still-surging labor market and gradually firming real wages. On the other hand, investment indicators have slowed down. Slower business activity has generally returned to a long-term trend after an initial boost from the tax cuts experienced earlier in the year. However, continued uncertainty also remains a large factor in suppressed business activity, the current international trade disputes highlighting the sector's major concerns. As a result, slowing business spending places "the onus on households to keep the economic expansion going at a decent rate," said Sal Guatieri, a senior economist at BMO Capital Markets.
Jerome Powell, chair of the Federal Reserve, generally agrees that "2018 was a great year for the economy" but is stressing that the Fed will exact "patience" when judging whether to increase interest rates in 2019. Powell noted the Fed will wait and see between two dichotomous narratives for 2019, a sentiment echoed by Boston Fed President Eric Rosengren: "At this juncture, with two very different scenarios — economic slowdown implied by financial markets; or growth somewhat above potential GDP growth, consistent with economic forecasts — I believe we can wait for greater clarity before adjusting policy." Between the two narratives, Gregory Daco and Kristina Bostjancic, economists at Oxford Economics, predict that the U.S. economy will find a "soft landing zone" in 2019, where "economic growth [is] slowing, but not recessionary." Oxford Economics predicts that U.S. real GDP will moderate to 2.5 percent growth for 2019, but note that headwinds and risks moving forward include a strengthening dollar, a growing trade conflict with China, and tightening financial conditions due to global equities sell-offs.
This uncertainty is represented in no small part by the partial government shutdown. Portions of the travel economy have been affected by the shutdown, namely transportation security, air traffic control and the national parks system. However, another large economic concern regarding the shutdown is the delay of scheduled data releases. Indeed, with portions of the Commerce Department shut down, economic releases for international trade, inbound visitation, and retail sales have been delayed indefinitely. Transportation Department releases regarding air passenger industry metrics also remain delayed due to lack of appropriation. Sho Chandra of Bloomberg highlights this risk in an unusually dark headline for economic analysts: "U.S. Will Fail to Release Key Economic Data at Critical Moment." In the article, Scott Brown, chief economist at Raymond James Financial, noted that "job growth, income growth and low inflation are all positive for consumer spending so having data to confirm would be helpful, [and] it could help soothe the market's fears to some extent."
CURRENT STATE OF THE ECONOMY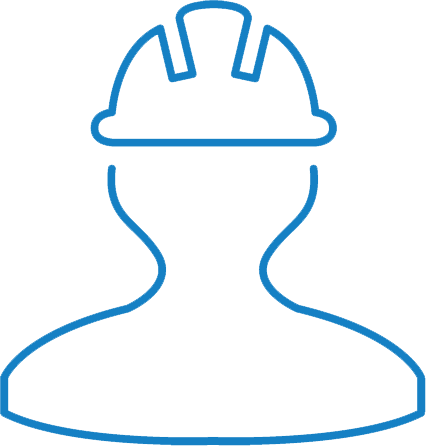 LABOR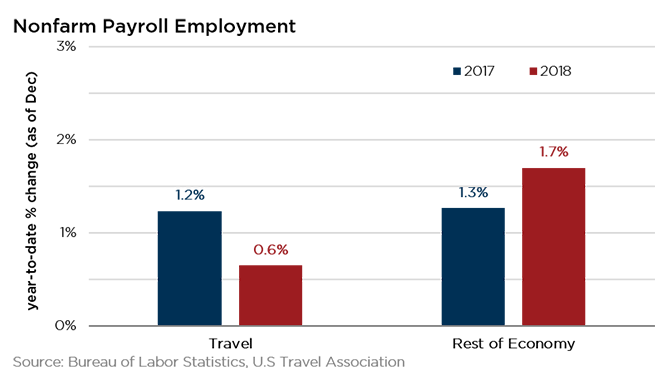 Job creation ended 2018 on a powerful note, with nonfarm payrolls surging by 312,000 in December, though the unemployment rate rose to 3.9 percent as reported by the Bureau of Labor Statistics. The jobless rate, which was last higher in June, rose for the right reason as 419,000 new workers entered the workforce and the labor force participation rate increased to 63.1 percent. The participation level was up 0.2 percentage points from November and 0.4 percentage points compared with a year earlier.
A broader measure of unemployment that includes discouraged workers and those holding part-time jobs for economic reasons held steady at 7.6 percent. In addition to the big job gains, wages jumped 3.2 percent from a year ago and 0.4 percent over the previous month. The year-over-year increase is tied with October for the best since April 2009. "The far bigger than expected 312,000 jump in non-farm payrolls in December would seem to make a mockery of market fears of an impending recession," Paul Ashworth, chief U.S. economist at Capital Economics, said. He added that the report "suggests the U.S. economy still has considerable forward momentum."
"The economy has been slowing, but someone forgot to tell the labor markets," said Jim Baird, chief investment officer for Plante Moran Financial Advisors. "Employers, it would seem, didn't get the memo from Mr. Market that it's time to tighten their belts." Payrolls growth totaled 2.6 million in 2018, the highest since 2015 and well above the 2.2 million in 2017.
Health care led the way in new jobs, and restaurants and bars added 41,000 to the close the year with a 235,000 gain. Another closely watched sector, retail, posted growth of 24,000 thanks to a holiday season boost. For the year, retail added 92,000, reversing the loss of 29,000 in 2017.
The average worker's take-home increased in December, up 3.2 percent over December 2017. "The average wage paid to American workers climbed 11 cents, or 0.4 percent, to $27.48 an hour, according to the Labor Department. The 12-month rate of hourly wage gains edged up to 3.2 percent from 3.1 percent, matching a post recession high."
The results of the December job report do not capture any impact from the ongoing partial government shutdown, which began after the Labor Department conducted the survey. The labor market continues to be a bright spot even against a backdrop of a swooning stock market, ongoing trade tensions and tightening monetary policy, each of which have contributed to weakness in other areas of the economy. In the first 11 months of 2018, employers added more positions than they did during the same period in 2017.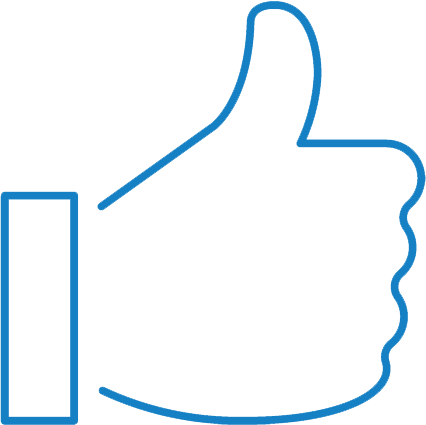 CONSUMER CONFIDENCE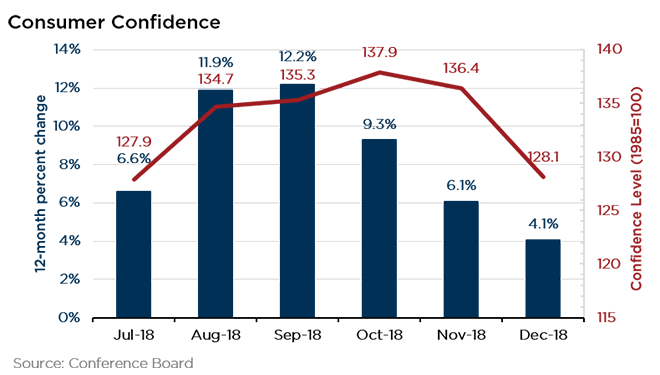 A measure of confidence among American households fell for a second consecutive month, weighed down by weaker expectations for economic growth and heightened market volatility. The Conference Board reported that its index of U.S. consumer confidence dropped to 128.1 in December, down from 136.4 in November. The December reading was the sharpest decline in more than three years, rattling investors already nervous about the prospect that a global economic slowdown was spilling over into the United States.
Even though confidence remains historically strong, the report suggested consumers were spooked by the recent rout in global equity markets, weak housing data, and the continuing concerns about the Trump administration's trade actions this year. A gauge of the nation's households' assessment of the present economic situation fell slightly in December, as well as an index tracking expectations for the future.
"Expectations regarding job prospects and business conditions weakened, but still suggest that the economy will continue expanding at a solid pace in the short-term," said Lynn Franco, the Conference Board's director of economic indicators. Franco continued, "While consumers are ending 2018 on a strong note, back-to-back declines in expectations are reflective of an increasing concern that the pace of economic growth will begin moderating in the first half of 2019."
The University of Michigan Consumer Sentiment Index reported that December sentiment remained at the same record favorable levels as it has throughout the year. The Sentiment Index averaged 98.4 in 2018, the best year since 107.6 in 2000. Over the past half century, sentiment was higher in only two other time periods: 1964-65 and 1997-2000. These periods correspond to the two longest prior expansions since the mid 1800's. If the current expansion lasts past mid-2019, as is likely based on current data, it will become the longest expansion ever recorded.
While the plunge in stock prices has recently garnered attention, consumers have focused more on their concerns about income and job prospects. Despite the latest downbeat confidence report, jobless claims, a leading indicator of the economy's future trajectory, ticked down even with growing economic uncertainty. The measure gauges the number of Americans filing applications for new unemployment benefits. Other economic data signal job prospects and wages remain strong, two factors that have helped bolster consumer spending in the holiday season. Early data have shown that U.S. retail sales, excluding automobiles, rose 5.1 percent between Nov. 1 and Dec. 24 from a comparable period in 2017. That was the strongest holiday-sales increase in six years. "At least through the end of the year, we expect that bright sentiment will translate into a solid finish for retailers and holiday sales," said Wells Fargo Economist Tim Quinlan.
Consumer Spending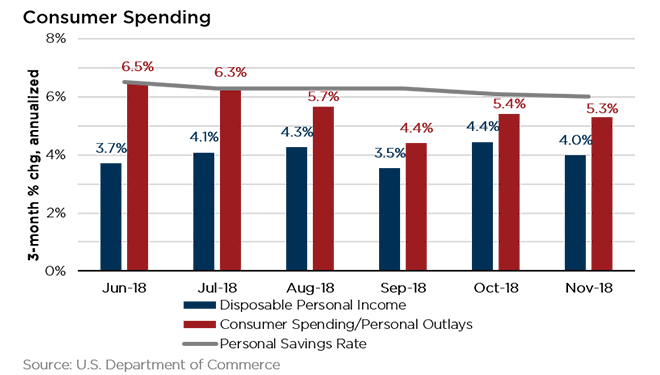 Consumer spending posted solid gains for November, keeping the spending outlook positive for the fourth quarter of 2018. According to the Commerce Department, personal consumption expenditures increased 0.4 percent in November from October. Disposable personal income, on the other hand, edged up only 0.2 percent month-over-month, pushing down the personal savings rate to 6 percent; the lowest monthly rate since March 2013. As the data flies against recent fluctuations in the stock market, Stephen Stanley, chief economist at Amherst Pierpoint, quipped: "The consumer is on fire, and, I'm sorry if the stock market is trying to signal that the U.S. economy is crumbling. Mr. Market is wrong." Moreover, consumer credit debt also outpaced forecasts, with revolving credit outstanding, which includes credit card debt, increasing $4.8 billion after a $9.3 billion rise the prior month. The figures show Americans borrowed somewhat more cautiously at the start of the holiday season.
Rising consumer spending did not affect Personal Consumption Expenditures (PCE) price index: consumer prices as measured by the Federal Reserve's preferred inflation indicator increased by only a 1.8 percent 12-month rate in November, slowing down from October. Excluding food and energy items, core PCE price index inflation increased at 1.9 percent; both indicators remained near the Fed's 2 percent target rate. Fed Chair Jerome Powell, responded appropriately, stressing that the Fed will remain "patient" regarding further monetary policy actions.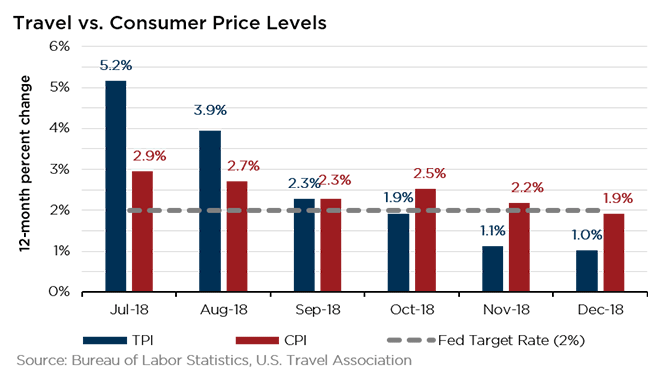 The Labor Department's Consumer Price Index (CPI) softened to a 1.9 percent 12-month rate for December, continuing to reflect the broader economic signal of moderate inflation despite increased consumer spending. The drop was led by a 3.5 percent y/y drop in energy prices, as oil prices continued to decline. Core CPI, on the other hand, maintained a 2.2 percent 12-month rate for the second consecutive month. "Overall, inflation risks remain well in check and are well down the list of potential concerns for both the capital markets and the economy," said Jim Baird, chief investment officer at Plante Moran Financial Advisors. "That bodes well for 2019 if the Fed can slow the pace of rate hikes or pause outright."
Travel prices, as measured by U.S. Travel's Travel Price Index, remained substantially lower than CPI, increasing at only a 1.0 percent 12-month rate in December. The softer inflation was driven by a 7.4 percent month-over-month (m/m) drop in motor fuel prices and a 1.5 percent m/m decline in airline fares. All other component indices remained above 2.0 percent y/y save for lodging (which was relatively flat at 0.5% m/m).
Exports
The partial government shutdown has temporarily suspended the release of U.S. international trade data for November 2018. However, Chinese trade data noted that the U.S. annual trade deficit with China has been the largest since 2015. Moreover, according to Chinese trade data, U.S. exports to China slowed down significantly in November (down to 2.9% y/y in November from over 20% y/y in October), and declined in December (a 7.6% y/y decrease in exports). As the Chinese government uses different metrics than the U.S. Commerce Department, the U.S. trade deficit could be even greater. This decline is underscored by strained tariff negotiations between the U.S. and China, leading the IMF to lower its projection to global growth citing this geopolitical instability. "We simply do not have the gunpowder to deal with the kind of slowdown that current dynamics might lead us towards," said Borge Brende, president of the World Economic Forum. Tariffs aren't all to blame for this; "There is a clear downward trend," said Zhou Hao, an economist with Commerzbank AG in Singapore who was among the few to accurately forecast a December contraction in exports. "This is not just due to the trade war and tariffs. On top of those, the major drag is slowing global demand."
State of Business
Business investment may have slowed down considerably in the fourth quarter, according to recent estimates from the Commerce Department. Excluding defense and aircraft purchases, core durable goods spending fell by a 0.6 percent monthly seasonally adjusted rate in November. The decline is the second monthly drop in the past three months, placing more stress on consumer spending as the engine of economic growth. "Global growth appears to be pulling back, with recent weakness in some of the world's largest economies. Oil prices have fallen, and many analysts think the impact from the tax cuts are fading," note Sharon Nunn and Eric Morath of The Wall Street Journal. However, they continue: "one support remains in place. Orders for defense capital goods rose 15.4 percent in November. The government ramped up its defense spending much of this year." Indeed, defense spending alone pushed headline durable goods spending to 0.8 percent m/m.
Business sentiment fell considerably, though activity was still measured to expand, according to the Institute for Supply Management (ISM). The ISM's Manufacturing PMI, an index measurement of business conditions in the manufacturing sector registered a positive 54.1 percent for December (any reading over 50 indicates expansion). The reading, however, is over 5 percentage points below the 59.3 percent reading from November. The slowdown in manufacturing growth was accentuated by an 11 percentage-point decrease in the New Orders Index, reflecting growing uncertainty in the manufacturing sector. "There's just so much uncertainty going on everywhere that businesses are just pausing," Timothy Fiore, chairman of ISM's manufacturing survey committee, said. "No matter where you look, you've got chaos everywhere. Businesses can't operate in an environment of chaos. It's a warning shot that we need to resolve some of these issues."
The worries about growing uncertainty also extended to the services sector, as the ISM's Non-Manufacturing Index (NMI) decreased over 3 percentage points to 57.6 percent for December. The decline in NMI was due to a 5.3 percentage point decrease in the Business Activity index. The decline was generally seen as a return to long-term trends by analysts. "Overall, this is another release consistent with our long-held view that a shifting policy mix (fiscal stimulus fading, monetary policy getting tighter) would lead to a gradual slowdown in economic growth," said Paul Ashworth, economist at Capital Economics. All travel-related sectors reported expansions for December, with retail trade respondents especially noting "strong demand and pipeline."
Travel business activity had a strong holiday season, according to the Federal Reserve's first Beige Book of 2019, a qualitative survey of business condition across the Fed's 12 districts. Six of the seven districts covering the tourism sector noted solid growth. Only the Kansas City district, which covers much of the Great Plains area, noted that tourism sales "sank moderately" but remained "modestly above year-ago levels." The Boston district noted robust growth in tourism business, not only citing that "passenger traffic to Boston's Logan Airport set a new record in 2018" but also "strong tourist activity was seen on Cape Cod through December," so as to ignite a "serious concern about ongoing labor shortages on Cape Cod that will be more severe in 2019 if limits on the J-1 and H-2B visa programs are not raised." In New York, tourism contacts reported that "the number of visitors has climbed and hotel occupancy rates remained high, though visitors have been spending less, on average." For the Philadelphia district, which also covers New Jersey and the northern Mid-Atlantic, "tourism activity continued to grow slightly... a lack of snow hampered ski resort activity, but occupancies and spending at mountain resorts and restaurants remained solid." Tourism in the Richmond district was also "affected by adverse weather" as "hotels in Washington, D.C., saw lower occupancy and fewer meeting space reservations." On the other hand, "tourism remained strong" across the Carolinas despite the weather. In the Southeast, the Atlanta District (which also covers Florida), respondents celebrated a "strong holiday travel season with growth in business and leisure travel. Hotel demand and average daily rates were higher than expected."
Travel Trends Index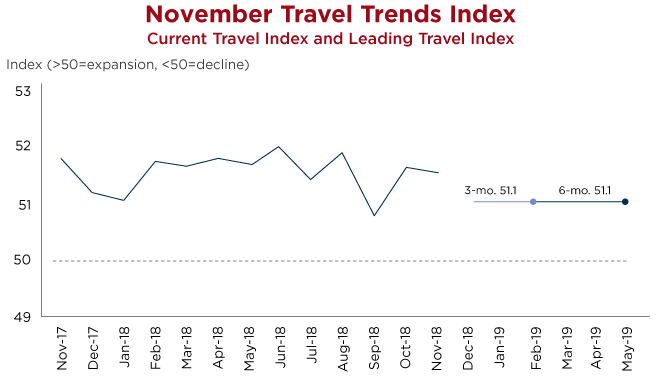 The latest Travel Trends Index (TTI) reported that international inbound travel—which had a strong showing of 3.8 percent year-over-year growth in November—is projected to fizzle in the first half of 2019, dropping down to just one percent growth by May 2019.
"A number of factors—notably rising trade tensions, softening global growth and the increase in the value of the dollar against other currencies throughout 2018—have the potential to dampen international inbound travel in the near-term," said U.S. Travel Senior Vice President for Research David Huether.
Domestic travel grew 3 percent year-over-year in November, with both business and leisure travel registering gains thanks to historically high levels of consumer confidence. Business travel is expected to outpace leisure travel through May 2019, though recent volatility in the markets could disrupt that trend.
TRAVEL INDUSTRY UPDATES
Domestic travel is expected to continue to grow, albeit more slowly in 2019. The ongoing partial government shutdown, trade tensions, overcrowding trends and rising gasoline prices may dampen expectations for 2019, yet the lodging and airline industry continue to post records.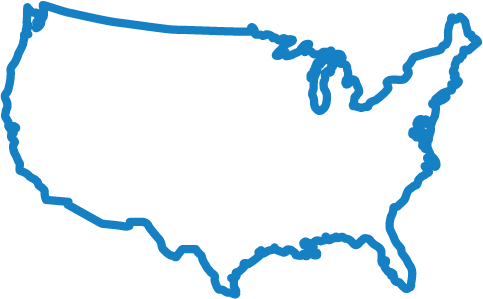 DOMESTIC TRAVEL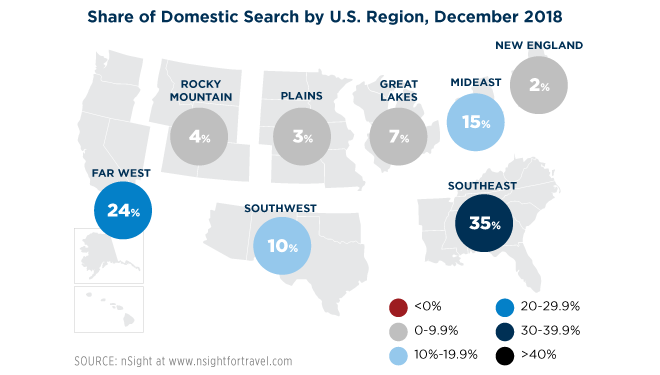 The latest U.S. Travel Barometer reported that of U.S. residents searching for lodging in December, 86 percent searched within the U.S., up significantly from the 69 percent searching domestically the same time the year prior. For the year, the share of resident searches within the U.S. rose to an average of 85 percent up from 76 percent in 2017. Interest in travel to the Southeast remained strong capturing 35 percent of U.S. resident domestic searches, followed by the Far West which captured 24 percent of searches.
Overtourism, personalization and artificial intelligence rank among the top travel trends of 2019, according to experts polled by The Washington Post. Higher demand promises to make 2019 one of the busiest travel years on record. As such, prices are also expected to rise, driven by a growing global economy and rising oil prices. However, overtourism to certain destinations may change consumer trends in two specific ways. Within the context of seeking out new destinations, one new trend is to use artificial intelligence to improve the booking experience by making more sophisticated suggestions on destinations and flights available.
A whopping 96 percent of Americans intend to travel for vacation in 2019 according to a survey of over 3,500 consumers by Travel Leaders Group. A majority of these respondents are planning at least two or more leisure trips next year (76%) and solo trips are on the rise. The major barriers to travel in 2019 included money, work obligations, and not enough time off. But 43 percent of respondents plan to spend more time on vacation travel in 2019 versus the previous year.
MMGY recently reported that the government shutdown was impacting leisure travel, with 16 percent of Americans cancelling or planning to cancel a vacation because of the shutdown. Among those who still plan to vacation during the next six months, 55 percent indicate that they will do so without hesitation, while 32 percent are planning to move forward but are monitoring the situation. However, 14 percent are unsure or considering canceling their vacation plans because of the shutdown. The leading concerns among travelers considering canceling their vacations because of the shutdown are park and monument closings, delay in receipt of their tax refund, and safety.
The partial government shutdown has negatively affected travel industry operations across multiple sectors, according to CNN. Although National Park Service sites across the country have been closed during previous government shutdowns, many have initially remained open but severely understaffed under the Trump administration. Many park sites have had to curtail operations in some areas because of the shutdown. Letting millions visit the parks without ranger support will damage the parks, says former NPS director Jonathan Jarvis in an editorial published by The Guardian.
Moreover, the partial government shutdown has impacted business travel, according to the Global Business Travel Association (GBTA). Nearly half of respondents to a GBTA member survey said they had dealt with canceled bookings and concern from travelers about airline delays and cancellations. Airport security delays were reported by 45 percent of respondents, while nearly four in 10 reported canceled meetings or business opportunities as well as greater uncertainty about the economy. "With more than two-thirds of our members concerned about a negative impact if the shutdown continues, the widespread impact on the business travel industry is undeniable," Michael McCormick, the association's executive director and chief operating officer, said.
However, experts remain bullish on business travel growth in 2019. "There's a lot that could challenge business travel this year," said David Huether, senior vice president of research and economics at U.S. Travel. "That segment is all about confidence, which has been strong, but could quickly wane in the face of market volatility, the shutdown, trade tensions, and other uncertainty factors. That being said, the fundamentals are pretty good at the moment."
According to a recent Skift report, bleisure travel is anticipated to grow in 2019 with 90 percent of respondents viewing travel as a job perk and 89 percent of business travelers likely to extend a work trip for a leisure. Other business travel trends included increased use of the sharing economy in travel, the rise in "innovational" travel in the meetings sector to inspire creativity and an increased focus on people over policies to limit employee stress and the negative impacts of business travel.
African-American travel represents a $63 billion economic value - up from $48 billion in 2010, according to Mandala Research. African American "cultural" travelers are the highest spenders, with an average per trip spend of $2,078. Food and shopping were the leading spend categories with nearly half of travelers spending on local and/or regional cuisine on their most recent leisure trip. While the major barriers to travel are similar to the general travel market, with 28 percent saying they are too busy to travel and 25 percent reporting they can't afford it, 15 percent say that concerns about racial profiling play a role in their travel decisions, similar to the impact of not having anyone to travel with, or airport hassles (13%).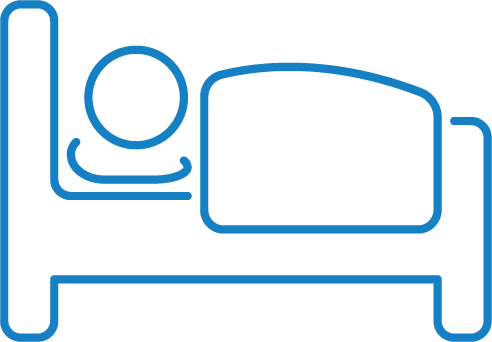 LODGING INDUSTRY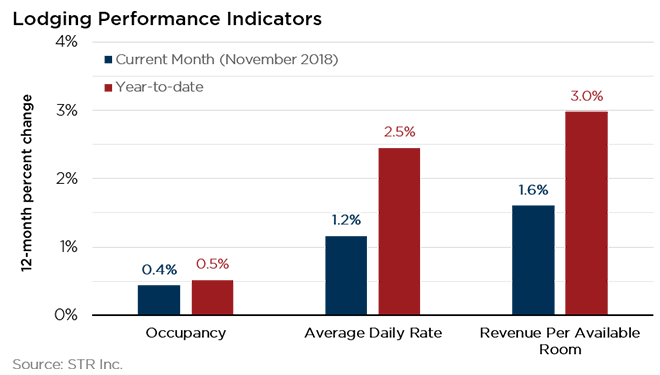 According to STR, total U.S. room revenue increased 3.7 percent and room demand increased 2.5 percent from a year ago in November 2018. Total room revenue reached $12.0 billion. However, Jan Freitag, senior vice president of insights at STR laments that "November revenue per available room (RevPAR) increased 1.6 percent, driven by average daily rate (ADR) growth of 1.2 percent, which, honestly, is just disappointing. However, it's not really growth, it's more like the industry is 'muddling along.'" While Freitag concedes that the November headline figures for occupancy and ADR are the "highest ever" for November, he notes that the slowing of the hotel metrics are a "sign of things to come."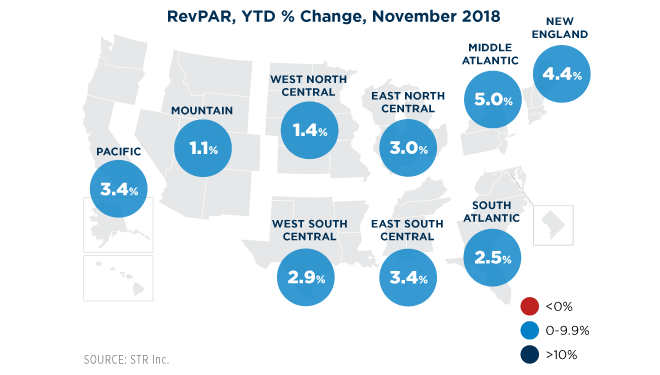 The hotel industry expects slow and steady revenue growth for 2019 driven by price increases. STR expects revenue per available room (RevPAR) to increase by 2.4 percent. The revenue increase is expected to be fueled by price growth (2.3 percent increase in average daily rate [ADR]) and not quantity (0.1 percent increase in occupancy rate). Lodging industry revenue management executives remain optimistic. According to Cassie Bond, vice president of revenue management at Chesapeake Hospitality a flat occupancy rate "means consistently analyzing booking windows, length of stay, day-of-week patterns and overall spend by rate plan for each segment. Vickie Callahan, VP of revenue management at Atrium Hospitality, said she, too, expects ADR growth to be the foundation of a healthy year with occupancy "at peak levels." "The new supply in certain markets might temporarily threaten occupancy of existing hotels, but demand is strong, and we expect new supply to be a short-term challenge." According to Warren Marr, U.S. hospitality & leisure managing director at PwC, there will be continued growth in the lodging industry but at a "slightly slower pace than we've seen over the past several years".
Facility fees are expanding from resorts to urban destination hotels. According to The Wall Street Journal, many big-city hotels are adding mandatory facility fees or urban-destination fees to hotel bills, hiding the add-ons from advertised room rates, which sometimes reach $50 a night. Research from Bjorn Hanson, an industry consultant suggests that resort and destination fees increased 400 percent last year over 2017 and will spread to the suburbs this year. Hotels have faced higher labor and borrowing costs, plus higher real estate taxes, so hotels are getting creative to maintain profitability.
Winter weddings have become an attractive revenue generator for the lodging industry. Property managers surveyed by Hotel News Now have noted that bookings for winter weddings have increased from 20 percent to 50 percent in the past two years. Site rental fees for winter group bookings tend to be 20-40 percent cheaper than mid-season rates. Notably, food and beverage prices tend to decrease remarkably, according to Krista Ostrander, director of sales at The Reeds at Shelter Haven in New Jersey. "Couples know that their dollar will go further in winter," she said. "They can afford to add extras like raw bars, craft beers, wine upgrades and s'mores bars."
Transportation
The International Air Transport Association reported that North American international passenger kilometer traffic climbed 6.1 percent in November, up from 5.7 percent in October and well ahead of the five-year average rate of 4.0 percent. Seat capacity rose 3.8 percent and load factor edged up 1.7 percentage points to 80.6 percent. Demand is supported by comparatively strong momentum in the U.S. economy. Domestic U.S. passenger kilometers increased 4.9 percent, while available seat kilometers increased at a faster rate of 5.9 percent. Load factor therefore decreased by 0.8 percentage point to 85.2 percent. Due to the partial government shutdown, Transportation Department data remains temporarily unavailable for the same time periods.
Global air passenger travel will cool down in 2019, according to reports from ForwardKeys. Coming off of a strong increase in commercial airline passengers in 2018 of 5.8 percent, forecasters at ForwardKeys believe that air travel will slow down with a slowing global economy: "The key factor is the overall global economic growth. I think when people have money they tend to travel." Citing forecast calculations from the World Bank and IMF outlooks for 2019, where economic growth is expected to slow with respect to uncertainties in international trade: "If this [moderating trend] continues, it should translate into a slowdown in air traffic growth," Olivier Ponti, ForwardKeys' vice president of insights said. He added that the U.S.-China trade war is already having a demonstrable impact on air travel. "When you look at China's outbound market, it is growing real fast, but when you see the number of departures to the U.S., you see a negative trend," Ponti said. "So I think the differential could be explained by the tensions between those two countries. In China, there is more and more an impression that the U.S. is less Chinese-friendly."
Baggage handling, cancellations, and booking mistakes highlight the top passenger complaints through the first nine months of 2018, according to USA Today analysis of the Department of Transportation's Air Traffic Consumer Report. Baggage complaints represent nearly 13 percent of all complaints in 2018. The situation is not getting much better; roughly the same number of claims were filed in the January to September period in both 2017 and 2018. Data reported by the airlines show an increase—1.2 million baggage reports last year compared to almost 1.4 million so far in 2018—with the worst-performing airline being Southwest. Cancellations, on the other hand, improved by a third year-to-date, though American Airlines received the most complaints for cancellations. Booking errors represent nearly 10 percent of all travel complaints.
The partial government shutdown has also had a significant effect on the Transportation Security Administration (TSA). Deemed "essential," TSA agents have been showing up to work without payment for nearly a month, according to Travel + Leisure magazine. Furthermore, according to the American Federation of Government Employees, the TSA once had a workforce of around 47,000 dealing with 740 million passengers a year, but now has 44,000 workers servicing 851 million passengers a year. "
Meanwhile, TSA has downplayed reports that a rise in airport screeners calling out sick or even quitting their jobs has led to long lines at security. The agency has claimed that 99.9 percent of passengers are clearing security in less than a half hour while around 94 percent are making it through in 15 minutes or less, according to Travel Market Report. TSA spokesman Michael Bilello conceded that the screener absentee rate is up, but said it was only slightly higher than normal for this time of year.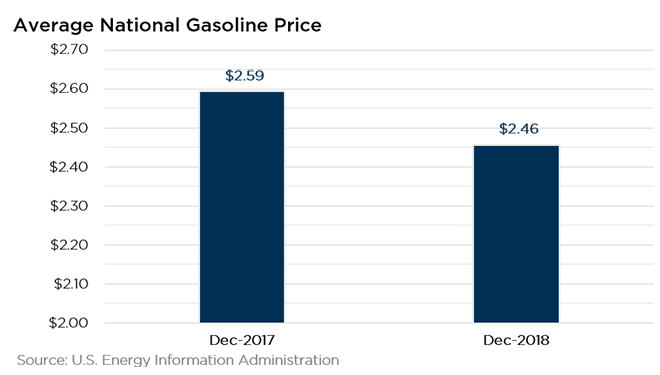 Gas prices for mid-January rose for the first time in three months, according to AAA. The national gas price average across all grades fell to $2.25 per gallon in January. Despite the increase, the average for this week is still cheaper month-over-month (-14 cents) and year-over-year (-28 cents) for the second week in January. "The price of crude oil has been slowly, but steadily increasing since the beginning of the year, which is starting to push up pump prices," said Jeanette Casselano, AAA spokesperson. "The price per barrel increased $3 from last Monday to close on Friday to settle at $51 per barrel." AAA also concluded that overall demand for gasoline has been low, contributing to the growth in stocks and helping to keep gas prices lower despite increasing crude prices.
More Americans are taking advantage of ride-hailing apps to travel to airports, restaurants and workspaces across the country, according to research from Pew. In a survey, only 3 percent of respondents have not heard of ride hailing apps such as Uber and Lyft, compared to 33 percent of respondents in a similar Pew survey in 2015. App adoption figures, according to Pew, "continue to vary by age, educational attainment and income level." Roughly half of Americans ages 18 to 29 (51%) say they have used a ride-hailing service, compared with 24 percent of those ages 50 and older. Moreover, app adoption tends to be much larger in higher income brackets ($70,000 and over) and education attainments (bachelor's degree or higher). Another cited determinant was a significant gap in app adoption between urban and rural populations, with urban users adopting a ride-sharing app with much more frequency.
Route 66 is the most "Instagram-worthy" road trip for British travelers, according to a survey commissioned by Hertz. Fifty-six percent of the survey's 2,000 respondents named the U.S. as the road trip capital of the world. As such, the survey's top three global road trip locations were located in the U.S. (Route 66, the Grand Canyon, and the Pacific Coast Highway). "Adventurers love the U.S. for a road trip," said Temerity Vinson, senior director of international marketing at Hertz. "The influence of social media has had a huge impact on destinations of choice, bringing increased awareness of less well-known areas, as well as ensuring that gems such as the Route 66 are still as popular as ever."
International Travel
Despite the recent shutdown temporarily delaying international visitation data from the Commerce Department, Inbound Report recently published its analysis of the current Commerce Department forecasts for visitation to the U.S. by country. First, it notes that cursory exchange rate analysis "shows that the currencies of key markets for U.S. inbound tourism are faring better than they were two years ago against the U.S. dollar … and certainly better than in 2015," a change which should imply greater visitation from key overseas markets moving forward. Regarding some key emerging markets, Inbound notes that the forecasted 2 percent increase for Chinese visitation is "nothing to scoff at." With respect to Brazil, it noted "without dwelling further on the story of the economic recession, everyone in the tour and travel industry is relieved that it began to end last year." On the other hand, Indian visitation to the U.S. represents "the perfect storm" with a relatively strong 5 percent increase in visitation forecasted in 2019: in that "they speak English… their economy is doing well… [and] international air service [to the U.S.] is growing."
Despite economic headwinds, the global travel industry will enjoy steady growth in 2019, according to Skift's Travel Economic Outlook for 2019. Overall, considering 2018's better-than-expected performance with 1.4 billion international arrivals, Skift revised 2019 and 2020 estimates for global international arrivals to 1.5 and 1.6 billion, respectively, with growth targets within the "5 percent range." The travel industry's contribution to global GDP is expected to maintain course at 10.4 percent of global GDP, what Skift calls "essentially stable growth, in line with 2017 and 2018." However, Skift notes segmentation between countries: "Growth prospects for emerging-market and developing economies are generally solid, with strength in India and energy export countries like those in the Middle East. Nevertheless, this is offset by weaker expectations for the U.S., China, Japan, the Euro area, and the U.K., primarily on announced trade measures and weaker economic activity." Namely, headwinds included increased economic policy uncertainty in advanced and mature economies (namely the U.S.), but "middle classes around the world continue to develop." Other areas of focus include technological innovation, sustainable tourism, and destination management in emerging market economies.
Carlson Wagonlit Travel's (CWT) overview for 2019 is fairly optimistic for the travel industry and focuses on three critical trends in global international travel. First, for the global air industry, oil price hikes will continue to increase costs for global airlines; those rising costs as well as targeted trade disputes may affect corporate travel in 2019. These headwinds are balanced, however, by increased fare segmentation and increasing innovation for low-cost long-haul carriers and ultra-long-haul carriers. Second, increased fare segmentation for long-haul flights could boost accommodation demand. The rise of smartphone adoption in emerging markets signal an emphasis toward mobile booking. Third, there will be "a concerted effort among rental car companies to raise prices" by the fourth quarter of 2019, thanks to increased fuel prices and maintenance costs. Moreover, CWT notes that ridesharing will be increasingly regulated at global airports. Moreover, there may be continued cooperation between rental cars and ridesharing.
Chinese traveler preferences are broadening, according to a report from McKinsey. The report sets out to dispel popular industry myths about Chinese travelers, namely that they are "mainly interested in shopping… only want to see the main sights and… will only eat Chinese dishes." Whereas "previous research found monolithic tendencies," McKinsey notes that their results "can now discern eight distinct segments" ranging from value-seeking sightseers (low- to middle-income families who do not prioritize shopping) to backpackers (who prioritize local customs and outdoor activities) to individualist and sophisticated travelers (high-income travelers designing their own unique travel experiences). The survey also noted that over half (56%) of all Chinese international travelers look for mid-range hotels, which the report notes is a changing preference from traditionally budget-conscious traveler preferences.
The Chinese Government recently released a travel warning for Chinese citizens against Canada. The warning is believed to be a retaliatory measure against similar warnings issued by the U.S. and Canadian governments. The Chinese travel advisory cited that its citizens "fully evaluate risks," citing that certain nationals may be placed in "arbitrary detention… at the behest of third-party countries." The U.S. advisory notes that American travelers to China should "exercise increased caution in China due to arbitrary enforcement of local laws... Chinese authorities have asserted broad authority to prohibit U.S. citizens from leaving China by using 'exit bans,' sometimes keeping U.S. citizens in China for years. China uses exit bans coercively." The advisory says U.S. citizens may not have access to consular services and could be subjected to prolonged interrogations and held in extended detention.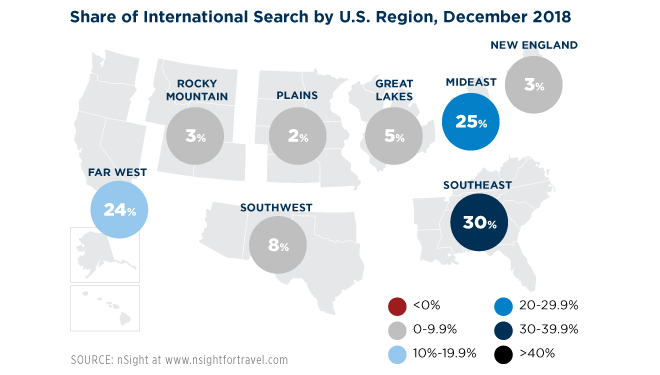 The latest U.S. Travel Barometer reported that 11 percent of international lodging searches in December were for destinations in the United States—higher than the 9 percent searching for lodging within the U.S. the same period last year. For the year, 14.5 percent of international searches were to the U.S.—slightly higher than 2017's average of 13.7 percent. International searches were led by Spain—capturing 13.1 percent of December searches, followed by Italy and France. Interest in travel to Mexico was strong in 2018—capturing an average of 6 percent of international searches. The Netherlands emerged as a top international destination capturing nearly 3 percent of international searches in 2018.
Expedia Group recently released a Multi-National Travel Trends report highlighting trends across 11 countries. The initial study focused on how travelers choose their destinations, how travelers choose their means of transportation and how travelers apportion their budgets. The study highlighted a global trend that "travel decisions are emotional," citing that travelers across all countries were seeking "once-in-a-lifetime" cultural experiences that could be "off the beaten path." Another global trend is the prominence of online travel agency sites to book travel or inspire bookings for activities.
Webinar Series
Sporting events and venues are magnets for visitors and local residents alike. Many of our members have forged strong partnerships with local franchises that have led to exciting new developments in their destinations. Join us on Tuesday, February 26 from 2:00-2:45 p.m. ET to explore the intersection of sports and travel, including how sports organizations are expanding their global reach with the help of IPW.
U.S. Travel Updates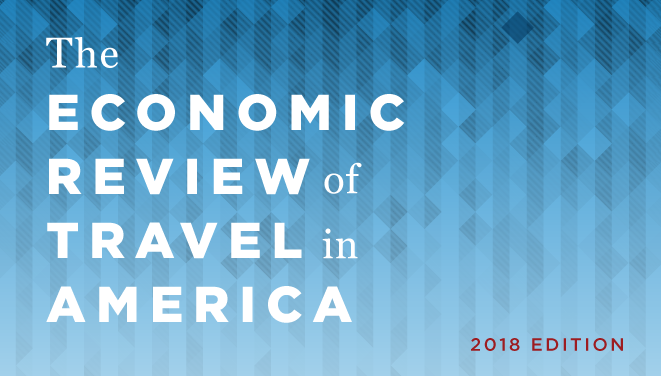 Research recently released the Economic Review of Travel in America, 2018 Edition—an annual report offering a broad review of the 2017 economic year in travel to members. The report outlines historical measurements of the United States travel and tourism industry detailing domestic and international inbound travel volume and the impact of travel on the U.S. economy, as well as the importance of the U.S. in the global travel market. In addition, you can find analysis on the performance of major travel-related industries in the U.S., such as airlines, lodging, amusement/recreation services and food service. Wherever possible, 2018 estimates are included.
Be on the lookout for updated International Country Profiles and the Top 20 Inbound Market factsheet with 2017 data in the coming weeks.
National Plan for Vacation Day, dedicated to encouraging Americans to commit their time off for the year at the start of the year, will take place on January 29. U.S. Travel created a toolkit to help destinations and organizations promote National Plan for Vacation Day, and has once again partnered with travel expert and "Places to Love" host Samantha Brown to spread awareness about the importance of taking time off.
Policy
The partial federal government shutdown has now entered its fourth week, as President Trump and congressional Democrats have not yet reached a compromise.
There have been reports that the shutdown was beginning to cause the cancellation of Global Entry interview appointments; this came on the heels of widespread claims of disruptions to TSA operations. A message currently at the top of the Customs and Border Protection web page says the site "will not be actively managed" while agency funding is lapsed, and that "[t]ransactions submitted via this website might not be processed."
U.S. Travel released its economic impact study on the cost of the partial federal government shutdown: our research department calculates a cost of more than $100 million daily for the U.S. economy through the impact on travel. This includes a daily cost of nearly $50 million in direct domestic travel spending, and more than $50 million in indirect and induced travel-related output, caused by suspended national parks visitor services as well as the standstill of travel related to government business.