U.S. Travel's Research Trends from David Huether
ECONOMIC OVERVIEW:
December 2018
Despite strong showings for the second and third quarters, economic data for the fourth quarter resulted in a mixed picture:
ECONOMIC SUMMARY:
U.S. economic output remained unchanged at 3.5 percent real GDP growth for the third quarter; the Commerce Department's second revision left the headline number unchanged. Revisions noted stronger business spending and private-inventory investment in the quarter than originally reported, and weaker consumer spending and state and local investment to offset those increases. However, global economic headwinds appeared in the form of a slowdown in corporate profits. "Sales, orders, even leads look solid," Olivier Filliol, chief executive of laboratory instrument maker Mettler-Toledo International Inc., told analysts in early November. "But there are many reasons to be cautious about the global economy, including higher interest rates, a strong dollar and uncertainty and costs arising from tariff disputes. I would characterize it as sunny weather but clouds on the horizon."
Despite the headwinds dampening an otherwise encouraging economic outlook, third quarter household net worth increased by $2.1 trillion, or 1.9 percent to a total of $109 trillion. Household net worth describes the total value of all assets (i.e., stocks and real estate) net of liabilities (i.e., mortgage and credit card debt). This was a deceleration from the $2.3 trillion increase estimated for the second quarter. However, as noted by The Wall Street Journal, total net worth was only increasing "further into record territory." Nearly three-fifths of the gain was accrued by stock market holdings, no doubt helped by increases in the stock market. However, The Wall Street Journal continues: "Since the third quarter ended, the stock market has swooned, prompting worries that the nearly 10-year bull market could be running out of steam, despite ongoing growth in U.S. jobs, manufacturing, and corporate earnings.
Through it all, "there is [still] a great deal to like about this outlook" said Jerome Powell, chair of the Federal Reserve. "Interest rates are still low by historical standards, and they remain just below the broad range of estimates of the level that would be neutral for the economy—that is, neither speeding up nor slowing down growth." While markets expressed relief that the Federal Reserve chair seemed to be taking a step back from previous statements where he said that interest rates were "far from neutral" (thus signaling more rate hikes), Tom Porcelli, chief U.S. economist at RBC Capital Markets noted that "Powell is not suggesting that since they are just below the range they may stop soon. All he is doing is pointing out an obvious idea [that interest rates are historically low]."
Despite rising household net worth and interest rates at historically low levels, millennial-age consumers are not well-positioned to accumulate long-term assets, according to a recent paper released by the Federal Reserve. Far from the public outcry that they are "killing" economic industries through changing consumer preferences, Federal Reserve economists suggest that millennials' consumer preferences are similar to those of previous generations, but their available income is at a lower level. In other words, "Millennials are just like their parents, only poorer." Federal Reserve economists put this to a higher debt burden than previous generations (though even with the next-nearest "Generation X"), but find little evidence that millennial households have tastes and preference for consumption that are lower than those of earlier generations.
Headwinds aside, the economy is looking for a solid finish to 2018: October consumer spending started the year with a bang, increasing 0.6 percent month-on-month from September, the fastest monthly growth rate for six months. Spending has been supported by soft inflation numbers (core PCE inflation slowed down to 1.8% in October), a strong labor market (October's 3.1% year-on-year increase in wages remained the strongest monthly increase since 2009) and increasing consumer confidence. Increasing imports and slowing investment will serve to balance these increases. The latest forecasts from the Atlanta and New York Federal Reserve districts forecast fourth quarter GDP growth at 2.4 percent.
CURRENT STATE OF THE ECONOMY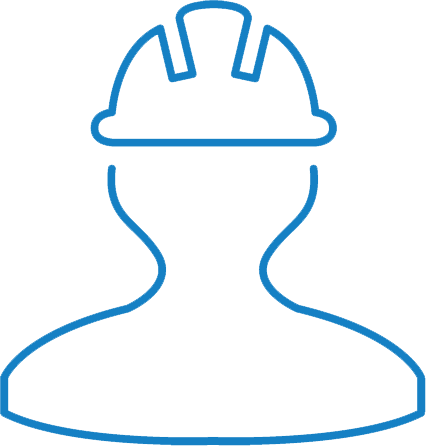 LABOR
The U.S. economy added 155,000 jobs in November, missing expectations for more robust growth, and the unemployment rate stayed at a 49-year low of 3.7 percent. Even in the face of economic curveballs—trade tensions, jittery markets, hurricanes—hiring has remained strong overall as 2018 wraps up: American employers have added more than 200,000 jobs in four of the past six months.
Construction saw a steep slowdown in November, said Martha Gimbel, research director for the Hiring Lab at Indeed. "155,000 is not the number people were dreaming about," Gimbel said. "But it's a perfectly solid number." Analysts predict that payroll growth in 2018 is still on track to beat the previous year's average monthly gains of 182,000 positions and could surpass 2016's average monthly increase of 195,000.
Job creation skewed to services-related industries, which added 132,000, while goods producers grew by 29,000, the lowest increase since March. Health care and professional and business services added the largest number of workers with 32,000 apiece. Heading into the holiday season, retail jobs edged higher by 18,000, though clothing stores reported a net decline of 14,000.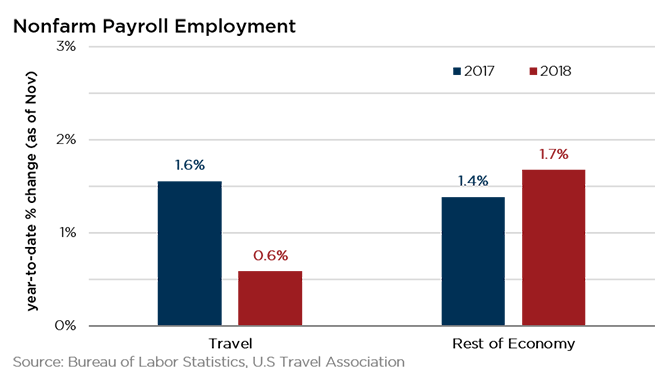 Employment in the travel industry edged up a slight 200 workers to a level of 8.7 million in November. Though last month's gain was unremarkable, it is important to note that the travel industry has been a consistent job creator throughout 2018, with employment gains taking place in 10 of the first 11 months of the year. So far in 2018, job gains have totaled 72,800. Monthly job gains in the first half of the year were more robust than in the most recent five months; this is consistent with U.S. Travel's Travel Trends Index (TTI), which showed that the pace of travel to and within the U.S., while still growing, decelerated during the second half of the year.
Some economists worry 2018's growth pace isn't sustainable next year with such a tight labor market. The unemployment rate reached 3.7 percent in September and has since held that level. Employers complain a talent shortage is thwarting their growth plans, asserting it is increasingly difficult to find people with the right skills. "Most measures of the U.S. economy have been holding up quite nicely," said Mark Hamrick, senior economic analyst at Bankrate. "The question is: how much slowing is there on the horizon?"
We're in a really good spot if you ask me," said Larry Kudlow, President Trump's top economic adviser. "We're getting tremendous increases in growth." The smaller-than-expected gains in November shouldn't trigger concern, said Jamie Dimon, chief executive of JPMorgan Chase.
Still, some economists caution that not every worker is reaping the benefits. Labor leaders say wage growth among service workers is lacking; some blame declining union membership and the rise of subcontractors, which have cramped pay and access to paid time off and health insurance. Service workers "don't have the leverage to take advantage of tight labor markets," said AFL-CIO chief economist Bill Spriggs.
The number of unfilled jobs in the U.S. grew by 1.02 million at the end of October from a year earlier, according to the Labor Department. More than a third of those new openings were in accommodation and food service and retail sectors. That suggests steady hiring elsewhere in the economy and unemployment holding at a near half-century low is allowing those who might otherwise seek jobs at restaurants or stores to look for higher-paying jobs in other industries.
There were a seasonally adjusted 7.08 million job openings on the last business day of October. That's up from the prior month, but down from August's record high of 7.29 million. Job openings exceeded the number of unemployed—people without a job but actively seeking work—by one million in October. Of the one million additional open jobs, 200,000 were in accommodation and food service, the largest increase of any sector tracked. There were 1.04 million jobs available in the field at the end of October.
"Many people who might otherwise look at those sectors are finding better alternatives in industries they view as more secure with better room for advancement [such as office and medical jobs]," said Julia Pollak, labor economist at employment site ZipRecruiter. She said the number of applicants per retail job openings on ZipRecruiter has fallen from three-to-one to one-to-one over the past year.
The Federal Reserve Bank of San Francisco found that the U.S. labor market is at full employment and does not have much more room to tighten. "Our estimates indicate that the aggregate labor force participation rate is at its trend as of 2018," the regional bank concluded. "Combined with the low unemployment rate, the U.S. labor market is operating at or beyond its full potential." The study noted that the labor force participation rate since 2015 had stabilized around 62.8 percent. After examining the underlying changes in the U.S. population, including aging and educational attainment, it concluded that this level represents the long-run trend level of labor force participation. The study also predicted this would decline about 2.5 percentage points over the next 10 years. Almost the entire projected future decline is driven by population aging.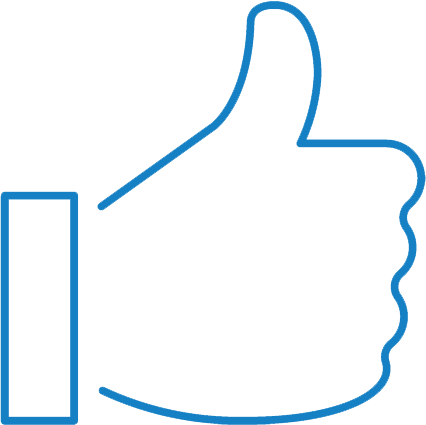 CONSUMER CONFIDENCE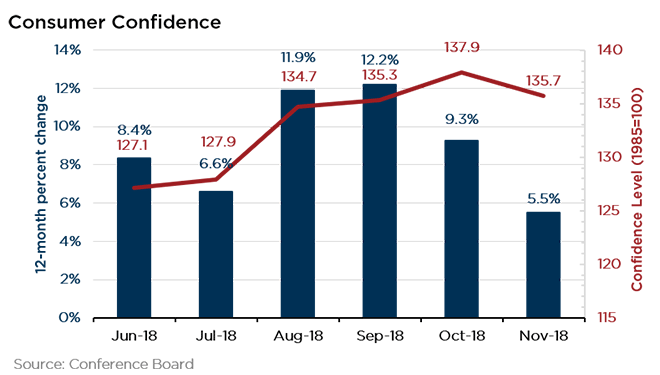 Consumer confidence slipped in November as job and wage prospects dimmed, but still remained near historically strong levels. The Conference Board Consumer Confidence Index® now stands at 135.7, down from 137.9 in October. "Despite a small decline in November, consumer confidence remains at historically strong levels," said Lynn Franco, senior director of economic indicators at The Conference Board. "Consumers' assessment of current conditions increased slightly, with job growth the main driver of improvement. Expectations, on the other hand, weakened somewhat in November, primarily due to a less optimistic view of future business conditions and personal income prospects. Overall, consumers are still quite confident that economic growth will continue at a solid pace into early 2019. However, if expectations soften further in the coming months, the pace of growth is likely to begin moderating."
Americans' sunny mood reflects a strong job market. Unemployment has dropped to a five-decade low 3.7 percent. That is why 46.6 percent of respondents told the Conference Board that jobs are "plentiful"—highest share since January 2001.
Economists are worried that U.S. economic growth could decelerate as the effects of last year's tax cuts fade and President Donald Trump's taxes on imports take a toll. "Despite a modest decline in confidence and the recognition that the pace of economic growth is slowing, consumers remain an upbeat lot," said Jim Baird, chief investment officer at Plante Moran Financial Advisors. "For now, they also appear to be comfortable opening their wallets and purses, letting their spending speak clearly on their behalf."
Consumer sentiment was unchanged from last month's reading and has remained at very favorable levels since the start of 2017. Consumers were a little more optimistic on current conditions but a bit more pessimistic about the future. In the early December survey, consumers did mention hearing much more negative news about future job prospects. But mostly, the data reflect a strong job market.
Over the prior two years, the Sentiment Index was consistently above 90.0, averaging 97.5, identical to the early December reading. The last time the Sentiment Index was consistently above 90.0 for at least as long was from 1997 to 2000, recording a four-year average of 105.3. There are a number of plausible causes for the difference in consumer optimism from the late 1990s to today, most of which pertain to job and wage prospects.
Consumer Spending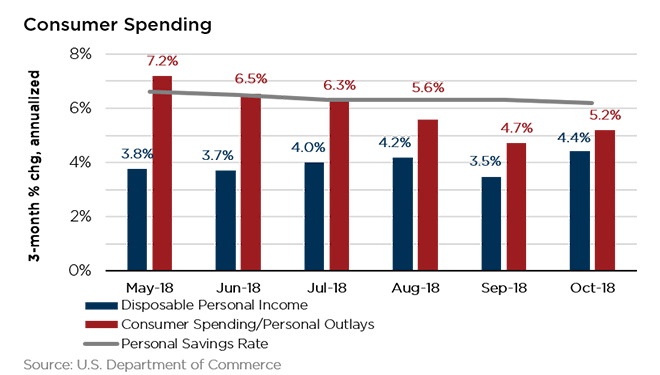 Consumer spending started the fourth quarter with a roar. Personal consumption expenditures (PCE) increased 0.6 percent month-on-month (m/m) in October after two consecutive months of slowdowns, according to the Commerce Department. The pace of October monthly consumer spending was the highest for the past six months and surpassed that of October personal income, which increased 0.5 percent from September (the largest monthly gain since January). As such, the savings rate fell by 0.1 percentage point (ppt) to 6.2 percent. This rate may be a touch low for the revised savings rate measurements, but, according to Marvin Ellison, chief executive officer at Lowe's, "Consumer confidence continues to hover at high levels as consumers remain upbeat about their employment and income prospects, suggesting we will continue to see solid gains in consumer spending."
Moreover, PCE-based inflation remained subdued for October. The Federal Reserve's preferred measure for inflation, the 12-month percent-change in the PCE Price Index, remained on the Federal Reserve's nominal target for inflation: 2.0 percent in October. Despite the surge in spending, data suggests that price pressure was softening: core PCE prices (excluding food and energy items) increased by 1.8 percent in October, slowing down by 0.1 ppt from September to the slowest year-over-year rate core PCE pace in six months. However, according to Scott Brown, chief economist at Raymond James, inflation is likely to rebound, "because of the big impact from tariffs and wages going up."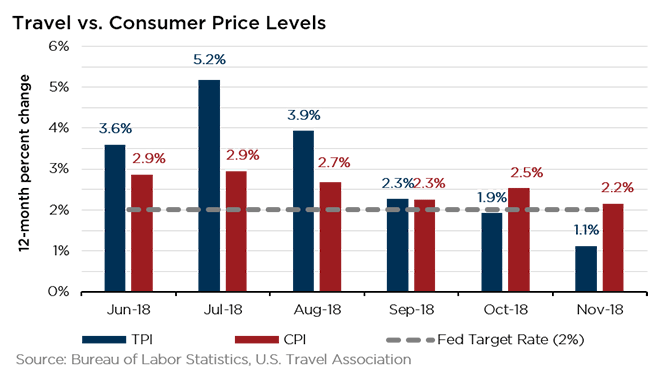 Prices remained flat for November, according to the Labor Department's Consumer Price Index (CPI). However, given a sudden decrease in oil prices, core CPI inflation (which excludes food and energy items), increased by a 2.2 percent 12-month rate in November. Despite firming, core CPI inflation remained within a 2.1-to-2.3 percent range that has prevailed since March. The recent softening in consumer prices despite pressure from global headwinds has increased scrutiny on the Federal Reserve's policy to increase short-term interest rates. On the other hand, according to Sarah House, senior economist at Wells Fargo Securities, these headwinds, "could get washed out by a slowdown in the housing market… and keep inflation at the Fed's target with no real signal of overheating."
U.S. Travel's Travel Price Index (TPI) for November 2018 decreased 0.6 percent compared to October 2018 on a seasonally adjusted basis. Other lodging (including hotels and motels) slightly increased by 0.1 percent while the transportation prices were down 3.3 percent. The decrease in transportation was largely due to motor fuel prices (-4.1%) and airline fares (-2.4%). Compared to the same period last year, the TPI increased 1.1 percent in November 2018 on a seasonally unadjusted basis, while the CPI-U increased 2.2 percent.
Exports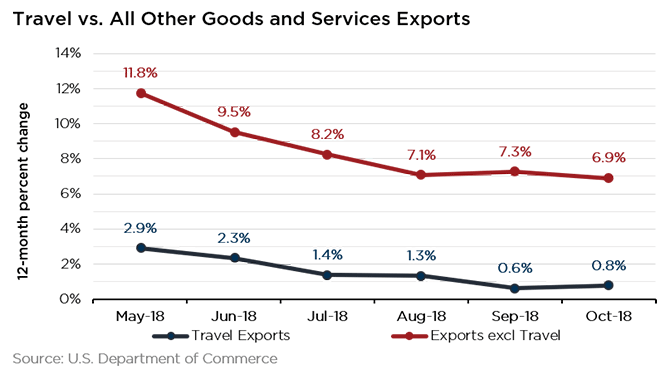 Another month of record imports drove the U.S. goods and services trade deficit to the highest point in a decade. The Commerce Department estimated that the U.S. trade balance increased to $55.5 billion in October, 1.7 percent larger than the trade balance for September and the highest deficit since October 2008. The deficit itself was comprised of a $0.3 billion decrease in exports (-0.1%) from September and a $0.9 billion increase in imports (0.2%) from September. The data suggest that recent economic policy measures to restrict imports through tariffs remained largely ineffective. Moreover, despite a temporary truce in the U.S.-China trade war, continued rising imports, "suggests trade will probably be a drag on gross domestic product in the fourth quarter, and adds to weak housing and business spending on equipment reports in signaling a slowing down in economic growth," according to Lucia Mukitani at Reuters.
Travel exports remained above the fray yet again, falling slightly to $21.3 billion in October but staying near an all-time record of $21.4 billion reached this year. The decrease was largely due to passenger fares, as traveler spending remained virtually unchanged from September. Travel imports also remained unchanged at $15.8 billion for October, meaning the travel trade surplus fell slightly to $5.5 billion in October, implying that October's deficit would have been 10 percent larger without the travel industry. Year-to-date, travel exports accounted for 10.1 percent of all U.S. goods and services exports for the first 10 months of 2018, increasing 2.1 percent over the same time period.
State of Business
Business investment slowed down in October, according to the Commerce Department's durable goods report. While the headline number noted a 4.4 percent decrease from September, core capital goods orders only increased 0.1 percent—a bad omen for business investment moving forward. "The genuine bad news here is the fact that underlying capital goods orders and shipments have leveled off over the past three months," said Michael Pearce, an economist at Capital Economics. "That suggests the sudden weakness in business-equipment investment in the third quarter was not a one-off." Moreover, in the long view, fewer businesses are as optimistic about 2019 as they were about 2018, according to the Institute for Supply Management's (ISM) semi-annual business forecast survey. Just under half of the survey respondents believe 2019 will be better than 2018, with the rest saying it will be the same or worse.
Factory activity picked up in November, according to the ISM's Manufacturing PMI, a survey of business conditions across the manufacturing sector. The PMI registered at 59.3 percent for November, an increase of 1.7 percentage points (ppt) from October's reading of 57.7 percent (any reading over 50 indicates expansion). Within the headline number, the PMI's New Orders Index increased by 4.7 percentage points, driving much of the increase in business activity for November. Commentary from manufacturing sector respondents expressed a mostly positive outlook for future production, though concern about input prices persisted. While the U.S.-China trade war reached a temporary truce, that, "won't undo, at least for now, the harmful effects of the opening rounds of this trade spat which continue to do damage," said Richard Moody, chief economist at Regions Financial Corporation.
Service sector businesses maintained their robust growth trajectory for November, according to the ISM's Non-Manufacturing Index (NMI). The NMI read 60.7 percent in November, 0.4 ppt higher than October's 60.3 percent reading. Travel-related sectors all reported expansion for November, with retail trade respondents noting in particular that they are, "starting to pull months of inventory in before the next round of tariffs hit" and "slowing down… capital investment until the future becomes clearer." On the other hand, the "remarkably strong" survey "might mean that retailers and other services providers are bullish about the holiday season, perhaps anticipating that the steep drop in gas prices will boost consumers' spending power, despite the turmoil in the stock market," said Ian Shepherdson, chief economist at Pantheon Macroeconomics.
Travel business conditions remain mixed, according to the Federal Reserve's final Beige Book for 2018. In its qualitative review of business conditions across 12 districts, the Federal Reserve notes that travel business activity for mid-October to late November, "varied but generally kept pace with the economy." Travel spending picked up in New York in particular, where, "Broadway theaters reported strong gains in both attendance and revenues, both of which have been running 15-20 percent ahead of this time last year." Meanwhile, the Philadelphia district noted slower tourism for October, despite expecting 2018, "to be another record year;" the same was true for the rest of the Mid-Atlantic (Richmond district), which noted moderate growth which could have been larger had it not been for rainy weather. In the Southeast (Atlanta district), hotel bookings remained strong while convention travel slowed, dampening the 2019 outlook moving forward.
Travel Trends Index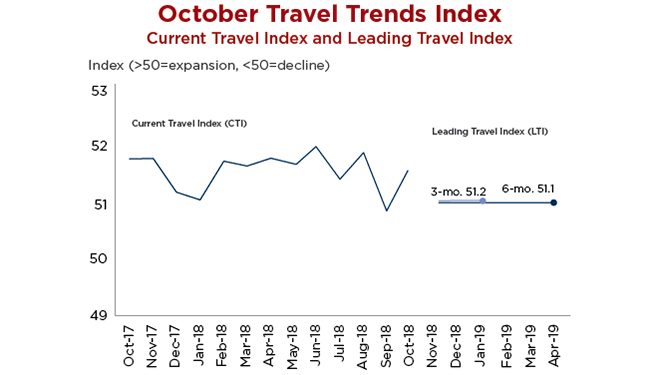 Travel to and within the U.S. grew 3.2 percent year-over-year in October, according to the U.S. Travel Association's latest Travel Trends Index (TTI)—marking the industry's 106th straight month of overall expansion. However, according to the Leading Travel Index (LTI), there is continued cause for concern looking ahead to the new year.
International inbound travel expanded 2.4 percent year-over-year in October. But that growth was at a slower rate than the previous month, and the LTI projects that international inbound travel will continue to decelerate through April 2019. "A worrying trend of deceleration has taken root in the second half of the year," said U.S. Travel Senior Vice President for Research David Huether. "Weakening global economic conditions, combined with rising trade tensions and a strengthening dollar, will continue to spell trouble for the international segment."
U.S. Travel economists caution that softening growth in international inbound will hinder the U.S. in its efforts to recapture its share of the global international travel market. The news on the domestic side is sunnier, as both business and leisure travel picked up in October. Vacation intentions buoyed by historically high levels of consumer confidence supported leisure travel gains. Domestic business travel rebounded considerably after a sluggish September, registering 51.9 on the October Current Travel Index (CTI).
Domestic travel overall is projected to grow 2.4 percent year-over-year through April 2019, with business travel leading the way. Still, heightened market volatility and rising trade tensions could temper business investment and constrain what is expected to be the fastest-growing travel segment.
TRAVEL INDUSTRY UPDATES
Travel in 2019 is already being booked—particularly by Baby Boomers. Business trips extended for leisure purposes are on the rise. Lodging industry metrics continue to break records and 2019 forecasts have been revised upwards. Record-breaking hotel revenues are being somewhat offset by strong demand and increased supply. Wages in particular have dragged down overall profits and increased hotel expenses in a tight labor market.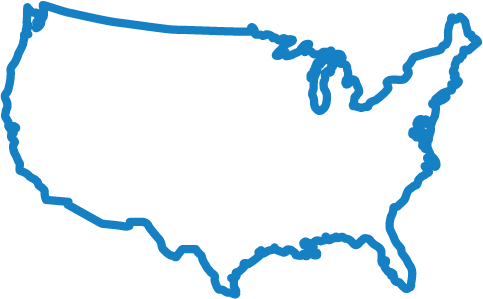 DOMESTIC TRAVEL
Americans are booking trips for 2019 earlier than in years past, according to a recent survey from AARP. Baby Boomers expect to take four to five leisure trips next year, and of those planning to take domestic trips, 88 percent have already selected a destination compared to the 72 percent in 2018. The survey also found more Millennials will use all or most of their vacation time compared to Boomers (77% versus 62%), but the younger generation is more likely to bring work with them when they travel (78% versus 59%).
Boomers tend to travel to get away from the day-to-day routine and spend quality time relaxing with friends and family. The most common kinds of domestic trips expected are summer vacations, weekend getaways, and multi-generational trips. "Skip generation" trips in 2019—in which grandparents travel with grandkids and leave the middle generation at home—are being planned by 15 percent of Boomers.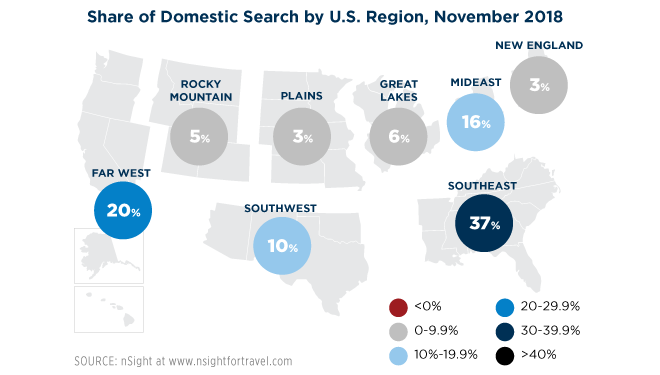 Of U.S. residents searching for lodging in November, 81 percent searched within the U.S., up from the 71 percent searching domestically the same time last year. Similar to prior years, domestic intent to travel (based on lodging searches) drops off at the end of the year. The latest U.S. Travel Barometer reported that year-to-date, on average, 85 percent of U.S. residents' lodging searches were for within the U.S.—notably higher than the 77 percent 2017 year-to-date average. Interest in travel to the Southeast continues to gain momentum as we head into the winter months—capturing 37 percent of U.S. resident domestic searches, followed by the Far West which captured 20 percent of searches.
Eight in 10 repeat travelers to destinations return because they want to relive the positive experience they had on a previous trip, according to a recent Skift U.S. Repeat Tourist Survey. The study found that repeat travelers returned to mostly domestic locations (85%), had visited three or more times (71%), and wanted to connect with the local community (55%), in addition to trying new food and drinks (73%). Doing new activities in repeat destinations might substitute for a desire to go to new places. The survey revealed that repeat travelers venture further outside of popular areas and attractions in a destination when they return compared to their first visit. On average, repeat travelers spend more than their non-repeat counterparts, but do not respond to traditional marketing the same way as first-time visitors.
Nearly one-quarter (22%) of full-time American workers are expected to end the year without using their allotted vacation time, according to a Priceline Work-Life Balance Report. By mid-November, one-in-four working Americans still had nine or more vacation days remaining. However, close to six-in-10 respondents plan to take more time off in 2019. Americans surveyed desire to disconnect and relax while on vacation (85%) and save money during the booking process (47%).
The typical business traveler indicated six in 10 business trips were extended for personal travel, according to a report from Expedia. Half of the travelers identified entertainment activities as a top factor for deciding to extend business trip stays for leisure. Expedia also stressed that destinations catering to business travelers need to keep their messaging short and sweet for the busy "bleisure" traveler, create in-market purchasing activities as bleisure travelers are less likely to plan their trip activities in advance, and cater to the single traveler.
New consumer research from the American Society of Travel Advisors (ASTA) reveals that the public perception of what they define as a "travel agent" differs from a "travel adviser," with the former associated with getting travel deals and the latter viewed as a destination insider and expert. The ASTA's "How America Travels" study found that most consumers book their trips through online travel agents or supplier websites. Eleven percent typically book on the phone or in person with a travel professional.
The survey found that consumers who said they've used a travel agent in the past 12 months said their main role is to find the best deals (33%), followed by planning or booking complex trips (28%) and help with avoiding planning and booking mistakes (24%). The primary reason for relying on a travel advisor was for expert or insider information on destinations.
The emergence of secondary cities for business travel has begun to captivate event planners. Secondary cities provide a strong financial incentive outside of high-occupancy and high-cost cities, especially as event planners are faced with rising costs. These cities also provide variety, external team-building activities, offsite restaurant choices, meaningful corporate social responsibility opportunities and more. Cievents is finding clients are more willing to look at other city options if there are no additional logistics and organizational burdens.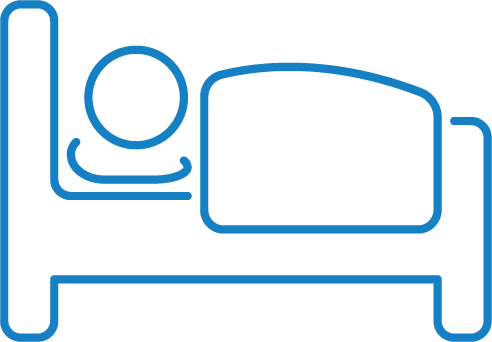 LODGING INDUSTRY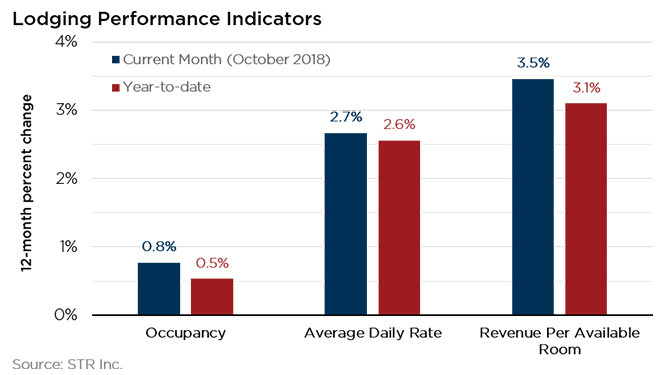 Hotel demand rebounded in October, according to STR. Bouncing back from a slow September, October RevPAR increased 3.5 percent. The October rebound was also driven by 2.7 percent average daily rate growth. Jan Freitag, STR senior vice president of lodging insights, indicated that the increase in demand for October was "amazing," noting that "the industry sold 114 million room-nights, 3.1 million more than last October. [When you] think about it, that is an additional 101 thousand rooms of new room demand each day. Where are all those folks coming from?" The 69.9 percent absolute occupancy rate was the highest monthly occupancy rate ever recorded for October, and, according to Freitag, "absolute ADR and RevPAR were, of course, the highest October values ever." However, the increase in demand came from markets outside the top cities: "top 25 markets actually underperformed the rest of the U.S. RevPAR growth... 2.5 [percent] vs. 4.1 [percent] in all other markets."
U.S. hotel occupancy is anticipated to increase to 66.2 percent in 2018, a fifth straight annual record level for the industry, and occupancy growth (2.1%) is anticipated to outpace growth of supply (1.9%) for 2018. Due to a continued upswing in the U.S. economy, CBRE Hotels' Americas Research is forecasting a strong performance for U.S. hotels in 2019, anticipating a 10th consecutive year of growth. The original anticipated 2019 growth of demand of 1.9 percent has been updated to 2.1 percent to accommodate for the growing demand experienced in 2018.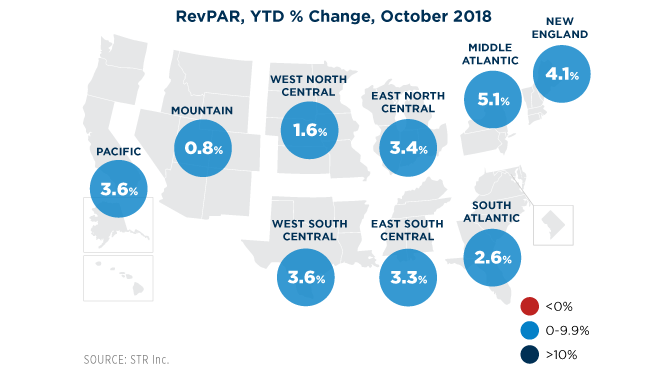 The U.S. hotel industry is expected to see a 10th consecutive year of growth in 2019 despite recent soft revenue per available room (RevPAR) growth. A number of hotels are aiming for occupancy levels at the expense of room rates, so while occupancy levels remain high, RevPAR has not had strong growth. A slowdown was originally predicted for 2019, and 2020 was predicted to be a soft year, though not down. That storyline has been pushed 12-18 months with the driving force being the federal tax cut imposed by the Trump administration, as more people have money in their pockets to travel.
The latest 2019 STR forecast for average daily rate (ADR) growth now stands at 2.4 percent—a very slight decline from 2018. This growth rate is slightly higher than it was in 2017, but well below the growth rates since 2011. In fact, between 2011 and 2016, ADR always grew at, around or well above 3 percent.
While revenue growth continues, it is also important to look at expenses impacting the hotel industry or "real ADR growth"—the difference between ADR and the Consumer Price Index (CPI). For the last six quarters, real ADR growth hovered around zero percent. Expense growth outpaced revenue growth in the third quarter and that negatively impacts hoteliers' ability to increase profits.
Going forward, hoteliers need to either control costs more or increase ADR at a much stronger pace than before. Since the unemployment rate is expected to remain at around 4 percent, the fight for labor and talent will become more intense, driving up hourly wages and salaries. Given that we are in the strongest demand and occupancy environment ever recorded, hoteliers should feel compelled to exert pricing power. So far this seems not to be the case, and for profits to continue to increase, ADR must also respond positively.
Labor Department data reports that U.S. hotel industry wage growth is outpacing the nation. Based on STR's latest forecast, they are predicting a 2 percent increase in new hotel openings through 2019, which means hotel room count will increase by an estimated 150,000 to 200,000 rooms. In terms of housekeepers alone, this equates to another 10,000 to 13,500 new employees just to clean the rooms. Overall, the hotel industry has reached a new employment high every month since the end of the Great Recession and the recovery of the hotel industry beginning in 2010.
A tight labor market has also driven up wages across the country. Average annual wage increases in the hotel industry began to exceed 3 percent per year in 2014, and in 2018 surpassed 4 percent, compared to a national average wage increase of 1.9 percent in 2014 and 2.8 percent in 2018, according to data from the Bureau of Labor and Statistics and WageWatch.
Even with wage increases in the hotel industry substantially higher than those in the private sector, human resources departments at hotel companies are finding it difficult to obtain and retain new employees. Looking ahead to 2019, wages in the hotel industry could see increases of 4 to 4.5 percent across the country, which could have a significant impact on bottom lines.
Transportation
As anticipated, the Transportation Security Administration (TSA) had its busiest Thanksgiving travel week ever, with more than 25.6 million screened during the holiday travel period. More than 2.7 million travelers were screened by the TSA on the Sunday after the holiday—the busiest day in the agency's history. On average, TSA agents screen approximately 2.1 million passengers. On average, the highest number of travelers are screened during the Thanksgiving holiday and summer Thursdays and Fridays. 2018 accounted for six of the top 10 travel days since the TSA was created in 2001.
Airlines expect U.S. air traffic to increase over 5 percent for the holiday travel period. Airlines for America (A4A) projected that 45.7 million passengers will travel on U.S. airlines over the 18-day winter holiday travel period from December 20 through January 6. In order to accommodate the expected average of 2.5 million passengers per day — an increase of 126,000 travelers per day from last year—U.S. airlines will offer an additional 143,000 seats daily across their global networks.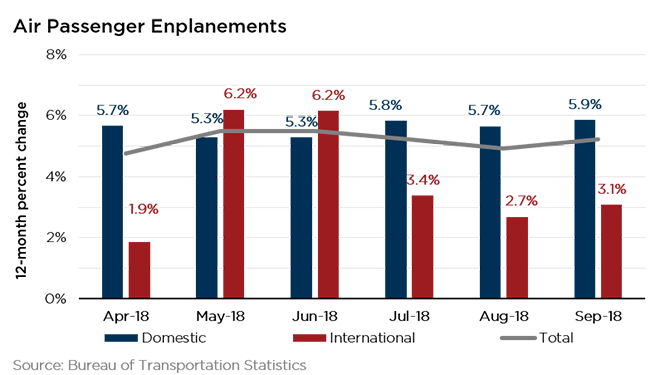 Scheduled airline data reached all-time highs for September, according to the Transportation Department. U.S. airlines carried 74.6 million systemwide (domestic and international) scheduled service passengers, seasonally-adjusted, in September 2018. Despite the September high (an increase of 5.9% for both domestic and international passengers from September 2017), scheduled service passengers are down a seasonally-adjusted 2.8 percent from August.
Global air traffic rebounded to start the fourth quarter, according to the International Air Transport Association (IATA). IATA estimated that October demand (measured in revenue passenger miles) rose 6.3 percent compared to the same month last year. This marked a rebound from 5.5 percent growth in September, which was an eight-month low. Capacity also grew 6.3 percent (measured in seat miles) and therefore load factor was flat at 81.1 percent, matching last year's record for the month. Compared to global numbers, North American airlines' traffic climbed 5.6 percent in October compared to a year ago, also rebounding from 4.9 percent growth in September. According to the release, "strong momentum in the U.S. economy is helping to drive robust international demand. Capacity rose 3.7 percent and load factor surged 1.4 percentage points to 80.4 percent."
Denver International Airport is travelers' favorite airport in the U.S., according to The Wall Street Journal's first-ever U.S. Airport Rankings. The rankings scored the 20 largest U.S. airports in 15 categories focused on the traveler experience, including security line wait times, Wi-Fi speed, average Yelp dining scores, average fares, Uber cost to the local convention center, rental car taxes and fees, number of nonstop destinations and market dominance of the largest airline. According to Scott McCartney of The Wall Street Journal, Denver's placement was a bit of a surprise: "once a symbol of high cost and dysfunction, Denver soared in rankings of reliability, value and convenience." Orlando and Phoenix airports also performed well on the ranking scale, rounding out the top three. On the other end of the spectrum, however, were the three New York airports. "Historically there's been a lot of focus on the operations, but not remotely enough attention to customer experience,'' says Rick Cotton, executive director of the New York & New Jersey Port Authority.
GAO discovered a mixed bag when it looked at Department of Transportation (DOT) data regarding airline service over a decade, according to a recently released report. "While DOT's operational data on rates of late flights, denied boardings, and mishandled baggage generally suggested an improvement, the rate of passenger complaints received by DOT increased about 10 percent." Most of those complaints were about delays or cancellations, lost or damaged baggage, problems with boarding or poor customer service. GAO noted, "passenger complaints received by DOT on disability issues, oversales, and fares typically did not fall in the top-five complaint categories, the rates related to these complaints increased" from 2008 to the end of 2017. 11 airlines told GAO that they've made efforts to boost service for travelers in the last five years.
The average domestic roundtrip airfare in 2018 will be the lowest it has been in nine years. The average cost for the first half of 2018 including ancillary fees was $360, which is a 15 percent decrease from the $423 cost in 2014, the costliest year for domestic air travel in the past nine years. However, due to these lowered flight costs, airline profits for 2018 are expected to be down from 2017.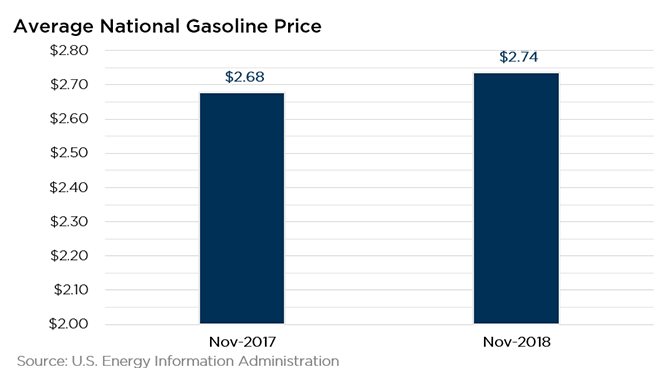 At $2.42 per gallon, the weekly average national gas price fell to its lowest mark of 2018 in mid-December, according to AAA. The average price for the first week of December, which is measured across all gasoline grades, sits four cents cheaper than the previous week, 28 cents cheaper than November (roughly in line with the Energy Department's monthly forecasts), and four cents cheaper than the same week in 2017. "Motorists are noticing a big difference as they fill up at the gas pump this month," said Jeanette Casselano, AAA spokesperson. "Month-over-month, gas price averages have dropped double digits for every state." AAA expects the national gas price average to drop as low as $2.40 by the end of the year due to cheaper crude oil prices. However, they qualify, these prices may not last as several oil-producing countries have announced they will cut oil production in 2019.
One in three Americans will travel this holiday season and an overwhelming majority will do so by car, according to AAA. AAA expects 112.5 million travelers between December 22 and January 1, a 4.4 percent increase over last year. The estimate accounts for AAA's highest-predicted number of travelers since it began tracking holiday season travel in 2001. More than nine in 10 will travel by car. Analytics firm INRIX predicts travel times in the most congested cities in the U.S. could be as much as four times longer than a normal trip. "Strong economic growth fueled by robust consumer spending continues to drive strong demand for seasonal travel. With a record-breaking one-third of the country choosing to travel this holiday, roadways and airports are sure to be busy," said Bryan Shilling, managing director, AAA Travel.
Self-driving hotel rooms are coming, according to research published by USA Today. Toronto-based Aprilli Design Studio debuted the "Autonomous Travel Suite." According to designer Steve Lee, "it would take the place of domestic flights or train travel, eliminating the need to commute to the airport or train station and go through the check-in and security process.. the suite would operate as a rental car and a hotel room, providing more flexibility, privacy and comfort." Lee predicts the technology will be readily available by 2030. Clayton Reid, CEO of MMGY Global, a travel marketing organization, says tapping into U.S. travelers' love of road trips "makes sense," but is unsure if "the concept of a large vehicle that moves people in comfort is anything new… Airstreams and RV's are mobile hotel rooms."
International Travel
More than 81.3 million international visitors are expected to visit the U.S. in 2018, according to recently released forecasts from the Commerce Department's National Travel and Tourism Office (NTTO). The NTTO estimated that travel and tourism rebounded in 2018, increasing 5.7 percent annually after only increasing 0.7 percent annually in 2017. Much of the rebound is reflected in Mexican visitation: international visits from Mexico increased 9 percent in 2018. More than 21 million Canadian visitors are estimated to have visited the U.S. this year, slowing down to 4 percent growth in 2018. Overseas visits remained mixed: while total overseas visitations are estimated to increase 5 percent to 40.9 million in 2018, visitation from critical source markets such as China remained subdued, only increasing 2 percent.
Looking beyond this year, international visitations are expected to reach 95.5 million by 2023, an average annual increase of 3.7 percent. NTTO estimates that visits from Mexico will continue to increase: visitation is expected to increase by 29 percent, or 4.3 percent per year, which is faster than the international average. NTTO also estimates that increases in overseas visitation through 2023 will be driven by China, the U.K. and India.
Strong demand fueled another successful quarter of global international visitation, according to the United Nations World Tourism Organization (UNWTO). The UNWTO's Barometer noted that over the first nine months of 2018, global international travel increased 5 percent year-to-date, whereas international travel to the Americas increased only 3 percent. According to the UNWTO: "2018 results to date are in line with UNWTO's growth forecast of [4 to 5 percent] for the year. The first nine months of the year usually account for about three-quarters of total annual international arrivals, as they include the Northern Hemisphere high season months of July and August." North American visitation remains robust at 4.7 percent in 2018.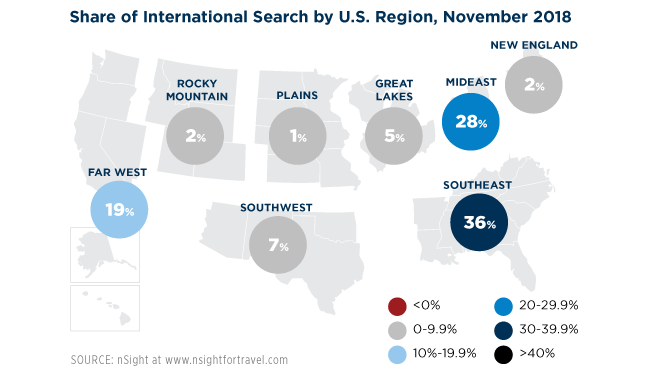 The latest U.S. Travel Barometer reported that 15 percent of international lodging searches were for destinations in the United States—higher than the 13 percent searching for lodging within the U.S. the same period last year. Year-to-date, 14.8 percent of international searches were to the U.S.—on par with 2017's year-to-date average of 14.1 percent. Interest in travel to Spain remained strong with Spain capturing 10.2 percent of international lodging searches in November. Spain was followed by France, capturing 8 percent of international searches. Interest in travel to Mexico picked up in 2018. On average, year-to-date, more than 6 percent of all international searches were to Mexico.
The number of new international students at colleges and universities fell more than 6 percent in the past school year, according to the Institute of International Education's latest "Open Doors" report. Anecdotal accounts from some U.S. colleges and universities suggest that anti-immigrant sentiment in the U.S. may be at the root of the decline. Also noted were difficulties and delays in securing visas to the U.S. and increased competition from colleges and universities in other countries. Overall, however, the total number of international students in the U.S. increased in 2018, which, according to the Inbound Report, "are due primarily to increased participation in the Optional Practical Training program, which allows international students to practice their skills in the United States... during or after they complete their academic programs."
Horizon Consumer Science's 2018 Global Traveler Report reported that global travel retail spending decreased by $15 billion from $397 billion in 2016 to a projected $382 billion in 2018, despite a record number of air travelers. The report states that the average traveling consumer spend is $170 less than it was in 2012 at $491 per trip. "Bucking the trends in almost every category is China. Between 2016 and 2018, Chinese travelers increased in outward bound traffic by a staggering 50 percent and now account for 40 percent of the money spent on travel retail around the globe," the release states.
Global bookings for the experiential travel sector are predicted to exceed $183 billion by 2020, according to TripAdvisor. From 2017, 67 percent more travelers booked an outward activity (such as glacier hiking and bungee jumping), and 61 percent booked activities such as cooking classes and immersive workshops. Online bookings are also increasing, particularly with mobile bookings. In 2017, an estimated 20 percent of booking were done online but in 2018, TripAdvisor saw that number double and anticipated another doubling in 2019.
Webinar Series
The travel industry remains strong and poised for growth in 2019. On Tuesday, January 22 from 2:00-2:45 p.m., join U.S. Travel President and CEO Roger Dow and Senior Vice President of Research David Huether for a look back on 2018 and a look ahead at opportunities in 2019 in a webinar on the State of the Travel Industry.
U.S. Travel Updates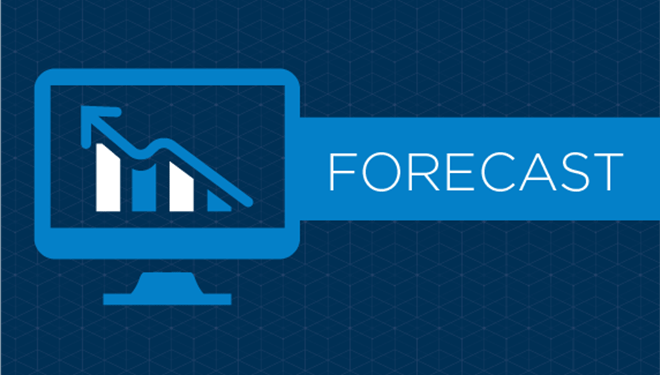 U.S. Travel research released our semi-annual forecast report, which provides added context and analysis to the forecast table.
The forecast report encompasses a review of travel industry performance over the past several years, as well as an outlook through 2022. Below are several highlights:
Travel expenditures in the U.S. are on pace to top $1.3 trillion by 2022
After trailing domestic expenditures for three consecutive years, spending by international inbound visitors will begin to outpace domestic spending in 2019
Business travel volume will match the pace of leisure travel in 2019
The U.S. is expected to continue to lose market share of global long-haul travel through 2022
The next U.S. Travel forecast will be released in June 2019.
In the first quarter of 2019, the forecast data and accompanying historical statistics will be available to all members of U.S. Travel in a new subscription of Interactive Travel Analytics, U.S. Travel's subscription-based interactive research tool developed for travel industry professionals to easily visualize and analyze domestic and international U.S. travel statistics.
Policy
Congress put its budget battle on hold to honor President George H.W. Bush and passed a continuing resolution that extends government funding until December 21. President Trump said he would be "proud to shut down the government for border security" if Congress does not deliver the full funding level for the border wall. Absent an omnibus spending bill or another continuing resolution/extension, a partial government shutdown will commence on December 21 at midnight.
U.S. Travel is still actively engaged in the reauthorization of Brand USA and we remain well-positioned to ensure the future of the program. We have charted a number of paths forward and are prepared for any scenario that may play out as a result of the budget battle. This graphic illustrates how those situations lead to our ultimate goal.