U.S. Travel's Research Trends from David Huether
ECONOMIC OVERVIEW:
MAY 2019
"Steady as she goes" is the phrase that best characterizes the current U.S. economy. While the economy is expected to decelerate from the surprisingly strong 3.2% annualized growth rate in the first quarter, most signs point to continued solid growth: consumer confidence, job growth and wage increases remain positive. New orders for capital goods are expanding, and inflation remains tempered. On a note of caution, though, the ongoing U.S.-China trade dispute, and its potential economic impact on both countries, has elevated the degree of uncertainty in the near-term outlook.
ECONOMIC SUMMARY:
The U.S. economy grew at a 3.2% rate in the first quarter of 2018 (real seasonally-adjusted annualized), mitigating fears of an oncoming slowdown. The economy was also up 3.2% from the first quarter of 2018. "We see in the GDP growth in the first quarter of 2019 that the economy continues to outperform expectations," noted the White House Council of Economic Advisers. While the growth was a welcome surprise—Oxford Economics had predicted 1% real GDP growth for the first quarter—the composition of economic growth remained worrying. Sharp increases in traditionally volatile GDP components, such as net exports and private inventories, led first. In particular, net exports were responsible for a one percentage point boost in real GDP growth, a phenomenon that has only occurred three times during the current economic expansion.
As travel is trade, the trade surpluses that are common practice for the travel industry also contributed to the tremendous start to the year by increasing exports.
On the other hand, more stable GDP components slowed down considerably: consumer spending, which grew a robust 2.5% quarter-on-quarter (q/q) in the fourth quarter of 2018, slowed down to 1.2% q/q in the first quarter of 2019. "Spending slowed to a crawl," said Diane Swonk, chief economist at Grant Thornton, adding, "It's a report that affirms we did in fact have weak domestic demand." Swonk pointed not only to reduced consumer spending in goods but also sharply reduced imports, especially in imported goods. Excluding government and the volatile trade and inventory components, final sales to private domestic purchasers cooled to a 1.3% pace that was the slowest since 2013. According to Michael Gapen, chief U.S. economist at Barclays, consumer spending "has to get stronger for the economy to remain in an expansion. We think it will, but it's not a silver lining. Underneath the hood, household spending was soft and further expansion is going to require households to get back to a normal space of spending."
"Still, the GDP figures—along with the rebound in retail sales and durable goods orders in March—are a testament to the economy's resilience" after a soft patch last winter, noted Lydia Boussour and Gregory Daco, economists at Oxford Economics. Durable goods orders, which contain clues toward measuring business investment, increased at the largest monthly rate in eight months. Furthermore, the labor market started the second quarter with a bang: the April 2019 jobs report detailed 263,000 new hirings and the lowest monthly unemployment rate since 1969. "No matter how you slice and dice this, it looks like the economy is doing fine," noted Torsten Slok, chief international economist at Deutsche Bank. "It doesn't mean these risks are gone, but it seems like the economy is rebounding from the turbulence of the first quarter."
Moving forward, however, economists are stressing caution, especially given the fading fiscal stimulus. On top of that, according to Clayton Reid, CEO of MMGY Global, slowing medium- to long-term travel demand over 2019 and 2020 could trigger a recession for the global travel economy. "European disharmony, U.S. and China trade relations, currency issues, the new, more restrictive NAFTA and lapsing tax break benefits are all reasons to believe economic tailwinds are quickly becoming headwinds." For the economy as a whole, current nowcasting models from the New York and Atlanta Federal Reserve districts estimate second quarter real GDP growth and real GDP of 2.2 and 1.2%, respectively.
CURRENT STATE OF THE ECONOMY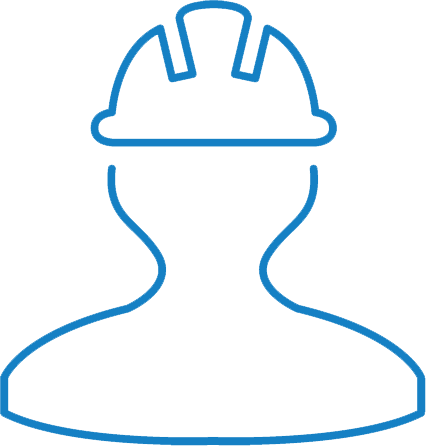 LABOR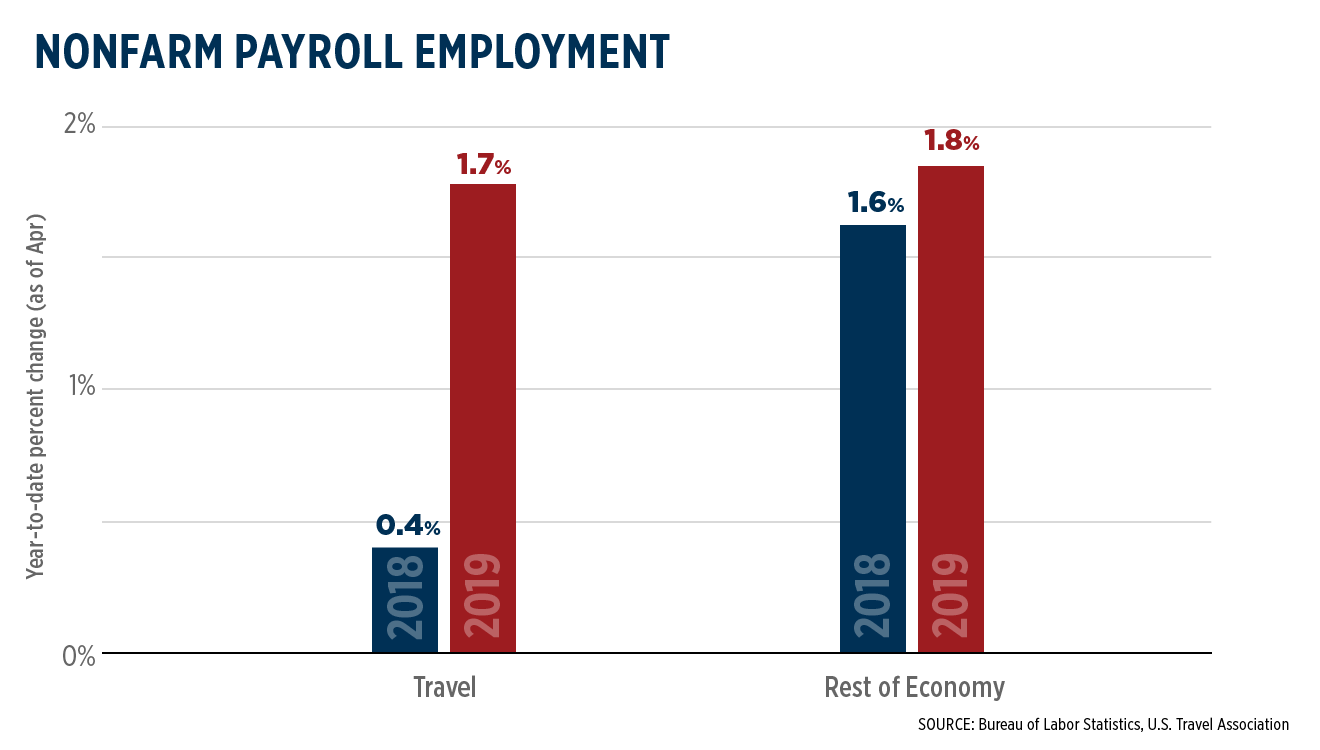 The U.S. economy added 263,000 jobs in April, sending the unemployment rate to a half-century low, according to the latest Labor Department employment report. The seasonally-adjusted 263,000 new jobs in April represents the 103rd consecutive month of hiring increases, while the coinciding 3.6% unemployment rate is the lowest since December 1969. The strong April jobs report marks a pickup after a mixed winter for hiring, with strong payroll gains in December and January, followed by a weak February and better job growth in March. Service industries led much of this growth, with professional and business services adding 76,000 jobs and construction adding 33,000 in April. "Admittedly, the strong gain in services employment was likely boosted by the late Easter, which has tended to coincide with strong payroll gains in recent years, and the warmer weather...probably explains the robust hiring in the construction sector," wrote Lydia Boussour and Gregory Daco, economists at Oxford Economics.
Travel employment continued to trend upward with 8,600 new jobs in April, adding to an all-time high 8.8 million jobs directly supported by travel spending. The job gains mainly occurred in the food services/drinking places and amusements/gambling/recreation industries. Airline industry employment also continued to edge up over the month. Employment in other travel-related industries changed little. Over the first four months of 2019, travel industry employment increased by 56,800 jobs against the first four months of 2018, contributing to 7.5% of all total private-sector employment this year.
The stellar 3.6% unemployment rate was due mostly to a declining labor force participation rate: the proportion of the U.S. population employed or seeking work fell from 63% in March to 62.8% in April. While that number remains volatile, some economists, notably Michael Gapen, chief U.S. economist at Barclays, believe "the unemployment rate could drop toward 3%," a level last seen in 1953. Gapen believes it will happen because employers in newer services industries will hire more people in a more prudent manner: "the upside of slower growth during the last 10 years may be a longer, more durable expansion."
As the labor market tightened, worker wages also grew. Average hourly earnings rose 0.2% from the prior month after a revised 0.2% rise in the prior period. Wages for production and nonsupervisory workers accelerated to a 3.4% annual pace, signaling gains for lower-paid employees. However, other standard measures of worker income slipped or maintained course: weekly wage growth slowed in April to a 2.9% year-over-year (y/y) pace. That's the first time it slipped below the 3% mark since January 2018. That said, economists clearly are reveling in the results after holding on to recession worries at the beginning of the year. Torsten Slok, chief economist at Deutsche Bank Securities, said, "It's clearly telling you this economy is still chugging along very nicely. [Wage growth] is inflationary in the sense that wages did go up but they didn't go up as much as we had expected."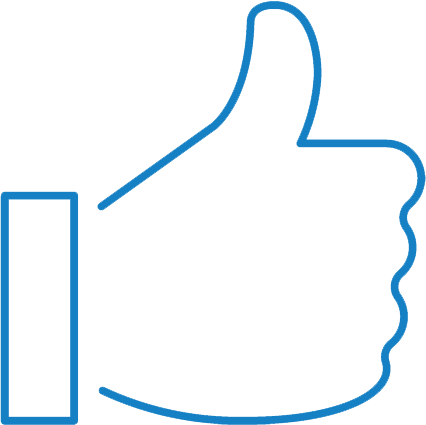 CONSUMER CONFIDENCE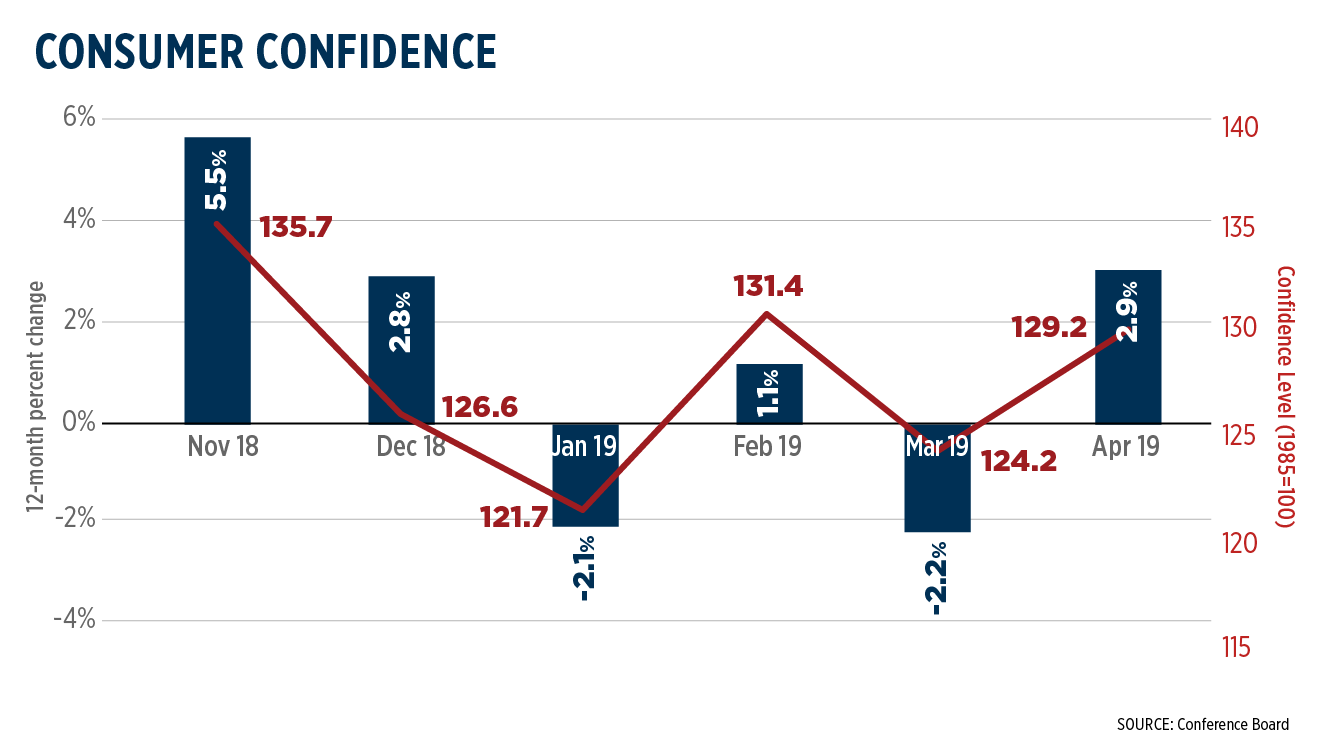 Consumer confidence bounced back in April, suggesting that the economy is likely to keep growing solidly through the summer. The Conference Board Consumer Confidence Index rose to 129.2 from 124.2 in April. Confidence peaked last October, but, in general, consumers still feel pretty good about how the economy is doing right now, and they see good times continuing over the next six months.
"Consumer Confidence partially rebounded in April, following March's decline, but still remains below levels seen last Fall," said Lynn Franco, senior director of economic indicators at The Conference Board. Overall, consumers expect the economy to continue growing at a solid pace into the summer months. These strong confidence levels should continue to support consumer spending in the near-term." There's good reason to believe confidence will remain high. Stock prices have retouched record highs, interest rates and inflation are low and wages are rising at the fastest pace in almost a decade. That should be enough to help the current 10-year-old economic expansion break the all-time record for longevity this summer.
Consumer sentiment has been fairly stable since Trump entered office. The Index has averaged 97.2 in the past 28 months, identical to the final April 2019 reading. Moreover, the University of Michigan Sentiment Index has remained between 95.0 and 99.0 for 21 of the past 28 months. The last time consumer sentiment was as favorable for as long a period of time was during the late stages of the Clinton expansion. When asked about their financial prospects for the year ahead, 44% of consumers anticipated improvements compared to just 8% who expected worsening finances.
MMGY's travel sentiment index, in contrast, indicates some trepidation. The index has been on the decline for eight straight quarters, and travel sentiment could negatively impact the summer travel season. Their latest Global Travel Sentiment Index reported that price sensitivity increased with 34% of travelers citing travel costs as the top concern versus 18% in 2016.
Consumer Spending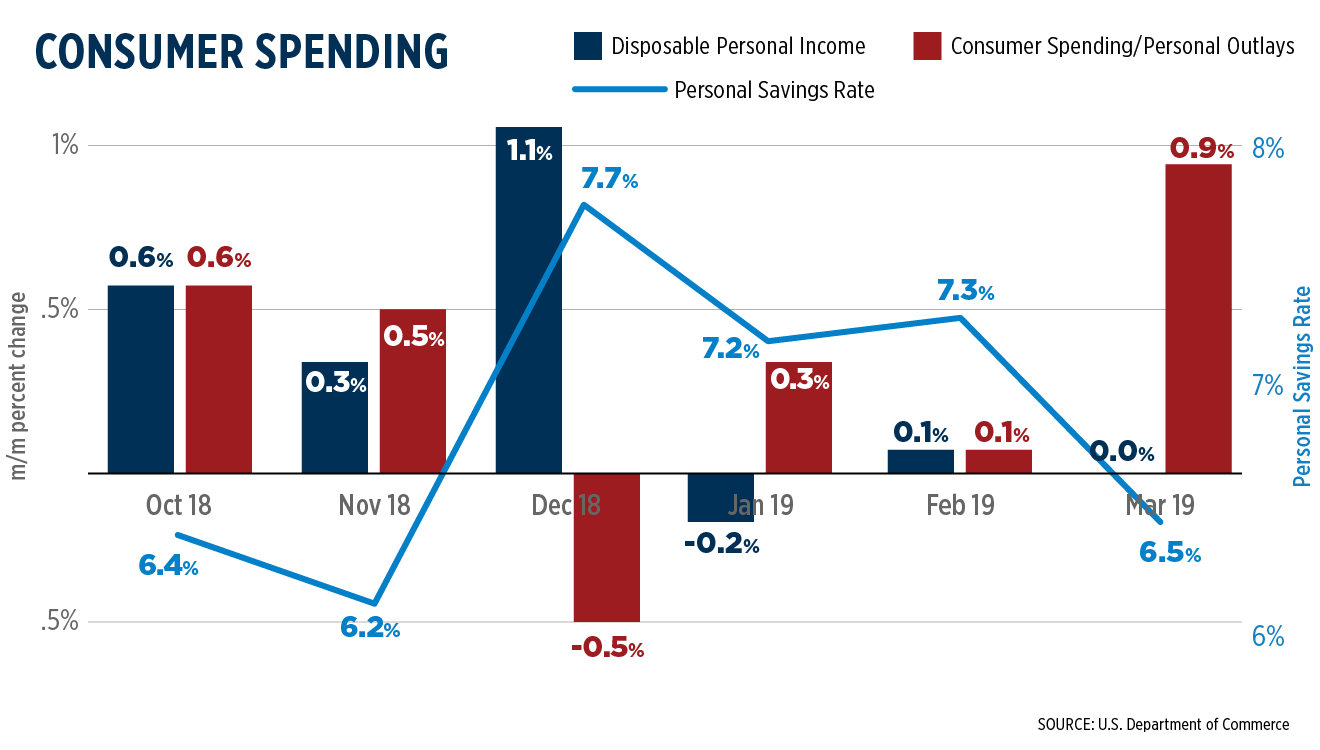 Consumer spending rebounded in March after a slow February, according to the U.S. Department of Commerce. Personal consumption expenditures (PCE) increased 0.1% month-over-month (m/m) in February, decelerating from a soft January reading. However, PCE then rebounded in March, increasing 0.9% from February, the biggest monthly increase in spending since August 2009. "The pickup in expenditures over the last two months of the first quarter," according to The Wall Street Journal, suggested that American consumers "in March were ready to put any lingering concerns about the government shutdown and renewed trade tensions behind them."
Moreover, "stronger-than-expected retail sales in March that spanned multiple discretionary spending categories confirm that the slowdown at the start of the year was temporary," explained Yelena Shulyateva and Carl Riccadonna, economists at Bloomberg. Personal income remained on a moderate growth path, expanding 0.1% m/m in February (slightly faster than the rate of spending) and 0.2% m/m in March. As a result, the personal savings rate increased slightly to 7.3% in February and then fell to 6.5% in March.
While spending increased, price levels, as measured by the PCE Price Index, remained soft for both February and March, increasing at 1.3% and 1.5% y/y respectively. Filtering out food and energy prices, core PCE inflation also remained well below the Federal Reserve's 2% target for February (1.7% y/y) and March (1.6%). Core PCE inflation has remained on a solid downward trajectory after reaching the 2% target rate in December 2018. For Federal Reserve Chair Jerome Powell, recent low core inflation readings were caused by "transitory factors" that won't last. Powell remained confident that "with a strong job market and continued [economic] growth, inflation will return to 2% over time," signaling to the market that no short-term interest rate cuts were on the horizon.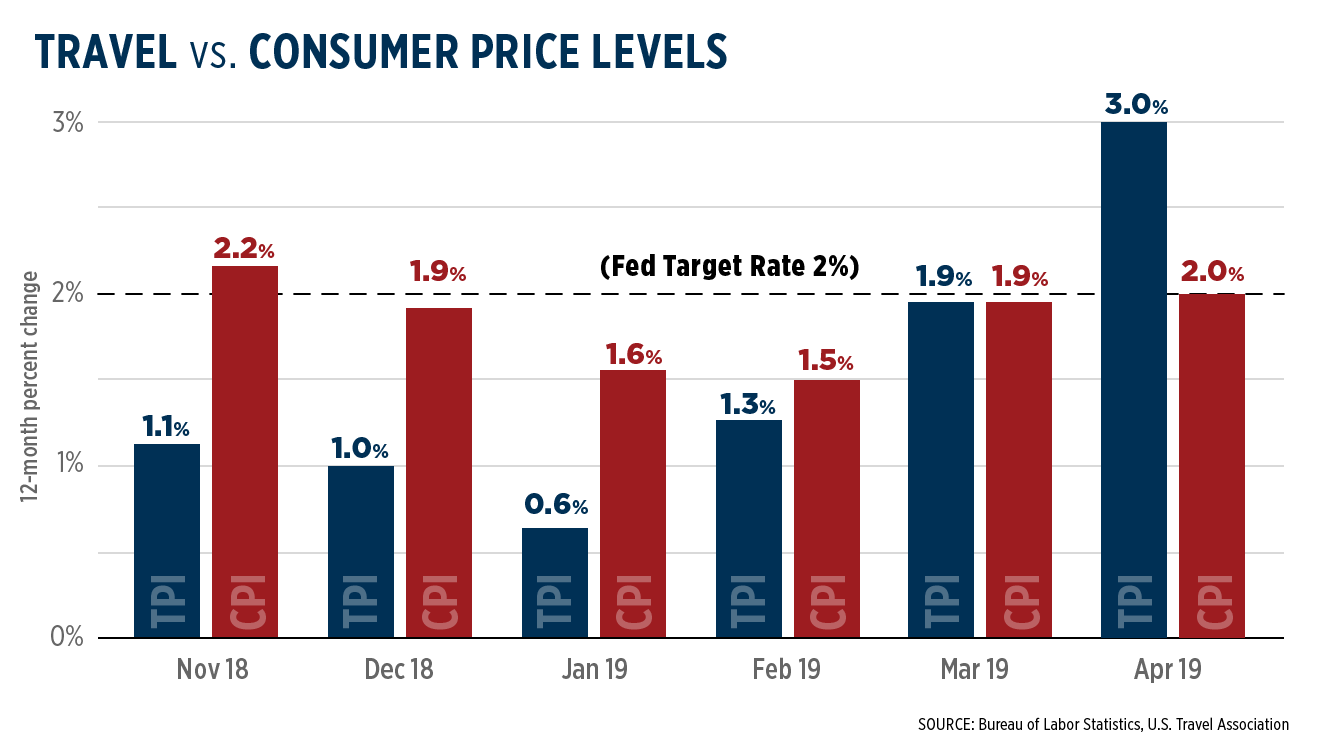 However, softness in April consumer prices may challenge this view. The Labor Department's Consumer Price Index (CPI) undershot expectations and remained muted on both a month-over-month basis (0.3% m/m, slower than 0.4% m/m in March) and year-over-year basis (2.0% y/y, increasing slowly from March's 1.9% reading). Core CPI, which excludes food and energy items, also remained soft, increasing 0.1% m/m and 2.1% y/y. Economists like Stephen Gallagher, chief U.S. economist at Societe Generale, remained wary of "persistent softness going on," especially with respect to declines in used car (-1.3% m/m) and apparel prices (-0.8% m/m, -3% y/y). "Both of these [price sectors] are thought to be transitory, but they're still weighing pretty heavily on the core readings."
On the other hand, travel prices shot up in April. According to U.S. Travel's Travel Price Index (TPI), travel prices consistently outpaced the CPI in April on a monthly (1.4% m/m TPI vs 0.3% m/m CPI) and yearly (3% y/y TPI vs 2% y/y CPI) basis. The increase in travel prices reflected a broad increase across all travel sectors, though prices of lodging, recreation and motor fuel especially stand out.
Exports
The U.S. trade deficit widened slightly in March to a seasonally-adjusted $50 billion, according to the Commerce Department. Imports slightly outpaced exports, with the former increasing by $2.8 billion (1.1% m/m) and the latter increasing by $2.1 billion (1% m/m). The increase in exports was led by a $0.5 billion increase in soybean exports, which also dropped the goods deficit with China to its lowest level since March 2014.
With trade negotiations set to resume in mid-May, the signal of stability could just be the calm before the storm: recent tariffs passed by the U.S. will add a 25% duty on $42 billion of consumer goods imported from China. "Tariffs are taxes paid by American businesses and consumers, not by China," said David French, senior vice president at the National Retail Federation. "A sudden tariff increase with less than a week's notice would severely disrupt U.S. businesses, especially small companies that have limited resources to mitigate the impact."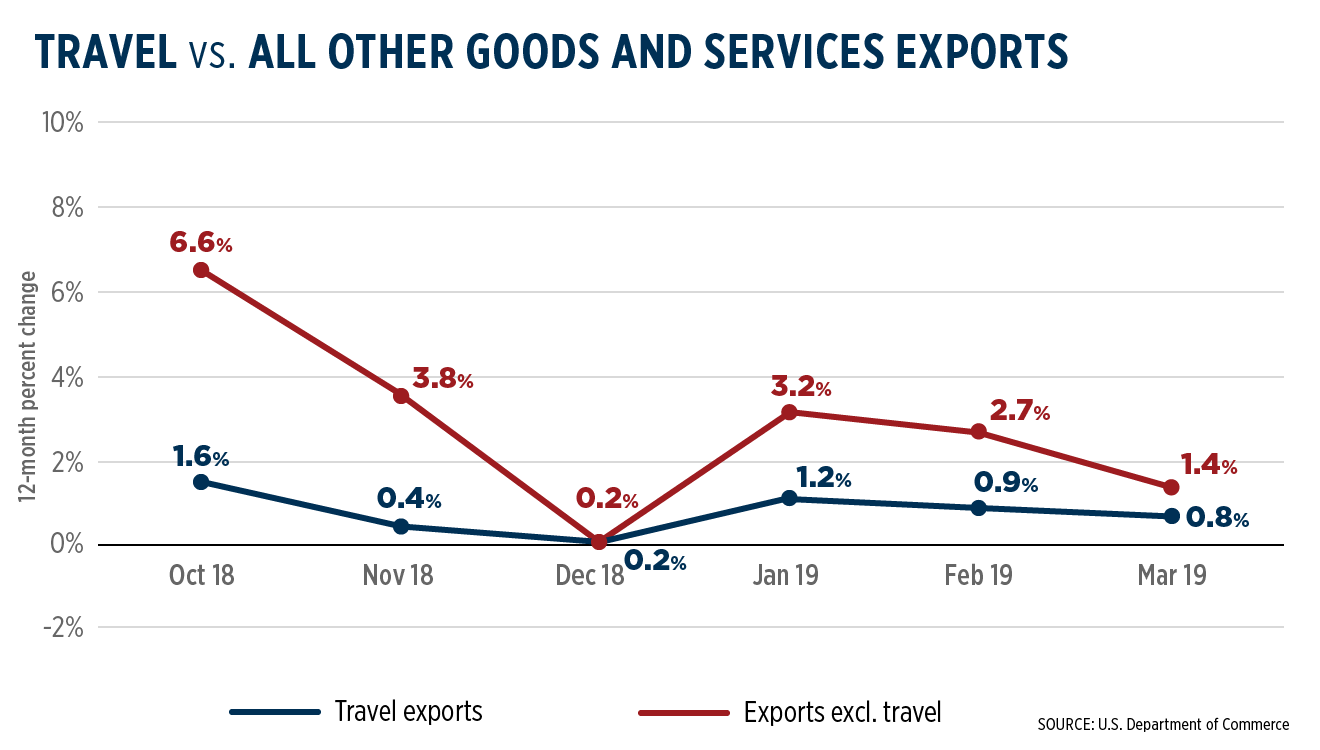 Travel exports remained around record highs in March, though they fell by $0.1 billion to $21.4 billion. The drop in travel exports was almost entirely due to a $122 million decrease in passenger fare exports. Year-over-year, travel exports increased 0.8% in March; exports across other goods and services industries decelerated to a 1.4% y/y rate. The travel trade surplus for March also decreased by 4.7% ($0.2 billion) to $5.1 billion. Without this trade surplus, the total goods and services trade deficit would be 10.2% larger. However, according to U.S. Travel research, the travel trade surplus has continued to narrow during the first quarter of recent years. The $15.5 billion travel trade surplus generated in the first quarter of this year was smaller than the $18.2 billion surplus during the first quarter of last year. According to David Huether, senior vice president of research and economics at U.S. Travel, this represents "a continuation of a three-year trend (2016, 2017 and 2018) during which travel exports increased at an average annual rate of 1.0% and travel imports increased by 7.0%...in other words, growth in U.S. travelers' spending abroad is outpacing growth in international travelers' spending in the U.S."
State of Business
Durable goods orders increased 2.7% in March from February, on the back of solid orders of aircraft, motor vehicles and communications services. Excluding defense and aircraft orders, core capital goods orders (a closely-watched proxy for business investment) increased 1.3% m/m, the largest monthly increase since August 2018 and a strong rebound from a flat February. "The figures do suggest that business investment is not slowing as rapidly as some may have feared, but with global demand subdued and capacity utilization falling, we still expect business investment growth to weaken further over this year," said Michael Pearce, senior U.S. economist at Capital Economics. However, shipments of core capital goods, a measurement used to calculate equipment spending in GDP, slipped 0.2% m/m in March after gaining 0.2% in February. The increase in orders and spending underscore a healthy economy and a tight labor market. According to Chris Rupkey, chief economist at MUFG, "Company CEOs may have feared recession in surveys taken at the start of the year, but those concerns have faded as businesses bring on new equipment to meet the demand for the goods and services they provide their customers."
The ISM manufacturing index, a survey of factory-sector business conditions, dropped to a 30-month low in April. The reading of 52.8 was 2.5 percentage points below the March level and represented slowdowns across new orders, production and employment. New export orders fell below the expansionary level (any reading above 50 indicates expansion) for the first time in three years. Purchasing managers noted continued uncertainty with trade and export policies, especially concerning Mexico and China. Economists remain generally upbeat despite the slide: "We have moved from an unsustainable high level in manufacturing last year," said Russell Price, chief economist at Ameriprise Financial Inc. "This year, the pace of growth will be slower, but still solidly positive."
The ISM's non-manufacturing index (NMI) also declined in April, falling 0.6 percentage points to 55.9. The decrease represented slowdowns in prices, employment and new orders. Purchasing managers remained optimistic, though they expressed concern with retaining employees and increasing labor costs. A purchasing manager from the retail trade sector noted "continuing momentum in most areas. We continue to have pressure finding talent to support open positions. Starting to see increases in building costs due to increases in labor [costs]. Inventory moving well, with deliveries on time." According to Steve Goldstein at MarketWatch, "The slowing readings suggest that the U.S. economy may be heading for rockier times even with a strong jobs market."
Travel Trends Index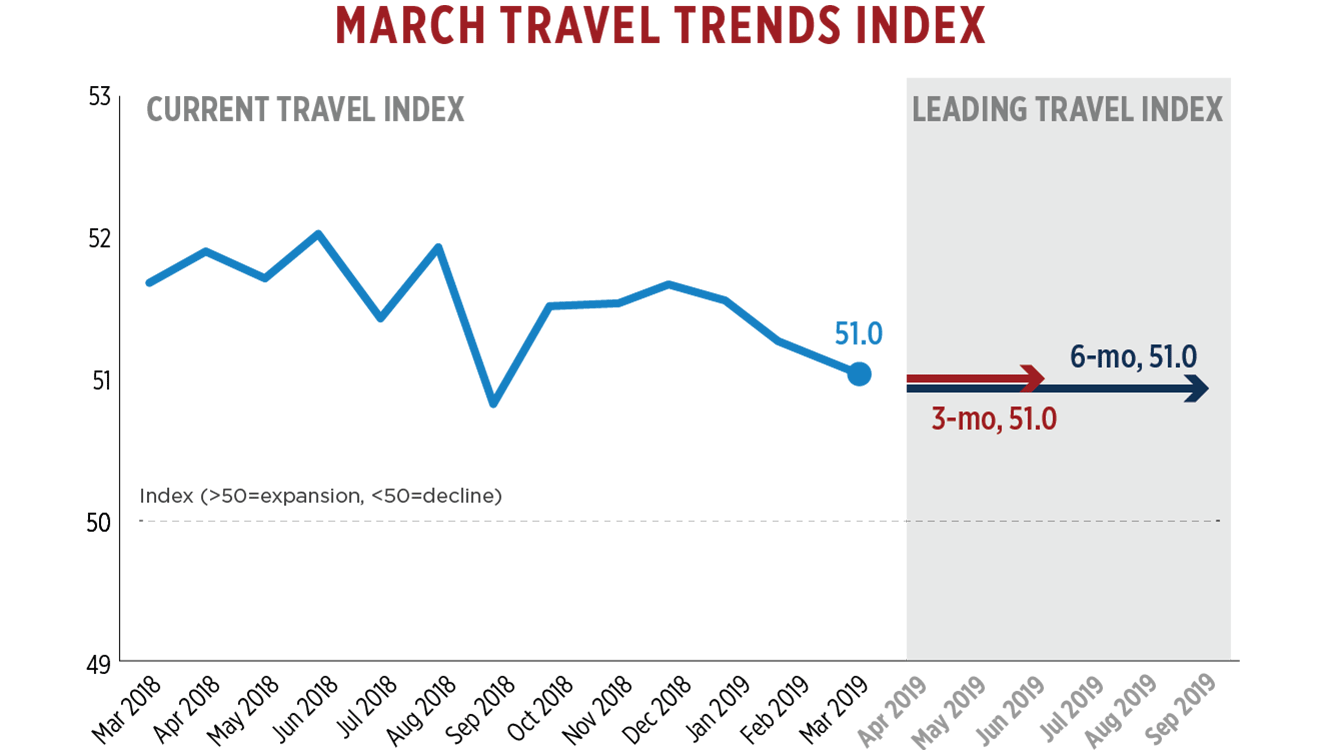 Travel to and within the U.S. grew 2.0% y/y in March, according to the U.S. Travel Association's latest Travel Trends Index (TTI)—marking the industry's 111th straight month of overall expansion.
However, this growth was dampened by the news that international inbound travel fell a whopping 5.4% y/y in March, after edging down just 0.2% in February. The sharp decline in international inbound travel in March was likely due to the timing of Easter, which fell on April 1 last year and April 21 this year; the holiday has historically been a peak travel time for visitors to the U.S. This resulted in lower levels of inbound travel in March 2019 compared to March 2018.
Global economic activity is expected to improve but remain soft in the second half of 2019, supporting predictions that international inbound travel growth will be positive, but slow. The strength of domestic travel, though, counters this dreary international inbound travel forecast. Domestic leisure travel registered 3.2% growth in March, while the business segment increased by a more tepid 2.0%.
Continued moderation in consumer spending, vacation intentions and business investment is expected to cause both segments of domestic travel to cool in the coming months. The Leading Trends Index (LTI) projects domestic travel as a whole will grow 2.0% through September 2019. Domestic business travel is projected to grow 1.6%, while domestic leisure travel is projected to expand 2.2%.
TRAVEL INDUSTRY UPDATES
The Easter calendar shift did not help travel industry metrics for Q1, and despite a strong U.S. economy and stable gasoline prices, consumer sentiment and intent to travel has been muted; travelers seem to be bracing for a downturn.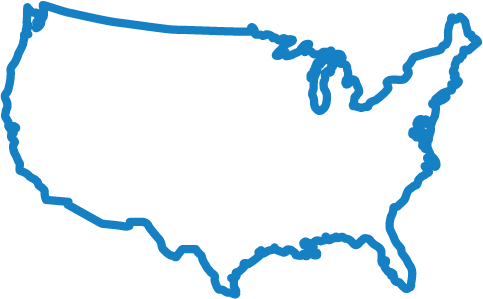 DOMESTIC TRAVEL
MMGY's CEO Clayton Reid's recent commentary predicted that leisure demand would contract by early 2020 followed by corporate demand by Q3 2020. While some groups will remain strong, including older, mature travelers and higher-income travelers, middle class families, small businesses and corporate and association group segments will begin to slow over the next two years.
As a result, travelers will shift to shorter, more frequent trips and spend less, causing hotels and airlines to drop rates and fares. Online travel agencies and other third parties tend to gain in tight economies, as was the case after the 2008 recession.
Politics, purpose-driven travel, skepticism of social influencers, under-tourism and "bleisure" are a few of the cultural and consumer trends highlighted in Edelman's "9 Trends Shaping Travel in 2019" report. Travelers are seeking opportunities to have a meaningful impact on communities, explore under-the-radar cities and sights and incorporate self-care and the pursuit of wellness into vacations, and many are even considering space as the next vacation destination.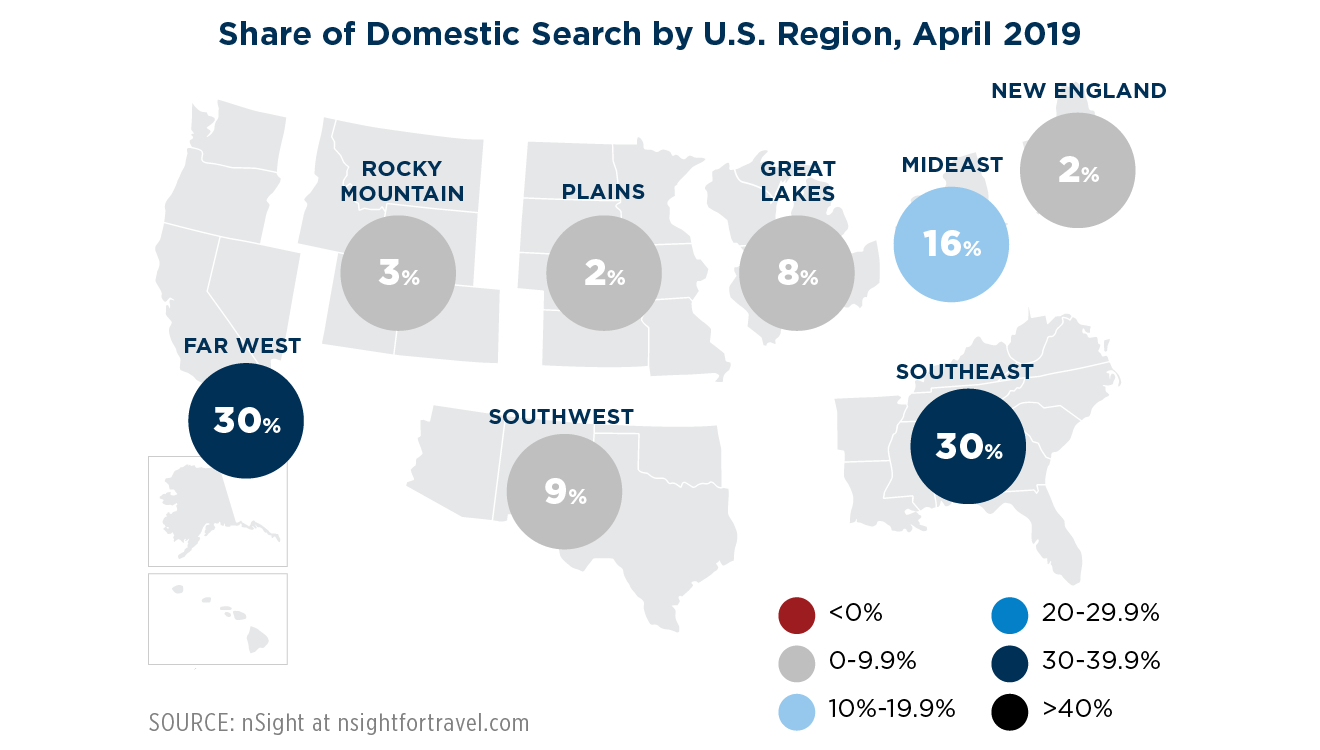 The latest U.S. Travel Barometer reported that 8 in 10 U.S. residents searching for lodging in April searched domestically, down from 85% the year prior. Mexico, Canada and the UK each captured 3% of U.S. resident searches in April, followed closely by Italy, Spain, Germany and France, as Americans gear up for their longer summer vacations. Intent to travel to the Far West increased, with 3 in 10 domestic travelers searching for lodging in this region. The same share was interested in travel to the Southeast.
There is strong support among residents for tourism in the United States. A Longwoods International survey revealed that 7 in 10 Americans find that tourism has a positive impact on their state and 63% say the same for their community, citing benefits such as increased investment in the local economy, recreational opportunities for both locals and visitors, better shopping, improved public services and an enhanced quality of life. In addition, 61% see the positives of the industry outweighing the negative consequences, such as low-paying seasonal jobs, traffic and parking problems, overcrowding and higher prices. However, despite their general support of the industry, 4 in 10 respondents do not believe residents are informed or consulted about major tourism development projects. The Americans who oppose tourism growth are more likely to be older, less educated, have a lower income and travel less than the national norm.
Expedia recently reported on how Generation Alpha is shaping family travel. There are now more than 22 million millennial parents living in the United States, with about 9,000 Generation Alpha babies (born beginning in 2010) born each day. While the oldest Alphas are just now turning eight years old, their millennial parents are already shaping their worldviews and values to reflect their newfound parental responsibilities. Expedia reported that more than 6 in 10 millennial parents are traveling with children under the age of five. Though planning and traveling with children is a different experience, but millennials continue to prioritize exploring the world even now that they are parents.
Meanwhile, almost half of advertising spend went to digital advertising in 2018, and that share continues to grow, according to Sojern's 2019 Report on Travel Advertising. Nearly half of travel marketers (46%) chose personalized ads and offers in real time as their top challenge, followed closely by achieving ROI and profitability targets for advertising investments, targeting travelers during a specific point along their path to purchase and keeping up with the fast-paced advertising and technology landscape. Facebook and Instagram dominate social advertising, and travel marketers are increasingly utilizing Facebook and Instagram Stories to engage travelers. Additional data sources are increasingly critical to gain a broader understanding of the customer journey and traveler's path to purchase.
Group bookings for the next two years are looking negative, according to Cvent's Group Business Outlook. Based on data from the Cvent Supplier Network, the decrease in booking activity may be reflective of the full effect of recent commission changes, as well as increasing hotel supply. Looking ahead, the number of awarded group room nights is expected to drop by as much as 3.4% y/y. Jeffrey Emenecker, senior director of analytics at Cvent, says last year's late jump in bookings was short-lived and "likely impacted by the desire to finalize group contracts before commission policy changes made by a number of large hotel chains went into effect this year." In fact, awarded RFP activity was down nearly 10% y/y in the first quarter of 2019. However, the average size of group room blocks and number of peak room nights both increased, up 4.4% and 3.7%, respectively.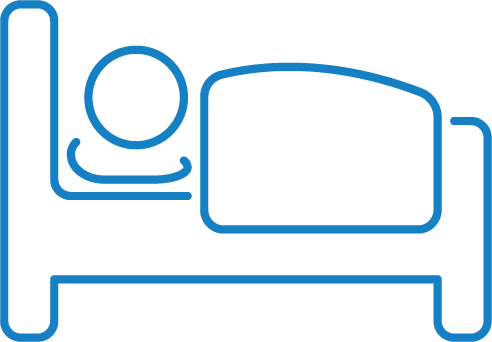 LODGING INDUSTRY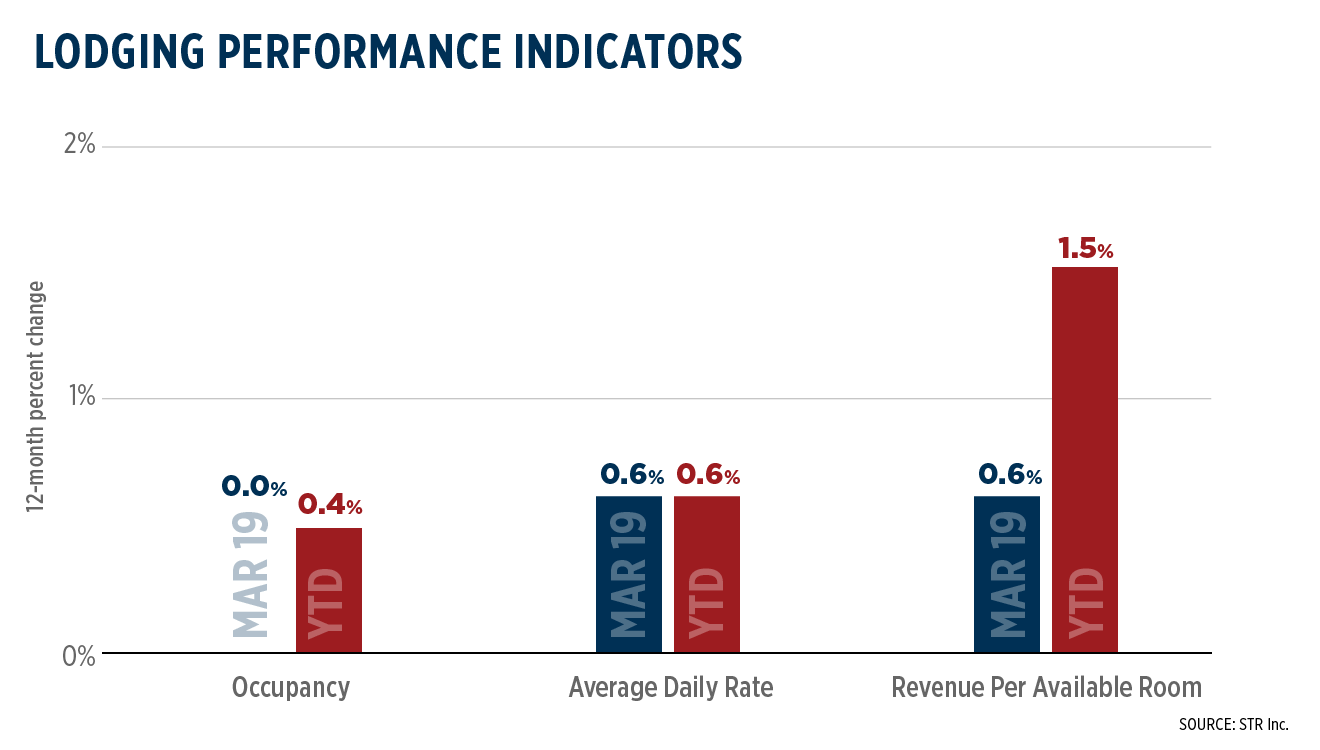 The U.S. hotel industry reported mostly flat results in the three key performance metrics during March 2019, according to STR. Compared to March 2018, occupancy was flat (68.4%), average daily rate (ADR) was up slightly ($132.66) and revenue per available room (RevPAR) was also up 0.6% ($90.78). Room revenue increased 2.6% and demand increased 2% in March.
"Considering there would have been a helpful pivot in group business because of the Easter calendar shift, this was probably the industry's worst March since the recession," said Jan Freitag, STR's senior VP of lodging insights. "The 0.6% change in ADR was the lowest for any month in the U.S. since May 2010, which indicates that pricing confidence may have not yet reached its floor. On the plus side, we continue to break monthly demand records, which is keeping overall performance in the black. The challenge, of course, is maintaining profit margin during a time of rising labor costs."
The industry has now posted year-over-year RevPAR growth for 108 of the past 109 months. The longest overall expansion cycle in industry history lasted 112 months from December 1991 through March 2001.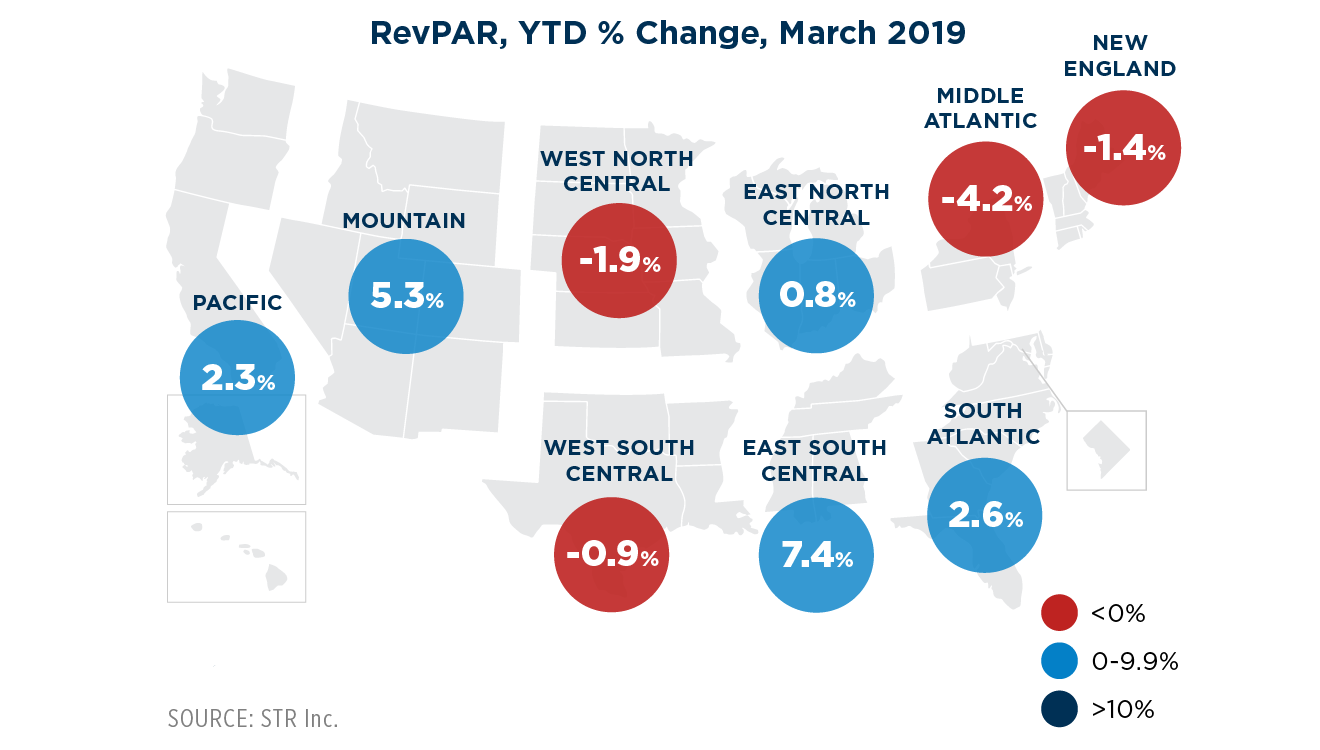 New York City reported the only double-digit decline in RevPAR because of the largest drop in ADR, as seen in the Middle Atlantic region on the RevPAR map. Meanwhile, Philadelphia, Pennsylvania and New Jersey saw the largest decrease in occupancy. "On the whole, the top markets continue to underperform the rest of the country in y/y growth," Freitag said. "New inventory entering those major cities is pulling occupancy levels down and further affecting hotelier pricing confidence."
Preliminary April lodging data from STR shows that the U.S. hotel industry should see occupancy for the month range between a 1% decrease to a 1% increase, and average daily rate and RevPAR should either stay flat or see a 2% increase.
Rising operating costs for the lodging industry are hindering many hotels' ability to be profitable. CBRE reported that 2018 was the first year since 2009 that expense growth exceeded revenue growth. While U.S. hoteliers enjoyed a ninth consecutive year of increasing profits in 2018, it is becoming increasingly difficult for managers to accomplish this task. According to CBRE's Trends® in the Hotel Industry, managers were able to limit the growth in operating expenses to 2.8%, allowing for a 2.3% increase in gross operating profits (GOP). In addition, the amount spent to pay employee salaries, wages and benefits increased by 3.1%. For the year, total labor costs equaled 50% of operating expenses. Except for the 2009 great recession, this is the highest this ratio has been in the past 60 years.
Customers reported less satisfaction with hotels in the latest American Customer Satisfaction Index (ASCI) Travel Report. Hotels saw a 1.3% drop to an overall ASCI score of 75. Traditional hotels are having trouble keeping up with new services and choices like Airbnb. While Hilton and Marriott tied for a top score of 80, their ratings dipped by 2% and 1% respectively. InterContinental and Choice were the only two hotel chains to register improvement. The remaining hotels came in below average. Hotels catering to economy and midscale markets usually registered at or below industry average in guest satisfaction.
Alternative accommodations accounted for nearly 9% of the total market in 2018, according to Skift's recent research report estimating the size and impact of the accommodation sector. Skift estimates that lodging revenue will rebound 3.4% in 2019 after a flat 2018. Based on Census Bureau data, accommodation sector revenue was down 1.8% in 2018, not including alternative and short-term accommodation rentals. Alternative accommodations will drive the majority of sector growth and are expected to grow by 30% in 2019, compared to less than 1% growth for traditional accommodation. Skift expects the share of alternative accommodations to reach 11% of the total market in 2019.
Transportation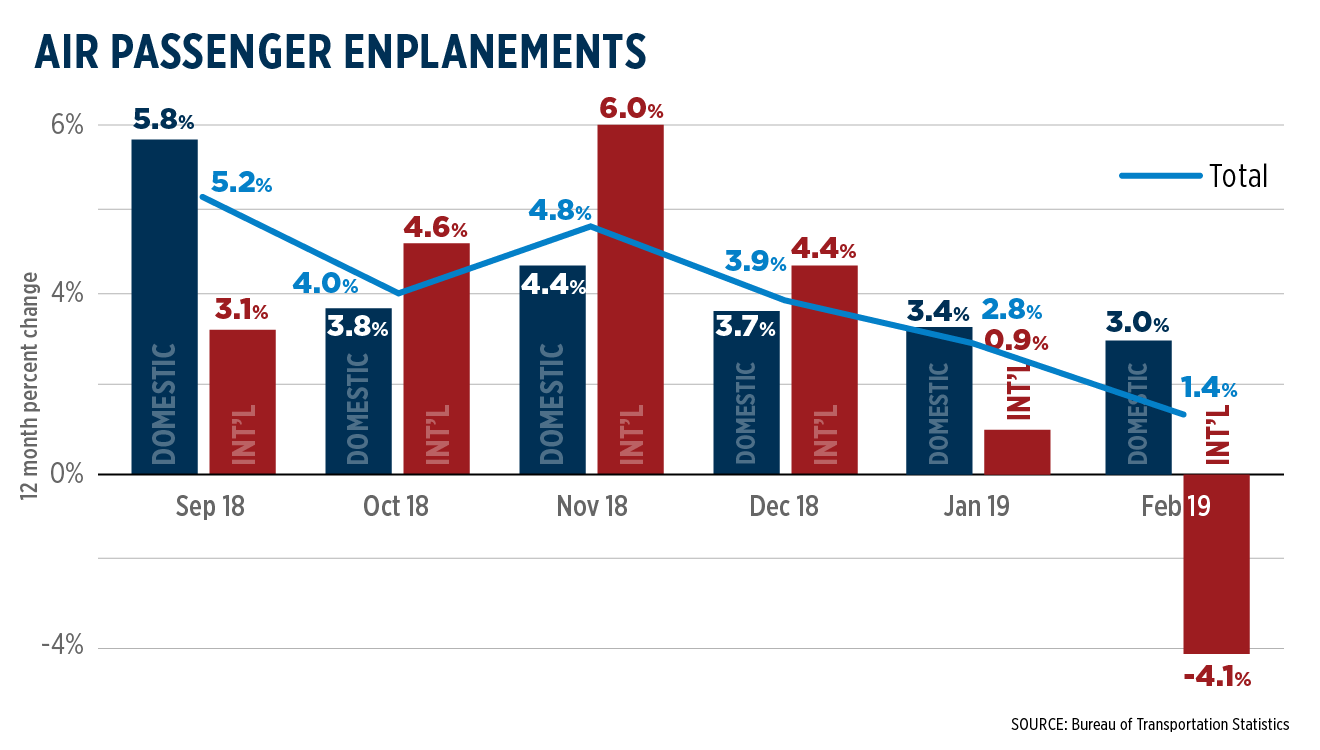 Nearly 71 million passengers boarded flights in the U.S. air transportation system in February, according to U.S. Transportation Department data. System-wide enplanements increased by 1.3% y/y, less than half of the growth rate achieved in January, and accounted for the fourth consecutive month of y/y slowdowns in passenger enplanements. Nearly 55.7 million passengers enplaned on domestic flights in February, a 3% y/y increase from February 2018, echoing the slowing trend. However, international enplanements decreased dramatically on a y/y basis: international enplanements at U.S. airports fell 4.1% y/y in February.
Global passenger traffic saw its slowest monthly increase in nine years, according to data from the International Air Transport Association (IATA). IATA found that revenue passenger miles (RPM) increased 3.1% in March 2019 from March 2018 but blamed this on "the timing of the Easter holiday, which fell nearly a month later than in 2018. On a seasonally-adjusted basis, the underlying growth rate has been relatively steady since October 2018 at a 4.1% annualized pace." North American airlines posted a 3% increase in RPM March compared to the year-ago period, decelerating somewhat from 4.2% y/y growth in February. "While traffic growth slowed considerably in March, we do not see the month as a bellwether for the rest of 2019. Nevertheless, the economic backdrop has become somewhat less favorable, with the IMF having recently revised its GDP outlook downward for a fourth time in the past year," said Alexandre de Juniac, IATA's Director General and CEO. "Despite March's slowdown, the outlook for air travel remains solid. Global connectivity has never been better."
Passenger satisfaction with airlines was up 1.4% to 74 on a scale of 0 to 100 as the industry recovered from last year's decline, according the recently released American Customer Satisfaction Index (ACSI) Travel Report. Not long ago, airlines sat at a near record-low of 62, but they are now one of the most improved industries. This year, several airlines registered gains: Alaska, Delta, United, Frontier and Spirit, although Alaska emerged as the new leader in 2019, with a 1% gain to reach an ACSI score of 80. The airline's merger with Virgin America has paid off, according to its passengers, who benefit from an expanded network and lower fares. Compared to a year ago, the boarding experience, call center satisfaction and the range of flight schedules improved, though satisfaction with loyalty programs was unmoved.
American Airlines was rated the second-best airline of 2019, according to a survey from consumer advocate website AirHelp. AirHelp rated airlines by on-time performance, service quality and claim processing, with each category weighed equally. American, which ranked 23rd in the 2018 rankings, came in second to Qatar Airways. United Airlines and Delta Air Lines also improved on their 2018 ranking, coming in 16th and 17th, respectively, on the global ranking.
To account for the recent safety concerns regarding the Boeing 737-MAX jets, American Airlines and Southwest Airlines will be cancelling an average of 275 flights a day this summer. In terms of percentage, however, these figures are relatively small. Southwest, for example, said the grounding has so far affected just 4% of its passengers, and American said the summer cancellations affect 1.5% of daily flying.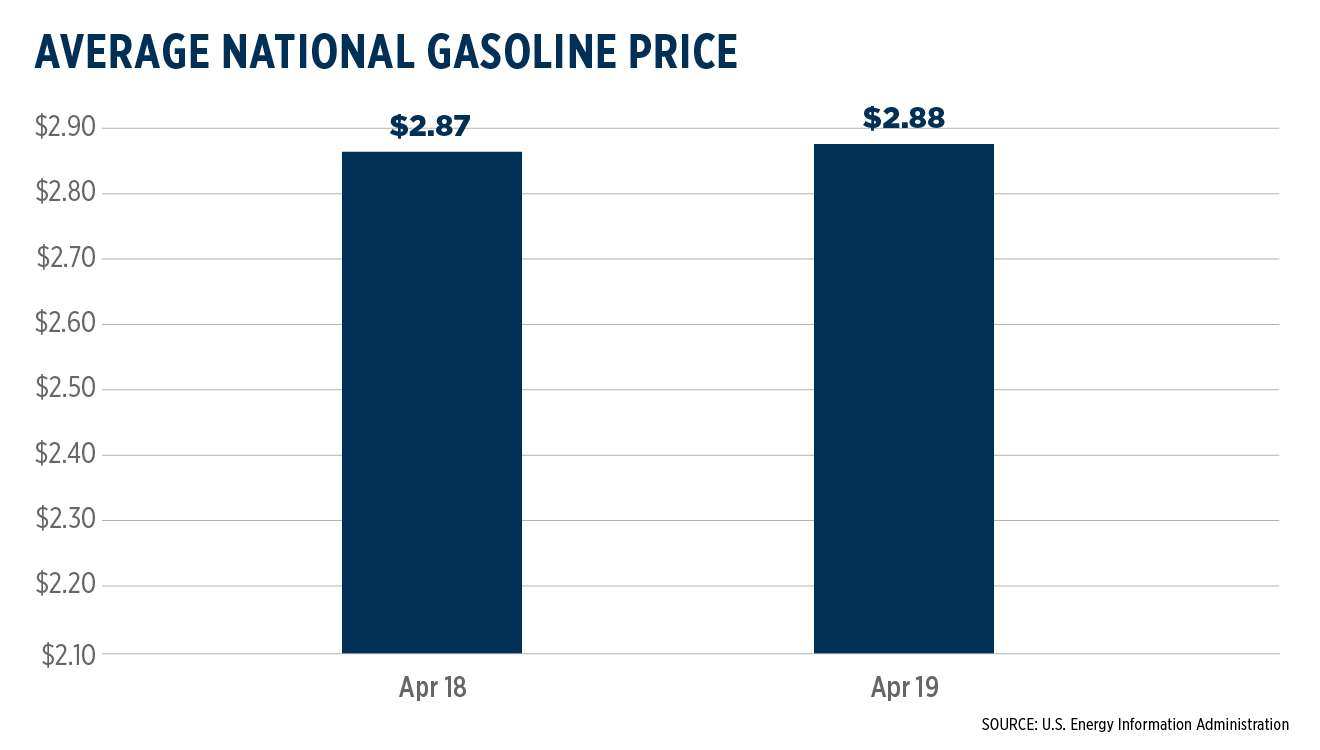 At $2.88 per gallon, national average gas prices remain consistent with year-ago levels, according to the Energy Information Administration. Analysis from AAA showed that gas prices actually fell three cents in mid-May to $2.86 per gallon, but 25 states have gas price averages that are just a nickel or less than last year. Gas prices are decreasing despite the Energy Information Administration's (EIA) latest reports that show an increase in demand to summer-like levels and a decrease in gasoline stocks. The move to cheaper gas prices indicates that demand and supply are potentially leveling out. "However, there are many factors that could quickly push up prices in the coming weeks," said Jeanette Casselano, AAA spokesperson. "These include the impact of Chinese tariffs, weather, a major draw in gasoline stock levels, a spike in demand or the volume of Memorial Day weekend travel. Pump price movements this week will indicate if motorists will continue to see cheaper gas prices or if this was just a one-week fad."
Car rental companies may have stopped the bleeding caused by the rideshare revolution, according to analysis from Skift. Both Avis and Hertz posted steady earnings for the first quarter of 2019. Traditionally, the presence of rideshare companies like Uber and Lyft drove down the cost of ground transportation, but both Avis and Hertz are now renting cars to ridesharing drivers and learning how best to manage their fleets as demand increases.
International Travel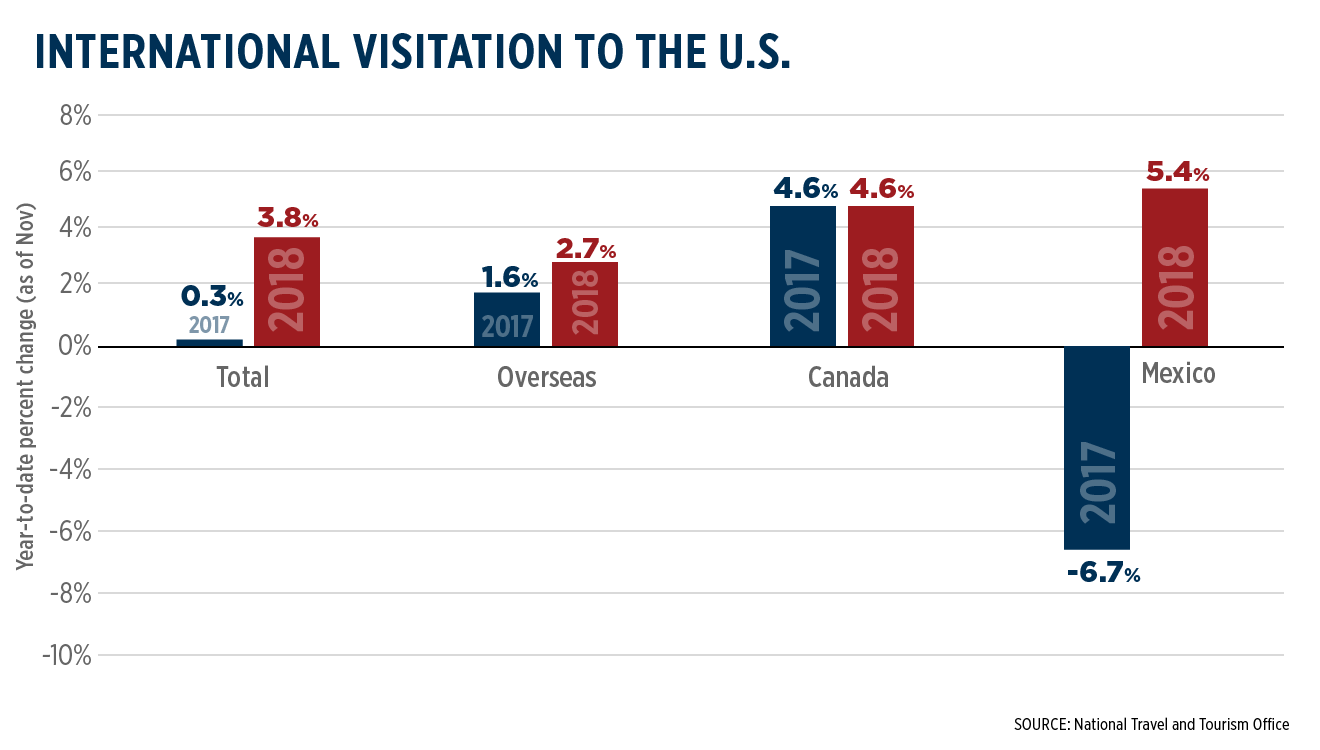 Just under 2.9 million international travelers visited the U.S. in November 2018, according to the National Travel and Tourism Office (NTTO). Only a 0.4% increase y/y from November 2017, the November 2018 estimate reflected a continued slowdown in international visitation to the U.S. over the second half of 2018. After increasing by a strong 6.4% during the first half of 2018 y/y, the pace of international visitation slowed during the second half of the year.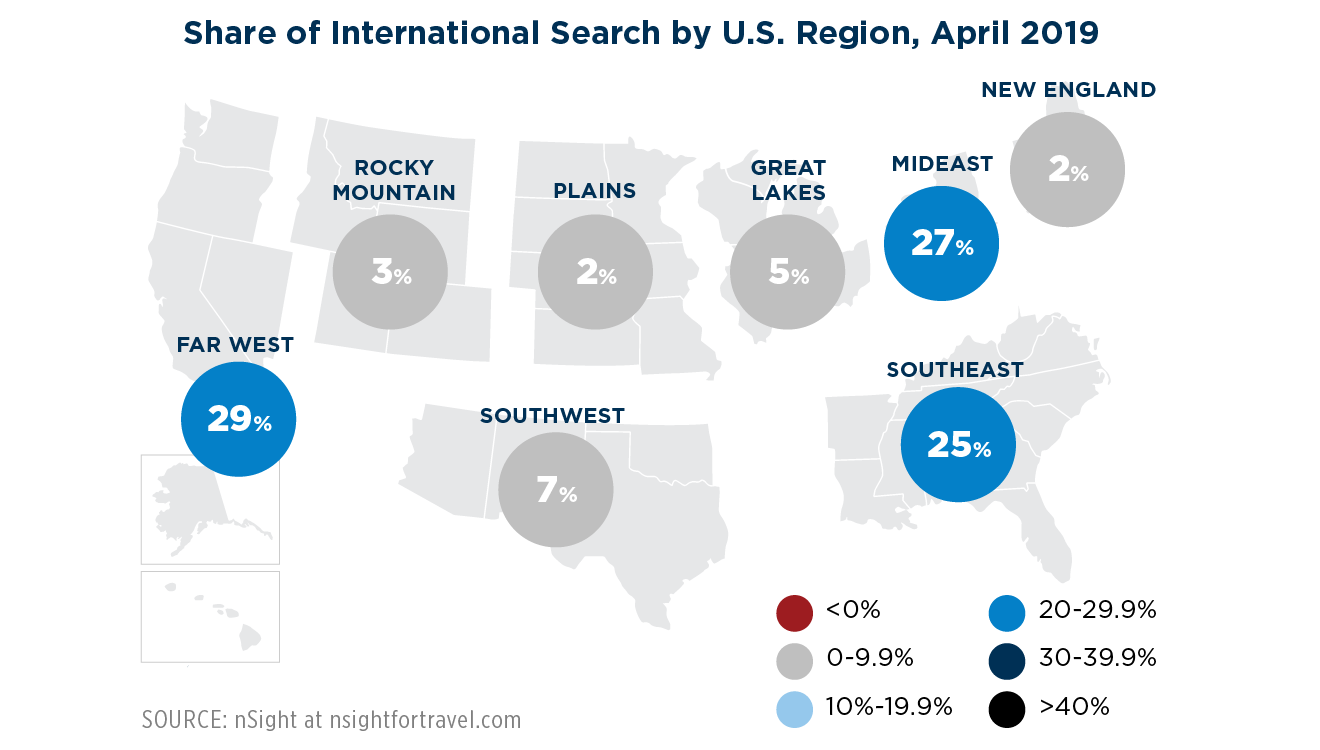 The latest U.S. Travel Barometer reported that 14% of international lodging searches in April were for destinations in the United States—the same share as in April of 2018. Following the United States, Spain, the UK, France and Mexico were the top markets for lodging searches. The Far West (29%), Mideast (27%) and Southeast (25%) made up more than 8 in 10 international travelers' lodging searches in April.
Emerging markets will lead global air passenger demand and air travel through 2039, according to estimates released by IATA and Oxford Economics in a recent webinar. Emerging markets not only outpaced advanced economies in terms of GDP growth but also in terms of global international departures over the next five years. While advanced economies are looking to increase international departures between 2 and 4% per year through 2023, emerging economies (especially in Asia) are expected to increase total international departures by between 6.5 and 11% per year through 2023. The countries expected to have the largest incremental increases in air passenger travel are China, the U.S., India, Indonesia, Thailand and Vietnam. Finally, according to IATA, the trends in global air passenger demand depend largely on the liberalization of international trade policy: if trade policies become more open, air passenger counts could increase by 5.5% per year, effectively tripling the current volume of global air passengers.
Chinese tourism to the U.S. could struggle in 2019, according to reports from Connect Travel's RTO Summit East conference. "We think that 2019 will be a really challenging year for the U.S. travel industry when it comes to attracting Chinese inbound tourists," noted Yiling Pan, editor of Jing Travel. Pan cited statistics from 2018 that do not bode well for the travel industry, including a 13% drop in travel visas from the previous year and a 42% decrease in Chinese air bookings to the U.S. over a national holiday in October 2018. On top of that, the current U.S.-China political climate seems to be affecting Chinese travelers' perception of security in the U.S.
More Japanese outbound travelers want to visit the U.S. in 2019, according to a report from the Japan Association of Travel Agents (JATA). In a survey of Japanese retail travel agencies, tour operators and tour wholesalers, JATA found that traveler demand for trips to the U.S. and Canada increased by 15% in the first quarter of 2019 and are expected to increase 8% in the second quarter. Japanese operated tours to Hawaii, which are counted separately from the U.S., are expected to increase by 11% in the second quarter of 2019. "Thanks to the long holidays and other factors, demand for Hawaii, Europe and other long-haul destinations continues to be robust," noted Tom Berrigan of the Inbound Report.
The Indian domestic and international travel economy has achieved scale, according to a recent Bain report, entitled "How Does India Travel?" Indian travelers took approximately two billion domestic and international trips in 2018, spending nearly $94 billion on transportation, lodging and consumption during their travels. This includes 26 million international trips, a number that has increased by 13% per year since 2015.
Webinar Series
How is the overall economy and travel holding up? Join us on Tuesday, June 25th from 2:00-2:45 p.m. ET to learn how U.S. Travel predicts the broader economy will perform for the remainder of 2019 and early 2020 and the impact it will have on the travel industry based on the latest domestic and international forecast. David Huether, senior vice president of research and economics, will also review how the travel industry fared in 2018 including the just released National Travel and Tourism Office international inbound visitation estimates.
U.S. Travel Updates
For millions of Americans, a career in the travel industry is not just a first job, but the first step toward the American dream of a stable, prosperous and rewarding life with a competitive salary for employees and their families. Travel jobs are accessible, often providing the first foothold on the career ladder, the flexibility to pursue education or raise a family and opportunities to reenter the workforce.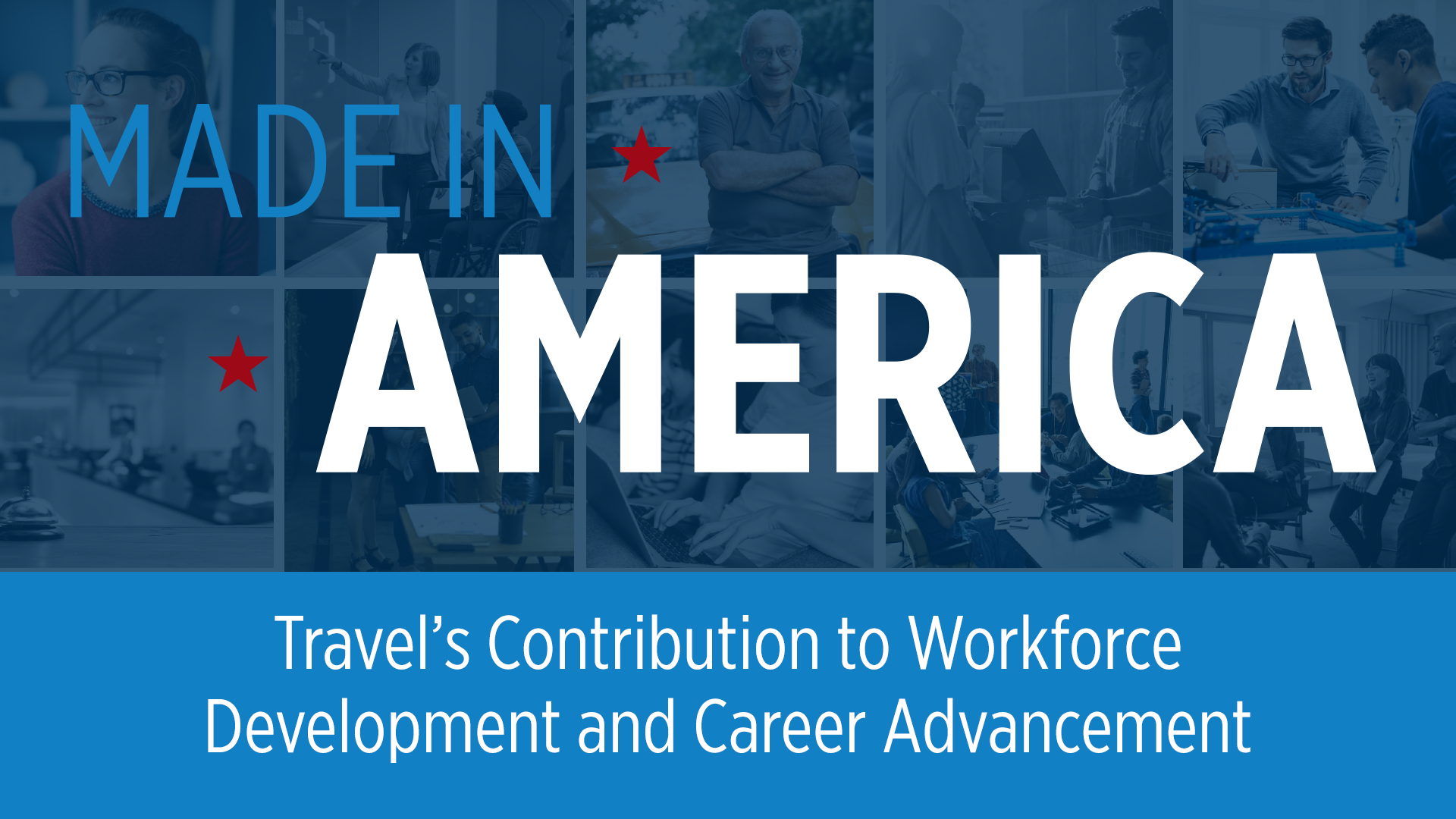 Made in America: Travel's Contribution to Workforce Development and Career Advancement explores how travel industry jobs provide accessibility, flexibility and the skills required to find a pathway to prosperity for millions of Americans. View the executive summary here.
U.S. Travel, in partnership with Destinations International, is pleased to share the Weaponization of Travel toolkit, a resource to help destinations assess and proactively address the threat of a travel ban or boycott. This toolkit contains best practices, talking points, a tweet sheet, sample print ads and more to help your organization prepare if this issue arises in your destination.
Policy
U.S. Travel and five other associations signed on to a letter urging support for the administration's request for supplemental appropriations to support Customs and Border Protection (CBP) staffing demands at the southern border. These additional appropriations are necessary to ensure that vital resources are not directed away from other points of entry and that airports remain sufficiently staffed.
The letter stressed the need for emergency funding heading into the busy summer travel season, starting with the rapidly approaching Memorial Day weekend. Security and economic priorities should go hand in hand, and it is crucial that our borders are adequately staffed and secured.
During IAEE's Exhibitions Day, June 4-5 in Washington, D.C., industry members will meet face-to-face to foster relationships and build awareness with influencers on Capitol Hill to give a voice to the exhibitions and events industry. If interested in this event, register here.