U.S. Travel's Research Trends from David Huether
ECONOMIC OVERVIEW:
February 2019
As far as we can tell, the U.S. economy remains on solid, albeit slippery, footing (some national accounts data remain delayed due to the partial government shutdown). Economists predict a solid finish to 2018: fourth quarter GDP will be boosted by a short-term drop in the international trade deficit. However:
While the labor market remains the strongest for half-a-century, its theoretical link to greater consumer spending (the engine of U.S. economic growth) remains ever-tenuous due to growing economic uncertainty nationally and globally.
ECONOMIC SUMMARY:
Some economic data releases remain a casualty of the 35-day partial government shutdown: the Commerce Department delayed their estimates for fourth-quarter GDP and personal income for December 2018 and January 2019 until the end of February. The data delays did not derail the general optimism surrounding economists' fourth quarter estimates. "The U.S. economy likely ended 2018 on solid footing," noted Lydia Boussour and Gregory Daco, economists at Oxford Economics. Oxford Economics estimates a 2.7 percent seasonally adjusted annualized (SAAR) growth estimate for the fourth quarter of 2018, noting that "cheerful consumers [i.e., consumer confidence and spending] continued to propel GDP growth higher." The estimate concurs with the Atlanta Federal Reserve's GDPNow forecast for the fourth quarter, which wavered between 2.4 and 3.0 percent SAAR growth through December and January.
Another consensus opinion among economists is that international trade will contribute positively to fourth-quarter GDP growth despite decreasing substantially in November. International trade estimates for November reveal a 2.9 percent month-over-month (m/m) decrease in imports from October, narrowing the U.S. goods and services trade deficit by over 11 percent. While the news is positive, economists remain wary of two longer-term implications of the decreased international trade volume. First, as noted by Diane Swonk, chief economist at Grant Thornton: "At the end of the day, we're moving into a period where we're growing faster than the rest of the world… [which] suggests we should have larger trade deficits. This is more transitory than trend." (Indeed, the New York Fed's GDP Nowcast suggests this point in editing down their nowcast to 2.4 percent SAAR growth). Second, as noted by Mark Zandi, chief economist at Moody's, "The fingerprints of the trade war are clearly on this report. Less trade in the long run is not a good thing... It's a near term plus, but the lessons should be if there's less trade, that's definitely a hit to our long run living standard."
However, rising personal and household debt could create significant economic headwinds moving forward. In their quarterly Household Debt and Credit Report, the New York Federal Reserve estimated that total household debt rose by $32 billion to reach $13.5 trillion, nearly 70 percent of U.S. nominal GDP. The total is now nearly $900 billion (7 percent) higher than the previous peak of $12.7 trillion in the third quarter of 2008, the midpoint of the Great Recession. Mortgage loans contribute less to the total household debt portfolio despite home sales surging in November. Indeed, home prices have generally remained sluggish recently, which reflect both long-term tightening by banks in issuing mortgages as well as short-term increases in interest rates from the Federal Reserve.
Household debt delinquency, therefore, has moved from mortgages to other forms of debt: credit cards ($870 billion, matching its peak before the Great Recession), student loans ($1.5 trillion), and auto loans ($1.3 trillion, the highest loan total since 1999). New York Fed economists noted concern with subprime performance on non-mortgage debt classifications. "Growing delinquencies among subprime borrowers are responsible for this deteriorating performance, and younger borrowers are struggling most acutely to afford their auto loans," said Joelle Scally, administrator of the New York Fed's center for microeconomic data. Households are self-correcting this load by minimizing their credit demands. But the implications for consumer spending, long the engine of the U.S. economy, remain daunting: "We are not in the 'red' zone of danger yet, but these measures are trending in the wrong direction, so it's something to keep an eye on," said Josh Wright, chief economist at iCIMS.
Other prominent economists noted that the increased debt load, along with weakening consumer confidence and business sentiment indicators has increased the chances of a recession moving forward. But, there are no short-term recession concerns to this point. According to Boussour and Daco at Oxford Economics: "First, the recent drop in consumer confidence measures mark the start of a convergence – not a collapse – of consumer expectations back to economic reality. Second... manufacturing activity retains solid domestic momentum despite global headwinds. More immediately, they estimate that first quarter GDP will reach 1.8 percent SAAR, noting that "the longest government shutdown on record will pose a 0.2 percentage point drag on growth."
CURRENT STATE OF THE ECONOMY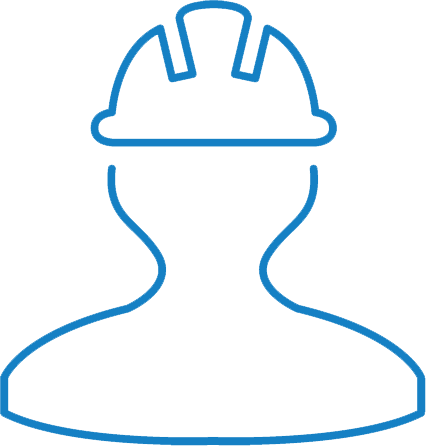 LABOR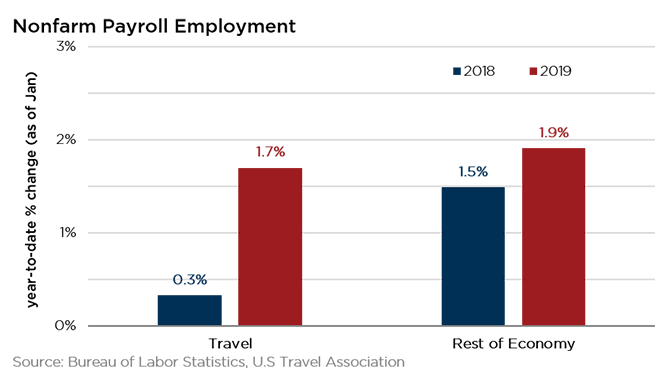 Employers added 304,000 new jobs to the US economy in January — once again surpassing economic forecasts, according to the latest jobs report from the Bureau of Labor Statistics. Meanwhile, the unemployment rate ticked up again, moving from 3.9 to 4 percent, in part because of the partial government shutdown. About 175,000 unemployed workers said they were temporarily laid off.
Both figures are a sign that the U.S. economy remains strong despite recent stock market volatility over economic growth worries and a prolonged trade war with China. The continued hiring boom also suggests that fears of a looming economic recession are largely overblown.
However, the latest jobs report once again shows little wage growth, which remains the biggest weakness in the American economy. The average U.S. worker hasn't seen their paycheck get much bigger since the Great Recession, which ended around 2009. In January, private sector workers got an average 3-cent hourly raise, adding up to an average hourly pay of $27.56. In the past 12 months, average hourly earnings have only increased 85 cents, or 3.2 percent, and that does not take inflation into account.
The jobs report does point to a steadily growing economy, with the most new jobs created in the restaurant, construction and healthcare industries. In fact, U.S. job gains in the past two months are far higher than usual, but wages are barely outpacing inflation.
The average work week remained at 34.5 hours. The labor force participation rate held steady at 63.1 percent while those counted as not in the labor force fell by 639,000 to just over 95 million. The department also released its full-year revisions, which it does each January. In total, the changes added 36,000 to the count for all of 2018.
Travel-generated employment increased by 33,500 jobs in January, the largest monthly gain since February 2016. Travel was a major factor in the overall 304,000-job increase in nonfarm employment in January, accounting for 11 percent of the rise in U.S. employment last month. Within travel, job gains occurred mainly in the leisure and hospitality industry, including the amusements/gambling/recreation industry, food services/drinking places industry and the lodging industry. Employment in the airline industry continued to grow, as well.
The Wall Street Journal reported on the overestimated impact of the "gig economy", especially from apps like Uber. The lack of measurement on this economy from 2005-2015 led researchers to attempt to fill the knowledge gap with a 2015 survey, showing an initial increase of its impacts, particularly during the Great Recession. The estimates had a hard time accounting for the differences in economic health over the 10-year period. According to a 2017 survey developed by the Labor Department, they found that the gig economy had scarcely changed the U.S. labor market and there was no permanent shift towards work in the gig economy after the Great Recession. The Labor Department also reported lower involvement and less benefit from the gig economy.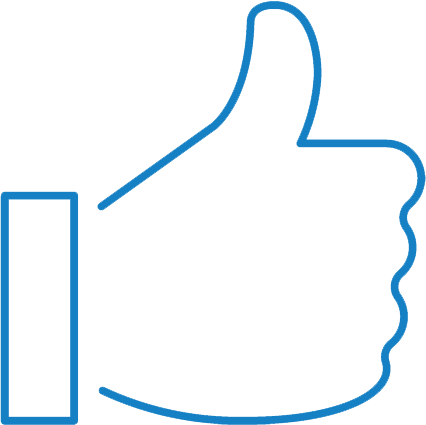 CONSUMER CONFIDENCE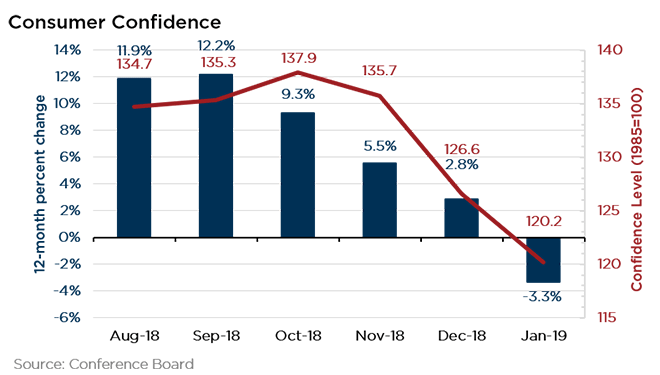 The government shutdown and the late 2018 stock market tumult eroded confidence in the economy among business owners and consumers alike last month. Now that the stock market has rallied, and the government has reopened, will optimism about the economy rebound, or is the recent slide an indication of a more lasting shift? In January, both the National Federation of Independent Business's optimism index for small businesses and the University of Michigan's consumer sentiment index fell to their lowest levels since at least November 2016. And the Conference Board's index of consumer confidence posted its steepest decline over the past few months since 2011.
The Conference Board reported that U.S. consumer confidence tumbled at the end of January to its lowest reading in a year and a half, tested by the partial government shutdown and roiling financial markets. Still, consumer spirits remain robust by historic standards. The index fell to 120.2 in January, down from 126.6 in December and the lowest level since July 2017. The January decline "is more the result of a temporary shock than a precursor to a significant slowdown in the coming months," said Lynn Franco, the Conference Board's senior director of economic indicators. He noted that "shock events" such as government shutdowns "tend to have sharp, but temporary, impacts on consumer confidence."
Consumers' optimism about the short-term future was more pessimistic in January. The percentage of consumers expecting business conditions will improve over the next six months decreased from 18.1 percent to 16.0 percent, while those expecting business conditions will worsen increased from 10.6 percent to 14.8 percent. Consumers' outlook for the labor market was also less favorable. The proportion expecting more jobs in the months ahead decreased from 16.6 percent to 14.7 percent, while those anticipating fewer jobs increased.
It appears that early signs are already indicating a recovery in confidence as consumer sentiment gained more than expected in early February. The University of Michigan consumer sentiment index rose to 95.5 from 91.2 in January, preliminary data showed. "The early February gains reflect the end of the partial government shutdown as well as a more fundamental shift in consumer expectations due to the Fed's pause in raising interest rates," said Richard Curtin, chief economist for the Surveys of Consumers.
"The assessment of current conditions was the second lowest since 2016, though the expectations read was significantly improved, back to levels seen in 2018. In the details, consistent with the bounce in sentiment, more respondents suggested that it was a good time to buy a major household item/vehicle/house," said Jon Jill, BMO Capital Markets' fixed income strategist. The consumer sentiment data indicate that personal consumption expenditures will remain the strongest sector in the national economy in 2019.
Consumer Spending
Consumer credit purchases are slowing down. According to the Federal Reserve's monthly report on outstanding consumer credit, consumer borrowing increased by $16.6 billion in December, nudging total consumer credit outstanding to just over $4 trillion. The December estimate represents the lowest monthly growth posted since September. Revolving credit outstanding, which includes credit card debt, increased $1.7 billion, just over one-third of the $4.8 billion rise seen in November. The data suggest that American consumers borrowed more cautiously during the holiday season. Non-revolving debt, which includes student and automobile loans, also slowed down in December, climbing $14.8 billion after a $17.6 billion gain in November. According to Katia Dimitrieva at Bloomberg: "While weaker than expected, the data still point to a confident consumer, buoyed by tax cuts and a solid labor market that recently added the most jobs in nearly a year. The report suggests consumers likely helped keep the economy humming in the fourth quarter, though analysts expect consumption to cool in 2019."
Even more worrying: personal finance company Bankrate found that 29 percent of Americans had more credit card debt than emergency savings. "The economy may be better, and unemployment may be lower. But that doesn't mean American consumers are doing any better with their debts," wrote Maria Lamagna of MarketWatch. Recent household debt and credit information show that debt is rising to red-flag levels. Despite fantastic labor market numbers, a new report from the Federal Reserve notes that households are taking out more debt, "Wage growth looks good, but it's not evenly distributed," said Greg McBride, chief financial analyst at Bankrate. "Economically, we're not always going to be in such a good spot," he said. "Now is the time to be paying down debt and boosting savings so you can better weather an economic storm, whenever that should arise."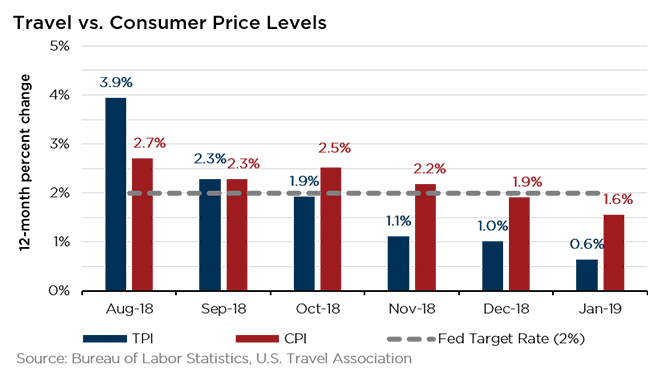 Consumer prices remained unchanged for a third consecutive month. The Labor Department's Consumer Price Index (CPI) registered at a 1.6 percent 12-month rate for January 2019. Headline numbers were kept in check, however, by plummeting gasoline prices, down 5.5 percent from December and 10 percent year-over-year (y/y) from January 2018. In fact, excluding food and energy items, core CPI inflation increased 2.2 percent y/y, increasing steadily by 0.2 percent m/m for the fifth consecutive month. "It's something to keep an eye on... it could be the first sign that continued [higher-than-usual] economic growth and the tightening labor and product markets are starting to build some inflation pressures" in other parts of the economy, said David Berson, chief economist at Nationwide.
Held down by energy prices, U.S. Travel's Travel Price Index (TPI) increased by only 0.6 percent y/y for January 2019. Nearly all sub-components of transportation prices (airline fares, motor fuel, other intercity transportation) decreased by over 2 percent y/y in January holding down otherwise steady growth in other TPI component sectors (recreation services, food & beverage and other lodging).
Exports
The U.S. trade deficit narrowed by over 11 percent to $49.3 billion in November 2019, its smallest amount in five months. However, according to Commerce Department estimates, the improvement in the U.S. trade position came at a cost of overall trade volume. In this case, exports, which decreased 0.6 percent from October to $210 billion, decreased much slower than imports, which decreased 2.9 percent to $259 billion. Consumer goods imports, namely "cell phones and other household goods", represented over half of the $7.9 billion drop in imports. "It is possible that some of the consumer goods imports were brought into the country… to build a stockpile before the import tariffs took effect or grew even worse," said Chris Rupkey, chief economist at MUFG. "The good news is this will temporarily boost real GDP in the fourth quarter." Imports from China decreased by $2.9 billion, accounting for 40 percent of the import decline—a possible bargaining point for an expected truce in the U.S.-China trade negotiations occurring in March.
Despite travel exports remaining near all-time highs, the travel trade surplus also narrowed precipitously in November, falling over 9 percent to $5.0 billion. Travel exports, for their part, stayed relatively flat, remaining at $21.3 billion. Travel imports, on the other hand, increased by 3 percent (nearly $470 million) in November, reflecting robust increases in both travel expenditures and passenger fares. However, the overall U.S. trade deficit would still be over 10 percent larger in November were it not for this consistent travel trade surplus.
State of Business
The manufacturing sector improved to start 2019, according to the Institute for Supply Management (ISM). The ISM's Manufacturing PMI, a survey of business conditions across the factory sector, reported an increase of 2.3 percentage points to 56.6 percent (any reading over 50 indicates expansion). The improvement was a welcome surprise to analysts: "It seems that the hand-wringing over a sustained sharp slowdown in the factory sector may have been a bit premature," said Omair Sharif, economist at Société Général. The improvements reflected stronger business activity to start the year, with growth across PMI sub-indices representing new orders, production, and inventories. On the other hand, prices continued to fall and delivery times continued to increase. "Comments from the panel reflect continued expanding business strength, supported by strong demand and output… Exports continue to expand, but at the lowest level since the fourth quarter of 2016. Prices contracted for the first time since the first quarter of 2016," said Timothy Fiore, Chair of the ISM Manufacturing Business Survey Committee.
Business conditions slowed across the services sector in January, according to the ISM's Non-Manufacturing Index (NMI). The NMI fell 1.3 points to 56.7 percent for January 2019. NMI measurements for business activity, namely new orders, new export orders and inventories, fell precipitously from December readings. Employment and price indicators continued to improve. Of the three travel-related industries surveyed by the ISM, only one (accommodation & food services) reported growth for January; the other two (retail trade and arts, entertainment & recreation) reported contraction. "This was clearly a disappointing non-manufacturing reading, aggravated by a number of factors, one of which was temporary," said Jennifer Lee, senior economist at BMO Capital Markets, referring to the partial government shutdown. "We anticipate a retracement of this setback in February, but that temporary factor may return to the fore."
After a banner year, many small businesses are becoming more cautious about their investment and hiring plans. Some are responding to early signs of slowing sales, while others fear that tariffs, unstable financial markets, the aftereffects of the government shutdown and other headwinds could damp economic growth in 2019. Economic confidence among small firms, which edged downward for much of 2018, in January reached its lowest level since President Trump's election, according to a monthly survey. The survey showed 14 percent of firms expect the economy to improve this year, while 36 percent expect it to get worse. For the first time since the 2016 election, small firms were more pessimistic about their own financial prospects than they were a year earlier, including plans for hiring and investment. "We could be at a turning point," said Richard Curtin, a University of Michigan economist who analyzed the data. "Recessions are not made of one firm collapsing, but of many firms cutting back in marginal ways."
Travel Trends Index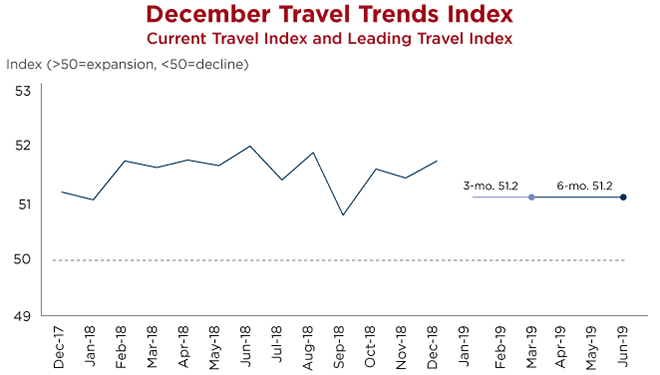 Travel to and within the U.S. grew 3.6 percent year-over-year in December, according to U.S. Travel Association's latest Travel Trends Index (TTI)—marking the industry's 108th straight month of overall expansion.
The growth trend is tempered by concerning signs in the lucrative international inbound market, however. That segment grew at a rate of 2.8 percent in December—well off November's hot pace of 3.8 percent growth year-over-year. Worse, the deceleration trend is expected to continue, with the Leading Travel Index (LTI) projecting international inbound travel to slow to 2.0 percent through June 2019.
The TTI's bright spot is the strength of domestic travel: Domestic leisure travel registered 4.0 percent growth in December, while the business segment increased by a more modest 2.6 percent. Domestic travel overall is projected to expand 2.6 percent over the next six months—breaking down to 3.4 percent growth in domestic business travel and 2.2 percent growth in domestic leisure travel for that time period.
TRAVEL INDUSTRY UPDATES
Unpredictability is the theme at the start of 2019. Rising gasoline prices, declining consumer sentiment and uncertainty in the U.S. economy post-government shutdown have contributed to a slow start to 2019.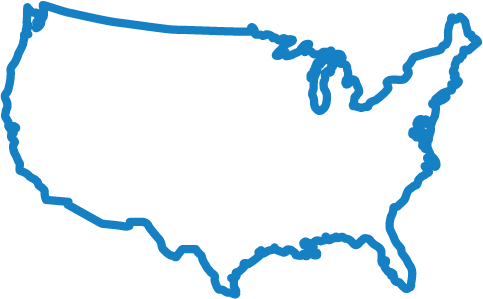 DOMESTIC TRAVEL
One-third of travelers indicated they would be traveling more in 2019 than the prior year, down from 37 percent one year earlier according to Destination Analysts' latest survey of American travelers. This moderate degree of pessimism seen in trip expectations also extends to future travel spending. When asked if they expect to spend more in the upcoming year on leisure travel, only 32 percent of American leisure travelers said that they would be beefing up their expenditures. This is down from 37 percent one year ago.
Potentially more unsettling is a drop in the general sentiment of how important leisure travel is as a budgetary item. At this time last year, nearly two-thirds of American leisure travelers (65 percent) said that leisure travel would be at least a "somewhat high priority." This year, the corresponding figure dropped to 60 percent. As we move further into 2019, Destination Analysts expect that the domestic leisure market will remain robust, however a significant downside potential exists with uncertainty on so many fronts.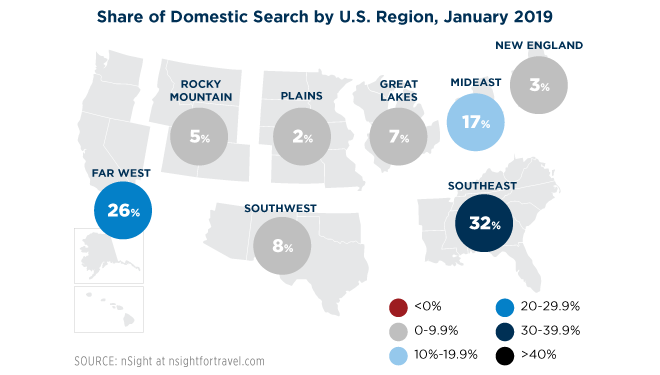 The latest U.S. Travel Barometer reported that 81 percent of U.S. residents searching for lodging in January searched domestically, down from 84 percent the year prior. The United Kingdom and Mexico both captured 3 percent of domestic searches in January - indicating stronger demand for U.S. residents traveling abroad. The Rocky Mountain region experienced the largest increase in share of searches year-over-year, up 3 percent from the year prior. Still, by far, interest to the Southeast was strongest capturing 32 percent of searches followed by the Far West with 26 percent.
2019 should be a formative year for travel as Skift reports in their Megatrends Defining Travel in 2019. One trend involves brands providing travelers more control over their experience while another stresses the importance of travelers finding balance between technology use and technology reliance. Some other trends include the increase of wellness tourism, a formation of a new type of loyalty program, online travel agencies focusing beyond hotels and into food and activities and the need for travel companies to comprehensively find and train qualified job applicants at every level in their business. Another shift is from "over-tourism" to "under-tourism" to destinations that offer immersive experiences that build relationships with people, places, culture and community.
Total National Parks Service visitations are down for 2018, according to data released by the Interior Department. National parks attracted 321.2 million recreational visits across the calendar year of 2018, down 2.9 percent from 2017. December 2018 saw 13.8 million recreational visits, down 9.4 percent from the 15.3 million recreational visits seen in December 2017. Overnight stays were down by a larger margin: 13.7 million visitor-nights compared to 14.8 million visitor-nights in 2017, a 7.8 percent decline. Year-over-year overnight stays for December 2018 were down 13.9 percent, following a trend of double-digit y/y decreases seen across the second half of 2018. Despite the decline, some national parks continued to attract substantial amounts visitors. For instance, Yellowstone National Park celebrated its third-busiest year ever with 4.1 million visitors across 2018, down 0.4 percent from 2017. Moreover, the fastest growing national park for recreational visits in 2018 was Gateway Arch National Park in Utah.
Gen Z will be the largest generation by 2020 and already have significant buying power, according to a report by Expedia Group. This generation travels more frequently and longer than generations preceding them and are open to destination inspiration with 84 percent of Gen Z travelers influenced by social media through promotions or media posted by friends or experts. Gen Z are beginning to travel for work and two-thirds of Gen Z business travelers have taken a bleisure trip, adding an average 3.4 days on a 5 day business trip.
Of recent travelers, 98 percent have participated in a food and/or drink related experience while traveling according to a recent Skift report. Of recent travelers, 42 percent have traveled with the food and/or drink experience as the main purpose of the trip. Food tourism is attracting a greater number of participants outside of the previously described "foodie" group. Today's food tourists are curiously craving a unique experience and often build their trip around food. The new era of food tourism is emphasizing the story behind the food, combines well with other tourism activities and is sustainably conscious and thoughtful with the environmental, economic and community impacts of food tourism.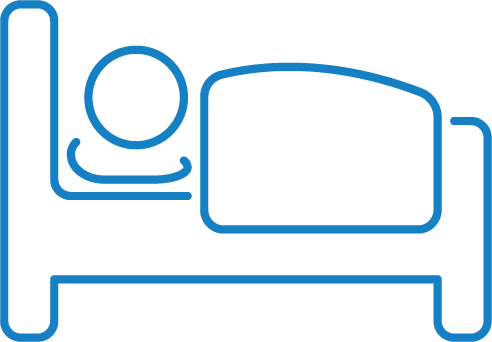 LODGING INDUSTRY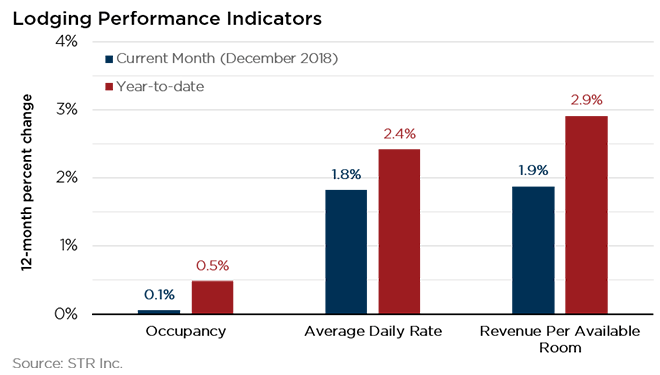 According to STR, total room revenue increased 3.9 percent and room demand increased 2.1 percent from a year ago in the U.S. in December 2018. Total room revenue reached $10.9 billion. STR revised its 2019 forecast for U.S. hotels, slightly downgrading expected growth in demand, occupancy, average daily rate and revenue per available room. STR is now projecting that both supply and demand will increase 1.9 percent, while occupancy will be stagnant at 0 percent growth. ADR and RevPAR are expected to climb 2.3 percent.
The U.S. hotel industry has seen nearly 10 years of growth that "drove up room rates and sent occupancy levels soaring to new highs looks poised to cool, as new supply crowds the market and economic growth is expected to slow," the Wall Street Journal reports. Revenue per available room for hotels in the U.S. gained 105 out of 106 months, according to STR. The fast growth pace is slowing and could "turn negative by some measures." STR said occupancy is expected to be flat in 2019 for the first time since 2009 and is expected to decrease 0.2 percent in 2020.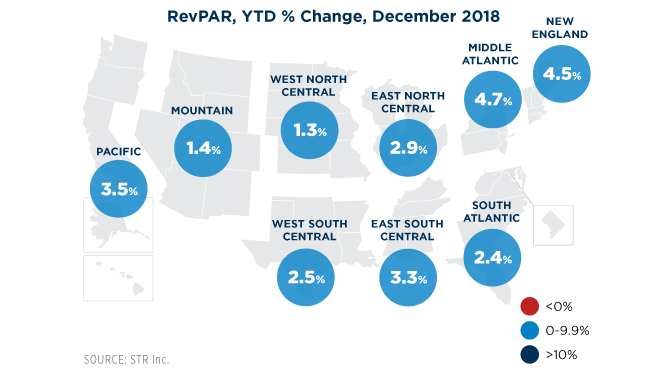 Growth in the price of hotel room rates is also starting to flatten. The average daily room rate rose 2.4 percent to $129.83 last year. But STR forecast that growth rate to remain about the same for the next two years. The increase in new hotel supply is a big reason for the slower growth, especially in the top 25 markets like New York, Dallas and Nashville.
Preliminary STR January hotel industry data reports occupancy growth between -1 and 1 percent, with average daily rate and revenue per available room flat to growing 2 percent.
There has been sustained growth in direct bookings according to the Kalibri Labs' report "Book Direct Campaigns 2.0: The Costs and Benefits of Loyalty in 2018." Bookings made via Brand.com and those made directly with a hotel property account for 23 percent and 29 percent of all bookings, respectively, between August 2017 and August 2018. Meanwhile, OTAs represent 15 percent of all bookings.
Climate change will likely have an intensive impact on the travel industry, according to a survey completed by a United Kingdom nonprofit. The survey interviewed top companies in the industry on their perceptions of climate change's impact on their businesses. Hotels companies cited the potential physical risk of drought and inadequate water supply followed by hurricanes and flooding. These risks were perceived by some companies to start having an impact in the next decade or so, but many saw the impacts of climate change as a current issue.
Transportation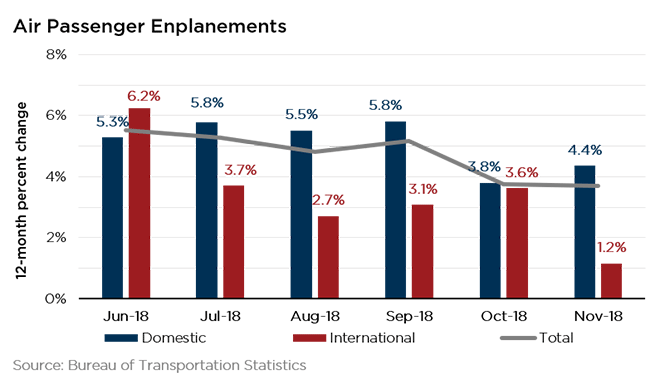 Passenger counts for U.S. flagship airlines reached all-time highs for the month of November, according to the Transportation Department. U.S. airlines reported 75.9 million systemwide enplanements in November 2018, a 3.6 percent seasonally-adjusted increase from November 2017. Domestic enplanements on U.S. airlines made up over 87 percent of the total systemwide count, increasing a seasonally-adjusted 3.6 percent to 65.5 million. International enplanements increased 3.3 percent y/y to 9.4 million enplanements. Adding in foreign carrier enplanements, international enplanements in the U.S. slowed down to 1.2 percent year-over-year growth in November 2019, unadjusted.
North American airlines experienced the largest increase in demand since 2011 in 2018, according to the International Air Traffic Association (IATA). Full-year revenue passenger miles (RPM) increased 5 percent in 2018, 0.3 percentage point faster than the 4.7 percent annual growth in RPM experienced in 2017. However, IATA notes, "demand growth slackened noticeably in the last two quarters [of 2018]." Indeed, the year-over-year pace of RPM growth was nearly halved in December (3.6 percent) compared to the first two months of the fourth quarter (around 6 percent y/y growth). According to IATA "Although economic outcomes remain sound, we note some increasing concerns over the U.S. economic outlook and trade tensions with China." For the full year of 2018, seat miles climbed 3.7 percent, meaning load factor edged up 1.0 percentage point to 82.6 percent.
Chicago's O'Hare International Airport was the busiest airport in the U.S. in 2018, according to the FAA. O'Hare oversaw more than 903,000 arrivals and departures during 2018, a 4.2 percent increase from 2017. Atlanta's Hartsfield-Jackson International Airport, who held the title for four consecutive years prior to 2018, oversaw 895,000 arrivals and departure, increasing 1.8 percent from 2017. Los Angeles International Airport, Dallas-Fort Worth International Airport and Denver International Airport rounded out the top five.
By the final day of the 35-day government shutdown, 1,700 of the 3,500 of the Federal Aviation Administration (FAA) inspectors had been called back to work. This has resulted in a backlog of inspection work and data entry which has hindered safe monitoring from the FAA.
Towards the end of the government shutdown, of the approximately 48,000 Transportation Security Administration employees, more than 10 percent called out sick from work after not being paid for more than a month, Skift reported. Significant slowdowns at airports were reported and many major airlines spoke out about the economic losses the government shutdown was causing them.
In Skift's first U.S. Airline Sector Research Estimates, there are positive predictions for the airline industry in 2019. Passenger revenue is anticipated to reach $171.4 billion, up 2.6 percent from 2018, an anticipated 3.5 percent increase to 905 million passengers flying on U.S. airlines. The total market estimate for passenger revenue growth is 2.6 percent in 2019 with key elements impacting this growth including ancillaries and jet fuel prices. The market will likely remain concentrated with the four largest carriers controlling 85 percent of the market, up from 77 percent in 2013.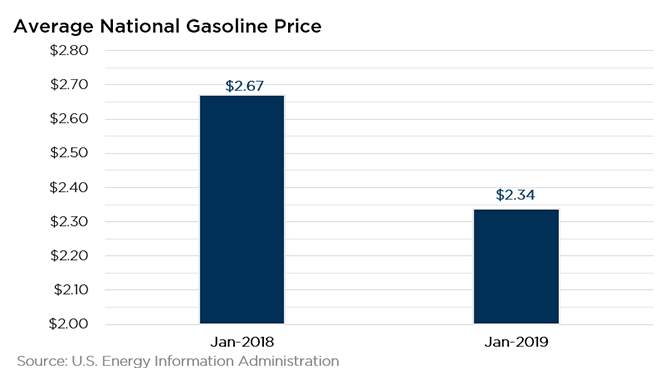 At $2.28 per gallon, the average national gas price crept up by two cents per gallon in the beginning of February but remain 30 cents lower than average price one year ago, according to AAA. Nearly half of all state averages saw price increases, some of over 10 cents. Frigid temperatures across much of the country have contributed toward a drop in demand that remains relatively consistent with a year ago, according to Energy Information Administration (EIA). "Since the beginning of the year, crude oil remains relatively cheap, moving between $51- $55 [per barrel]," said Jeanette Casselano, AAA spokesperson. "This, coupled with fluctuating gasoline stocks due to planned and unplanned maintenance at refineries as well as instability in demand, likely due to frigid temperatures, are all contributing toward movement at retail pumps across the country."
International Travel
Global international arrivals totaled 1.4 billion for 2018, according to United Nations World Tourism Organization (UNWTO) estimates. While the increase of 6 percent was slower than the 2017's 7 percent annual growth in international arrivals, the total international arrival count arrived two years earlier than forecasted by the UNWTO. The highest growth in the past year was seen in the Middle East (10.3 percent) followed by Africa (7.3 percent) and Asia-Pacific (6.1 percent) while Europe remained the most visited region with 712 million visitors (5.7 percent growth). North American visitations remained below the international average at 4 percent for 2018. The UNWTO forecasts international arrivals to grow from 3 to 4 percent in 2019, more in line with historic growth trends.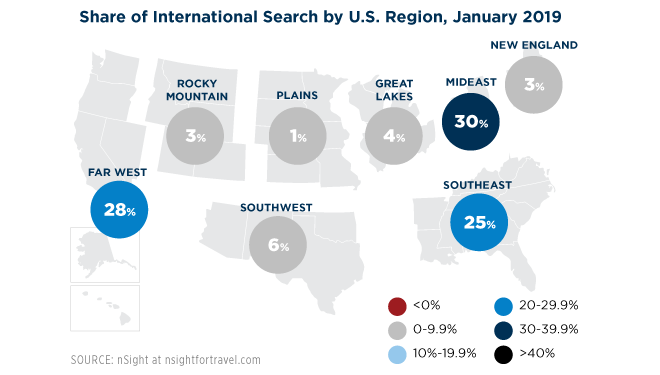 The latest U.S. Travel Barometer reported that 11 percent of international lodging searches in January were for destinations in the United States—slightly higher than the 10 percent searching for lodging within the U.S. the same period last year. International searches were led by Spain, which captured 12 percent of January searches, the United States, the UK and France. International searches to the United States were fairly split between three regions - the Mideast (30 percent), Far West (28 percent) and Southeast (25 percent). The Mideast experienced a 4 percent increase in their share of searches compared to January of 2018.
Chinese tourists are staying closer to home this Lunar New Year with 400 million anticipated to travel domestically and only 7 million forecast to travel abroad. This includes fewer visitors to the U.S. than previous years. Chinese outbound travel to the United States has seen a significant slowing since trade frictions between Beijing and Washington, DC began escalating. In July through September, arrivals fell 20 percent from a year earlier, according to the China Outbound Tourism Research Institute, which analyzes Chinese travel data. Moreover, Chinese consumers account for a third of global duty-free spending, and the economic slowdown has weighed on travel companies. Still, Bloomberg estimates that seven million Chinese visitors will head to overseas destinations during the holiday, an 8 percent increase from last year.
The Chinese international travel market is expected to account for a quarter of all global international travel in just over a decade, as the number of Chinese travelers is predicted to nearly triple according to a recent Resonance report. These travelers are becoming more independent and are seeking scenic destinations where they can connect with the natural world. During their travel, mobile is an integral component, particularly for younger Chinese travelers, for both communication and mobile payments, and these actions are anticipated to continue to increase as the number of travelers spikes.
Over 50 percent of urban residents believe tourism generates wealth and income, intercultural exchanges, new offerings and leisure activities, according to the Global Survey on the Perception of Residents Towards City Tourism, a global study by the UNWTO and IPSOS. This study surveyed 15 countries and found despite the appreciation of tourism, "there should be measures to manage tourism" (49 percent). There are ranging opinions on the measures to be taken including improving infrastructures and facilities (72 percent), "creating experiences and attractions that benefit both residents and visitors" (71 percent), and "ensuring local communities benefit from tourism" (65 percent). The mixed-picture of the perceived impacts rising from urban tourism demonstrates the complexity of economic, social and environmental issues faced by destinations today.
The High Net Worth (HNW) population, those with a new worth between $1 million and $30 million, is a growing group. 2018 saw a 1.9 percent increase to 22.4 million people and it is forecasted to increase by another 6 percent over the next five years, according to the High Net Worth Handbook. The top 10 countries accounted for 75 percent of the global HNW population and the U.S. includes six of the top 10 cities in the ranking. New York sits on the top with a population of HNW just below a million, which is more than 65 percent higher than the second biggest city, Tokyo. The HNW population takes a large role in philanthropy and enjoy technology, science, writing, music and language while the ultra-wealthy group (over $30 million) are more occupied by leisure pursuits including sports and travel.
Webinar Series
In April, 300 travel colleagues from around the country will convene at Destination Capitol Hill, the industry's leading legislative fly-in, to educate the 100+ new members of Congress on the impact of travel in their districts and throughout the nation. On Tuesday, March 19, from 2:00-2:45 p.m. ET, join U.S. Travel's Senior VP of Government Relations, Tori Barnes, and Director of Grassroots and PAC, Bryan Spadaro, for an overview of the industry priorities our delegates will be advocating.
U.S. Travel Updates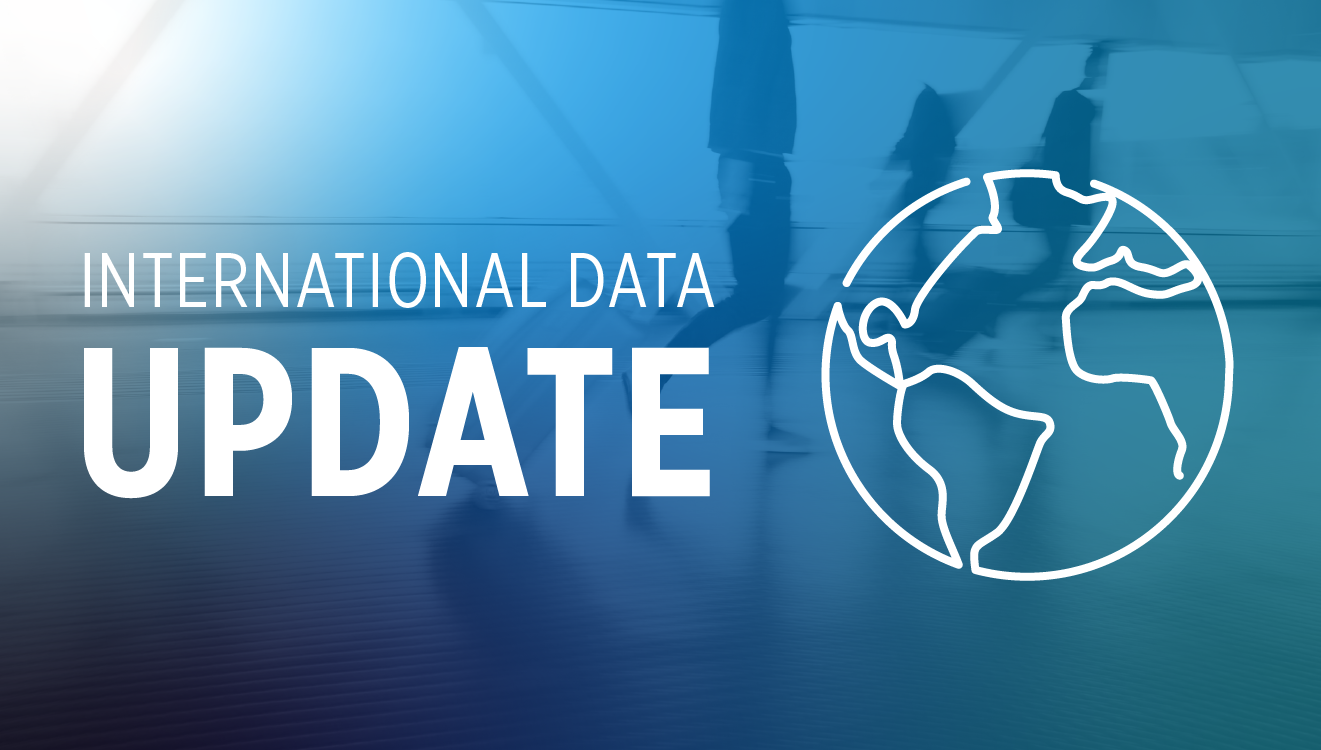 Check out new factsheets released by the research department:
Policy
The White House and congressional leaders reached an agreement to avert another federal government shutdown. U.S. Travel estimates that during the December shutdown period, the U.S. economy lost more than $800 million in travel-related economic impact due to the budget impasse—despite the fact that the shutdown began on the 22nd day of that month. This a cost of $390 million in direct travel spending and more than $400 million in indirect/induced output caused by a partial close of national parks, as well as the standstill of government and business travel for government projects. This does not include air travel loss, for which we are still awaiting data.
The White House released a presidential memorandum on its new workforce development program, the Women's Global Development and Prosperity Initiative. The purpose of the workforce initiative is to "empower women globally to fulfill their economic potential."
Last year, a number of U.S. Travel member companies signed on to a White House workforce development pledge, the Pledge to America's Workers. The pledge was a main point of discussion when U.S. Travel President and CEO Roger Dow and our corporate members met with President Trump, Larry Kudlow and Ivanka Trump last fall.