Black History Month Industry Spotlights: Lorne Edwards
February 22, 2022 By U.S. Travel Association
February is Black History Month—an important opportunity to underscore the accomplishments of Black individuals throughout the country.
Throughout the month, we are highlighting our Black colleagues in travel and underscoring the importance of their contributions to the industry.
Lorne Edwards, Senior Vice President, Sales and Services, Visit Phoenix, told us about what Black History Month means to him and shared thoughts about how the industry can continue to work toward a more diverse, equitable and inclusive future.
Image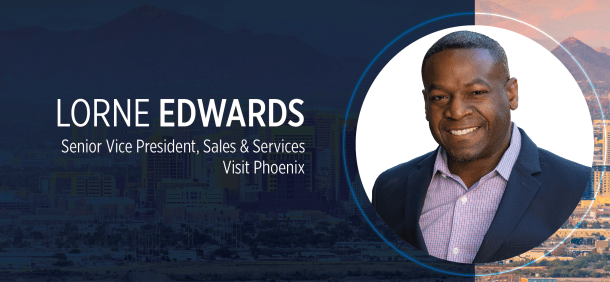 What does Black History Month mean to you and how do you celebrate it? 
I choose to look at Black History Month as a period of reflection and celebration.  A time to reflect, not only on the remarkable contributions, but also the sacrifices made by Black people the world over for the betterment of society today and tomorrow. It also serves as a reminder of the responsibility that I have, firstly, as a father to my four, young biracial children to guide and support their aspirations to be their unbridled best in life and in their chosen endeavor with humility and kindness. But also, my responsibility as a leader and the role that I must continue to play to influence meaningful and substantive change within this industry.
I love music and have quite the library of musical genres from different eras featuring Black artists. But that's a way to celebrate all the time, not just during Black History Month. Teaching my children about Black iconic and influential figures from Bob Marley, Dr. Maya Angelou and Dr. Martin Luther King, Jr. are extra special celebratory and memorable moments I love to share.
Can you tell us about a role model who has inspired you? 
It is easy to draw on iconic Black historical figures that have inspired me, such as Dr. Martin Luther King, Jr., Dr. Maya Angelou, Nelson Mandela and Bob Marley, who will always remain revolutionary and transformative figures in my mind. 
That said, I only have to look to my parents, Clarence and Jean Edwards, who remain supremely influential to me. Both were respected educators, influencers and community stalwarts who placed a premium on education, humility, civility and Godliness, though I recall straying at times from some of those principles in my stubborn youth. They also had great senses of humor and, oftentimes, found the folly in life and made sure we didn't take ourselves too seriously. I can say that their inspiration has remained the formative bedrock of who I am today, and I hope that I can pass those same tenets on to my children and to anyone within my sphere of influence.
What are some of the biggest challenges you see for emerging Black professionals in the industry and what are some recommendations to help address these concerns?
I remember when I first started out in this industry over 25 years ago, seeing—much less knowing—a Black industry executive was a rarity. We had to look very far and when you did find one, I could probably count them on one hand. Imagine how it was for those very few at the time. That said, those were some of the people from whom I sought guidance. I oftentimes reminisce with many of my Black industry colleagues who recall getting our start in organizations like the National Coalition of Black Meeting Planners and reading about what "we" were doing and ways to become engaged and involved in Sol & Glo Herbert's Black Meetings & Tourism. While we have come a long way in a relatively short period of time, and there has been discernible progress made in the last couple of years, there is still a lot of work that this industry can coalesce around.
At Visit Phoenix we have made some measurable strides with our own DEI committee, which I co-chair, and have also recently launched a collaboration with the National Diversity Council to help guide our actions and measurements. We also now have a very engaged EDI committee at our Board of Directors level and are taking steps to further evolve our Board's composition. I would also encourage others to support Tourism Diversity Matters and its ongoing initiatives to bring about and sustain the changes our industry needs.
Ensuring the creation of mentorship and executive career preparation pathways is something that all of our industry acronyms ought to have a measurable role in developing, evolving and sustaining. Amplifying a powerful narrative so that our youth can realize a pathway from the classroom to the board room. Making that an actionable global initiative that is supported by executive and political will at all levels of influence is the challenge that remains yet for all of us, myself included.
What would you like to see the travel industry do better to elevate and engrain diversity, equity and inclusion within company cultures?
As the saying goes: what does not get measured does not get done. We have to become intrinsically intentional about investing in, supporting and promoting industry pathways programming as part of early-stage curriculum. Somewhere in the world right now there is a family going on vacation or someone on their way to a conference––this is indeed the largest global industry and everyone regardless of color, race or whom they may love must have the access and the opportunity to have thriving careers. This can be done through the power of travel.
What historical destinations do you recommend for travelers looking to learn more about the Black experience in the U.S.? (The African Diaspora, HBCUs, etc.)
Having lived in, and visited several cities across the country, along with my Caribbean (Antiguan) roots, I feel very fortunate to have had many cultural experiences through visitation. The National Museum of African American History and Culture in our nation's capital is definitely a must-see. I have also enjoyed the Martin Luther King Historical Tour and have taken visitors through when I lived in Atlanta.
But I would be remiss if I did not seize the opportunity to give a shout-out to Phoenix and to invite everyone to come and learn about the Black history of Phoenix and the West. A visit to Eastlake Park which has historical significance to the Black community here, including what remains of the venue for Juneteenth celebrations. Churches such as Tanner Chapel, First Institutional Baptist and other congregations have been hubs in the Black community in Phoenix for decades. Martin Luther King, Jr. spoke at Tanner Chapel in 1964 and President Lyndon B. Johnson campaigned there that same year. Also, the George Washington Carver Museum and Cultural Center, formerly known as the Phoenix Union Colored High School, which opened in 1926.
After all that touring, I would definitely recommend respite at Mrs. White's Golden Rule Café for some delicious eats. Please check out  https://www.visitphoenix.com/stories/post/mrs-whites-golden-rule-cafe/ for more stories and all the great happenings around Greater Phoenix.
---
CONTACT US
U.S. Travel
For more information about this blog, please contact us at: