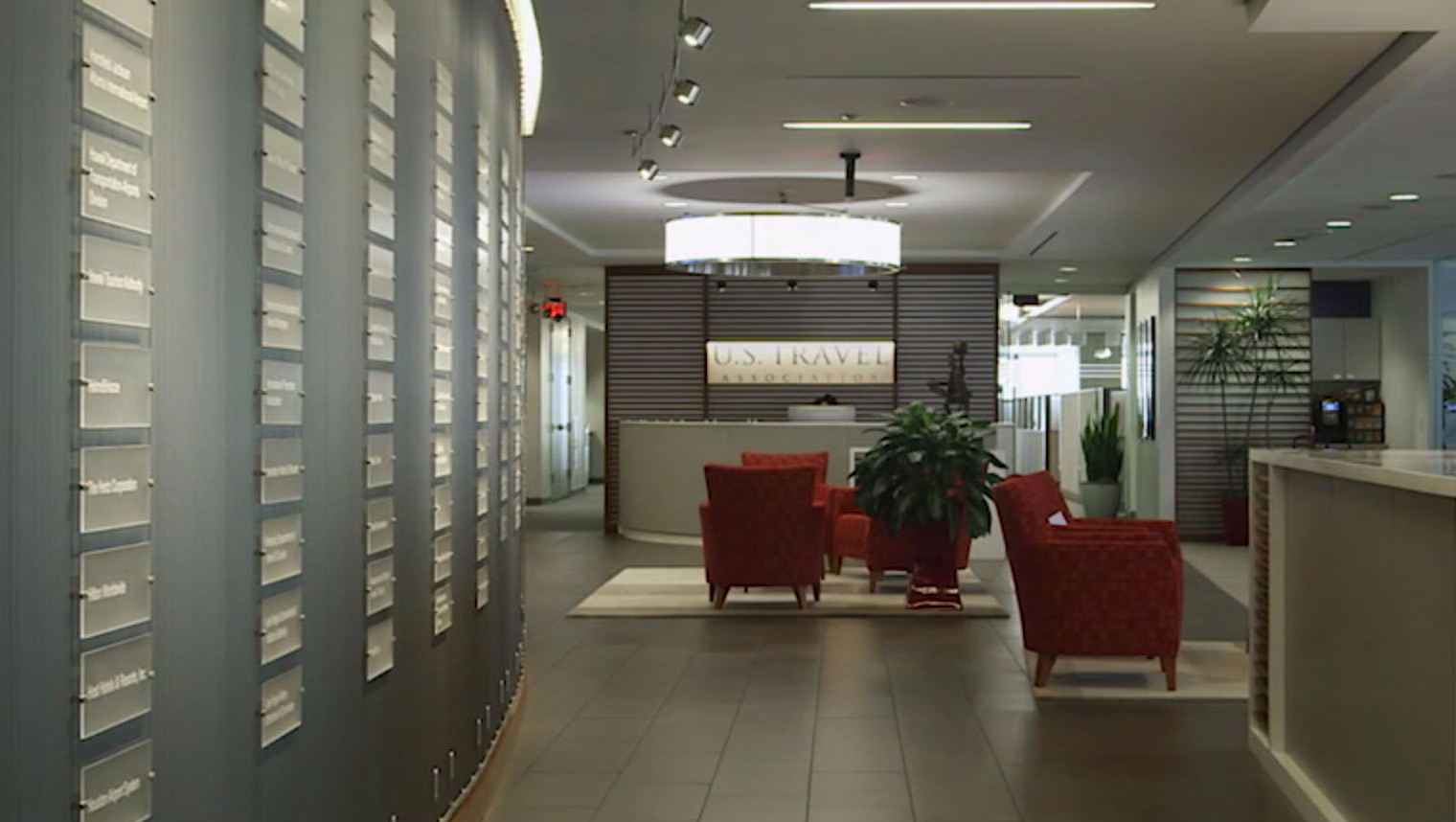 The U.S. Travel Association is a dynamic, mission-driven association committed to increasing travel to and within the United States. 
U.S. Travel offers excellent benefits and a friendly, supportive environment where individual contributions are highly valued and the collective goals of 1,200-plus member organizations are advanced. U.S. Travel seeks staff who are committed to creating excellent work and contributing to a positive workplace culture. The office is conveniently located near Metro Center in downtown Washington, D.C.
U.S. Travel is currently hiring.
---
Manager, Industry Communications
This position will serve as support for the Director, Industry Communications for crafting and/or proofing U.S. Travel Association industry-facing communications, including but not limited to executive presentations and emails, fact sheets, research reports and marketing collateral in addition to supporting U.S. Travel signature event and board meeting execution.
The ideal candidate will be a very strong writer and natural collaborator who enjoys proofreading, writing and adhering written products to AP Style. The position is part of the Public Affairs department but supports marketing and communications across the association.
PRIMARY RESPONSIBILITIES: 
Serve as U.S. Travel's go-to for copyediting and proofing member-facing and events materials, including but not limited to executive notes, promotional emails, events collateral and research reports.
Draft materials for use with U.S. Travel membership that communicates the association's advocacy goals, including but not limited to emails and reference materials, such as toolkit resources, talking points and fact sheets.
Develop and manage messaging, scripts and presentations for executive-level speech materials, included but not limited to talking points and accompanying visual materials.
Coordinate with marketing team to develop and manage a master deck of talking points and visuals to be used for executive-level presentations, maintaining accuracy and consistency in message and data.
Support industry communications and marketing teams in streamlining processes across office with regard to speaking engagement management and member communications workflow.
Help manage on-message scripts and run of shows for U.S. Travel signature events, including but not limited to: Destination Capitol Hill, IPW, U.S. Travel Board of Directors meetings, ESTO, Communications Advisory Committee, and Destination CEO Roundtable.
Provide on-site support at above events as needed, ensuring most up-to-date scripts and run of show logistics are captured and executed seamlessly.
Closely monitor email analytics for marketing and industry communications to identify ways to optimize messaging.
Support the manager, digital communications, with updating ustravel.org—working with internal stakeholders to ensure content is timely and accurate.
Liaise across departments, including but not limited to broader public affairs team, meetings and events, membership and marketing to ensure cross-office collaboration and consistency with all communications materials.
COMPETENCIES:
Expert project management and attention to detail.
Mastery of AP Style.
Understanding of presentation writing and event execution.
Ability to learn new topics quickly and transform complex information into easily understandable terms.
A penchant for proof reading.
Agility to work within tight deadlines, adjust quickly to changes in priorities, and balance short-term deliverables with long-term strategic initiatives.
Excellent writing skills and the ability to craft messages that resonate with a diverse audience.
Enthusiasm, good humor, a drive to succeed; problem-solver, creative thinker, team player.
Political or public affairs experience/Capitol Hill savvy is preferred for translating policy matters into relatable communications materials.
Delivers what is promised with accuracy and efficiency in a fast-paced, high-volume environment.
Ability to embrace a high-performance/high-productivity environment.
Holds all projects to high quality standard.
Ability to manage multiple projects and work against tight deadlines.
Highly communicative; must possess a positive and proactive attitude with ability to take constructive feedback and input from multiple stakeholders.
Self-initiated with a strong work ethic.
Shows intellectual curiosity in every task they are asked to perform.
QUALIFICATIONS: 
Bachelor's degree plus three years' experience in the fields of communications and/or public relations. Knowledge and experience within the travel industry a plus.
Mastery of AP Stylebook; Proficient in HTML; Mastery of Microsoft Office products, especially Word and PowerPoint; Intermediate proficiency in Adobe Creative Suite; Familiarity with Google Drive, Dropbox and Slack.
 To apply please submit your cover letter, resume and reference list to careers@ustravel.org with "Manager, Industry Communications" listed in the subject line.
---
Manager, Grassroots and PAC
This position is responsible for helping to grow two key components of U.S. Travel's Advocacy operations (Grassroots and PAC).   The person in this role is responsible for maintaining, improving and growing U.S. Travel's grassroots program to increase political education and engagement of U.S. Travel members and the broader travel industry. Additionally, this person is responsible for advancing, growing and implementing a fundraising strategy for various membership constituencies.
PRIMARY GRASSROOTS RESPONSIBILITIES:
Maintain and improve U.S. Travel's grassroots program to increase political education and engagement of U.S. Travel members and the travel industry
Grow and cultivate grassroots base to further U.S. Travel's advocacy efforts
Identify new targets and expand U.S. Travel's grasstops and key contacts program, as well as cultivate new grassroots champions
Draft communications to advocates including newsletters and action alerts
Grow and improve U.S. Travel's advocacy focused social media outreach working with the U.S. Travel communications team
Aid in the planning process for U.S. Travel's annual Capitol Hill fly-in event
Maintain the U.S. Travel advocacy website and make appropriate and timely updates
Streamline management of member databases and ensure all information is accurate and up-to-date
Work collaboratively and in conjunction with government relations and communications colleagues in development of grassroots content
PRIMARY PAC RESPONSIBILITIES:
Increase the solicitable class of Travel PAC by working to optimize database and communications practices
Assist in implementing a prior approval campaign to obtain PAC solicitation authorization from U.S. Travel members
Manage Aristotle 360 PAC Compliance Software data entry
Process contributions and disbursements for Travel PAC
Increase visibility of the PAC at U.S. Travel Events
Monitor media coverage of campaigns for PAC targets and update government relations staff regularly
COMPETENCIES:
Teamwork:  Demonstrating and promoting a spirit of cooperation within and outside work unit; working together toward a common goal; building good relationships with internal and outside work units; building good relationships with internal and external contacts.
Communication: Conveying written and oral communications effectively; negotiating and mediating effectively; sharing information; listening attentively and responding appropriately.
Initiative:  Recognizing the need for action; confronting issues and taking appropriate action; pursuing an issue until the problem is solved.
Developing Staff:   Training, coaching and counseling others continually to improve; developing capabilities through formal and informal training and coaching; developing backup capabilities; helping direct reports in their pursuit of career goals.
Problem Solving:  Identifying problems affecting the work unit or U.S. Travel Association; taking early corrective action to avoid problems; generating new ideas and practical solutions.
Leadership: (for Directors and Above) – Influencing and motivating others to achieve a common purpose; developing and maintaining an atmosphere of trust and cooperation; demonstrating behavior consistent with the expectations communicated to others.
TRAVEL:
QUALIFICATIONS: 
Bachelor's degree in political science, communications or in an applicable related field plus three-five years' prior work experience in Grassroots and/or PAC. Trade association and/or travel industry experience is a plus.
Knowledge and proficiency in Salesforce, Magnet Mail and Aristotle 360 systems is preferred.
Basic to intermediate web editing skills.
To apply please submit your cover letter, resume and reference list to careers@ustravel.org with "Manager, Grassroots and PAC" listed in the subject line. 
---
Coordinator, National Council Relations & ESTO
This position will serve as a coordinator for the National Council Relations & ESTO team of U.S. Travel Association.

The National Councils department oversees and manages the segmented membership groups or councils of U.S. Travel. Each council has their own board of advisors who meet three times a year, focused objectives and targeted programs of work. The council groups are the attractions (Experience Network), the destinations (Destinations Council) and the states (National State Tourism Directors).
 
ESTO is an annual marketing conference exclusively for destination and state organizations. ESTO attendees get to hear from industry experts and learn cutting-edge best practices from peers while having ample time to network with colleagues.
RESPONSIBILITIES:
NCSTD Travel Counselor Certification

Take over as the point-of-contact for creating and sending letters and certificates.
Work with the councils team and marketing on a new design for the NCSTD travel counselor certificates/letters.
Work with the councils team on how to streamline the submission process and implement the program in more states.

ESTO Marketing and Content Development

Take detailed notes during all ESTO content-related calls and draft detailed recap emails for session owners/presenters.
Updating ESTO website content as it comes in, specifically session room names, destination or hotel-specific information, and speaker information.
Edit and proof the on-site program.
Assist with ESTO webinars.
Serve as on-site room captain at the conference and assist with speaker management system.
Manage PDN content and speakers leading up to ESTO.

ESTO Awards

Work closely with managers to manage incoming award submissions, looking for edits to submission content and ensuring that entries have been submitted to the proper category based on entry descriptions/requirements.
Communicate with entrants about moving entries to an alternative category (if necessary) and reaching out to award finalists for any additional requested media collateral.
Manage the look and feel of the ESTO Awards digital gallery by editing all finalists' entries, ensuring all media collateral appears in the gallery properly and working closely with Open Water staff for any design edits.
Support staff in managing the award judging panel by uploading lead judges and judging team managers to the Open Water portal, providing copy for judges' communications, assisting with the build-out of the judge's webinar, and manage the judges' experience in the Open Water portal.
Assist in preparation and presentation of the awards webinar.

Councils Meetings and Events

Take notes at council meetings to supplement meeting minutes.
Work closely with team members on editing and formatting meeting minutes.
Website updates and management.

Logistics for Council Meetings and Events

Printing for council meetings, roundtables, including tent cards, prior meeting minutes, agendas, committee updates, dashboards, and any other ad hoc documents.
Coordinate all packing and shipping for council meetings and events, including IPW, ESTO, and off-site board meetings.
Assist with planning for board dinners/receptions.
Update all council, roundtable and coalition lists of members.
COMPETENCIES:
Superior written and verbal communication skills.
Strong interpersonal skills; ability to work with many different types of individuals a plus.
Ability to multi-task and flexibility key to success in this positon.
Meticulous attention to detail and ability to prioritize effectively.
Strong editing skills.
This position requires at least 1-3 years' professional work experience. Travel and tourism experience is preferred but not required.
Ability to work in a fast-paced, ever-changing environment.
QUALIFICATIONS:
Bachelor's degree plus 1-3 years' professional experience in the area of communications, marketing or related field.
Mastery of Microsoft Office required. Familiarity with Adobe Creative Suite, PowerPoint, Basecamp, GoToWebinar and Drupal preferred.
Ability to travel if needed.
To apply please submit your cover letter, resume and reference list to careers@ustravel.org "Coordinator, National Council Relations & ESTO" in the subject line.