OUR MISSION
To increase travel to and within the United States.
OUR VISION
U.S. Travel is the leading force that grows and sustains travel and protects the freedom to travel. Our efforts are focused on achieving our shared vision for the industry: Travel is understood as essential to the economy, American jobs, security, image and well-being of the United States and travelers.
What We Do
As the united voice of the industry, U.S. Travel prioritizes high-impact issues that matter most to our collective membership. We not only identify the industry's biggest opportunities and challenges, but also develop the messages and actions to create positive growth.
We advocate for policies that will advance and elevate our industry on the national level, engaging our members with the tools, research and resources needed to influence change at state and local levels.
Issues ›
Programs ›
Annual Report
Events ›
Research ›
Our Industry
Travel is a diverse, dynamic economic contributor and an essential part of our everyday lives and American business. Our industry comprises various sectors— including transportation, lodging, retail, recreation and entertainment and foodservice—and spans across all travel segments: meetings, leisure, business, incentive and trade shows.
Travel Industry Answer Sheet ›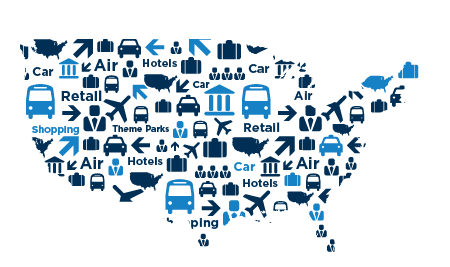 Quick Facts
#1
Travel is the United States' #1 service export
2.6 trillion
Travel generates $2.6 trillion in total economic output
1 in 10
1 in 10 American jobs depend on travel
Top 10
Travel is among the top 10 industries in 49 states and D.C.
#7
Where travel ranks in terms of employment compared to other major private industry sectors
15.8 million
Travel supports 15.8 million American jobs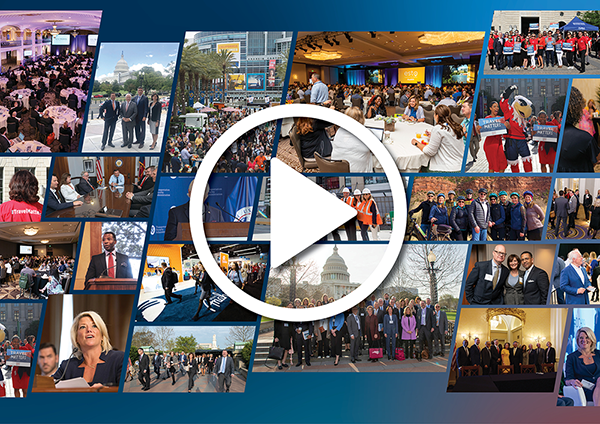 Become A Member
Make connections, stay informed, network, promote, drive your business and be a part of the amplified voice on industry issues.
Learn More About Memberships ›
Advertising and Sponsorship Opportunities
U.S. Travel has multiple levels of sponsorship and advertising opportunities across our many venues and for all sectors of travel and tourism
Sponsorship Opportunities ›