On Thursday, tourism, meetings and events professionals around the world celebrated the third annual Global Meetings Industry Day to spotlight the real impact these events have on our lives. Here are some highlights.
Industry professionals from around the world celebrated the power of face-to-face connections on Global Meetings Industry Day (GMID). The event—organized by the Meetings Mean Business coalition—highlighted the value of business meetings, conferences, conventions, incentive travel, trade shows, exhibitions and other face-to-face gatherings. From New Orleans to Kuala Lumpur, professionals in cities around the world organized events to spotlight the impact that meetings have on our lives.
This year's theme was "Real Results, Real Impact, All Around the World." The theme was fitting: according to a study from Oxford Economics, meetings and events in the United States supported 5.9 million jobs and $845 billion in economic impact in 2016.
The celebrations held were as varied and creative as the destinations in which they were hosted. A record-breaking 200+ events across six continents (breaking 2017's record of 120 events) took part in the festivities. Here is a look at some highlights:
New Orleans
U.S. Travel Association President and CEO Roger Dow joined industry leaders from the New Orleans Morial Convention Center and the New Orleans Convention & Visitors Bureau for a panel discussion. Dow spoke to the 250 assembled professionals about the value of business travel and meetings.
"Our industry is the front door to economic development," said Dow, employing a refrain he has used often.
And of course, a meeting in the Big Easy wouldn't be complete without a bit of pageantry, in which the panelists were pleased to participate:
Image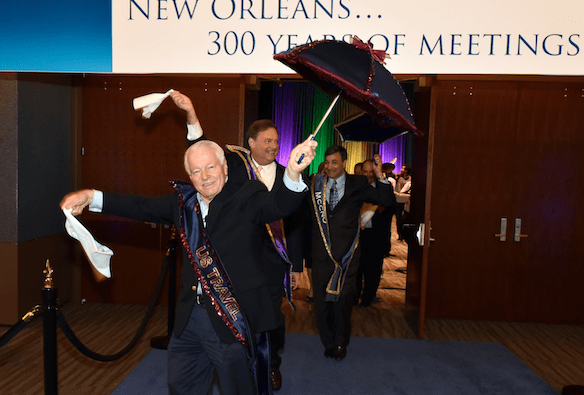 Chicago
Mayor Rahm Emanuel and David Whitaker, president and CEO of Choose Chicago, announced on GMID the record tourism levels that Chicago reached in the first quarter of 2018, which saw group room bookings in the city increase by 20.5%.
"Tourism in Chicago means jobs throughout Chicago," Emanuel said. "By continuing to set new tourism records and bring millions more people to Chicago every year, we are creating jobs and generating economic opportunities that reach every Chicago neighborhood."
Image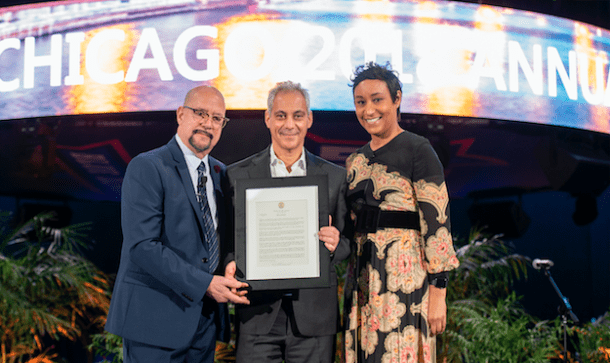 New York
To kick off the celebration, New York's Empire State Building lit up in blue on the eve of GMID.
We're glowing all blue tonight in honor of @nycgo_press & Global Meetings Industry Day.

: evanwashere/Instagram. pic.twitter.com/9RTR5NmC2o

— Empire State Bldg (@EmpireStateBldg) April 11, 2018
Meeting Professionals International Greater New York (MPIGNY) and New York Professional Convention Management Association (NYPCMA) gathered in the Big Apple for a special panel featuring Michael Dominguez, Chief Sales Officer of MGM Resorts International; Jami Stapelmann Executive Director of Global Travel & Meetings at Estée Lauder; and Carvie Gillikin, VP of Fourth Wall Events and former MPIGNY Chapter President.
The @MPIGNY Chapter held their #GMID18 Community Education Event Wednesday night at the New York Academy of Sciences. Speakers included Michael Dominguez, Jami Stapelmann and Carvie Gillikin. #MPI #eventprofs #GMID pic.twitter.com/xRWf8333WQ

— Meeting Professional (@TheMeetingPro) April 12, 2018
Washington, D.C.
Chris Krebs, the Department of Homeland Security (DHS) Assistant Secretary for Infrastructure Protection and President Trump's nominee for Undersecretary of the National Protection and Programs Directorate, filmed a video of support for GMID on behalf of DHS Secretary Kirstjen Nielsen.
"Every year, meetings and exhibitions support millions of jobs and contribute hundreds of billions of dollars to the U.S. economy. With such a large impact, it is critical that these events are safe and secure," said Krebs.
Las Vegas
The Las Vegas Convention and Visitors Authority met at the Venetian Theater on the city's famed Strip to celebrate the 65,000 local jobs associated with the meetings industry.
.@LVCVA is proud to celebrate the 65k #jobs and $9.3 billion local economic impact of the meetings industry. How are you celebrating Global Meetings Industry Day? #GMID18 #LasVegas @meetingsmeanbiz pic.twitter.com/atmAeAWdMW

— LVCVA Impact (@LVCVAImpact) April 12, 2018
St. Louis
MPI St. Louis Area Chapter, Explore St. Louis and Maritz Travel gathered at Ballpark Village for a panel discussion featuring area industry professionals. Among those who spoke were Kitty Ratcliffe, President of Explore St. Louis; David Peckinpaugh, President of Maritz Global Events; and Sarah Pinkowski, CMP, Meetings Supervisor of Enterprise Holdings.
GMID celebration in St. Louis at Ballpark Village. Amazing turnout in support of our industry! #GMID18 pic.twitter.com/VIeli5v2td

— David G. Peckinpaugh (@dpeckinpaugh) April 12, 2018
Ottawa, Canada
Canadian Prime Minister Justin Trudeau released a statement of support for GMID.
"Global Meetings Industry Day offers a wonderful opportunity to highlight the important role professionals in the meetings and events industry play in our communities. Their expertise and skills ensure the success of conferences, trade shows and business meetings held across the world," said Trudeau.
Toronto, Canada
Professionals from MPI Toronto, Business Events Toronto and Niagara Falls Business Events met at the Globe and Mail Centre for a supersized GMID celebration that featured multiple speakers. Business Events Toronto estimates that the region played host to 951 meetings in 2017.
Global Meetings Industry Day 2018 is underway this morning at the gorgeous @globeandmailctr #GMID18 #GMID2018TO #MeetInToronto pic.twitter.com/82OPwQl37s

— Business Events TO (@meetintoronto) April 12, 2018
Dublin, Ireland
GMID hit the Emerald Isle, and the staff at Croke Park—the third-largest stadium in Europe with more than 100 meeting and event spaces—shared a short video to celebrate the day.
Dancing our way into Global Meetings Industry Day #GMID18 #EventProfs #MeetingProfs #Venue #Stadium #Dublin pic.twitter.com/DOXuby7onH

— Croke Park Events (@CrokeParkEvents) April 12, 2018
Kuala Lumpur, Malaysia
The Business Events Council Malaysia met at the Kuala Lumpur Convention Center to celebrate the economic impact of meetings.
It's #GMID2018 today to celebrate #realimpact #realresults. The Centre brings 13,636 business events since 2005 which generate RM7million in economic impact and still counting! pic.twitter.com/mUWk7jzh2u

— KL Convention Centre (@KLConvention) April 12, 2018
Granada, Spain
The Iberian Chapter of the International Congress and Convention Association held its annual meeting on GMID in Granada.
ICCA Iberian Chapter celebrating Global Meetings Industry Day!#GMID18#Iccaibericogranada#Iccaiberico pic.twitter.com/frB9gR6lOs

— ICCA CapituloIberico (@iccaiberico) April 12, 2018
Dubai, United Arab Emirates
Westin Dubai held a GMID rooftop celebration with its industry partners in an event that featured a synchronized balloon release.
Celebrating the Global Meetings Industry Day (GMID) with our industry partners at our rooftop venue, FireFly.

This gathering reflects the commitment of Marriott International in the meeting industry! #GMID18 #MarriottMeetings#WestinDubaiAHC #MarriottintlMEA pic.twitter.com/cdjqz4VuAO

— Westin Dubai AH City (@WestinDubaiAHC) April 12, 2018
GMID was featured in media like the Las Vegas Review-Journal, the Register-Guard, International Meetings Review and Associations Now.
GMID caused a buzz on social media as well, with the hashtag #GMID2018 receiving 38 million impressions in the span of 24 hours. For reference, last year's #GMID2017 hashtag received 40 million impressions over the course of two weeks. 
This year's Global Meetings Industry Day was the largest event yet and fully exemplified the theme of "Real Results, Real Impact, All Around the World." Overall, this was a huge success and U.S. Travel is looking forward to working with Meetings Mean Business again for next year's event on April 4, 2019.
---
CONTACT US
U.S. Travel
For more information about this blog, please contact us at: