America's adventurers got some welcome news to start off the holiday weekend: the National Park Service (NPS) is entering its next phase of reopening. The agency will work alongside park superintendents and state officials to reopen parks that are deemed safe—beginning with open-space parks that allow for convenient social distancing.
Rejoice, but don't forget to heed the NPS's guidance and #RecreateResponsibly.
Image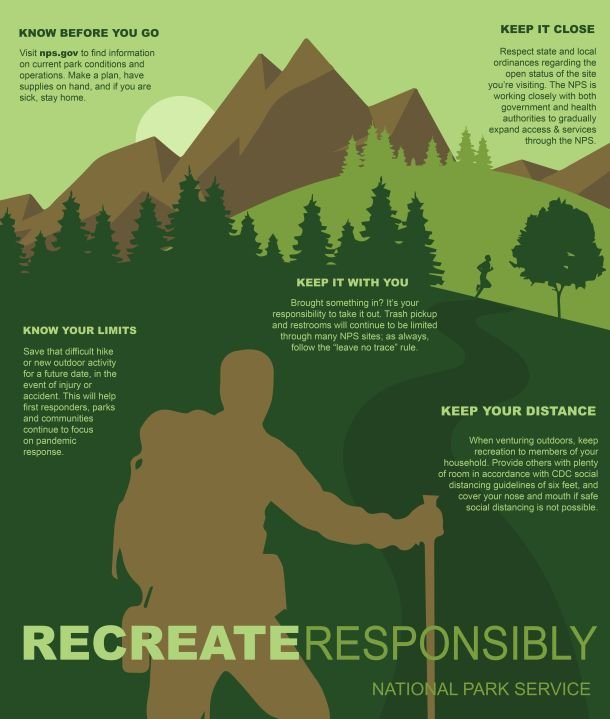 What does #RecreateResponsibly mean?
Just as U.S. Travel issued guidance for the travel industry to promote the health of customers and employees, the NPS has its own tips to allow visitors to enjoy the parks responsibly:
Know before you go. Visit NPS.gov/findapark for current park conditions and availability of restrooms and other facilities. Make a plan, follow the 10 Essentials, and if you are sick, stay home.
 
Keep it close. Follow the state and county orders governing the open status of the area you're considering visiting. The NPS is working closely with governors and state and local health departments as we increase access and services across the National Park System.
 
Keep your distance. Recreate with the people in your household. Give others plenty of room whether you are on a trail, at a boat launch, or in a parking lot. Follow the CDC's social distancing guidelines for staying six feet away from others. Be prepared to cover your nose and mouth if you're near others.
 
Know your limits. Postpone challenging hikes or trying new activities while first responders, parks, and communities continue to concentrate on responding to the pandemic.
 
Keep it with you. If you brought it, take it with you. Trash pickup and restroom facilities will continue to be limited in many park areas.
This is a positive step toward a return to normalcy. Studies show that 6 in 10 Americans are eager to travel again, but will first feel most comfortable participating in outdoor activities and traveling to destinations by car. With more than 400 sites in every pocket of the country, the NPS has something to offer every type of traveler—whether one is a serious hiker, a history buff, a sunseeker or a road tripper.
The reopening of national parks will provide a much-needed boost to the American economy, too. In 2018, national parks welcomed 318 million visitors who contributed $40.1 billion to the economy and supported 329,000 jobs. Gateway communities rely on visitor spending, and the next phase of reopening should provide some relief to these local economies.
As always, the health of visitors is paramount. U.S. Travel applauds the NPS for its phased approach to responsibly welcoming back visitors, and stands ready to assist the agency as it reopens sites across America.
---
CONTACT US
U.S. Travel
For more information about this blog, please contact us at: