The coronavirus public health emergency is having a devastating and heartbreaking impact on our industry. Across every segment, countless are facing difficult circumstances, making painful decisions, and dealing with uncertainty that only seems to grow. Our day-to-day landscapes have shifted with businesses taking financial hits and workers directly dealing with the consequences.
That is why we strongly believe if there was ever a time to rally our industry, tell our story and demonstrate our strength, it is now. We will not be postponing National Travel and Tourism Week (NTTW) this year. We believe it is the platform to communicate the incredible resiliency of this industry, even in the face of adversity.
National Travel and Tourism Week 2020: The Spirit of Travel
In less than a month, May 3-9, it will be the 37th annual NTTW. Despite our new realities, what I've observed throughout every hardship, every new development, and the seemingly endless unanswered questions, there is one certainty: our industry, our spirit, will not be shattered. NTTW 2020 will reflect that.
This year, we're embracing a 'digital NTTW' because even though we can't gather together, we can use our social media channels to connect us, unify us and support each other from afar, rallying around the #SpiritOfTravel.
Image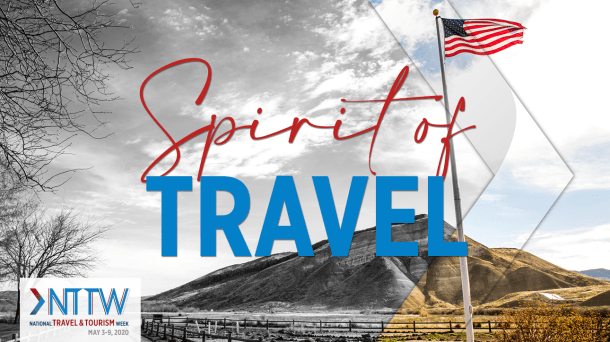 In the coming days, the NTTW toolkit will be updated with new messaging and ways to get involved. Adhering to guidance from the government, in-person events are not an option this year, so we will be providing alternative ways to engage that will remind our lawmakers, the media, our communities and all of America the importance of this industry and its critical role in the rebuilding of our country. 
The Road Ahead
When the time is right, travel and tourism will be integral to our nation's recovery. We will be a key driver—for the economy and jobs but also for our country's morale. It is why Congress and policymakers across the government must do all they can to protect and support this leading industry.
We are working day in and day out to get our industry the relief it needs. The recently passed CARES Act includes major provisions that U.S. Travel fought for and will help deliver economic support to travel businesses, travel workers and their families. We are here to help you navigate the process, starting with the resources available on our website that include guidance on eligibility, financial assistance and the application process.
While the CARES Act is a great start, more work remains to be done—and be assured we are already putting recommendations forward around future relief packages.
If you have any questions or need ideas on how to align or alter your existing plans for this year's NTTW, please reach out to Sarah Shields, director of industry communications. 
---
CONTACT US
U.S. Travel
For more information about this blog, please contact us at: