Each month, the U.S. Travel Association sends its members the U.S. Travel Outlook, which provides insight into the current state of the economy and related industry trends, plus other relevant data from the travel and tourism sector.
Here are some of November 2017's most compelling findings from the U.S. Travel research team. 
Percentage of Americans Planning to Take a Vacation Reaches Highest Level in Decades
The Conference Board reported that 63.5 percent of Americans are planning to take a vacation in the next six months. Thanks to an 11 percent spike in October, planned vacation spending reached its highest levels since 1978. This increase reflects consumers' optimism about the healthy jobs market and stock market. 
The Conference Board's Consumer Confidence Index® improved marginally in October, just as it did the month prior, increasing to its highest level in more than 15 years. According to the Conference Board, consumers are "considerably more upbeat about the short-term outlook, with the prospect of improving business conditions as the primary driver." Consumer expectations suggest the economy will continue to expand at a solid pace through the end of the year. 
Image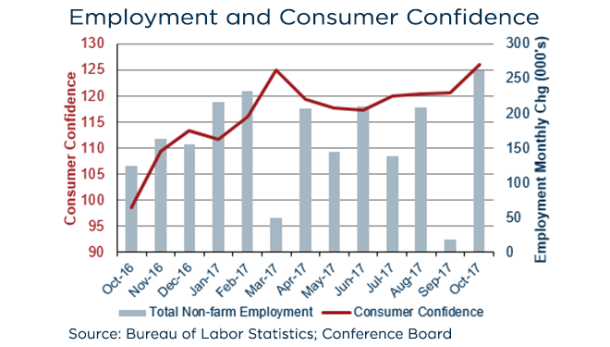 Jobs Bounce Back After Hurricanes
U.S. Travel's analysis of the most recent Labor Department employment data shows the travel industry added an impressive 30,000 new jobs in October, rebounding after the 14,000-job drop in September travel employment that largely reflected the impact of Hurricanes Irma and Harvey. The increase accounted for 11 percent of overall job creation in October. In total, the U.S. economy added 261,000 jobs in October. The jobless rate dropped to 4.1 percent, the lowest level since 2001. 
Image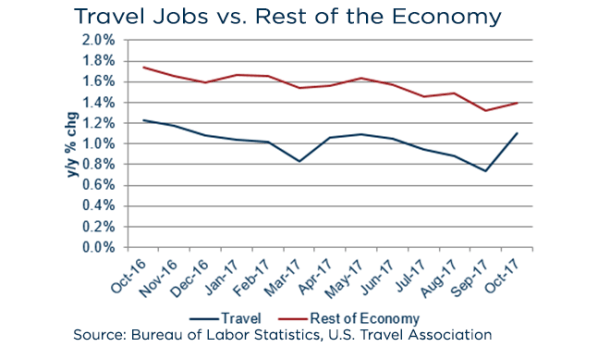 Southeast Leads Domestic Lodging Searches, Travel Volume Expected to Rise
Close to eight in 10 U.S. residents searched for lodging within the U.S. in October, according to the U.S. Travel Barometer, up slightly from October 2016 and on par with the last few months. Interest in the Southeast has been growing in recent months with the region capturing 42 percent of domestic searches in October.
According to projections by AAA, 50.9 million Americans traveled at least 50 miles from home this Thanksgiving—the highest travel volume for the holiday since 2005. High travel volume is expected to continue throughout the holiday season.
Image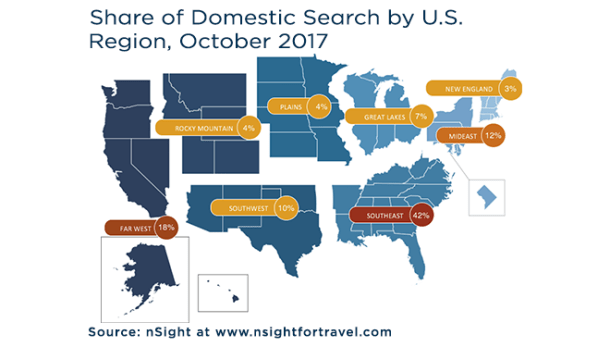 A deeper dive into the data available in the November 2017 U.S. Travel Outlook—which includes the latest data on travel employment, transportation, lodging metrics and more—is online here.
U.S. Travel Association members receive the full U.S. Travel Outlook, plus a myriad of other cutting-edge research reports with information relevant to the travel industry. Learn more about the benefits of becoming a member here—or simply continue to enjoy a small taste of U.S. Travel's research insight each month here, with the Research Round-Up.
---
CONTACT US
U.S. Travel
For more information about this blog, please contact us at: