Each month, the U.S. Travel Association sends its members the U.S. Travel Outlook, which provides insight into the current state of the economy and related industry trends, plus other relevant data from the travel and tourism sector.
Here are some of June 2019's most compelling findings from the U.S. Travel research team. 
U.S. Carriers Gear Up for Record-Breaking Summer  
More than 90 million passengers boarded flights at U.S. airports in March 2019, according to the U.S. Department of Transportation. This represented a 4.7% year-over-year (y/y) increase in system-wide passengers enplanements—an all-time high for the month of March. The overall growth was fueled by the strength of domestic enplanements, which increased 5.4% y/y compared to the smaller—yet still healthy—growth of international enplanements at 2.7%.
Nearly 239 million passengers boarded flights in the first quarter of the year, increasing 3.9% y/y.
This robust growth is expected to continue as Airlines for America (A4A) predicts another record for summer air travel. Between June 1 and August 31, A4A predicts 257.4 million people will take to the skies on U.S. carriers—a 3.4% y/y increase.
As demand for air travel increases, it is important that America's aviation systems are equipped to handle the surge in passengers. U.S. Travel's infrastructure policy platform makes several recommendations to bolster aviation infrastructure, including an adjustment to the passenger facility charge cap.
Image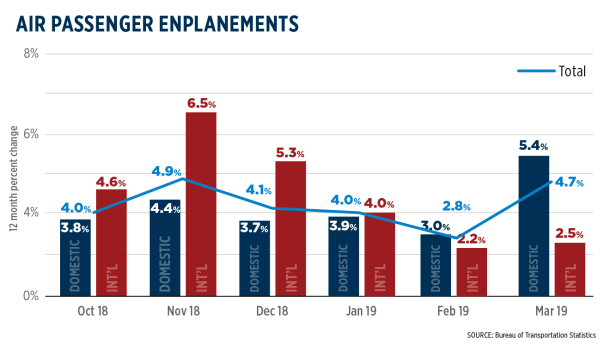 Florida Takes Top Spot in National Rankings of Fastest Growing Airports
The Sunshine State is home to the fastest growing airports in America, according to OAG's North America's Airport Leaders 2019 report. Orlando International Airport, Tampa International Airport and Fort Lauderdale-Hollywood International Airport recorded seat capacity growth of more than 6.7% between June 2018 and May 2019. Orlando also added 22 new routes last year—the most out of any airport in the U.S.
Hartsfield-Jackson Atlanta International Airport continues to be the country's—and the world's—busiest airport.
Lodging Industry Suffers Spring Slowdown
The latest indicators from STR show the lodging industry may be experiencing a slowdown. While total room revenue increased 3.2% in April, the average daily rate growth (0.9%) and revenue per available room (1.2%) performed below previous year-to-date levels.
"We are now nine consecutive years into the 'up' cycle, and at this point, it's just really hard to keep growth going," said Jan Freitag, senior vice president of lodging insights for STR. "We're seeing a slowing in U.S. GDP growth, which is connected to slowing room demand. We're still expecting some RevPAR growth, but it's just not going to be as strong."
Image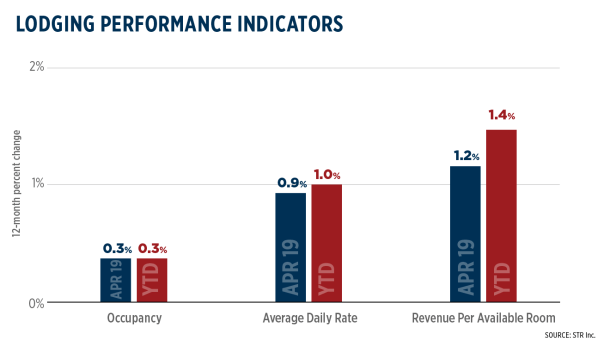 A deeper dive into the data and insights available in the June 2019 U.S. Travel Outlook—which includes the latest data on employment, transportation, inflation, consumer confidence and more—is online here.
U.S. Travel Association members receive the full U.S. Travel Outlook, plus a myriad of other cutting-edge data and insights relevant to the travel industry. Learn more about the benefits of becoming a member here—or simply continue to enjoy a small taste of U.S. Travel's research insight each month here, with the Research Round Up.
---
CONTACT US
U.S. Travel
For more information about this blog, please contact us at: