Travel Matters to New Experiences
March 26, 2019 By U.S. Travel Association
Celebrate during National Travel and Tourism Week
Travel has a positive impact on so many aspects of our lives: from the memories it helps us create with family and friends, to the trillions in economic output it delivers and the millions of American jobs it supports. So, for this year's National Travel and Tourism Week (May 5-11), we are spotlighting a different example each day of why travel matters to America. 
Image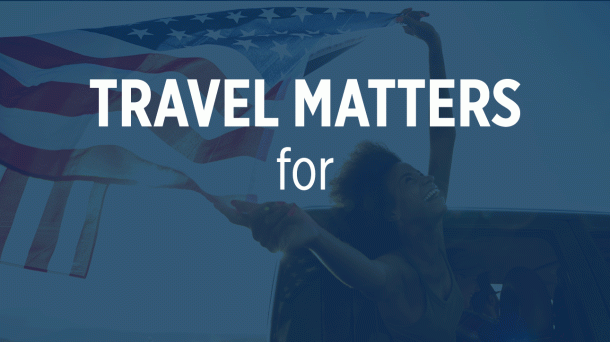 Use Monday, May 6 to celebrate how travel matters to new experiences. Traveling remains central to discovering new places, people and adventures—from immersing ourselves in the beauty of our national parks, to exploring the diverse personalities of cities across the U.S., travel can spark lifelong enthusiasts.
New experiences offer new perspectives for all Americans
Each year, U.S. travelers are venturing farther away from home—in 2017 nearly half (49%) of all domestic trips were to destinations outside of one's home state. From "soda" to "pop" and deep dish pizza to biscuits and gravy, local traditions, tastes and cultures are what makes our country truly unique—and offers travelers new perspectives no matter where their adventure takes them.
Are you a traveler looking for your next inspiration? Starting May 6, Daily Getaways will offer a different travel discount each day from America's top travel brands. Let these travel savings drive your next new experience in destinations across the U.S.
Our industry makes a difference: travel's role in encouraging exploration
Our destination marketing organizations and state tourism offices show travelers the unique offerings of the United States through creative marketing campaigns and itineraries with experiences for every type of traveler. Brand USA does this for America on the global stage, providing inspiration for ways to explore our country through music, iconic road trips and more—all while encouraging international travelers to experience all of America, from small towns across the heartland and communities beyond gateway cities.
Millions of memories are made in our national parks
Consider the unique beauty of Joshua Tree or the vastness of the Grand Canyon—it's no wonder why our national parks are known as America's best idea. These unique treasures are an indelible part of our cultural fabric, attracting millions of visitors—both domestic and international—every year. Just last year, our parks welcomed 318 million visitors who logged 1.4 billion recreation hours.
Ways to participate:
On May 6, share images from the most Instagrammable places in your community, inspiring travelers to discover a new perspective only you can uniquely offer.
Check out U.S. Travel's Daily Getaways offers and see how they can be redeemed at your destination.
Put your advocacy hat on and tweet your member of Congress about the importance of Brand USA in promoting America to the world.
Encourage Congress to advance Restore Our Parks legislation to address the nearly $12 billion deferred maintenance backlog facing our national parks.
Useful tools:
National Travel and Tourism Week is our industry's time to celebrate the innumerable ways in which travel strengthens communities and enriches lives. Interested in other ways you can celebrate why "Travel Matters" during NTTW? View the full theme calendar. Don't forget to include #nttw19 or #TravelMatters in your posts for a chance to be featured on our social channels and included in our wrap video. Planning an event? Add it to the official NTTW event map. Visit the NTTW toolkit for more resources to get involved. 
---
CONTACT US
U.S. Travel
For more information about this blog, please contact us at: