Travel Works for New Adventures
March 02, 2020 By U.S. Travel Association
Travel is more than just a weekend out of town—it's an industry that has a significant impact on nearly every sector across the U.S., a role to play in policies concerning trade, security and commerce and innumerable benefits for Americans countrywide. That's why our theme for National Travel and Tourism Week (NTTW) this year, from May 3-9, is Travel Works. Every day during this week, we will highlight a different way that this theme rings true across America.
Image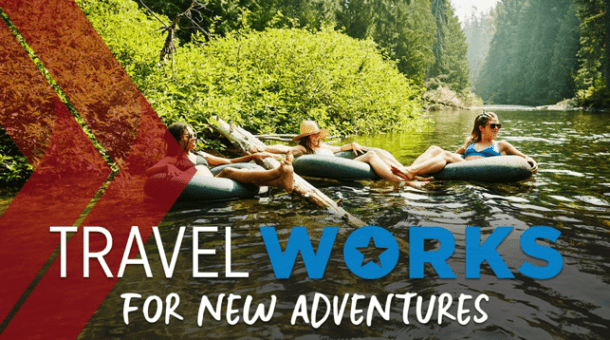 Use Monday, May 4 to celebrate how Travel Works for New Adventures. Whether you're exploring somewhere for the first time or experiencing the changes of a beloved vacation spot, travel always introduces you to something new—and for two-thirds (67%) of Americans, "seeing or doing something new" is an important benefit of traveling. When you break your routine to hop on a plane or hit the road, you can count on returning home with priceless memories and a renewed sense of well-being.
Looking for a great deal on your next big adventure? Check back soon for U.S. Travel's Daily Getaways, which will offer new travel discounts and deals from some of America's top travel brands.
Adventuring at Every Age
Having fun, excitement and adventure is the number one reason for traveling for 20% of millennials, but it's not limited to younger generations. Both Gen Xers and Baby Boomers cite adventure as one of their top motivators, too, proving that travel has something exciting to offer for every age group. Whether you're hiking one of the country's 62 national parks, checking the last state off your bucket list or just looking for an adrenaline rush, travel works to push you out of your comfort zone.
Venturing Off the Beaten Path
One of the best ways to find a new adventure is to visit a part of a city, state or neighborhood that isn't on the radar of many tourists. Live like a local and enjoy experiences that most other visitors will never have.
Alternative Adventures
You don't have to travel across the country to find a new adventure, though. Try taking a day off to explore your own city like a tourist would and see what hidden adventures you can find in your own backyard—you'll walk away with a new appreciation for where you call home. Or consider a few day trips: travel to see your home team while they're on the road or check out a state park and take a hike somewhere new.
Ways to Participate
Instagram several key hotspots in your destination that both visitors and residents should see
Write a blog outlining the history and cultural experiences unique to your business or destination or tease new and future developments and offerings
Useful Tools
We hope you join us on May 3-9 to celebrate the many ways travel works for you, your family, your community and our country. You can view our full theme calendar and toolkit on our website, and don't forget to use #nttw20 or #TravelWorks in your posts for a chance to be featured on our social channels or our wrap video.
---
CONTACT US
U.S. Travel
For more information about this blog, please contact us at: