New Maps Show How Congestion Is Pushing U.S. Cities Farther Apart
Study accompanies U.S. Travel's infrastructure policy agenda to improve mobility to and within the United States
PRESS RELEASE March 13, 2019
WASHINGTON -
The U.S. Travel Association distributed a series of maps outlining the country's surface congestion problems to the House Highways and Transit Subcommittee ahead of the panel's Wednesday hearing, titled "Aligning Federal Surface Transportation Policy to Meet 21st Century Needs."
Known as "cartograms," the maps utilize INRIX "Roadway Analytics - Speed Archive" data to illustrate how congestion is impacting travel times between major U.S. cities—giving policymakers a glimpse of how underinvestment in infrastructure is reducing travel mobility and slowing down America's economy.   
"Connectivity is a hallmark of the 21st century economy, as technology increases the speed at which we access information, communicate with people, and secure goods and services," said U.S. Travel Senior Vice President of Government Relations Tori Barnes. "But America's declining infrastructure is having the opposite effect by driving our homes, businesses, cities, and country farther apart.
"This has real consequences for every aspect of American life—our economy, our relationships, our ability to compete in a global economy."
The cartograms show the differences in average travel times between key destinations during off-peak hours and peak hours. For example, what should be a 225-mile, three-hour-and-18-minute drive from Washington, DC, to New York stretches to a four-hour-and-54-minute drive during rush hour—making the ride feel more like the 333-mile trip from DC to Hartford, CT.
The routes featured in the cartograms:
Washington, DC to New York, NY
Portland, OR to Seattle, WA
Los Angeles, CA to San Francisco, CA
San Antonio, TX to Houston, TX
The cartograms released in advance of the House hearing are the first from a more comprehensive surface infrastructure study that will be released later this year. The research accompanies U.S. Travel's infrastructure policy platform, whose principles include:
increasing sustainable investment in infrastructure through user fees, including raising the cap on the Passenger Facility Charge;
authorizing a Projects of National and Regional Significance Program; and
establishing a Travel Mobility Program, similar to the National Highway Freight Program. 
Image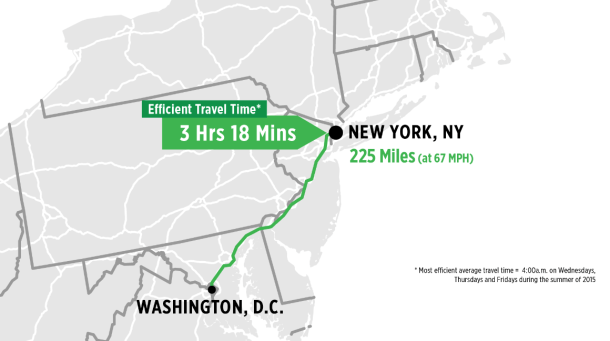 Image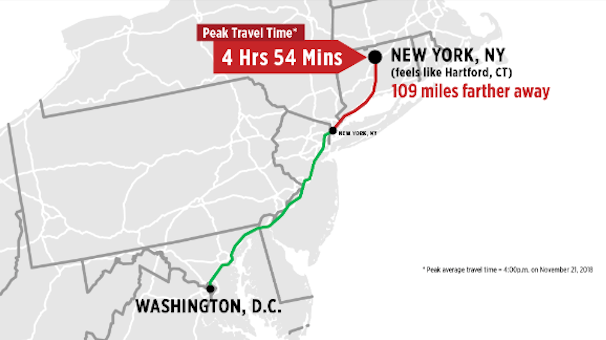 ---
U.S. Travel Association is the national, non-profit organization representing the $1.2 trillion travel industry, an essential contributor to our nation's economy and success. U.S. Travel produces programs and insights and advocates for policies to increase travel to and within the United States. Visit ustravel.org for information and recovery-related data.
CONTACT US
Cathy Reynolds
Manager, Media Relations and Lead Manager, IPW Press Operations
Tim Alford
Manager, Media Relations
---