WASHINGTON (March 29, 2017)—More than 325 representatives of the travel industry descended on Capitol Hill today, conducting more than 300 congressional meetings and bearing gifts with a message: "Welcome Legit Travelers."
Custom mousepads in the style of a welcome mat emphasized the U.S. Travel Association's message in recent weeks to lawmakers and the Trump administration: security is key, but it must be balanced with strong messages of welcome to legitimate international business and leisure travelers.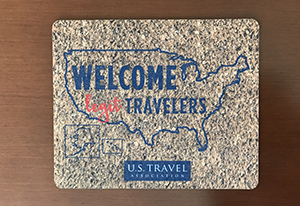 In the wake of executive orders on travel and immigration, tough new visa vetting practices and the introduction of an electronic devices ban on some Middle East-based flights to the U.S., the travel industry has mobilized around the need for balanced communication and travel facilitation in addition to strengthened security.
The travel community is encouraging policymakers to mitigate the possible unintended fallout of aggressive security steps with policies that bolster international travel—for example, preserving Open Skies aviation agreements and supporting Brand USA.
Said U.S. Travel Association President and CEO Roger Dow:
"The travel industry supports efforts to secure travel, but recent policy changes require extra effort to facilitate travel for legitimate international visitors. This year's record attendance at Destination Capitol Hill demonstrates our industry's passion and dedication to keeping the U.S. an attractive, welcoming place for people to visit and invest.
"As I have said before, and will continue to say, security and travel facilitation are not, and cannot be mutually exclusive. International inbound travel is our nation's second-largest export, and millions of American jobs depend upon striking the correct balance. We hope these souvenirs will serve as a reminder of that fact to lawmakers as they craft travel and visa legislation going forward."
Dow had previously called upon U.S. leaders to tell the world "we are closed to terror" but "open for business."
U.S. Travel Association is the national, non-profit organization representing all components of the travel industry. In 2020, travel generated $1.5 trillion in economic output and supported 11 million jobs, a drastic decline from pre-pandemic figures. U.S. Travel's mission is to increase travel to and within the United States. Visit ustravel.org for information and recovery-related data.