U.S. Travel Honors Destination Marketers, Tourism Leaders at ESTO 2022
PRESS RELEASE August 12, 2022
GRAND RAPIDS -
U.S. Travel Association announced recipients of the 2022 Destiny and Mercury Awards and the State Tourism Director of the Year at the annual Educational Seminar for Tourism Organizations (ESTO) conference, held August 6-9 in Grand Rapids, MI.
Honors in 31 categories were awarded for excellence and creativity in destination marketing and inspiring visitation, a critical component to the continued recovery of the travel industry.
"Each year at ESTO, we are proud to honor outstanding examples of destination marketing at the local, regional and state level," said Nan Marchand Beauvois, General Manager, ESTO, U.S. Travel Association. "Congratulations to this year's Destiny and Mercury award winners and finalists for displaying exceptional creativity and effectiveness in travel promotion." 
Image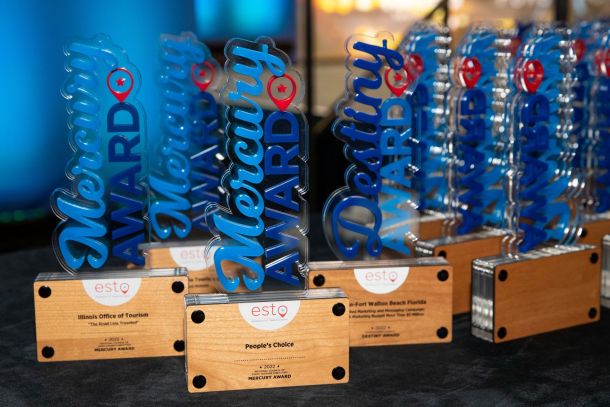 Destiny and Mercury Awards
Destiny Awards recognize excellence in destination marketing on the local and regional level, while Mercury Awards recognize achievements on the state level. A judging panel of marketing experts from organizations—including JPMorgan Chase, Tourism Cares and Hylink Digital Solutions, among others—selected honorees in this year's award programs.
Visit North Carolina was the winner of the Mercury People's Choice award, and Visit Jackson took home the Destiny People's Choice award. Voting in this category was open to U.S. Travel's destination marketing organization members, as well as all ESTO delegates. U.S. Travel created the People's Choice awards to further increase delegate engagement and sharing of best practices and inspiration at ESTO.
A full list of the 2022 Destiny and Mercury Award recipients is available here.
State Tourism Director of the Year
The National Council of State Tourism Directors selected Wit Tuttell of Visit North Carolina as 2022's State Tourism Director of the Year. This annual award, also presented at ESTO, recognizes a state tourism director who has successfully raised the profile of his or her state or U.S. territory as a travel and tourism destination. Each year's honoree is selected by a panel of their peers; prior to ESTO, state tourism directors from all U.S. states and territories vote for the individual exhibiting exemplary achievement in state-level destination marketing.
Please click here to learn more about Tuttell's selection as State Tourism Director of the Year.
---
U.S. Travel Association is the national, non-profit organization representing the $1.2 trillion travel industry, an essential contributor to our nation's economy and success. U.S. Travel produces programs and insights and advocates for policies to increase travel to and within the United States. Visit ustravel.org for information and recovery-related data.
CONTACT US
David James
Vice President, Media Relations
---