National Travel and Tourism Week will take place May 5-11.
Think you know travel? Test your smarts each day of National Travel and Tourism Week with a trivia question highlighting why travel matters to America.  
Image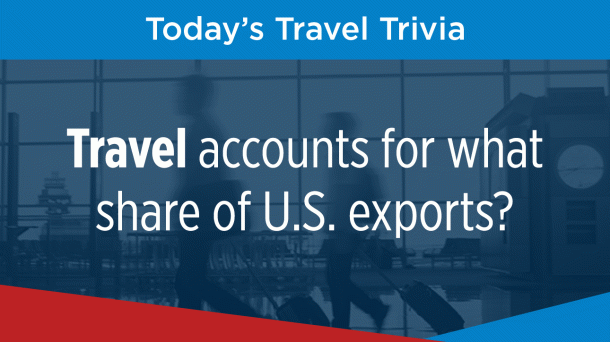 Travel matters to trade, commerce and jobs
There are millions—in fact, trillions—of reasons why travel matters.
In 2018, $1.1 trillion in traveler spending generated $2.5 trillion in economic output and supported 15.7 million American jobs.
Travel is also a valuable export that helps lower America's overall trade deficit. In 2018, 80 million international visitors to the U.S. spent $256 billion. While U.S. exports as a whole posted a deficit, the travel industry enjoyed a trade surplus of $69 billion. Without travel, the trade deficit would have been 11% larger.  
Travel jobs exist in nearly every pocket of America, helping drive economies from the largest cities to rural towns. And this powerful workforce is growing: between 2010 and 2017, all 50 states and the District of Columbia saw their travel employment increase, and 43 states and D.C. saw travel employment increase faster than the rest of their state's economy.
Priorities to grow travel to and within the U.S.
When travel thrives, so does America. U.S. Travel's advocacy efforts focus on policies that will further grow this important industry, and in turn, the American economy:
Resources
Please see U.S. Travel's Answer Sheet,  Travel and Trade and Travel Creates Jobs fact sheets to learn more about why travel matters to America.
---
CONTACT US
U.S. Travel
For more information about this blog, please contact us at: