AAPI Heritage Month Spotlight: Neal Patel
May 17, 2022 By U.S. Travel Association
May is Asian American and Pacific Islander (AAPI) Heritage Month—an important opportunity to amplify and appreciate the accomplishments of the AAPI community throughout America.
Here at U.S. Travel, we are taking this opportunity to highlight members of the AAPI community who have shown immense leadership in the travel and tourism industry.
Neal Patel, recently appointed Chairman of the Asian American Hotel Owners Association (AAHOA) shared his plans to elevate Asian American and Pacific Islander hotel owners across the country and contribute to the association in a meaningful way.
Image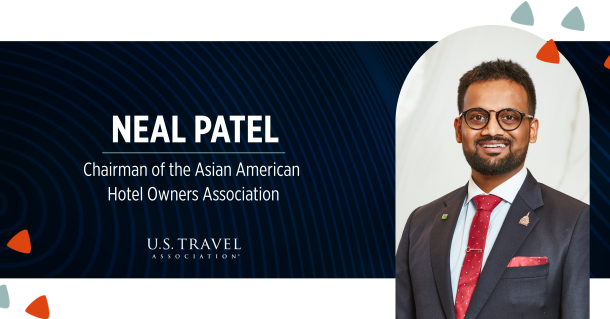 What do you hope to accomplish as Chairman of AAHOA?
I want to focus on innovative solutions for the issues that face the hospitality industry. My top priorities as Chairman include collaborating with brands to ensure contracts are fair and that AAHOA Members have a seat at the table as true business leaders as well as executing new revenue streams to protect the association for future generations. Furthermore, I want to start re-assessing the roles Online Travel Agencies (OTAs) have in hospitality and partnering with organizations like the National Association of Black Hotel Owners to find practical solutions and make adjustments. It's imperative that I help AAHOA create a library of resources and tools that truly help hoteliers advance their business, and of course, I want to remain a fierce advocate for small business owners and hoteliers everywhere.
What makes AAHOA such an important resource for so many hoteliers in the U.S.? 
AAHOA does it all. We are truly a member-centric association that is designed to uplift hotel owners across the country, which is shown in our numbers–over 60 percent of hotels in the United States are owned by AAHOA Members. We have a powerhouse Government Affairs team, provide numerous professional development opportunities, host hundreds of events each year for networking and connecting with major vendors and fellow hoteliers and have countless educational resources for hotel owners at every phase of their career. We also just recently updated our 12 Points of Fair Franchising, which serves as an educational primer to help develop best practices in establishing mutually beneficial franchise systems. I think one thing we do an excellent job at is providing a sense of unity in quite a large, complicated industry. When we work together as a unified voice, we can accomplish anything.
What challenges have you faced as an Asian-American hotelier, and how have you overcome them? 
Well, my family and I came to the United States from India and ended up in Giddings, Texas, which is where my parents bought their first hotel. We lived on-site and worked around the clock every day, and to be honest, I hated it. I was essentially a fish out of water, especially because I had to learn English, so it was difficult making friends in the beginning. I had to adapt to a completely new world–as did my parents. Through them and their entrepreneurial journey, I learned so much, but at the start of that journey, my parents didn't have AAHOA to help make the path a little smoother. AAHOA gives our members a safety net by providing resources and support, which is how, eventually, my family's business was saved. Because of AAHOA, my family now has generational success and I know many other members can say the same thing. I am so proud of the progress that Asian-American hoteliers have made in the industry and how we dominate the market. It is truly an American success story.
Any advice for other AAPI colleagues in the travel industry?
Stay true to who you are, be authentic and be proud of your roots. What makes the hospitality industry so unique is the diversity of those who call this industry home. It's through our diverse perspectives, backgrounds and experiences that we can continue to champion our industry, move it forward and make a difference. That's what AAHOA strives to do each and every day.
---
CONTACT US
U.S. Travel
For more information about this blog, please contact us at: