Destinations and travel businesses across America are uniting to send a message of welcome to international visitors.
Recent developments (executive orders on travel and immigration, the "laptop bans" on certain flights to the U.S., proposed "enhanced vetting" measures for visa applicants) have fueled some negative perceptions of the U.S. around the world—but the American travel industry is working to counter those with one word: "welcome." 
From Hawaii to the east coast, destinations and travel businesses are putting forth inspired, original messages that reflect their community's personality and extend a warm welcome to potential international visitors worldwide. New York City, San Francisco, Wyoming, Seattle, Los Angeles and others have started an industry-wide movement to create a chorus of voices saying "welcome, we want you to visit."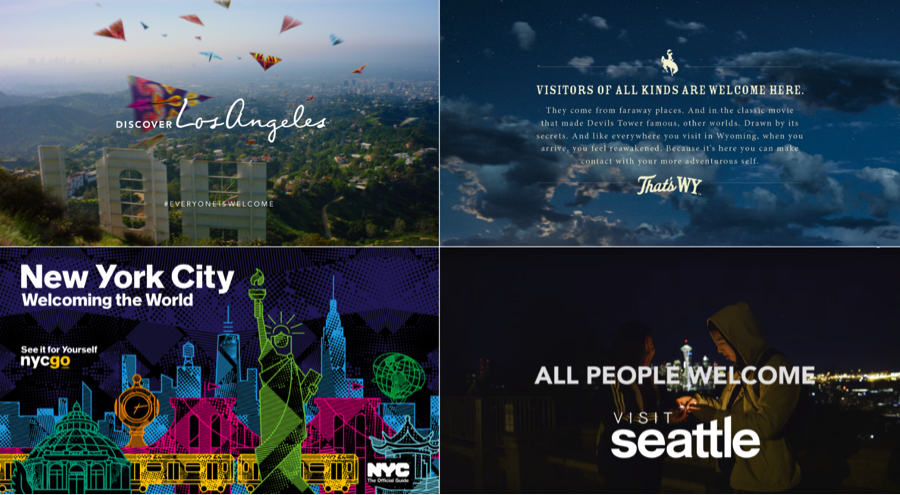 These messages will all come together at the U.S. Travel Association's 49th annual IPW June 3-7, 2017 in Washington, D.C. This year's IPW will welcome more than a thousand international travel buyers and journalists from over 70 countries, all there to learn more about everything the U.S. has to offer visitors. Together with our premier partner Brand USA, we'll let all of our international guests know that they are valued, and that America is open for business.  
Warmly welcoming international travelers is more than just good hospitality—it's good business. Nearly 77 million international visitors came to the U.S. last year, making international travel our No. 1 service export and No. 2 export overall. Without travel, the country's $500 billion trade deficit would be 17 percent larger, and one in nine American jobs would be threatened.
The purpose of IPW is and has always been to "bring the world to America." Never has that motto been more important.
U.S. Travel is encouraging the travel industry to join us in sending a message of welcome to the world. For a little inspiration, here are some excellent examples of ways to say "welcome" from U.S. Travel members:
It doesn't need to be a full-on ad campaign either—it could be as simple as a photo or video, a #welcome hashtag on social media, or a blog post or op-ed expressing a special welcome to international visitors. What matters is that the travel industry works together to welcome the world.