Black History Month Industry Spotlights: Mia Landrin
February 09, 2022 By U.S. Travel Association
February is Black History Month—an important opportunity to underscore the accomplishments of Black individuals throughout the country.
Throughout the month, we are highlighting our Black colleagues in travel and underscoring the importance of their contributions to the industry.
Mia Landrin, Director, Executive Affairs & Events, Carnival Cruise Line, told us about what Black History Month means to her and shared thoughts about how the industry can continue to work toward a more diverse, equitable and inclusive future.
Image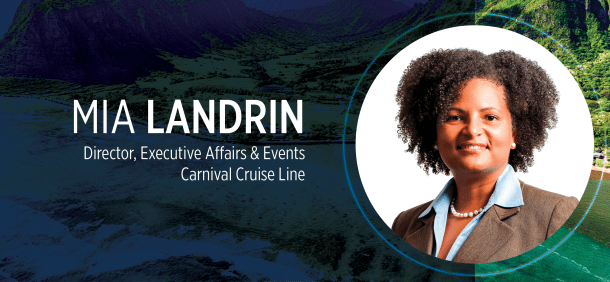 What does Black History Month mean to you and how do you celebrate it? 
I see Black History Month as a time of reflection and a reminder to be grateful for the opportunities afforded to me today. During the month, I spend time visiting museums and places rich in our history to honor and remember the past. It is also important to stay grounded in the present. This month, social media is packed full of information on local businesses to support, highlights of local community leaders that you otherwise just don't hear about every day. I like to read up on those posts and visit those communities, businesses and people. As busy professionals who travel a lot, this is a good time to focus on the local economy and community. 
Can you tell us about a role model who has inspired you?
So many people have journeys that touch our lives. For me it is important to stay rooted in family and that is where I find my inspiration. During challenging moments, I think back to what it was like for my grandmother and all that she overcame. She told me stories of seeing Black children escorted by the police to desegregated schools. She saw much violence and anger. She experienced persistent racism herself as she moved about her day at work, on the subway and shopping. But she had a gentle nature and did not stay in anger even through the worst of it. I remember that was most inspiring to me—her quiet way of not living in the negative and knowing there is always a positive that balances the world. I feel that no matter what obstacles I face today, I must respond with dignity and always find my balance. That's the life my grandmother wanted for me.    
What are some of the biggest challenges you see for emerging Black professionals in the industry and what are some recommendations to help address these concerns?
Currently, there is so much discussion about diversity. While it all sounds like progress, I worry that it is just rhetoric and wonder about the tangible outcomes. The challenge before us is to move past the talking and put in place real, actionable measures that will show change within the industry. We must also understand that every organization will have different goals surrounding diversity. There is no one answer that can be reached because a diverse travel industry should represent the world around us. As Black professionals, now we can be at the forefront of these efforts and help move our organizations past the conversations and into transformative ways of thinking which is change in the right direction.
What would you like to see the travel industry do better to elevate and ingrain diversity, equity and inclusion within company cultures?
To me, this industry is uniquely positioned to be leaders in this area. At the heart of it, travel leads to experiencing what is different in the world. I think we should provide travelers with new tools to take these experiences and convert them into a deeper understanding of local cultures, differences and how it all co-exists. 
What historical destinations do you recommend for travelers looking to learn more about the Black experience in the U.S.?
I have found that when the world thinks of the Black experience in the United States, the first thing that comes up is music. I always recommend that everyone go to New Orleans, Memphis and New York to experience the music as well as the historical sites, museums and soul food. For an immersive learning experience, everyone must see the National Museum of African American History & Culture in Washington, DC. Lastly, I suggest heading to Miami to learn about the historical significance of Overtown and Virginia Beach. 
---
CONTACT US
U.S. Travel
For more information about this blog, please contact us at: