Black History Month Industry Spotlights: Monica Smith
February 23, 2022 By U.S. Travel Association
February is Black History Month—an important opportunity to underscore the accomplishments of Black individuals throughout the country.
Throughout the month, we are highlighting our Black colleagues in travel and underscoring the importance of their contributions to the industry.
Monica Smith, President and CEO, Southeast Tourism Society, told us about what Black History Month means to her and shared thoughts about how the industry can continue to work toward a more diverse, equitable and inclusive future.
Image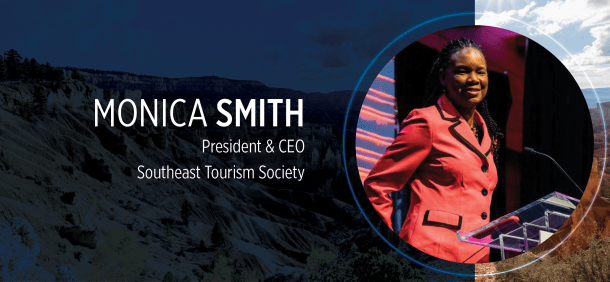 What does Black History Month mean to you and how do you celebrate it? 
Black History Month presents another opportunity to remember and recognize Black Americans who were and are trailblazers and leaders in a variety of industries and fields, including the tourism and hospitality industry.
In my family, we celebrate and recognize the sacrifice and achievements of Black Americans year-round.
Can you tell us about a role model who has inspired you? 
There are several individuals that have taught or inspired me throughout my career. Dittie Guise mentored and taught me how to be successful in convention sales. She provided me with my first opportunity to sell a destination. Melvin Tennant and Nan Marchand Beauvois both inspired me to lead a DMO. There are so many others that provided advice and/or examples of a career pathway that enabled me to achieve my professional goals.
What are some of the biggest challenges you see for emerging Black professionals in the industry and what are some recommendations to help address these concerns?
The career pathway for DMO leaders has changed and many Black professionals that have worked their way to director and/or VP levels aren't given the opportunity to advance to the CEO level. There either isn't a succession plan or career progression plan that is followed, or too few champions for Black DMO leaders to assist them in making the critical community connections and developing additional skills that are necessary to advance to CEO. Furthermore, less Black professionals are getting hired at managerial and director levels in DMOs, or they are hired in roles that don't traditionally lead to a pathway to the C-Suite. 
What would you like to see the travel industry do better to elevate and engrain diversity, equity and inclusion within company cultures?
I would like to see our industry make a serious and sustained effort at DEI that includes recruitment, onboarding for success, mentoring, career pathways, leadership development and succession management. If one effort doesn't work, try something else and keep trying until success is achieved and sustained. We live in one of the most diverse countries in the world and the travel industry workforce, at all levels, should reflect that diversity. Leadership must truly make DEI a priority at all levels and demonstrate that commitment to staff and stakeholders via reporting and accountability for DEI goals.  
What historical destinations do you recommend for travelers looking to learn more about the Black experience in the U.S.? (The African Diaspora, HBCUs, etc.) 
Black history is American history, so I would encourage travelers to research the Black history of any destination that they plan to travel to incorporate visiting museums, art galleries, libraries, history and heritage trails, festivals and restaurants representing the Black experience of the community or region. However, I'm partial to promoting the history of Blacks in the Southeast region related to education, sports, business, Civil Rights and the heritage of the Gullah Geechee.
---
CONTACT US
U.S. Travel
For more information about this blog, please contact us at: