The latest employment data from the U.S. Bureau of Labor Statistics revealed that the Leisure & Hospitality (L&H) industry gained 343,000 jobs in June—accounting for 40% of the economy's 849,000 total new jobs.
June also marked the fifth straight month of L&H job growth, with the sector adding, on average, 320,000 jobs per month from February through June. While this is welcome news that shows the hard-hit travel industry headed in the right direction, the fact is the job growth rate is far too slow.
As illustrated in our monthly Employment Report, L&H accounted for 11% of all pre-pandemic employment but comprises 32% of all jobs lost and not yet recovered through June 2021. While this is a moderate improvement from the winter months—L&H registered 39% of all jobs lost through January 2021—it is more than double that of the industry with the next-highest share of total U.S. job losses.
Image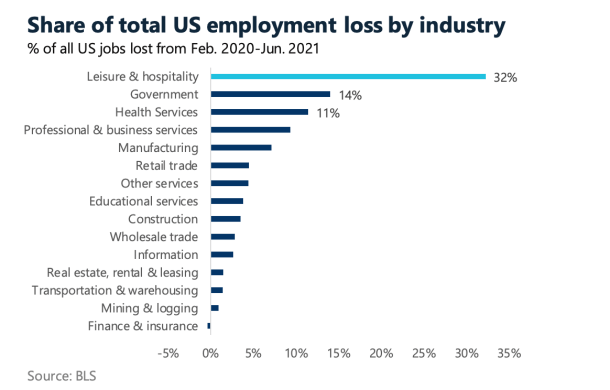 According to Tourism Economics, "improving health conditions, warm weather, further easing of pandemic-related restrictions, and a firming labor market will support a surge in consumer spending this year." However, more must be done to ensure that the L&H industry, and the broader travel industry, can recover more quickly and fuel the recovery of the overall U.S. economy.
To spur travel demand and rehiring, U.S. Travel will continue advocating for key priorities such as safely reopening international travel, restarting business travel and professional meetings and events, and passing the Hospitality and Commerce Job Recovery Act, among other key priorities.
Please click here to see the full analysis from Tourism Economics.
Leisure and Hospitality, as defined by the U.S. Bureau of Labor Statistics (BLS), includes spending by both local residents and travelers and is often used to describe trends in travel employment categories each month. Total travel industry employment—a category not used by BLS but defined independently by U.S. Travel for decades—encompasses the commerce conducted exclusively by visitors and includes retail and transportation spending, which are not included in BLS data. Total travel-supported employment (both direct and indirect/induced) in 2020 was 11 million, a decline of 34% from 2019 levels.
---
CONTACT US
U.S. Travel
For more information about this blog, please contact us at: