Though summer may soon be coming to an end, the sun never sets on healthy travel habits.
As we move into the fall and cooler weather, it is important that Americans remain vigilant and continue to adhere to the healthy travel practices encouraged during the summer travel season—whether you're taking a trip, heading back to school or going apple picking.
U.S. Travel updated its Travel Confidently (A shared responsibility.) toolkit to include new graphics for fall to emphasize the entire industry's commitment to enhanced health practices, as well as the role we all have to play in ensuring each other's safety. The toolkit has a suite of resources, including infographics, social media materials, sample web badges and more.
Image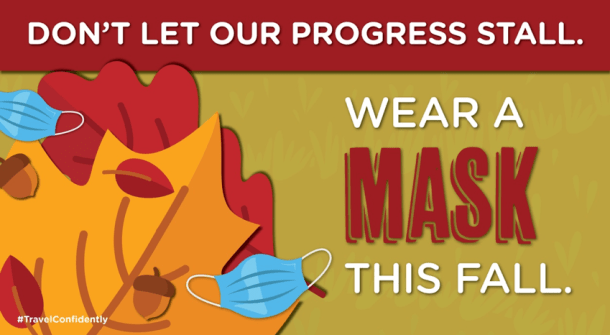 The changing of the seasons is coinciding with a sustained drop in coronavirus cases across the U.S.—a welcome trend after a difficult summer that saw new daily cases peak around 70,000.
However, these early signs of progress are not an indication that we should loosen our healthy travel habits. In fact, we must remain as diligent as ever in wearing masks, washing hands and maintaining physical distance when possible.
There is a wealth of evidence that points to mask-wearing as an effective tool in preventing the spread of the virus, and it is crucial that we all wear one, no matter where we are traveling. In fact, masks are so effective, Centers for Disease Control and Prevention Director Dr. Robert Redfield called them, "the most powerful weapons we have in the fight against COVID-19." Wearing a mask is one of the simplest actions we can take, but it has an enormous impact.
So, whether you're hitting the road or staying close to home this fall, remember to take with you the season's most important accessory: your mask. All of us—businesses, travelers and residents—must do our part to keep up the progress we've made and ensure a safe and healthy travel experience. 
Please click here to view the toolkit.   
---
CONTACT US
U.S. Travel
For more information about this blog, please contact us at: