Hispanic Heritage Month: Lisha Duarte
October 07, 2022 By U.S. Travel Association
It's Hispanic Heritage Month—an important opportunity to amplify and celebrate Hispanic Americans.
Here at U.S. Travel, we are highlighting members of the Hispanic community who have shown great leadership in the travel and tourism industry.
Lisha Duarte, Senior Director of Sales & Marketing at SeaWorld Parks and Entertainment, leads the company's efforts in travel industry sales and marketing, providing critical leadership to SeaWorld's global team. 
Lisha is a member of the UST's IPW Advisory group, was past chair of the Visit Orlando Global Committee, and is active in other travel industry trade associations. Lisha speaks three languages fluently: English, Spanish and Portuguese.
Lisha shared her thoughts on what the travel industry can do better to elevate the Hispanic community and what Hispanic Heritage Month means to her.
Image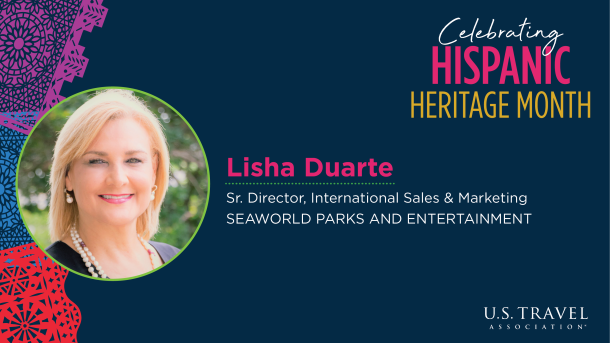 What does Hispanic Heritage Month mean to you and how do you celebrate it? 
Hispanic Heritage Month is an opportunity to honor my past. It is a reminder of the achievements of Hispanics who through their hard work give back to their adopted country. In a household with a Hispanic mother and a foreign-born father, my children learned early on of the differences in cultures and the importance of preserving and respecting those cultures. I celebrate Hispanic Heritage Month by finding ways of passing those same lessons to the younger generation in my family.
Can you tell us about a role model who has inspired you?
There are many wonderful role models in the Hispanic community, but I am particularly inspired by Supreme Court Justice Sonia Sotomayor. Like her, I was born in New York of Puerto Rican parents. I identify with how her childhood was instilled with strong family values, shared responsibilities and the importance of education and hard work. Before becoming the first Hispanic Justice in the United States, she had to overcome many of the same adversities numerous Hispanics are faced with. Her tenacity in her fight for equality is an inspiration to LatinX women who take pride in seeing someone of their own gender and ethnicity who is a marker of change.
What are some of the biggest challenges you see for emerging Hispanic professionals in the industry and what are some recommendations to help address these concerns?  
Research shows than many young Hispanic professionals are often overlooked for advancement opportunities and don't feel recognized for their work. This leads to high attrition rates—resulting in the loss of employees who can enrich the company's working environment. Our industry can tap into resources available in cities with large Hispanic populations—helping companies to reinforce ties with the LatinX community and implement programs that foster the professional development of Hispanics in their employment.
What would you like to see the travel industry do better to elevate and engrain diversity, equity and inclusion within company cultures?
As an industry we must not only promote the creation of diverse workspaces but also push for material changes that truly create a company culture of inclusivity—one that amplifies the voice of this important segment of our workforce.  It is not only important for companies to acknowledge and understand why diversity and inclusion matters, but also implement tangible practices that can drive cultural change.          
What historical destinations do you recommend for travelers looking to learn more about the Hispanic experience in the U.S.?      
The Hispanic experience is weaved into many aspects of travel, and there are many beautiful cities in the U.S. that offer an array of experiences. In Florida you can see and experience many examples of Hispanic influence— Little Havana in Miami, Ybor City in Tampa, Spanish architecture in St. Augustine, with expansive culinary options from all Latin America, music, festivals and Spanish language spoken throughout the state. San Antonio, Texas has seven Hispanic heritage sites and is home to many Mexican Americans, making it a great destination to experience their culture.     
What is one thing that you think is important for our industry to understand about Hispanic culture? How can our industry help to amplify Hispanic voices and uplift the Hispanic community?   
A large number of Hispanics in the U.S. are acculturated. They have assimilated to the American culture and like me, identify both as American and Hispanic. That duality should be seen and treated as an asset in the hospitality industry. Our industry needs to find ways to enhance the LatinX employee experience, show interest in how to provide a better customer service to Hispanics and seek opportunities to support local LatinX businesses.
---
CONTACT US
U.S. Travel
For more information about this blog, please contact us at: