How are you celebrating National Travel and Tourism Week?
May 04, 2018 By U.S. Travel Association
Empire State Building lit up red.
National Travel and Tourism Week 2018 (NTTW) kicked off on May 6, with cities and destinations across the country organizing hundreds of events and celebrations during the week.
This year's theme, "Travel Then and Now," recognizes the contributions and accomplishments of the U.S. travel industry over the past decades, while also serving as an opportunity to celebrate the industry's enduring ethos: welcoming visitors from around the world to experience what makes this country the best place to visit.
The industry has embraced the theme by sharing "throwback" photos with the hashtag #TBTravel, showcasing just how much some destinations, attractions and businesses have changed and grown over the years:
This week's #FlashbackFriday is the Old Mill in North Little Rock. Though it was built in 1933, it was made to look like an authentic 1800s water-powered grist mill. Today it's surrounded by beautiful gardens. Check it out!#FBF #VisitArkansas #NTTW18 #TravelNow pic.twitter.com/ePHOYjBYQs

— Arkansas Tourism (@artourism) April 13, 2018
This #NTTW18, we're celebrating how travel has changed in #BeverlyHills. Welcome to #BeverlyWilshire, circa 1922. #TBTravel #throwback

Photo: @BeverlyWilshire pic.twitter.com/Sy0IYX9mVc

— Beverly Hills (@LoveBevHills) April 12, 2018
Travel Then and Now featuring the Indiana Welcome Center in Hammond. #nttw18 #tbt pic.twitter.com/MzfjAFjy64

— South Shore CVA (@SouthShoreCVA) April 12, 2018
While many will be hosting live rallies on Travel Rally Day (May 8), destinations, businesses and individuals are also encouraged to take part in U.S. Travel's first-ever Social Travel Rally and share their welcome message to visitors using the hashtag #TravelsWelcome. More information on how to take part in the rally is available on the social travel rally tip sheet.
The week will also be packed with proclamations, events, press conferences, luncheons and award ceremonies nationwide. Use the interactive NTTW event map to find a celebration nearest you.  
Highlights from the Week:
Final days:
More than 100 members of the hospitality community attended Savannah's city council meeting to bring awareness to the impact tourism has on the local economy.
Image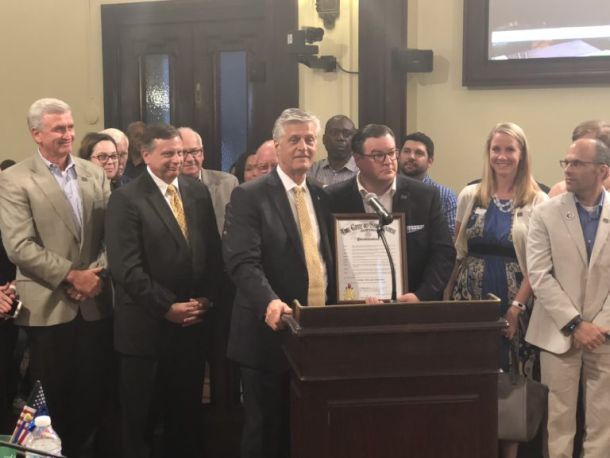 When you look at Wyoming then and now, not much has changed. Our state's iconic landscapes are one constant that will continue to draw travelers here for years to come. #ThatsWY #NTTW18 pic.twitter.com/WChuSx29i5

— Visit Wyoming (@wyomingtourism) May 13, 2018
Hello visitors to #Colorado! See our 9 #museums across the state during National #Travel & #Tourism Week including @TrinidadHistory @ElPuebloMuseum @COWomensHistory. #Denver tourists be sure to check out our new @CityPASS offer: https://t.co/xEKB2TkCfh #nttw18 #ColoradoLive pic.twitter.com/kpQeEM4D4M

— History Colorado (@HistoryColorado) May 12, 2018
Thank you @GovAbbott for supporting the Texas Travel Industry and recognizing it's vital importance to economic development across the Texas economy. Together we're making Life Better in a State of Travel! #nttw18 #lifesbetter #traveltexas #ttianews pic.twitter.com/2aDfaQ4NFo

— TTIA (@ttianews) May 11, 2018
Meet local hospitality leaders as they reflect on the past, present and future of tourism in Kansas City: https://t.co/jMeiK8fnVz #nttw18 #HowWeDoKC pic.twitter.com/igsBSQHkvh

— Visit KC (@VisitKC) May 10, 2018
Can you feel the LOVE? Love is in the air and on display in downtown @Staunton during #nttw18. In celebration of all things Staunton, the city invites everyone to share their love of Staunton through pictures and words. Details here: https://t.co/R7oMQDWO8i #LoveStaunton #LoveVa pic.twitter.com/jZoXajf95c

— TheShenandoahValley (@VisitShenValley) May 7, 2018
Thursday:
Dave Krupinski, COO of Visit San Antonio, celebrated NTTW by offering a "thank you" morning salute to local firefighters and paramedics.
Image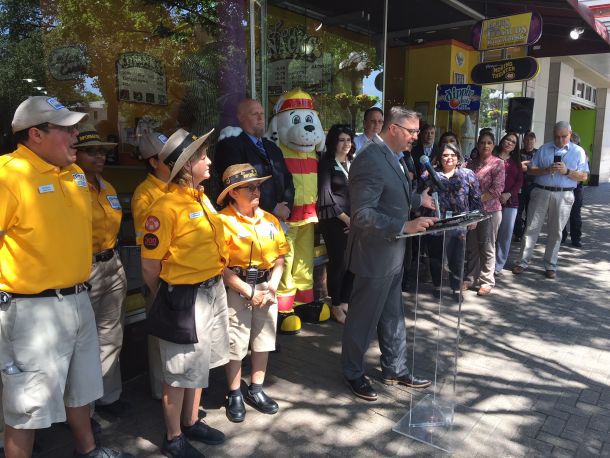 It's official: #Orlando is America's most visited destination.

WATCH NOW to see the historic announcement. @OrangeCoFL @USTravel @Mayor_Jacobs @BrandUSA pic.twitter.com/nSyIVn218J

— Visit Orlando (@VisitOrlando) May 10, 2018
Celebrating National Travel & Tourism Week's "Travel Then & Now," we look back to 1927 when it all started with a small A&W root beer stand in Washington, D.C. #TBTravel #nttw18 @USTravel pic.twitter.com/u9Q7sBW9Zv

— Marriott Internat'l (@MarriottIntl) May 10, 2018
Wednesday:
Sen. Roy Blunt (R-MO) gave a special shout out to NTTW, while destinations around the country continued to show off their creative sides.
Did you know the travel industry supports 1 in 9 jobs nationwide? As co-chair of the Senate Travel & Tourism Caucus, I've worked to advance policies to strengthen & grow the tourism industry in Missouri & across the country. #nttw18 pic.twitter.com/XXK8kUxdq1

— Senator Roy Blunt (@RoyBlunt) May 9, 2018
Visit California headquarters is celebrating #nttw18 Rally Day for the travel and tourism industry, which fuels California's economy. #CATourismMonth pic.twitter.com/IpYpkTOu43

— Visit CA News (@VisitCANews) May 8, 2018
Part of today's #NTTW18 Rally Day in #LittleRock is a time capsule dedication, fitting with this year's theme of "Travel Then and Now". #TravelNow #travel #tourism #timecapsule pic.twitter.com/OXlCXaBLbp

— #ARGovCon (@ARGovCon) May 8, 2018
Celebrating National Travel and Tourism Week! @Phillies #NTTW18 #discoverPHL pic.twitter.com/RdLI8P2sb0

— Philadelphia CVB (@discoverPHL) May 9, 2018
National Travel and Tourism Week 2018 is celebrating travel's past, present and future. Take a look back at Austin through the years: https://t.co/gKwvB6vxeH #nttw18 pic.twitter.com/id7NlpsQGi

— Austin Texas (@VisitAustinTX) May 9, 2018
Tuesday:
Destinations and attractions from around the country got into the #TravelsWelcome spirit for the Social Travel Rally.
Bienvenidos. Bienvenue. Bem Vindo. No matter what language you speak, the message is the same -- Welcome to Miami!#TravelsWelcome #nntw18 pic.twitter.com/QcyuxqLrIU

— Miami and Beaches (@MiamiandBeaches) May 8, 2018
Whether business or pleasure, travelers are always welcome to the Peoria Area #TravelsWelcome #nttw18 pic.twitter.com/j5O6p3JW9w

— Enjoy Peoria (@EnjoyPeoria) May 8, 2018
From travel then to travel now, Chief Sales Officer, @M_Dominguez welcomes visitors from across the globe for #NTTW18. #TravelIsWelcome in the wonderful City of Las Vegas. pic.twitter.com/bbmTULG23q

— MGM Resorts Meetings (@MGMResortsMeet) May 6, 2018
I'm proud to live in Colorado Springs, #OlympicCityUSA. To all our visitors – past, present and future – welcome to our wonderful home, where the U.S. Olympic and Paralympic ideals inspire our way of life. #TravelsWelcome pic.twitter.com/OYw9H5JrAA

— COSpringsMayor (@COSpringsMayor) May 8, 2018
America's doors are open. Proud to join with the industry to welcome visitors from near and far. The Laredo CVB Advisory Committee invites everyone to visit our City! #TravelsWelcome #nttw18 #LifesBetter #TravelNow #HolaLaredo pic.twitter.com/sHyO4MtcHo

— Laredo CVB (@VisitLaredoTx) May 8, 2018
Monday:
Rep. Dina Titus (D-NV) recognized NTTW and the importance of travel in her state on the House floor. And one destination had a very clever way of sharing the impact of travel with its visitors.
I took to the floor tonight to recognize #NationalTravelAndTourismWeek. This vital industry creates jobs, generates revenue, and enhances quality of life. And nobody does it better than Las Vegas. Find out for yourself #OnlyInDistrict1 #nttw18 https://t.co/zXSUgo5nhM

— Dina Titus (@repdinatitus) May 8, 2018

 

 
Unsuspecting travelers arriving to St. Pete-Clearwater International Airport are shocked when spray painted bags start appearing at baggage claim.#nttw18 #LiveAmplified pic.twitter.com/ArI0ecIDgi

— St. Pete/Clearwater (@VSPC) May 7, 2018
DYK? Ocean-based tourism and recreation contributes ~$116 billion in GDP to the #economy each year https://t.co/N3LmsVSLgM #nttw18 pic.twitter.com/0cfnWJEnw2

— NOAA Digital Coast (@NOAADigCoast) May 7, 2018
To celebrate National Travel & Tourism Week, our team planted a beautiful wildflower garden at Shingle Creek Regional Park in honor of our growing garden of Industry Partners.#nttw18 pic.twitter.com/ZF8WT3qxB3

— Experience Kissimmee (@Kissimmee) May 7, 2018
Sunday's NTTW kickoff:
Destinations and groups got creative for the kickoff of NTTW on Sunday.
#Elvis knows that you can't help falling in love with his hometown of #Memphis! Follow him around town via Instagram in honor of National Travel and Tourism Week! #NTTW18 #MemphisNTTW pic.twitter.com/wPfqxn8kWJ

— Memphis (@MemphisTravel) May 7, 2018
Tonight we kicked off our celebration of #nttw18 with our Tourism After Hours: Travel Then and Now party.

Guests enjoyed live music, @GreendanceWine, @whitehorsebrews plus delicious food at the Bishop Connare Center. Thanks to everyone who came out and celebrated! #TravelNow pic.twitter.com/kVMCo6O12E

— Laurel Highlands (@laurelhighlands) May 4, 2018
And once again, the Empire State Building in New York City lit up red—the official color of the travel industry—on May 8 to celebrate Travel Rally Day. 
Image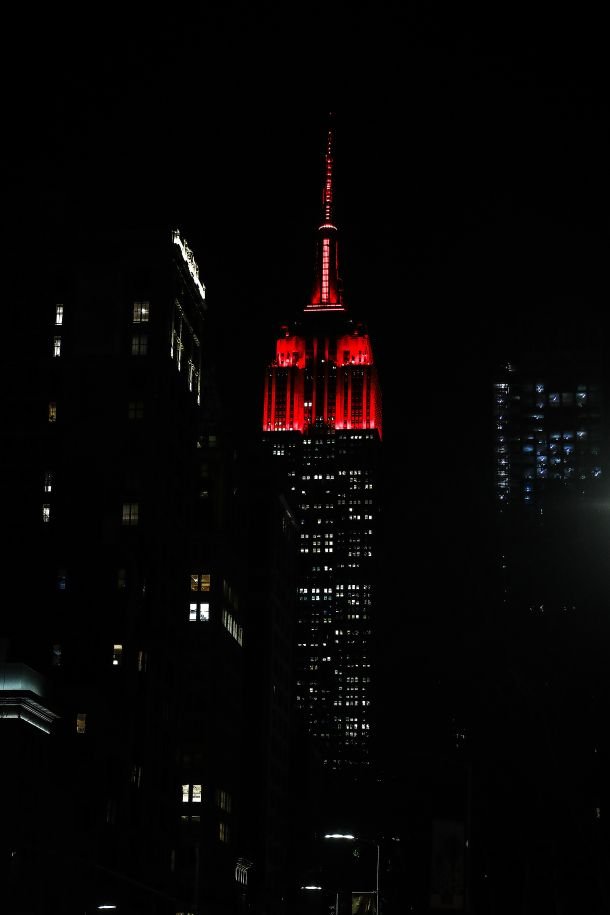 We will be updating this post throughout the week. Check back to see if we feature a celebration from your city or submit your celebration to Brittany Kemp (bkemp@ustravel.org) for a chance to be featured on the blog or in the wrap-up video. And don't forget to include #nttw18, #TBTravel or #TravelsWelcome in all of your social posts! 
---
CONTACT US
U.S. Travel
For more information about this blog, please contact us at: