Many countries have laid new visions and concrete plans to facilitate international travel and gain larger shares of the global travel market. With demand for global travel high, and international inbound travel to the U.S. being years away from a full recovery, we must address the current challenges and deterrents to remain competitive as a destination. 
In the immediate term: Travel to the U.S. remains extremely challenging for first-time visitors who require visas. Visa wait times remain embarrassingly high—at more than a year for visitors from our top 10 visa-requiring inbound markets. 
Despite the high interest in traveling to the United States that currently exists, ongoing restrictions are impacting the ability to travel to the U.S. and we are facing increased competition.
Current Challenges are Impacting Traveler Choices: 
According to the Destination Analysts' recent State of International Traveler survey, nearly half (49%) of international travelers originating in non-Visa Waiver Program countries cited visa issues (including wait times, cumbersome process or visa fees) as a barrier to visiting the United States—ahead of cost-related reasons (38%).
Furthermore, the ease of obtaining a visa is the TOP factor when booking (any) international travel for travelers originating in non-Visa Waiver Program countries—ahead of cost and convenience. In fact, 78% of travelers in non-visa waiver countries cited the 'ease of obtaining a visa' as important and 40% cited it as a very important factor.
Attractive and Accessible Destination Alternatives: 
Among our top ten inbound markets whose citizens require tourist visas for the U.S., six—Mexico, Brazil, Colombia, Argentina, Israel and Venezuela—can travel visa-free to the EU, five can travel without visas to the UK, and two can travel without visas to Canada. 
With extremely high U.S. visa wait times for first-time visitors, other more accessible destinations are a growing threat to our market share. 
Image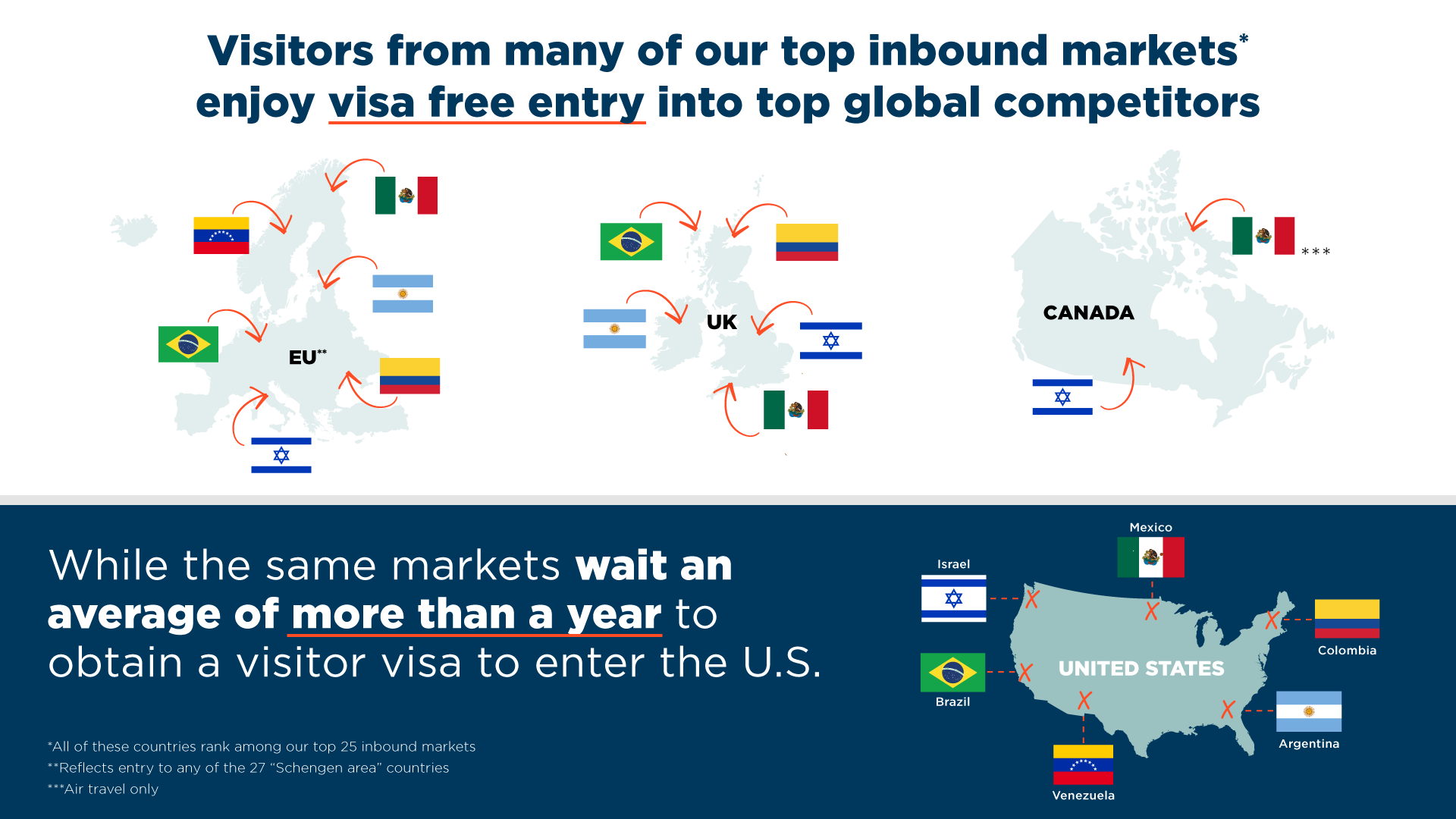 Beyond the immediate visa crisis: While the U.S. has a stated goal of welcoming 90 million visitors by 2027, current restrictions may make it difficult to reach that goal and continue to grow travel to the United States.
What's more: Experiencing the United States firsthand is often a very positive experience and for many has resulted in an improved perception of the U.S. overall.
A 2023 study by Destination Analysts found that two thirds of international visitors had a better perception of the U.S. after they visited. 
Additionally, visitors who needed a visa experienced even greater positive perception improvement—50% improved greatly and 83% improved. And these travelers are from countries with significant barriers to entry that should be lowered.
Why it matters: The U.S. has always been—and will remain—a well-known "brand" and a captivating destination, but we can't take our status as a key destination for granted. 
In fact, the percent choosing the United States as their top destination to visit in the next 12 months notably dropped in 2023 to 30% from a high of 38% in 2015. With interest in the U.S. waning, interest in countries such as Mexico, Canada, Spain and even the UAE have increased because they have prioritized welcoming and easing access for international travelers.
To remain competitive, we must have bold and targeted plans to attract an increasingly sophisticated global traveler, and to provide a truly seamless travel experience, on par with other countries competing for the same global travelers. 
Other countries are now taking active and targeted steps to position themselves as global tourism destinations—from easing visa requirements, to developing seamless entry and security processes and to directly negotiating travel arrangements with other markets—while the U.S. has made it more challenging to visit. 
Examples include:
The bottom line: If the U.S. wants to retain its market share of global travel in an increasingly competitive world, we must act now by addressing visa processing delays and easing remaining restrictions that make travel to the United States less welcoming and more cumbersome. 
---
CONTACT US
U.S. Travel
For more information about this blog, please contact us at: