From My View: Finding Talent Beyond the Travel Industry
December 13, 2021 By U.S. Travel Association
Welcome to the first "From My View" column—a dedicated space to share perspectives and insightful approaches related to the travel and tourism workforce.
This week, we were fortunate enough to sit down with two members of the Meet Minneapolis team.
Jill Anderson, Senior Director of Marketing, and her manager Courtney Ries, Senior Vice President of Destination Branding & Strategy discussed the benefits for working in destination marketing and the eye-opening experience that came with changing industries—from corporate marketing to the destination marketing space.
Image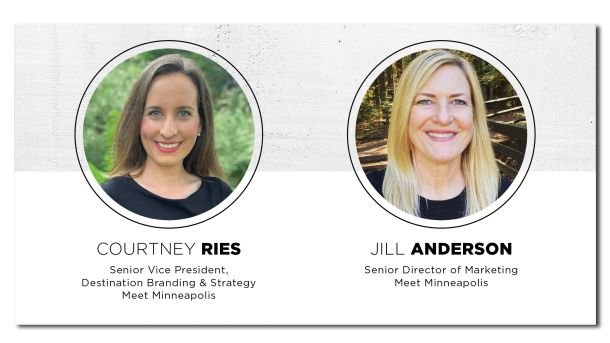 Jill Anderson, Senior Director of Marketing, Meet Minneapolis
"When I saw the job description for "Director Branding & Strategy" at Meet Minneapolis I wasn't looking for a new job, but I just couldn't believe that my passion and love for promoting all the wonderful things about the city of Minneapolis could actually be a full-time marketing job.
My marketing background was mostly in retail at Target and working on other big consumer brands like Wrigley's and Kellogg's, so I certainly wondered how I would be able to apply this experience to destination marketing. I quickly learned that even though I no longer 'owned the product' like I did in previous marketing roles, the same basic principles of understanding the wants, needs and motivations of the audience still applied.
This industry is unique because of the incredible collaboration that occurs between destination marketing organizations (DMOs). During my first conference with other DMOS, I was in disbelief when organizations openly shared their best practices and case study findings so openly with their industry colleagues. This kind of sharing fosters creativity and would never occur at a retail or CPG conference!
Although it has been a challenge to enter a new industry, I am grateful that my boss took a chance on an outsider and brought me into this wonderful organization and industry.  I would highly recommend and encourage others from outside the industry to look at destination marketing for their next career."
Courtney Ries, Senior Vice President of Destination Branding & Strategy, Meet Minneapolis
"When I was searching for a marketing leader to join our team at Meet Minneapolis, it was critical that they knew marketing and had a deep understanding of our city. Individuals with agency experience are frequently used to learning quickly and becoming experts, and Jill's experience with the fast-paced world of demanding clients and diverse projects allowed her to quickly shift between the various marketing objectives and the nuances of each customer—meeting planners, leisure travelers and meeting attendees alike.  Jill's experience working within large corporations with sophisticated research and marketing channels allowed her to bring more advanced marketing strategy to our own internal processes.
Jill has been a phenomenal hire for Meet Minneapolis and we are incredibly lucky to have her championing this city."
---
CONTACT US
U.S. Travel
For more information about this blog, please contact us at: