From My View: Workforce Challenges Require Advocacy
March 23, 2022 By U.S. Travel Association
Welcome to our "From My View" column—a dedicated space to share perspectives and insightful approaches related to the travel and tourism workforce.
This week, we spoke with Jeff Kaminski, President of Chula Vista Resort in Wisconsin Dells, WI. 
Jeff Kaminski has 20+ years of hospitality management experience and is the 4th generation in his family business at Chula Vista Resort in Wisconsin Dells, WI, serving as President for the past four years. In this blog, Jeff explains that workforce struggles are not new to his business and offers ideas to combat this continued challenge in the years ahead.
Image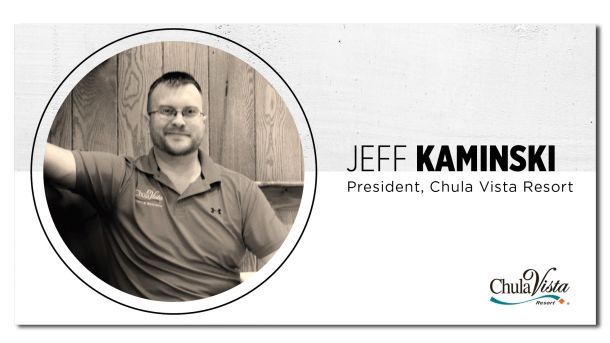 Jeff Kaminiski, President of Chula Vista Resort
Workforce challenges are not new to our industry. Following four generations and 70 years of owning and operating our family business, Chula Vista Resort in Wisconsin Dells, we are very familiar with the struggle to hire and retain talent. Long before the pandemic, adequate staffing was a persistent challenge given our rural destination. Like many businesses, the pandemic further compounded our ability to attract and retain candidates.  
Decades of experience with understaffing has led us to work with industry partners, associations, and government officials in an effort to enable international workers to fill positions where we haven't been able to find talent at home. The pandemic put workforce issues into hyper-drive. Our staff went from nearly 1,000 employees in peak season to 11 employees during the height of COVID-19. Thankfully, we are hopeful that we will return to 750 employees this summer.  Following the availability of PPP, we called back former employees, but unfortunately we lost over 200 associates that either found new jobs in new industries or just didn't come back. For the last two years, our resort has had to pivot and operate restaurants and attractions with limited hours and periodic closures due to staffing.  This story is not unique.
 J-1 Summer Work and Travel, J-1 Internships, H-2B visas, and EB-3 visa programs are all part of our multi-faceted workforce strategy, hosting over 400 associates annually.  Recently, I welcomed 22 H-2B visa associates to orientation, delayed from a January 1 start date due to the expended cap for 2022 that we successfully re-applied for this year.
Our labor force in this country is shrinking. Data shows the working age population is declining, birth rates are decreasing and there is negative population growth—all pointing to greater challenges ahead.  In fact, according to the U.S. Chamber of Commerce, for every 100 jobs open across all industries, there are only 58 people unemployed and looking for work.  This long-term challenge calls for an active industry that advocates for real solutions to a broken system and will require engagement across the government.  
Where can you start? Partner with your related trade associations, such as U.S. Travel Association and open a line of communication with your elected officials to educate them on our industry's unique workforce challenges. Together, we can create and propose real solutions that enable international workers to help fill these needs in a safe, secure and sustained way that will enable greater economic recovery. We must continue to lean into creative ideas that showcase the benefits of working in travel and bring to light new opportunities for the future of hospitality and travel.
 
---
CONTACT US
U.S. Travel
For more information about this blog, please contact us at: