The latest employment report from the U.S. Bureau of Labor Statistics revealed that the Leisure & Hospitality (L&H) industry gained 331,000 jobs in April while overall U.S. jobs increased by a mere 266,000. The smaller gain in total jobs can be explained by the fact that it is a net number and is influenced by significant job losses in other industries—mainly "temporary help services," which lost 111,000 jobs and "transportation and warehousing," which lost 74,000 jobs. L&H, by far, performed better than any other industry in terms of job growth in April, and the L&H unemployment rate fell from 13.0% in March to just 10.8%.
However, it is far too early to celebrate, and these numbers should be put into context.
First, despite the gains of recent months, L&H remains in significantly worse shape than the rest of the economy, which has an overall unemployment rate of 6.1%—just over half the unemployment rate of L&H.
Second, while the sector accounted for 11% of pre-pandemic employment in the U.S., it is still accounting for a staggering 35% of all job losses; this is already taking into account the 950,000 L&H jobs gained in the last three months. While it is definitely an improvement from January when L&H accounted for 39% of all jobs lost, there is still much work ahead to rebuild the travel workforce.
Image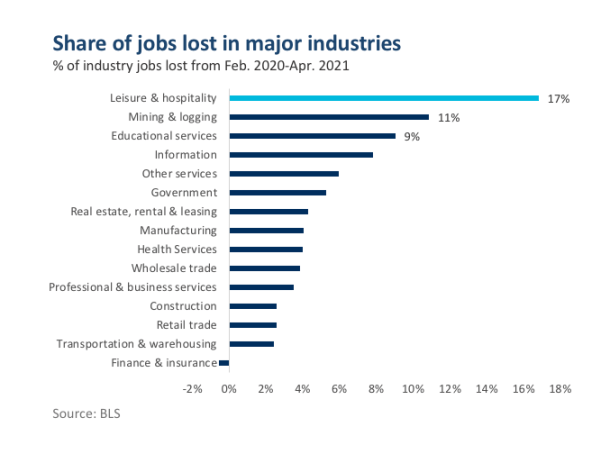 In fact, as illustrated in a report prepared for U.S. Travel Association by Tourism Economics, one-in-six L&H industry jobs have been lost and not yet recovered. L&H employment remains 17% below February 2020 levels—six percentage points more than the next most hard-hit industry.
Third, although L&H employment growth approximates travel employment growth in a normal year, 2020 has proved to be an exception. As explained in this fact sheet, L&H is strongly influenced by local demand, which has suffered less—and is recovering faster—than travel demand. For example, while L&H jobs declined by 19% in 2020, travel jobs declined by 34%. The recovery in L&H jobs—though seemingly impressive—is still in its early stages, and this is even more true when it comes specifically to travel-supported jobs.
According to Tourism Economics, "continued vaccinations, massive fiscal stimulus, and warmer weather will form a powerful catalyst to economic growth." However, as evidenced by the fact that the overall economy added only 266,000 jobs, the small gains in the L&H industry may not be enough to fuel a nationwide recovery. More must be done to ensure that the L&H industry in general, and the travel industry in particular, can recover as quickly as possible and can continue to fuel the recovery of the overall U.S. economy.
To spur travel demand and rehiring, U.S. Travel will continue advocating for key priorities such as safely reopening international travel, restarting business travel and professional meetings and events, and passing the Hospitality and Commerce Job Recovery Act and the Save Hotel Jobs Act, among other key priorities.
Leisure and Hospitality, as defined by the U.S. Bureau of Labor Statistics (BLS), includes spending by both local residents and travelers and is often used to describe trends in travel employment categories each month. Total travel industry employment—a category not used by BLS but defined independently by U.S. Travel for decades—encompasses the commerce conducted exclusively by visitors and includes retail and transportation spending, which are not included in BLS data. Total travel-supported employment (both direct and indirect/induced) in 2020 was 11 million, a decline of 34% from 2019 levels.
---
CONTACT US
U.S. Travel
For more information about this blog, please contact us at: