NTTW Theme Announced: "Travel '16"
February 08, 2016
We're putting the pun in political punditry as travel hits the campaign trail for National Travel and Tourism Week 2016. Here's how you can get involved.
Are you ready for this year's National Travel and Tourism Week (NTTW)? It's coming up, on May 1-7.
NTTW is an annual tradition for the U.S. travel community, established by a congressional resolution in 1983 and first celebrated the following year. It's a time where travel and tourism professionals across the country unite to spotlight the unique value travel holds for our economy, business sector and personal well-being.
This year, our goal at the U.S. Travel Association is to ensure that travel—and its positive impact on our lives—is part of the discussion during the 2016 election season. We're already making a splash in New Hampshire, home of the first presidential primary, where we've placed ads in the Manchester airport to drive the narrative that "Travel Is a Primary Industry" creating jobs during the frenetic election season and year-round.
Image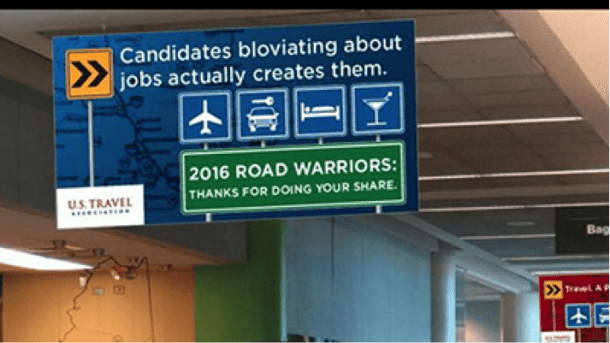 Our ads have already generated social media buzz and attention among members of the press and campaign officials as they make their way to New Hampshire.
Now we're taking it to the next level with our theme for this year's NTTW: "Travel '16."
Image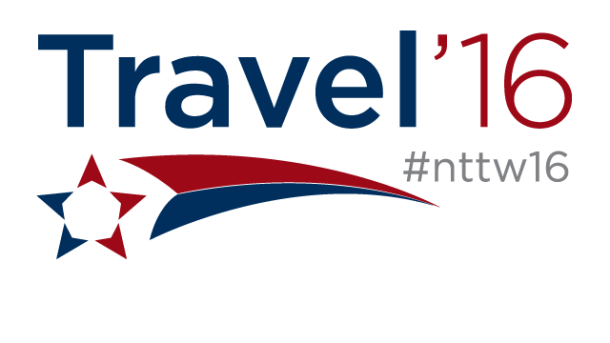 "Travel '16" will be a nationwide campaign highlighting travel's benefits for our nation's health, prosperity and productivity. From the cross-country vacation to the weekend getaway, travel is something almost everyone can get behind. It's a job creator, educator, and it's pro-family and pro-health. Really, it's the perfect candidate!
Whether your state is red, blue or purple, you can stump for travel this NTTW. Highlight what's unique about your organization or destination—what will garner local media attention and what will matter most to your elected officials? There are many opportunities to mark the week, from staging local rallies to meeting with lawmakers in your communities (organizing a Travel Talks event in your area is a great way to get started).
We encourage the industry to be creative and clever as travel "hits the campaign trail" for NTTW this May. Feel free to put the pun into political punditry with a fresh take on typical election language. Think "Travel Reaches Across the Aisle" over the inside of an airplane cabin, or "Winning in a Swing State" accompanying a shot of a golfer out on the course. Picture a beach scene with a colorful pair of sandals, captioned with: "This election season, you're actually encouraged to flip-flop." The possibilities are endless.
A toolkit to help you take part in the "Travel '16" NTTW campaign is coming by early March. In the meantime, here are some resources and examples from last year to help you start thinking about ways you can endorse travel this May.
---
CONTACT US
U.S. Travel
For more information about this blog, please contact us at: