Pride Month Spotlight: David Jefferys
June 23, 2022 By U.S. Travel Association
June is Pride Month—an important opportunity to amplify and celebrate the LGBTQ+ community.
Throughout the month, we're highlighting members of the LGBTQ+ community who have shown great leadership in the travel and tourism industry.
David Jefferys is the founder and executive director of LGBT Meeting Professionals Association (LGBT MPA), the first and only association dedicated to connecting, educating and advancing LGBTQ+ professionals in the meetings industry. David shared how he celebrates Pride Month and who inspires him.
Image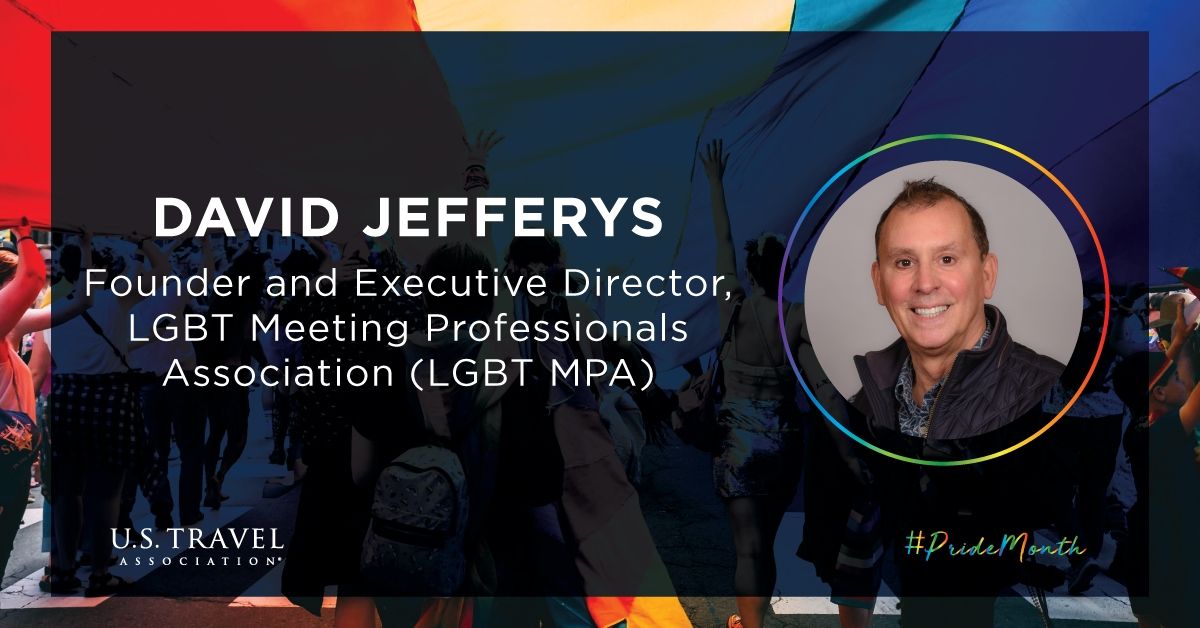 What does Pride Month mean to you and how do you celebrate it?
Pride Month is the opportunity to express myself as gay openly. I celebrate it all month long in my role as executive director of the world's leading meeting professional association, LGBT MPA. While we spend the year connecting, educating and developing meeting professionals from the LGBTQ+ community, Pride Month gives us the platform to broadcast LGBTQ+ events and activities through the world via our member network and all our social and marketing channels. There is special satisfaction in connecting the non-LGBTQ+ community with the LGBTQ+ community during Pride Month by helping them share and express their love and support.
Do you have a favorite destination in which to celebrate Pride?
NYC Pride is my favorite event—it is close to my home in Philadelphia and is a comprehensive celebration with the parade, pier dance and supporting contests and celebrations. 
Can you tell us about a role model who has inspired you?
Mark Segal, founder and publisher of the Philadelphia Gay News—the largest and oldest publication targeting the LGBTQ+ community—has done so much to advance the quality of life for the LGBTQ+ community.
Is there an example of a destination, attraction or organization that is leading efforts to prioritize and uplift the LGBTQ+ community?
LGBT MPA is working hard to create global equality for travel. I see a world where being part of the community has no legal or moral obstacles and everyone can be equal and accepted for who they are.
 
---
CONTACT US
U.S. Travel
For more information about this blog, please contact us at: