Pride Month Spotlight: Richard Gray
June 01, 2022 By U.S. Travel Association
June is Pride Month—an important opportunity to amplify and celebrate the LGBTQ+ community.
Here at U.S. Travel, we are taking this opportunity to highlight members of the LGBTQ+ community who have shown great leadership in the travel and tourism industry.
Richard Gray, senior vice president of inclusion and accessibility at Visit Lauderdale, shared what he loves most about Pride Month, the biggest challenges facing the LGBTQ+ community and how destinations can become more inclusive. 
Image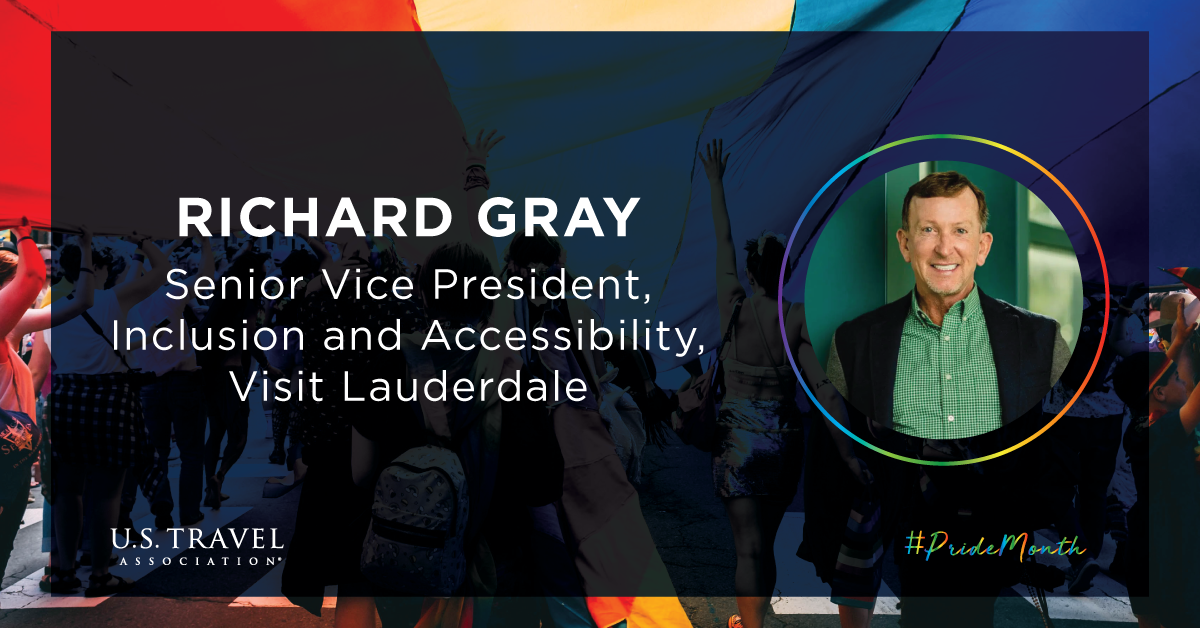 What does Pride Month mean to you and how do you celebrate it? Any favorite Pride festivals, parades or traditions? 
Pride is an opportunity to reflect on our LGBT+ history. Educating our LGBT+ youth is critical for me – they need to know about the Stonewall riots and the AIDS crisis, for example. We must also celebrate our progress in recognizing the rights of LGBT+ people and draw attention to the enormous challenges we still continue to face globally. What I love most about Pride Month is the amazing feeling of unity within the LGBT+ family. It is about joy, acceptance, equality and freedom.
I love Fort Lauderdale Pride. What I love most is that the celebration of Pride is right on the sands of Fort Lauderdale beach. I believe we are the only Pride in the world that is held directly on the beach. Brighton Pride in England is also incredible and probably the best and most popular Pride in the United Kingdom.
What do you think are the biggest challenges facing the LGBTQ+ community today and what advice do you have for your peers on what they can do to help address these issues? 
A big challenge is the confusion caused by recent legislation limiting education here in Florida, both in schools and businesses. It is essential for us all to speak out and be visible more than ever now. We must be visible and not invisible and use our own personal platforms to speak out and ignite social change.
Sometimes to implement change you must go from a safe place to a brave place. Conversations don't start if we slam doors, and when we slam doors, people get angry, and anger leads us nowhere. We need, as a community, to unify even more than ever as these are unquestionably challenging times. 
What would you like to see the travel industry do better to elevate the LGBTQ+ community? 
Visit Lauderdale has been the global LGBT+ thought leader for a long time now. We were the first destination in the world to embrace the transgender traveler in 2015 and also the first destination to create a transgender marketing campaign called "Where Happy Meets Go Lucky." Our campaigns have been visionary, gutsy and courageous. We have ignited social change and many other destinations are now emulating our inclusive and open strategies. 
What can travelers look forward to when visiting Fort Lauderdale and can you tell us more about your 'Celebrate You' campaign?
I'm so proud of our new "Celebrate You" campaign which is a global first. It is our best LGBT+ campaign to date and underscores Greater Fort Lauderdale's diverse community and welcoming vibe. In this campaign, we include trans, drag, lesbian, gay, non-binary, disabled, straight and minorities in a very non-resort way. The people featured are locals that live here, and they are not models. It is truly a historic, inclusive and diverse global campaign. As part of this campaign, we also added black and brown to the Pride colors in our LGBT+ logo to show our commitment and belief in black and brown people. We are the first destination marketing organization (DMO) to add these colors to our flag. We aren't afraid to get political. I'm so proud of taking this bold step which is the right thing to do. Greater Fort Lauderdale is a melting pot of cultures, and diversity is in our DNA. People from over 170 countries, speaking more than 147 languages call Greater Fort Lauderdale home. Our inclusive vibe is authentic, and we truly welcome everyone together under the sun. We welcome everyone who shares in our culture of acceptance. Greater Fort Lauderdale is dedicated to being a destination where all people are welcomed, regardless of religion, gender, gender expression, body size, race or disability. We celebrate everyone.
Why do you think attending IPW 2022 will be more important than ever? 
Bringing people together to brainstorm about travel marketing and opportunities is essential. The global travel industry is such a diverse mix of people that work in our global travel community and being face-to-face fosters essential communication and understanding. 
What makes you the most optimistic about the future of the travel industry?
Travel transcends politics and through fostering travel, we are also able to foster understanding and change. I live along the beach in Fort Lauderdale. I see people out every day enjoying the sunshine, the gorgeous beach and just being together. The need to share experiences in both new and long-time favorite places is important to everyone's state of health and happiness in this world.
Working in tourism, we are privileged to travel and get to go to so many amazing destinations. We must never lose sight of the fact that we are able to visit and meet people that energize and inspire us and build bridges to understand the many cultures across the globe. That is how you implement change.
 
---
CONTACT US
U.S. Travel
For more information about this blog, please contact us at: