Pride Month Spotlight: Suzanne Baugh and Colleen Wogan
June 08, 2022 By U.S. Travel Association
June is Pride Month—an important opportunity to amplify and celebrate the LGBTQ+ community.
Here at U.S. Travel, we are taking this opportunity to highlight members of the LGBTQ+ community who have shown great leadership in the travel and tourism industry.
With Q&A Events—an award-winning professional event production and management company—CEO Suzanne Baugh and General Manager Colleen Wogan provide a variety of clients with exceptional service to execute events that optimize participant experiences and event value—including Atlanta Pride. Together, they shared the biggest challenges facing the LGBTQ+ community and what the travel industry can do better to champion inclusivity. 
Image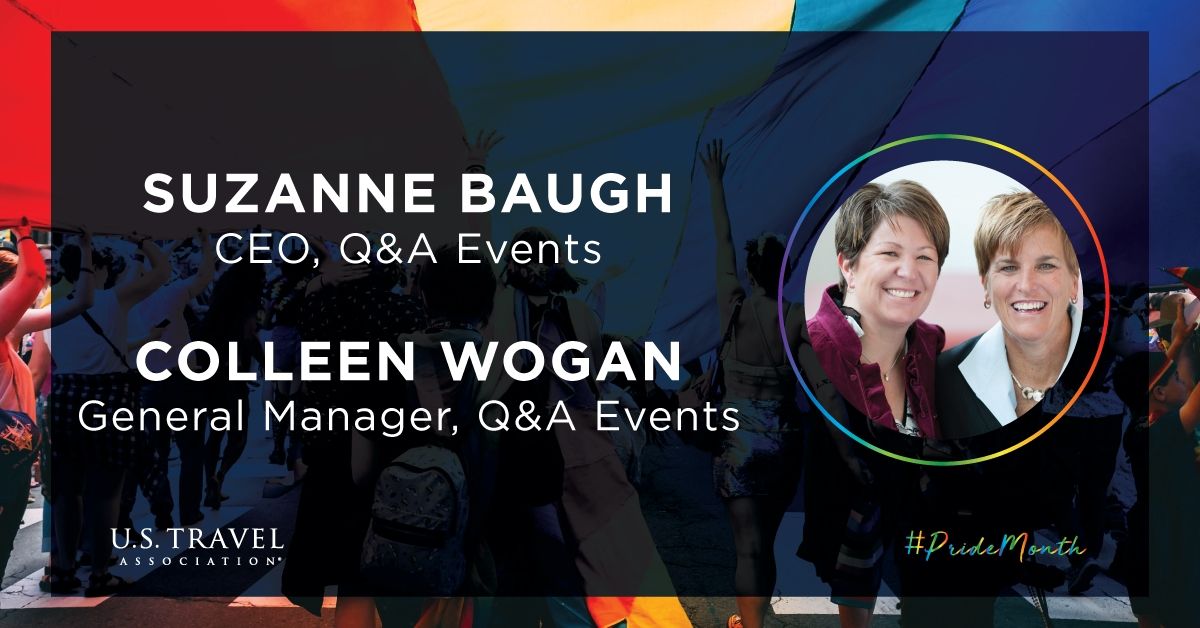 What does Pride Month mean to you and how do you celebrate it?
Pride month is a celebration of the LGBTQ+ community and a recognition of the advancements in rights that have occurred throughout the years. It is a time to say thank you to those who have fought for our rights and as a reminder to us all that we need to continue to advocate to advance those rights.
Do you have favorite Pride festivals, parades or traditions? Any favorite cities or destinations to celebrate in?
Since we are the event management company for Atlanta Pride, I have to say that Atlanta is our favorite Pride event.
What do you think are the biggest challenges facing the LGBTQ+ community today and what advice do you have for your peers on what they can do to help address these issues? 
I feel like there are three areas that standout to me as being at risk. Transgender rights are under fire in more and more states these days. We feel that this is going to be a growing issue and if the world doesn't stand up for our transgender community now, we are going to be fighting an uphill battle. With what we have seen occurring around Roe v. Wade, it raises many concerns as to what could be in store for changes in laws pertaining to LGBTQ+ rights. I think it is incumbent on our community and our allies to rally together to raise our voices louder than ever to ensure that we maintain our rights and expand them.
What would you like to see the travel industry do better to elevate the LGBTQ+ community? 
I would love destinations, properties and suppliers to integrate LGBTQ+ people into their marketing materials—across the board, not just in targeted advertisements. This will help to normalize our community and allow us to feel more comfortable traveling to these locations.
Is there an example of a destination, attraction or organization that is leading efforts to prioritize and uplift the LGBTQ+ community?  
I recently saw some promotions from Puerto Rico that were LGBTQ+ inclusive. In addition to Puerto Rico, I have seen advertising from Hilton that integrated our community into the general marketing materials. 
---
CONTACT US
U.S. Travel
For more information about this blog, please contact us at: