Pride Spotlight: John Tanzella
June 24, 2022 By U.S. Travel Association
June is Pride Month—an important opportunity to amplify and celebrate the LGBTQ+ community.
Here at U.S. Travel, we are taking this opportunity to highlight members of the LGBTQ+ community who have shown great leadership in the travel and tourism industry.
John Tanzella is the president and CEO of the International LGBTQ+ Travel Association (IGLTA), the global leader in advancing LGBTQ+ travel and the only LGBTQ+ Affiliate Member of the World Tourism Organization (UNWTO). John shared his thoughts on what they travel industry can do better to elevate the LGBTQ+ community and what Pride means to him.
Image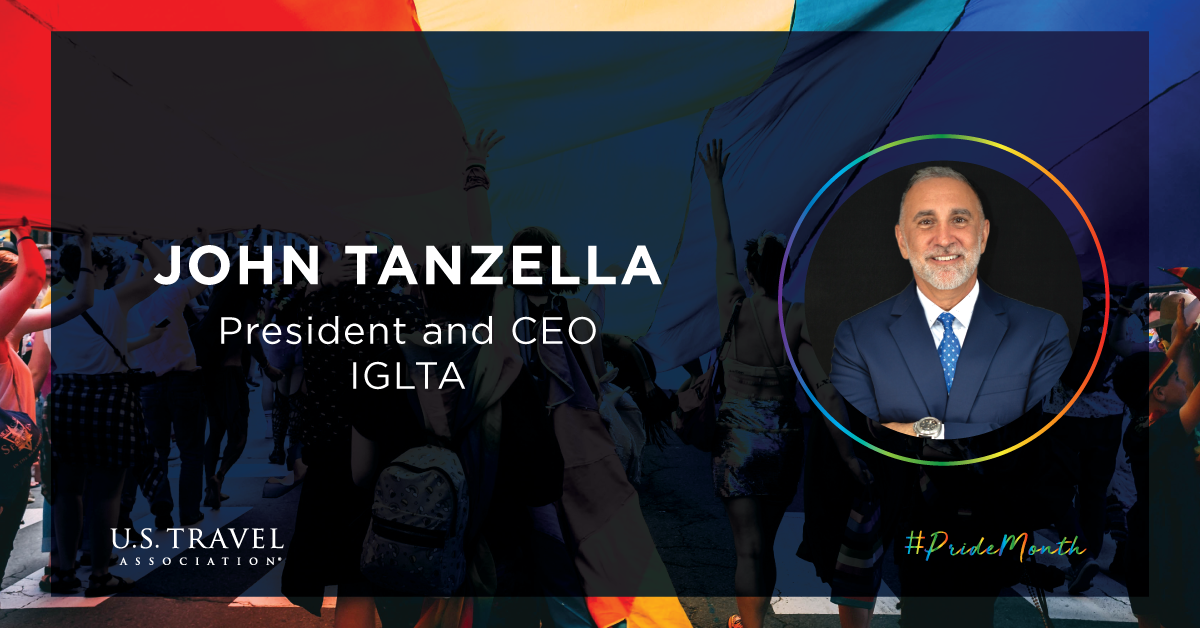 What does Pride Month mean to you and how do you celebrate it? 
In my current role, I've met many Pride organizers from around the world, some from large, mature LGBTQ+ destinations but also those struggling to be accepted and visible in their communities. Each year I personally like to choose a Pride event from a locale that needs more assistance and financially support their efforts as a means of giving back. 
Do you have any favorite Pride festivals, parades or traditions? Do you have a favorite city or destination to celebrate in? 
Atlanta because it's my hometown and their event is important for the region, the southern United States. It's also a fun outdoor event in the large city park. Madrid is another favorite of mine, given its size and that I love visiting the city.
Can you tell us about a role model that has inspired you? 
I have to say my parents, who instilled in me and my brothers the importance of treating all people with respect and volunteering to help those that are less fortunate than us. They were early adopters of the DEI movement, which I really appreciate and reflect upon often now, in light of recent events. 
What do you think are the biggest challenges facing the LGBTQ+ community today and what advice do you have for your peers on what they can do to help address these issues? 
Complacency is always a threat to progress. The LGBTQ+ community has made great strides in recent years, but we've also seen all over the world how quickly advancements can be reversed with governmental shifts. We have to remain vigilant and never take equality for granted. Those of us living in countries with well-established laws and protections need to get involved and stand up for others in places where discrimination is still the norm.
What would you like to see the travel industry do better to elevate the LGBTQ+ community? 
We're part of an industry that has huge diversity in its ranks, but there's still a lack of visibility for LGBTQ+ people—particularly those who are not white gay men—in high-level leadership roles. I'd love to see more recruitment and mentorship that elevates lesbian, trans, nonbinary voices—particularly those of color. 
Is there an example of a destination, attraction or organization that is leading efforts to prioritize and uplift the LGBTQ+ community? 
We have some truly incredible members, and in particular, many of our global partners are focusing on DEI and LGBTQ+ issues, such as American Express, Delta Air Lines and Marriott International. Our 2023 convention host destination, Puerto Rico, has made LGBTQ+ inclusion a priority; they are conducting diversity training with their partners and developing initiatives to improve the job situation for transgender people on the island.
---
CONTACT US
U.S. Travel
For more information about this blog, please contact us at: