Each month, the U.S. Travel Association sends its members the U.S. Travel Outlook, which provides insight into the current state of the economy and related industry trends, plus other relevant data from the travel and tourism sector.
Here are some of June 2018's most compelling findings from the U.S. Travel research team. 
How long will lofty consumer confidence last?
According to the Conference Board, the Consumer Confidence Index increased to 128.0 in May—a 17-year high. However, expectations for the future are not so bright.
"People know things are going pretty well, but they don't have a lot of confidence that it can keep up this pace," said David Deull, economist at IHS Markit.
Americans' optimism, according to  University of Michigan's Consumer Sentiment index, is being diminished by concern over the impact of tariffs on inflation: one in four of consumers polled mentioned tariffs and the potential negative impact on the economy. Richard Curtin, director of the survey, said: "Prospects for the economy have been negatively affected by the new trade policies."
Image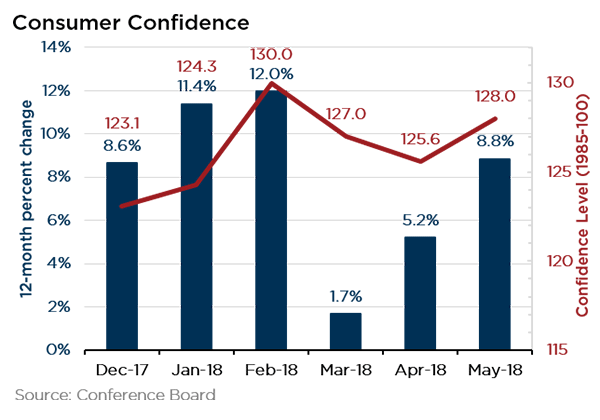 U.S. share of international searches increases, but U.S. is still falling behind other nations
The U.S. share of international searches was higher in May of 2018 compared to this time last year. According to the latest U.S. Travel Barometer, the U.S. captured 16 percent of total international searches, up from 13 percent in May 2017. However, there is still a concern that the U.S. is falling behind other nations—such as China, France, Germany, and Spain—in capturing its share of the booming international travel market.
"While travel overall is relatively healthy, particularly domestic business travel, the U.S. travel industry continues to register concern over a declining share of the global travel market," stated David Huether, U.S. Travel senior vice president for research.
The Far West, followed by the Southeast and Mideast were the most-searched U.S. regions among internationals.
Image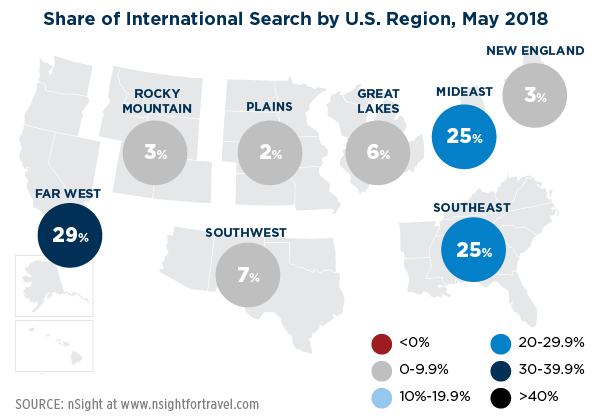 Rising gas prices on Americans' minds as they hit the road this summer
Americans are registering concern over rising gas prices, according to GasBuddy's 2018 Summer Travel survey. In the annual survey, 58 percent of respondents said they planned on taking a road trip this summer—a decrease of 24 percent from last year. Of those surveyed, 39 percent said that high prices at the pumps are impacting their summer travel plans. Additionally, respondents claimed that overpaying at the pump was their top road trip fear—edging out other headaches such as the car breaking down.
"[There is a] strong likelihood of the national [gas price] average hitting the psychological $3 per gallon barrier sometime this summer," said Patrick DeHaan, head of petroleum analysis at GasBuddy.
Image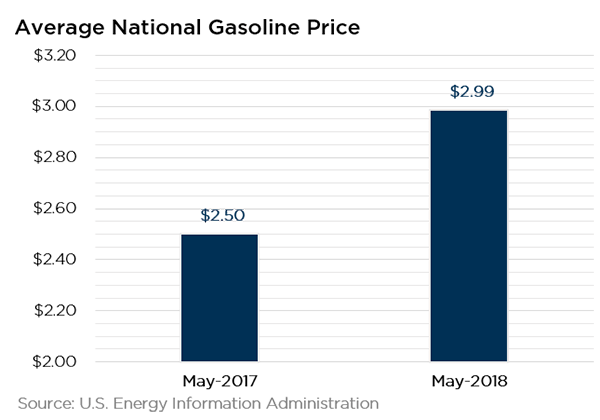 A deeper dive into the data and insights available in the June 2018 U.S. Travel Outlook—which includes the latest data on employment, transportation, inflation, consumer confidence and more—is online here.
U.S. Travel Association members receive the full U.S. Travel Outlook, plus a myriad of other cutting-edge research reports with information relevant to the travel industry. Learn more about the benefits of becoming a member here—or simply continue to enjoy a small taste of U.S. Travel's research insight each month here, with the Research Round-Up.
---
CONTACT US
U.S. Travel
For more information about this blog, please contact us at: