Each month, the U.S. Travel Association sends its members the U.S. Travel Outlook, which provides insight into the current state of the economy and related industry trends, plus other relevant data from the travel and tourism sector.
Here are some of October 2019's most compelling findings from the U.S. Travel research team. 
O'Hare Leads the Way in Intl'l Connectivity
Eight U.S. airports rank in the top 25 most internationally connected, according to OAG's 2019 Megahubs Index. Chicago's O'Hare International Airport led the pack among U.S. airports, ranking third globally behind Heathrow Airport and Frankfurt Airport. Hartsfield-Jackson Atlanta Airport—which is also the world's busiest airport overall—was the only other North American airport to crack the top 10. Los Angeles, New York's John F. Kennedy, Dallas-Fort Worth, Miami, Houston and Newark rounded out the list of U.S. airports in the top 25.
United Airlines (46%), Delta Air Lines (79%) and American Airlines (22%) are the dominant carriers at O'Hare, Hartsfield-Jackson and Los Angeles, respectively.
Fill up on Pump Five
If your destination doesn't require the use of one of America's well-connected airports, driving is an affordable alternative.
At just $2.68 per gallon, the average national gas price for September 2019 was 24 cents lower than this time last year, according to the Energy Information Administration. Prices continued to fall in October, registering an average of $2.63 the week of October 14.
"The national gas price average has been gradually decreasing the past three weeks and we expect this trend to continue, barring any major industry or geopolitical events," said AAA spokesperson Jeanette Casselano,. "Drivers in some states are paying 40 cents less per gallon than they were last October."
Image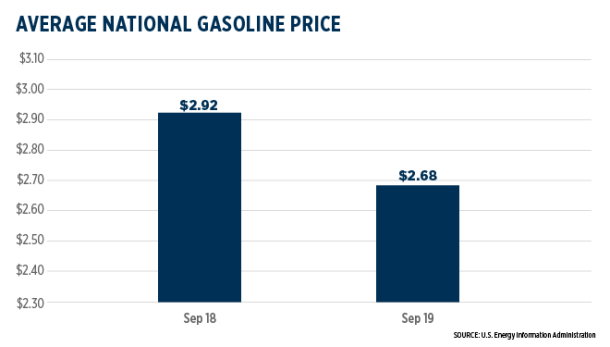 Not-so-Golden Week
One of the most popular weeks for Chinese travel experienced a slowdown this year. Overseas travel during China's National Day Golden Week (October 1-7) was reportedly down 15% compared to last year, while domestic trips grew nearly 8%.
Earlier this year, the U.S. Department of Commerce's National Travel and Tourism Office announced that inbound Chinese travel to the U.S. fell 5.7% in 2018—the first time since 2003 that Chinese travel to the U.S. declined from the prior year. While there are a number of factors contributing to Chinese travelers' desire to stay closer to home, it is crucial that Brand USA is reauthorized so the U.S. can continue promoting itself in the lucrative Chinese market.
U.S. Travel Executive Vice President of Public Affairs and Policy Tori Barnes this week told a congressional subcommittee that the U.S. will start feeling the effects of decreased international tourism unless Congress renews Brand USA. In her testimony, Barnes also cited the nearly $7,000 Chinese visitors to the U.S. spend per trip.
A deeper dive into the data and insights available in the October 2019 U.S. Travel Outlook—which includes the latest data on employment, transportation, inflation, consumer confidence and more—is online here.
U.S. Travel Association members receive the full U.S. Travel Outlook, plus a myriad of other cutting-edge data and insights relevant to the travel industry. Learn more about the benefits of becoming a member here—or simply continue to enjoy a small taste of U.S. Travel's research insight each month here, with the Research Round Up.
---
CONTACT US
U.S. Travel
For more information about this blog, please contact us at: