Each month, the U.S. Travel Association sends its members the U.S. Travel Outlook, which provides insight into the current state of the economy and related industry trends, plus other relevant data from the travel and tourism sector.
Here are some of December 2018's most compelling findings from the U.S. Travel research team. 
Gas prices drop ahead of busy holiday travel period
The weekly average national gas price dropped to $2.42 per gallon in mid-December—its lowest mark of 2018. AAA expects the national average to drop even lower as the end of the year approaches due to cheaper crude oil prices.
The lower prices arrived just in time for the holidays: one-third of Americans will travel this holiday season, and a majority will do so by car. AAA anticipates 112.5 million travelers will take to the highways between December 22 and January 4—up 4.4 percent from last year.
However, these prices may not be here to stay, as several oil-producing countries have announced cuts in their oil production for 2019. 
Image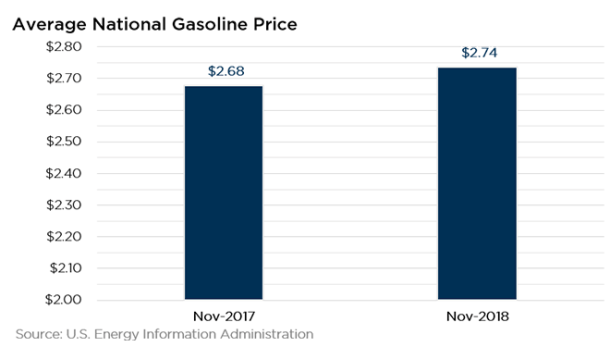 Travel trade surplus drops slightly while overall deficit hits new high
According to the Department of Commerce, the U.S. goods and services trade deficit expanded 1.7 percent to $55.5 billion—its highest point in a decade. However, travel continued to be a bright spot, with travel exports falling only slightly to $21.3 billion in October; this is not far off from the all-time record of $21.4 billion reached earlier this year.
Travel imports remained unchanged at $15.8 billion in October, resulting in a travel trade surplus of $5.5 billion. Without the surplus provided by travel, October's overall trade deficit would have been 10 percent higher. 
Image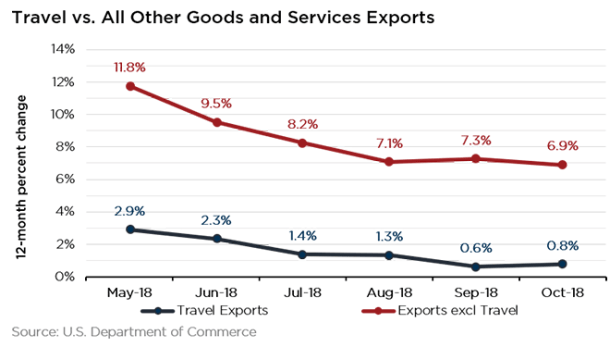 Denver International Airport takes top spot in U.S. airports ranking
The Wall Street Journal released its first-ever ranking of the top 20 U.S. airports. Taking the top spot was Denver International Airport, followed by Orlando International Airport and Phoenix Sky Harbor International Airport. The New York metropolitan area's three main airports—LaGuardia, John F. Kennedy and Newark Liberty—took the bottom three spots in the rankings.
"Once a symbol of high cost and dysfunction, Denver soared in rankings of reliability, value and convenience," said the Journal's Scott McCartney.
The rankings were based on a number of traveler experience indicators, including security line wait times, wi-fi speed, average Yelp dining scores, average fares, Uber cost to the local convention center, rental car taxes and fees, number of nonstop destinations and market dominance of the largest airline.
A deeper dive into the data and insights available in the December 2018 U.S. Travel Outlook—which includes the latest data on employment, transportation, inflation, consumer confidence and more—is online here.
U.S. Travel Association members receive the full U.S. Travel Outlook, plus a myriad of other cutting-edge data and insights relevant to the travel industry. Learn more about the benefits of becoming a member here—or simply continue to enjoy a small taste of U.S. Travel's research insight each month here, with the Research Round-Up.
---
CONTACT US
U.S. Travel
For more information about this blog, please contact us at: