Each month, the U.S. Travel Association sends its members the U.S. Travel Outlook, which provides insight into the current state of the economy and related industry trends, plus other relevant data from the travel and tourism sector.
Here are some of July 2018's most compelling findings from the U.S. Travel research team. 
America's airline pilot shortage is a cause for concern
America's shortage of airline pilots could pose a serious problem, according to Peter Gall, former airline pilot and assistant professor of aerospace engineering at West Virginia University. The number of pilots has decreased 30 percent from 827,000 in 1987 to only 609,000 pilots in the skies today.
"This is a classic case of low supply and high demand. This mismatch has created a perfect storm that could wreak havoc on the U.S. airline industry over the next decade. The somber news is this shortage is going to get much worse," says Gall.
Summer is the busiest time to travel, according to new data
While many people think of the end-of-year holidays as the most frenetic time to fly, recent data points to summer as the busiest time for travel.
"Contrary to popular belief, airlines carry thousands more people on some days in June, July and August than around the end-of-year holidays," writes Bloomberg.
High volumes of travelers are expected throughout the summer, with even higher numbers around Labor Day. 
Image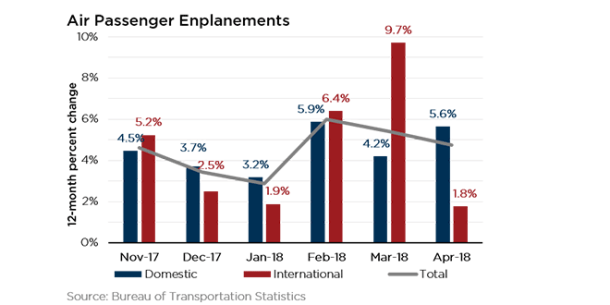 Americans are hitting the sidewalk instead of the sand
This summer, Americans are eschewing traditional beach getaways in favor of cities, according to Marriott International's U.S. Summer Travel Trends Report. This is the second year that Marriott International has reported the trend toward cities, with New York, Chicago and Orlando taking the top three spots for weekend getaways.
According to the U.S. Travel Barometer, Americans' interest in traveling within the U.S. climbed in June, with domestic destinations accounting for 88 percent of all U.S. residents' lodging searches. The Far West, followed by the Southeast, were the most-searched U.S. regions by Americans in June. 
Image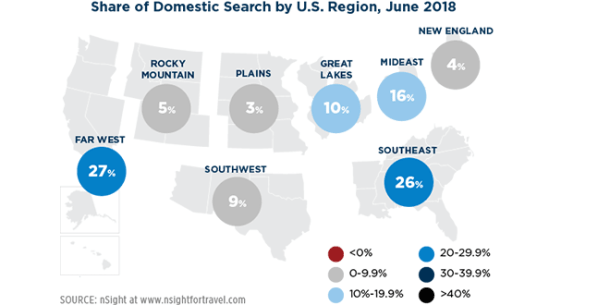 A deeper dive into the data and insights available in the June 2018 U.S. Travel Outlook—which includes the latest data on employment, transportation, inflation, consumer confidence and more—is online here.
U.S. Travel Association members receive the full U.S. Travel Outlook, plus a myriad of other cutting-edge research reports with information relevant to the travel industry. Learn more about the benefits of becoming a member here—or simply continue to enjoy a small taste of U.S. Travel's research insight each month here, with the Research Round-Up.
---
CONTACT US
U.S. Travel
For more information about this blog, please contact us at: