Each month, the U.S. Travel Association sends its members the U.S. Travel Outlook, which provides insight into the current state of the economy and related travel industry trends, plus other relevant data from the travel and tourism sector.
Here's a sampling of February 2017's most compelling findings from the U.S. Travel research team.
Travel Exports Finally Back Up to Pre-9/11 Levels
Earlier in February, the U.S. Department of Commerce reported that travel exports increased in December 2016 for the sixth month in a row, after declining for much of the first half of the year, bringing international travel's share of total U.S. exports to 11.2 percent. This is the sector's highest share of spending in the U.S. since 2000, just before the fallout from the September 11, 2001 attacks caused U.S. market share to plummet sharply among other global destinations.
Travel exports edged up 0.4 percent in 2016 to a record of $247 billion. By comparison, overall U.S. exports declined by 2.3 percent last year. International travel generated an $88 billion trade surplus in favor of the United States—without which, U.S. Travel researchers noted, the overall 2016 U.S. trade deficit of $502 billion would have been 18 percent greater.
The news was greeted with jubilation by the travel industry.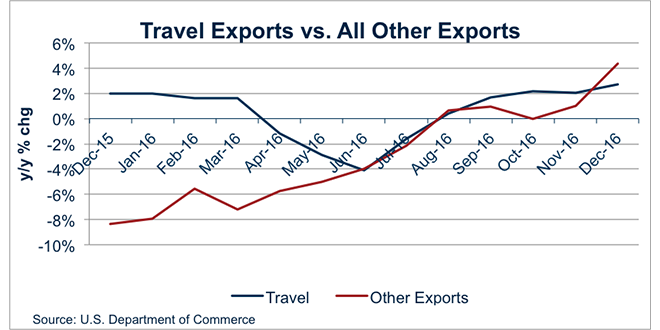 2016 Driver and Flyer Traffic, Plus Amtrak Ridership Around Inauguration
As many outlets reported in late February, drivers logged 3.2 million miles on U.S. roads last year, according to Federal Highway Administration estimates. Hard data from the agency shows that in November 2016, travel on all U.S. roads and streets increased 4.3 percent year-over-year.
Additionally, according to the International Air Transport Association (IATA), North American airlines saw demand rise 2.6 percent in 2016, with much of that growth occurring in the second quarter. Traffic was strongest on Pacific routes.
More recent rail data also shows an uptick in travel demand. Thanks to the presidential inauguration and related events, Amtrak ridership jumped 6.8 percent in January 2017, compared to the year prior.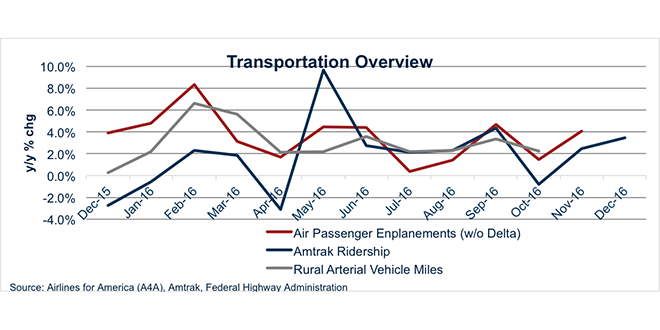 Can Consumer Spending Finally Fire Up the Economy?
Consumer spending was strong at the end of last year—and inflation is starting to reflect as much. Headline inflation increased 2.1 percent in December 2016, the highest number in 29 months.
This stronger inflation coincides with a host of positive economic indicators, including a recent renewal in domestic business confidence and a surging stock market, along with the accompanying uptick in consumer confidence and spending.
According to Commerce Department data, U.S. GDP grew by a meager 1.6 percent in 2016. However, business confidence is likely buoyed by President Trump's promises of deregulation and tax reform—and the underlying U.S. economy is probably in its strongest post-recovery shape ever, according to the nation's top economists. All of this is a perfect storm that may portend potential economic growth ahead.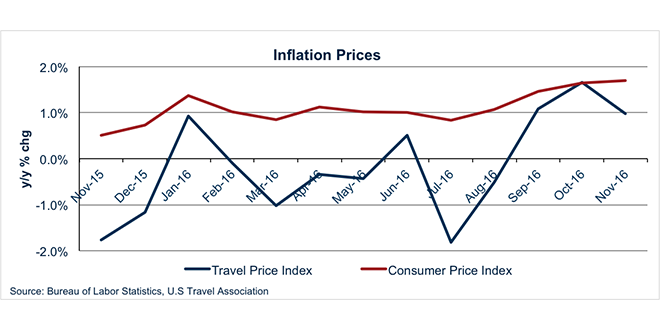 A deeper dive into the data available in the February 2017 U.S. Travel Outlook—which includes the latest data on travel employment, transportation, lodging metrics and more—is online here.
U.S. Travel Association members receive the full U.S. Travel Outlook, plus a myriad of other cutting-edge research reports with information relevant to the travel industry. Learn more about the benefits of becoming a member here—or simply continue to enjoy a small taste of U.S. Travel's research insight each month here, with the Research Round-Up.