Did you know: Travel spending is considered an export or an import—depending on who is spending. 
What does this mean: When foreign visitors spend money while traveling in the U.S., we are basically "exporting" our goods and services to them—even though they are physically here—and the money that we receive is considered export income for the U.S. economy. Similarly, when U.S. residents spend money while traveling abroad, it's a U.S. import. 
In the United States, travel exports have typically far surpassed travel imports—meaning travelers coming to the United States were spending more money here than U.S. citizens traveling abroad. This has resulted in a significant travel trade surplus. 
In fact, for many years, travel played an essential role in lowering America's overall trade deficit. Without our travel trade surplus, our overall trade deficit would have been 10-20% higher in the years leading up to the pandemic. 
But most recently, in 2022, travel lost its essential role in meaningfully lowering our overall trade deficit.
By the Numbers:
In 2015, travel exports—including passenger fares and health, education and worker-related spending—produced an $86 billion trade surplus and lowered our overall trade deficit by a staggering 18%. 
In 2019, travel's $54 billion surplus lowered our overall trade deficit by 10%.
In 2022, however, travel exports were 32% below 2019 levels and the travel trade surplus was a staggering 92% down, at just $4 billion. For the first time in recent history, travel was not able to meaningfully lower our overall trade deficit.
Image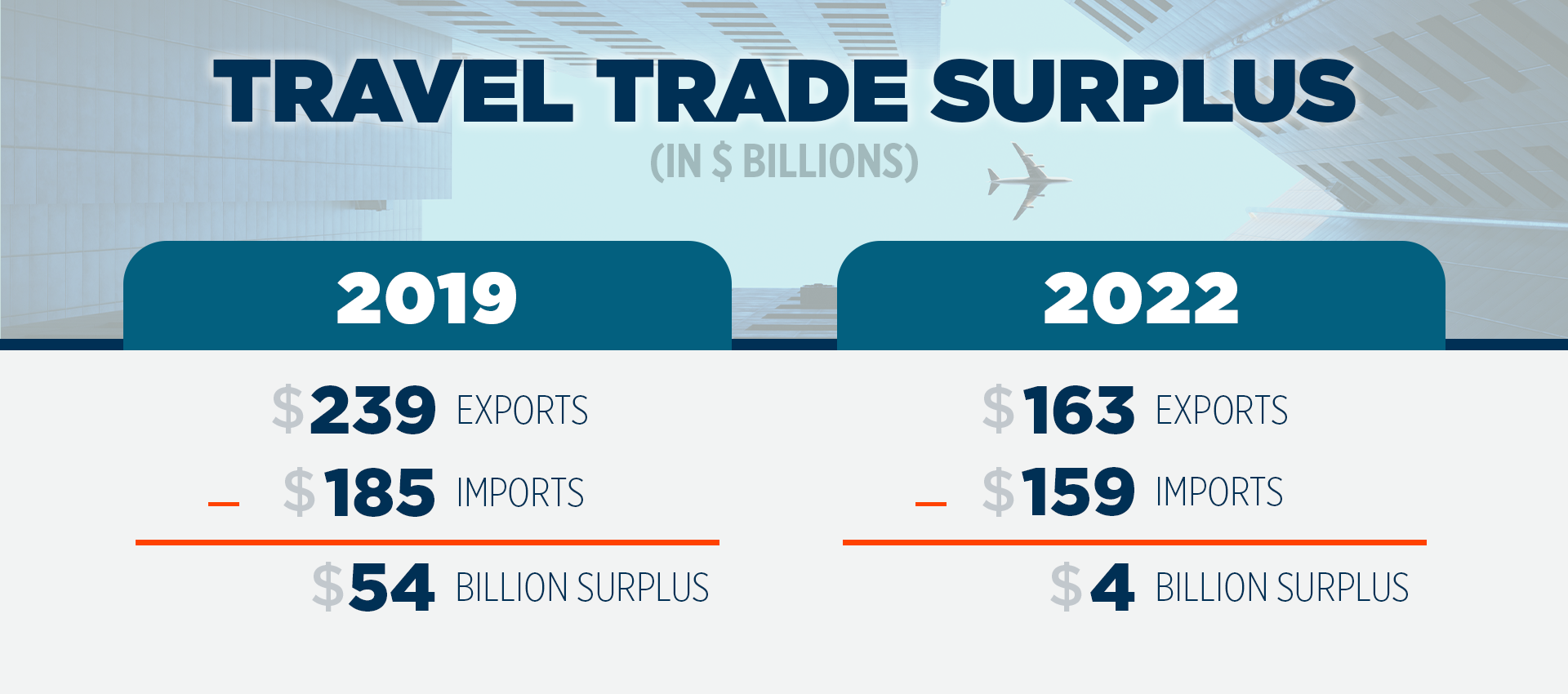 Dig deeper: The disproportional decline in our travel trade surplus reflects the dichotomy between a still-struggling inbound market and a fully recovered outbound market. This is why the surplus in 2022 was lower than 2020 and 2021. 
While all international travel was relatively stagnate in the earlier years of the pandemic, the quicker return of outbound travel versus inbound means that we are now spending roughly the same amount of U.S. dollars abroad as foreigners—who typically spend much more per visit—are spending here.
Why it matters: With the huge increase in Americans traveling abroad, inbound travel to the U.S. is more essential than ever so that we can ensure a meaningful travel trade surplus moving forward. 
The bottom line: Surveys show that the U.S. remains the top inbound destination for most of our key international markets. Travel to the U.S. needs to be as easy and seamless as possible—with shorter visa wait times, the removal of COVID-era vaccination requirements and an efficient entry process upon arrival—to ensure more international travelers visit the United States and positively contribute to our economy.
---
CONTACT US
U.S. Travel
For more information about this blog, please contact us at: