Roger Dow Joins TSA, Other Travel Industry Leaders to Raise Awareness of REAL ID Deadline
October 02, 2019 By U.S. Travel Association
On Tuesday, U.S. Travel Association President and CEO Roger Dow joined officials from the Transportation Security Administration (TSA) and other travel industry leaders for a press conference on REAL ID at Ronald Reagan Washington National Airport.
With the official deadline for full REAL ID enforcement exactly one year away (October 1, 2020), the speakers provided members of the media an overview of the facts associated with the REAL ID deadline, as well as how the public and private sectors are working to get Americans REAL ID ready.
Image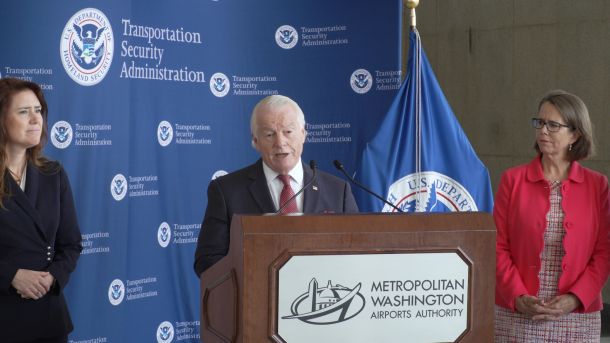 Dow shared the results of a survey commissioned by U.S. Travel which found that only 72% of Americans either do not have a REAL ID-compliant driver's license or are unsure if they do; more than half of Americans (57%) say they are unaware of the October 1, 2020 deadline.
"We need an all-hands-on-deck effort, or we're going to have a meltdown at our airports on October 1," said Dow.
Dow also discussed U.S. Travel's education initiative, which activates our partners around the travel industry to provide their customers and stakeholders with the facts about REAL ID. U.S. Travel created a toolkit with resources to educate the traveling public on what a REAL ID is and how to get one, and we will continue engagement efforts with policymakers and government agencies to increase public awareness about the enforcement deadline. The toolkit also includes policy recommendations to help reduce the number of travelers without REAL ID by next year's deadline.
"We intend to maintain a steady drumbeat over the next 12 months to help Americans get REAL ID ready," Dow concluded. 
The press conference garnered considerable media coverage, including an ABC News piece and a segment on NBC Nightly News.
The other speakers who joined Dow:
TSA Acting Deputy Administrator Patricia Cogswell
Vice President of Security and Facilitation for Airlines for America Lauren Beyer
CEO of the Airports Council International-North America Kevin Burke
CEO of the American Association of Airport Executives Todd Hauptli
CEO of the American Association of Motor Vehicle Administrators Anne Ferro
Director of the Washington, D.C. DMV Gabriel Robinson
Commissioner of the Virginia DMV Rick Holcomb
Administrator of the Maryland MVA Christine Nizer
Please click here to learn more about U.S. Travel's REAL ID education and policy initiative, and click here to view U.S. Travel's REAL ID toolkit.  
The full press conference can be viewed here.
---
CONTACT US
U.S. Travel
For more information about this blog, please contact us at: