On Thursday, March 30, thousands of organizations will celebrate Global Meetings Industry Day (GMID)–an international day of advocacy that amplifies the irrefutable value of in-person meetings, events, trade shows and conventions and the benefits they provide to employees, attendees, communities and industries of all kinds. 
Aside from the essential role they play in stimulating the economy, meetings initiate ideas, nurture relationships, close business deals and foster innovation necessary to sustained business success. 
30 Meetings on March 30
When we talk about the meetings industry, we're really talking about every industry. From manufacturing, healthcare and defense to education and science–and everything in between–#MeetingsMatter.
As we celebrate Global Meetings Industry Day on March 30, businesses and organizations around the world and across a wide variety of industries will meet in-person—to facilitate business transactions, cultivate connections and create space for discussions that will help shape the future.
Meetings are happening everyday—advancing knowledge in critical fields and developing understanding on crucial subject matters. Global Meetings Industry Day is an opportunity to reflect on the immense value these meetings deliver in just one day. Without this critical sector, our progress in so many vital fields would be stalled. 
We've decided to highlight 30 meetings happening on March 30 to showcase that the meetings industry touches every industry—and our technological, medical, societal and educational well-being depends on it. There is no replacement for the strides we make when we come together in-person.  
Here are just a few examples:
In Indianapolis, thousands of chemistry professionals are expected to attend the American Chemical Society National Meeting and Expo to share ideas and advance scientific and technical knowledge through keynote events, career workshops, industry-focused programming and expositions that showcase the latest innovations in the field.
Electric vehicles (EVs) and technological innovations will take center stage at the EV Charging Summit and Expo in Las Vegas. With more than 120 speakers and an expansive expo Hall, attendees will have the opportunity to become more knowledgeable about the latest EV infrastructure technologies, build professional connections within the industry and invest in opportunities in transportation electrification. 
In England, Bett UK—the largest education technology exhibition in the world—will convene 30,000 educators from across the world representing the entire education landscape as well as global tech companies and start-ups to drive meaningful impact and improve solutions for teachers and learners. 
And there are so many more. These meetings and events will bring people together for conversations that will benefit and strengthen industries, communities—and in some cases, overall societies—in the future. 
We've highlighted 30 meetings happening on March 30:
Image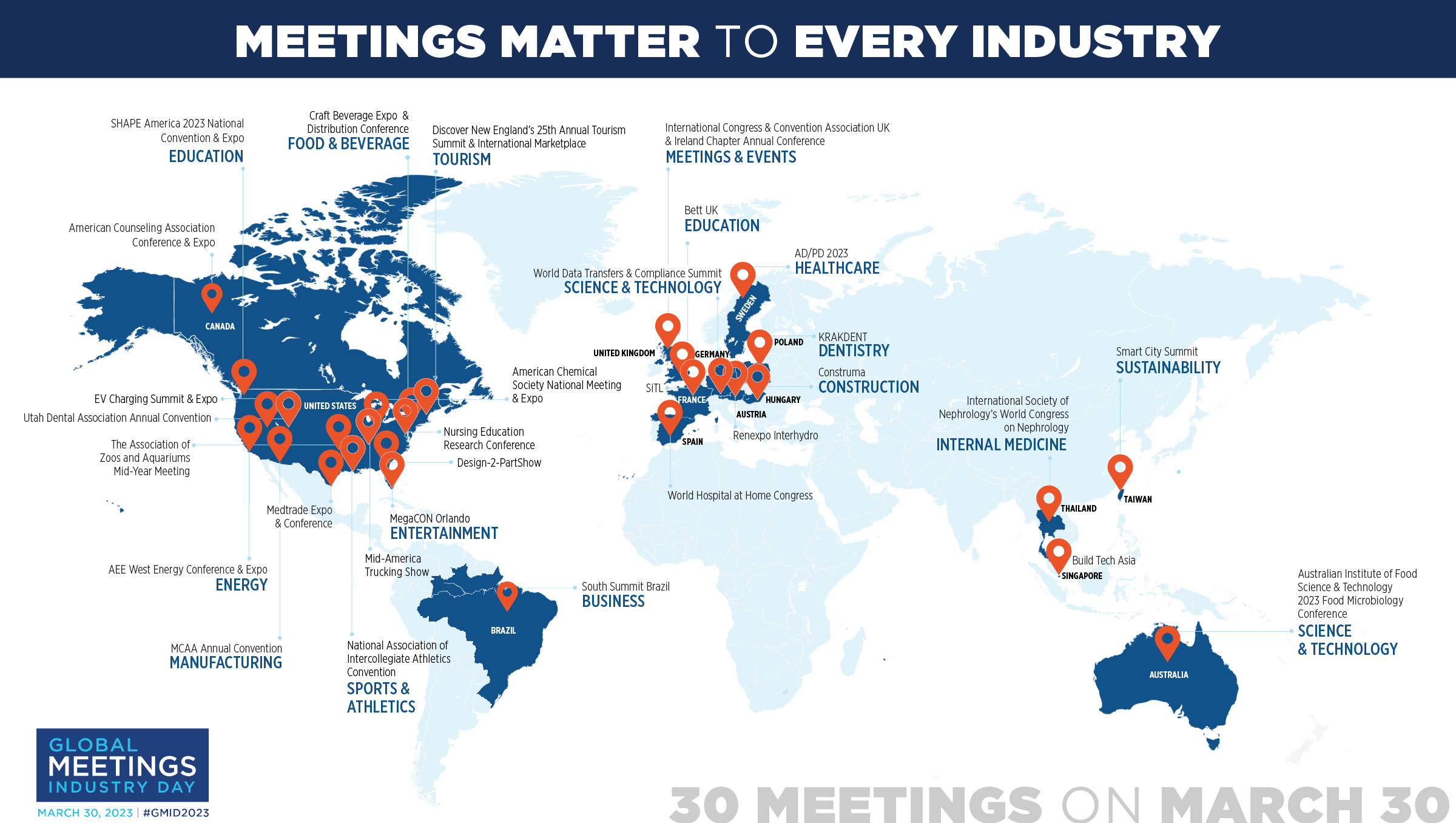 (Click here to enlarge image.)
There is power in convening, and the full return of meetings and events will accelerate not only travel's growth but also the growth of every other industry—maximizing their impact on the world in the years to come.
We look forward to celebrating Global Meetings Industry Day with you on March 30!
 
---
CONTACT US
U.S. Travel
For more information about this blog, please contact us at: