Travel and REAL ID: What You Need to Know to Fly in 2019
January 12, 2018 By U.S. Travel Association
The "initial enforcement" deadline for REAL ID compliance has been extended to October 1, 2020. Here's what travelers from every state need to know about the REAL ID Act and here's an answer to the question we are hearing most often.
"Will I be able to use my driver's license to board a plane next year?"
That's a question on many American travelers' minds as October 2020 approaches—along with the "initial enforcement" deadline for states to issue driver's licenses and ID cards that meet the requirements laid out by the REAL ID Act of 2005.
REAL ID refers to a set of security standards established by Congress in 2005 for card issuance, card design and application processing that states must follow when issuing driver's licenses and other forms of identification. The law mandates that any American citizen must show REAL ID-compliant identification when boarding a domestic flight, accessing federal facilities or entering a nuclear power plant. However, not all state-issued IDs follow those standards yet. 
DHS has extended the initial enforcement deadline for REAL ID compliance to October 1, 2020. All jurisdictions have either received an extension or are compliant.  So, the answer to the question is yes, you will be able to use your driver's license to board a plane in 2019. 
Review DHS's map of compliant, not compliant and extension-pending states: 
Image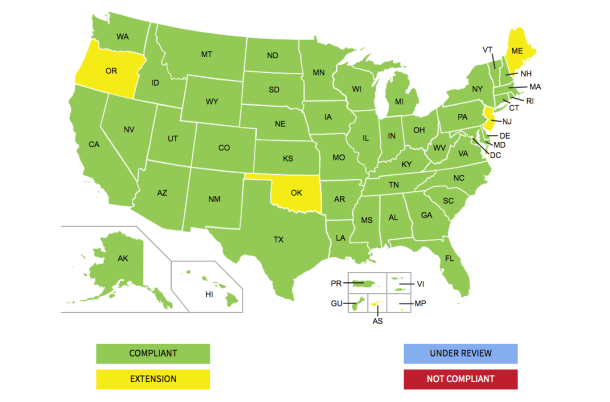 If for some reason a state that has an extension does not comply with the conditions of the extension, the Transportation Security Administration, or TSA, has no alternative under current law but to reject non-REAL ID-compliant IDs after October of next year.
If you live in one of the states or territories that has an extension, we encourage you to contact your state representatives, and urge them to put pressure on your state's Division of Motor Vehicles. Doing so may ensure that you can board your domestic flight with your state-issued ID after the October 1, 2020 deadline.
In the event a driver's license is not REAL ID compliant, the following forms of identification can be used to board an aircraft: passport; U.S. military ID; DHS trusted traveler card; or, a Transportation Worker Identification Credential (TWIC).
This post has been edited from a previous version. Last updated: September 12, 2019. 
---
CONTACT US
U.S. Travel
For more information about this blog, please contact us at: