Travel Employment Adds 12,200 in June, Marking 10th Increase in Past 12 Months
July 09, 2019 By U.S. Travel Association
Late last week, the U.S. Department of Labor reported the economy added 224,000 nonfarm jobs in June, while the unemployment rate edged up slightly to 3.7%. According to U.S. Travel Association economists, travel employment increased by 12,200 in June, marking the 10th increase in the past 12 months.
Job increases were mostly seen in the lodging and airline industries. Travel-generated employment showed little change over the month in food services/drinking places and retail industries. Jobs declined slightly in the amusements/gambling/recreation industry.
In the first six months of 2019, travel employment grew by 63,000, accounting for 6.1% of total nonfarm jobs added so far this year. This is a significant increase from the same period last year, when travel jobs were responsible for 3.1% of the total growth of nonfarm jobs during the first six months of 2018.
Image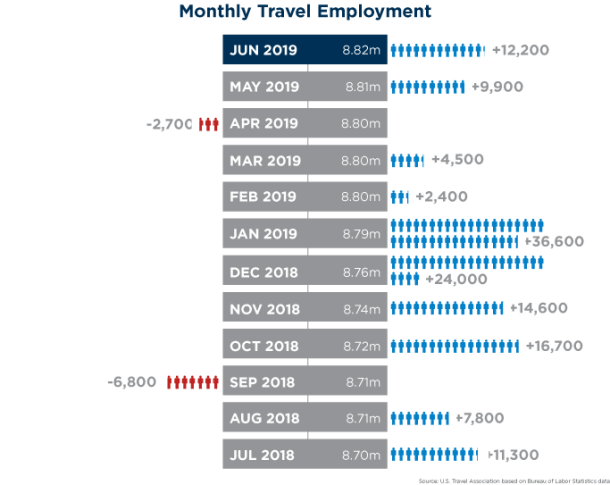 ---
CONTACT US
U.S. Travel
For more information about this blog, please contact us at: