Travel Employment Grows For Fourth Consecutive Year
January 08, 2016 By U.S. Travel Association
Travel Industry Expanded Employment by 101,700 in 2015
Analysis of today's Labor Department report from the U.S. Travel Association economic research team concluded that the travel industry continued to both grow and fuel growth last year.
While travel industry employment changed little in December (adding just 1,700 jobs that month), the industry created 101,700 jobs during the past 12 months—more than three times the number of jobs added by the entire manufacturing sector. 
These numbers confirm that 2015 marked the fourth consecutive year that the travel industry added more than 100,000 jobs. Overall, travel employment continues to shatter records: December's final tally of 8.17 million travel-related jobs in the U.S. economy is an all-time historic high.
Image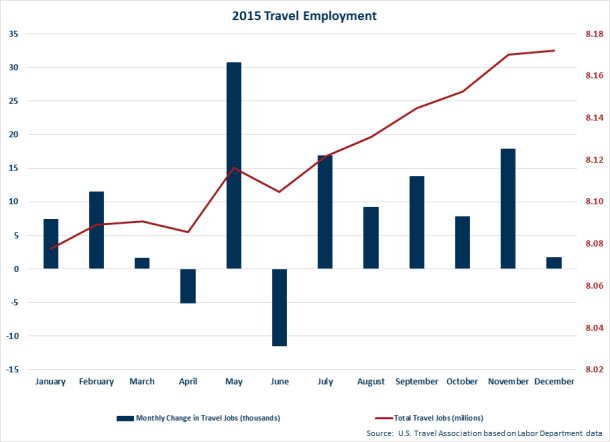 Throughout 2015—and indeed throughout the entire economic recovery—travel has been a consistent job creator. The travel industry added jobs 10 out of 12 months in 2015, and 61 out of the 72 months since the travel industry employment recovery began in January 2010. Since the Great Recession, the travel industry has created 917,000 new jobs and has outpaced job growth in the rest of the economy by 26 percent.
We predict that 2016 will be yet another positive year for the travel industry. Thanks to lower unemployment rates, record low gas prices, moderate inflation and increasing discretionary incomes, travel is expected to continue to grow in 2016. The U.S. Travel Association forecasts a 2.0 percent increase in domestic trip volume from 2015 to 2.2 billion domestic trips and a 2.6 increase in international travelers to the United States.
What explains this continued, steady improvement? In December, as in most months in the six years since the travel industry began to recover, Americans are traveling more, and more international visitors are coming to our shores. These two developments have combined to be a powerful force for job growth, proving that travel and tourism continue to be among of the fastest drivers of getting Americans back to work.
---
CONTACT US
U.S. Travel
For more information about this blog, please contact us at: