Travel Employment Rises By a Solid 13,000 in July
August 03, 2018 By U.S. Travel Association
Travel Jobs up 41,900 Since April, Best Three-Month Performance in a Year and a Half
The Labor Department reported today that the economy added 157,000 nonfarm payroll jobs in July, while the unemployment rate edged down to 3.9 percent. 
Thirteen thousand of those jobs were in the travel industry, with gains seen in most of travel sectors including lodging, food services and drinking places (that's government's official terminology) and amusements/gambling/recreation.
After lackluster employment growth earlier in the year, an acceleration in travel job growth is mounting. July marked the third consecutive month that gains in travel employment topped 10,000, with the 41,900 jobs added since April being the industry's best three-month performance since January 2017. 


Image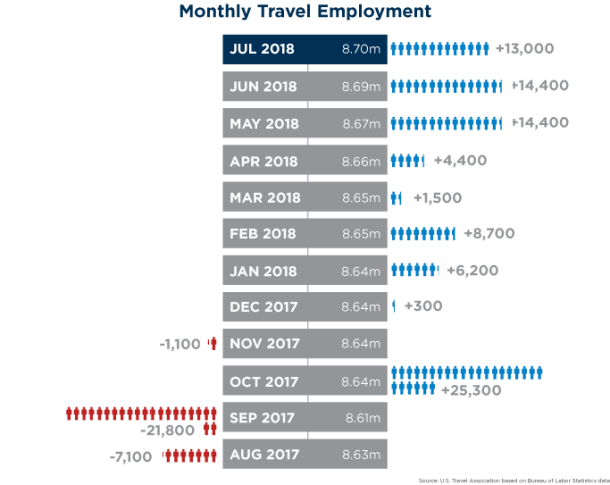 This emerging trend is welcome news. The travel industry has outpaced the rest of the private sector in terms of job growth every year since the Great Recession.    
---
CONTACT US
U.S. Travel
For more information about this blog, please contact us at: