Travel Generated Nearly Three Times as Many Jobs in 2019 as Manufacturing
January 10, 2020 By U.S. Travel Association
Travel employment continued its steady rise to close out the year, adding 21,600 jobs in December; this was the 10th monthly increase in 2019. Travel job gains were mostly seen in the lodging and amusement/gambling/recreation industries.
In 2019 as a whole, travel employment rose by 127,400, accounting for 6% of the total 2.1 million job increases in total payroll employment. Travel contributed a higher proportion to the economy's overall job growth in 2019 (6%) than in 2018 (4.5%).
Notably, travel created nearly three times as many jobs in 2019 as the entire manufacturing sector, which added just 46,000 jobs. This stellar performance by the travel industry underscores its vital role as a top U.S. export. While industries such as manufacturing and agriculture are typically the first to come to mind when one thinks of an export, travel is, in fact, America's second-largest industry export and generates a $69 billion trade surplus.  
Image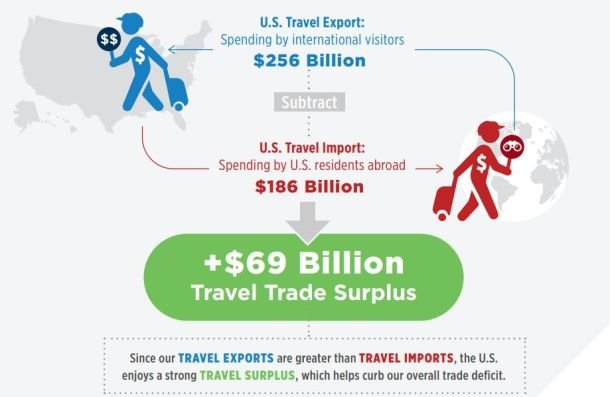 In the rest of the economy, total nonfarm payroll employment rose by 145,000 in December, and the unemployment rate was unchanged at 3.5%.
Image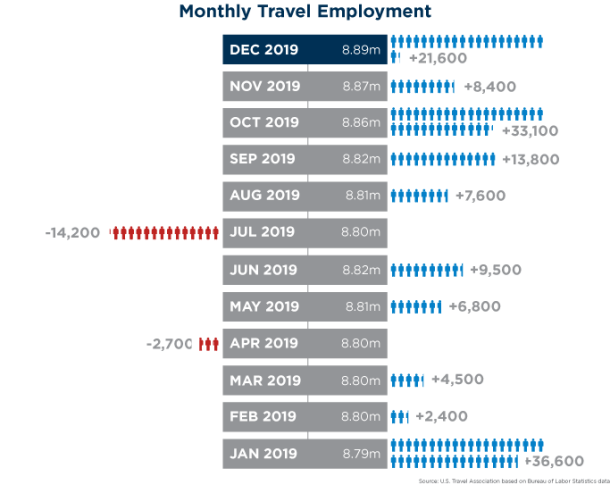 ---
CONTACT US
U.S. Travel
For more information about this blog, please contact us at: