Travel Job Growth Accelerates in October
November 01, 2019 By U.S. Travel Association
The U.S. Department of Labor reported today that total nonfarm payroll employment rose by 128,000 in October, and the unemployment rate was virtually unchanged at 3.6%.
U.S. Travel economists estimated that travel jobs increased by 25,300 in October. The job increases were seen in most of the travel-related sectors, including food services/drinking places, amusement/gambling/recreation, and the lodging and airline industries.
The increase in travel jobs last month marked the third consecutive monthly acceleration in travel jobs created and the largest monthly increase since January. Moreover, travel accounted for a fifth of all nonfarm jobs created last month, which was the single biggest monthly contribution over the past several years.
Through the last 10 months, travel added 86,000 jobs to the industry, responsible for 5.1% of total non-farm job increase in the period.
Image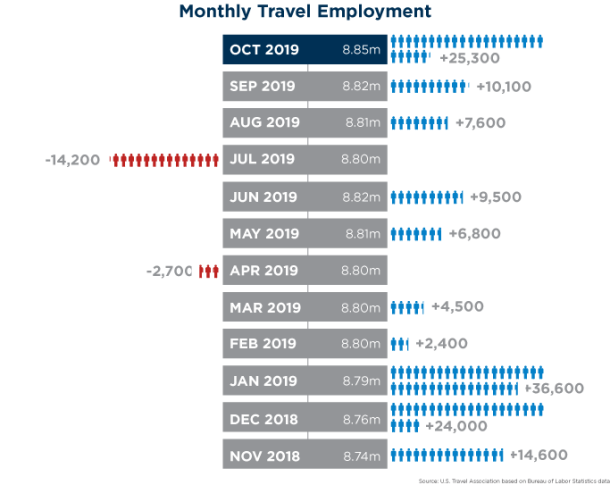 ---
CONTACT US
U.S. Travel
For more information about this blog, please contact us at: