Travel Matters to Our Families
May 02, 2019 By U.S. Travel Association
National Travel and Tourism Week concludes with a celebration of the value travel holds for America's families.
Travel has a positive impact on so many aspects of our lives, from the memories it helps us create with family and friends to the trillions in economic output it delivers and the millions of American jobs it supports. So, for this year's National Travel and Tourism Week (May 5-11), we are spotlighting a different example each day of why travel matters to America.
Image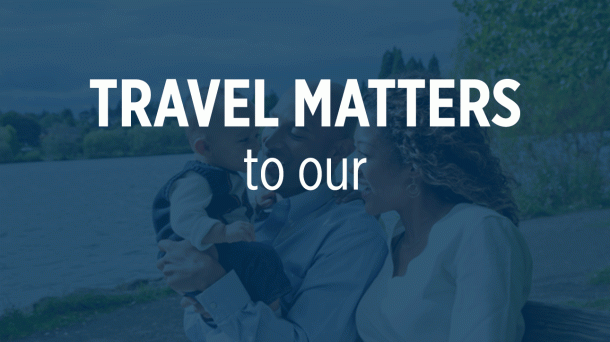 Travel is critical to the strength of families, offering quality time together away from the stress of busy lives. Whether a trip is across the country or across town, family vacations inspire a love of travel from an early age that creates lifelong enthusiasts. Use Saturday, May 11 to celebrate how travel matters to America's families.
Travel matters to strengthening family bonds…
Increasingly, American parents are having a difficult time leaving their work at the office. While many parents think they are doing a good job of shielding their kids from work stresses, the opposite is often true. In fact, a staggering six in seven children report seeing their parents bring work stress home, while 75% of children say their parent is unable to stop working while at home. Parental work stress has a serious effect on children, with six in 10 kids reporting feeling upset when their parents prioritize work over family time.
One of the best ways for parents to solve this problem? Take a vacation. Americans left 705 million vacation days unused last year. Travel presents a unique opportunity to shelve the stresses of work, school and day-to-day life. And it doesn't have to be far—85% of Americans say they haven't seen enough of their own country. Trips of any kind leave parents happier, more relaxed and better able to bond with their children.   
…and making memories
Family vacations are some of the fondest memories of childhood: 62% of adults say their earliest memories are of family trips, which shows the lasting impact vacations can have. Whether a trip is out of state or 30 minutes from home, for many families, it doesn't matter where they travel as long as they are together.
Unfortunately, nearly a quarter of Americans say that it's been more than a year since their last family vacation. Kids won't stay kids forever, and it is important that families make the most of the time they have together—to travel, unwind and make lifelong memories.
How to participate:
Promote family-friendly activities in your area on Saturday, May 11.
Check out U.S. Travel's family-friendly Daily Getaways offers and see how they can be redeemed at your destination.
#PlanForVacation: check the number of vacation days you have used in 2019 and how many days you have left, and commit to taking the rest of your time off this year.
Useful tools:
National Travel and Tourism Week is our industry's time to celebrate the innumerable ways in which travel strengthens communities and enriches lives. Interested in other ways you can celebrate why "Travel Matters" during NTTW? View the full theme calendar. Don't forget to include #nttw19 or #TravelMatters in your posts for a chance to be featured on our social channels and included in our wrap video. Planning an event? Add it to the official NTTW event map. Visit the NTTW toolkit for more resources to get involved.
---
CONTACT US
U.S. Travel
For more information about this blog, please contact us at: