Travel Matters to Our Health
April 16, 2019 By U.S. Travel Association
Travel has a positive impact on so many aspects of our lives: from the memories it helps us create with family and friends, to the trillions in economic output it delivers and the millions of American jobs it supports. So, for this year's National Travel and Tourism Week (May 5-11), we are spotlighting a different example each day of why travel matters to America. 
Image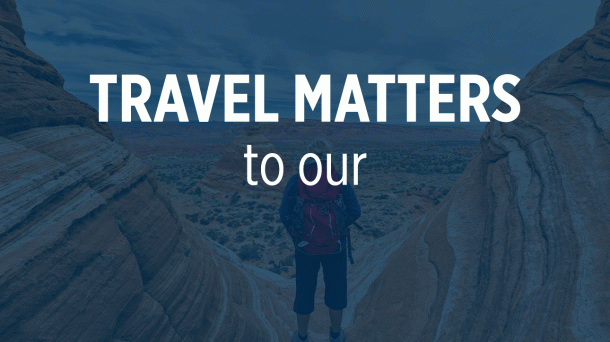 "I need a vacation."
We've all said it at some point—many Americans are all too familiar with the feeling of burnout and are desperately in need of some time away from the office. But vacation isn't just a chance to get out of our cubicles and unplug for a week (although that is a happy byproduct). Travel can reduce stress, improve heart health and create stronger connections with loved ones, which leads to better health overall and a greater sense of well-being.
Use Thursday, May 9 to celebrate how travel matters to our health.
Travel matters to our health at home…
In 2017, Americans left 705 million unused vacation days on the table. The average employee takes 17 days of vacation a year, but less than half of that time is used for travel. And Americans want to travel—84% say they haven't seen enough of their own country.
A road trip or a weekend at the beach not only scratches the travel itch, but studies show that time away can be hugely beneficial to our mental and physical health: 61% of avid travelers are happy with their physical health and well-being, compared to just 39% of those who do not use their vacation time to travel.
Travel also helps us reconnect with family and friends, allowing us to make new memories with the people who matter most. Spending time with loved ones can reduce stress, which leads to improved heart health and a better sense of well-being. Simply, you're a better "you"—a better friend, a better parent, a better sibling—when you prioritize your mental and physical health and take time to travel.
…and at work
While it may seem counterintuitive, one of the best ways to improve workplace culture and performance—and one of the best remedies for the burnout blues—is to take a vacation. Travel affords us the time to unplug from our (numerous) devices and fully unwind from the day-to-day stresses of the workplace. When we have the chance to relax (really relax—spreadsheets do not belong on the ski slopes), our stress levels decline, and we can return to work happy, energized and more productive.
Many organizations are starting to realize the competitive advantage of a positive vacation culture, with 38% of employees (up from 33% the previous year) saying their company encouraged time off. Employees who feel incentivized to take a vacation are overall happier with their job, company and personal relationships, and are able to bring their best selves to work. National Plan for Vacation Day has already passed, but companies can still tap into the workplace benefits of travel by hosting their own #PlanForVacation event on May 9. 
How to participate:
Calculate your RealAge® to see how taking a vacation may help lower it.
Encourage Americans to plan their time off by spotlighting vacation itineraries in your town.
#PlanForVacation on Thursday, May 9: check the number of vacation days you have used in 2019 and how many days you have left, and commit your time off for the rest of the year. 
Useful tools:
National Travel and Tourism Week is our industry's time to celebrate the innumerable ways in which travel strengthens communities and enriches lives. Interested in other ways you can celebrate why "Travel Matters" during NTTW? View the full theme calendar. Don't forget to include #nttw19 or #TravelMatters in your posts for a chance to be featured on our social channels and included in our wrap video. Planning an event? Add it to the official NTTW event map. Visit the NTTW toolkit for more resources to get involved. 
---
CONTACT US
U.S. Travel
For more information about this blog, please contact us at: